Rankings
Pittsburgh Pirates Top 10 Prospects
The top prospects for the Pittsburgh Pirates farm system.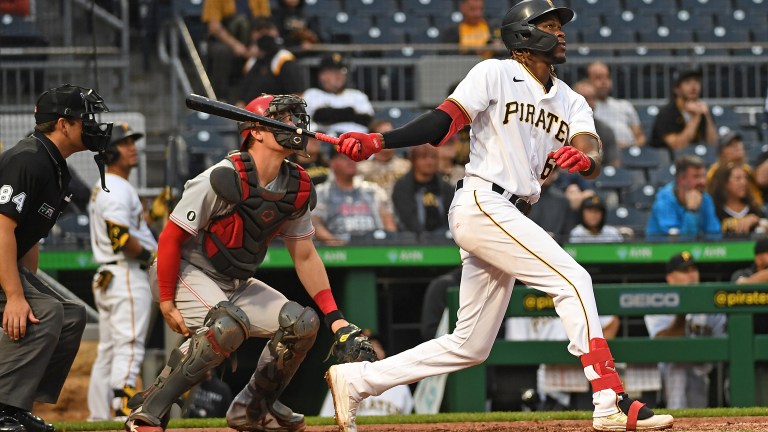 While the team has not performed at the big league level for some years, GM Ben Cherington is quietly building one of baseball's best farm systems in Pittsburgh. The Pirates absolutely aced the 2021 Draft and have had some talent develop nicely, giving them a much improved system. Here are the top prospects in an exciting Pirates system.
Age: 21 | Height/Weight: 6'2, 210 | Bat/Throw: R/R | 1st Round (1), 2021 (PIT) | ETA: 2023
| | | | | | |
| --- | --- | --- | --- | --- | --- |
| HIT | RAW POWER | GAME POWER | RUN | FIELD | FV |
| 45/55 | 50/65 | 40/60 | 45/40 | 40/50 | 55 |
Offense
Starts crouched and slightly open. Hovers with front leg to help keep weight back. Though a bit unorthodox, Davis generates a ton of torque and rotational power with his swing. Putting up video game numbers that were more impressive than Joey Bart's at Georgia Tech, Davis put the questions around his swing to bed by slashing .370/.482/.663 with 17 homers and 31 BB against just 24 K's versus ACC pitching.
Though a small sample size, Davis has carried that success into his High-A debut, already slugging two homers in six games. We have some questions as to how Davis will be able to handle higher quality breaking stuff, due to his tendency to get overly rotated and at times pull off of the baseball. That being said, he has answered any detractors in regards to his swing with pure production and limited swing and miss. His bat speed is undeniable, as is his plus raw power. The ball truly jumps off of his bat, and if he is able to hit consistently enough, 30+ homers is the expectation. Ironically, Davis has some similar offensive concerns to Joey Bart, which is: can they do damage anywhere other than pull-side?
Defense/Speed
Davis' best tool on defense is his 70-grade arm. He's a good athlete which leaves us optimistic that he can continue to improve behind the dish, but he has some work to do in regards to blocking and receiving. Davis was able to get away with some things in college thanks to his absurd arm, but in professional baseball there will be more of an emphasis on the fundamentals for the pirates top catching prospect. We expect him to catch on as a backstop and improve into an average to above average catcher.
Outlook
At the end of the day, the big asset here is Davis' bat. That being said, the Pirates took him first overall to be the catcher of their future and he has a chance to be that. Davis has shown good bat to ball skills and immense pull-side power that should have Pirates fans excited. He is probably a bit further off than some of the other college bats in his class in terms of timeline.
Age: 22 | Height/Weight: 5'10, 195 | Bat/Throw: R/R | 1st Round (7) – 2020 | ETA: 2022
| | | | | | |
| --- | --- | --- | --- | --- | --- |
| HIT | RAW POWER | GAME POWER | RUN | FIELD | FV |
| 50/60 | 50/60 | 45/60 | 50/50 | 40/50 | 55 |
Offense
Athletic set up. Gathers into his back side with with a small leg kick that has become more apparent since turning pro, but has not disrupted his knack for being on time. Despite his 5-foot-10, 190 pound frame, Gonzales is able to generate plus power thanks to elite bat speed and a swing that generates easy backspin. After putting up better than video game numbers as a walk-on at New Mexico State, there were still questions as to whether Gonzales could handle higher level competition. Gonzales put those questions to rest by dismantling Cape Cod League pitching on his way to winning the league's Pro Prospect of the Year Award.
Gonzales' has an impressive ability to control his body and repeat his swing. He is so quick and compact to the baseball that he is able to make late decisions. Gonzales has no problem spoiling borderline pitches or shooting the ball out of the catcher's mitt the other way. Our plus grade on his power may be higher than the industry perspective, but after watching Gonzales swing wood for an entire summer, we feel confident in his 60 grade juice. Gonzales displayed power to all fields, spraying homers to right, dead center and pull-side. He would even inside-out balls that left the yard to right field.
Gonzales' feel to hit will allow him to consistently hit for more power as well. He leverages hitters' counts, taking more aggressive swings, and is tough to beat with two strikes thanks to his bat speed, body control and good feel for the zone.
Defense/Speed
While not a burner, Gonzales gets the most out of his above average speed thanks to his high baseball IQ. He knows which pitches to run on and does a great job of reading stuff in the dirt. Defensively, Gonzales is similar. He will probably not win Gold Gloves, but has decent range, good actions, and his high IQ translates in the field too.
Outlook
Gonzales is one of the more high floor prospects you will find, but his ceiling is far from restricted as well. A great hit tool, sneaky power, and elite makeup make me as confident in Nick Gonzales being an impact big leaguer as nearly any player in the top 100.
Age: 22 | Height/Weight: 6'7, 210 | Bat/Throw: L/R | IFA: $250K – 2015 (PIT) | ETA: 2022
| | | | | | |
| --- | --- | --- | --- | --- | --- |
| HIT | RAW POWER | GAME POWER | RUN | FIELD | FV |
| 40/50 | 70/80 | 40/60 | 60/50 | 40/50 | 55 |
Offense
Very relaxed and loose setup in the box with a minimal lower half move forward with some hand movement as he gets to launch. Cruz utilizes his lower half extremely well for a player of his size; he stays on his back side well and uses the natural leverage that his 6-foot-7 frame creates. Extremely long levers create top of the scale bat speed and back spin and Cruz has done a fantastic job keeping his swing as short as those arms will let him.
The raw power is top of the scale and should allow him to do damage to all parts of the ballpark and there is easily 40+ homer pop if he's able to consistently put the ball in the air. He controls the strike zone very well for a 22-year-old in Double-A and he has more feel to hit than you'd think given his size. Cruz has already posted exit velocities as high as 120 MPH–for reference that would be the fourth hardest hit homer of MLB's Statcast era.
His lower half is extremely athletic and he is able to do damage on 'B' swings, especially on hanging breaking pitches. High fastballs may give him a problem once he reaches the Show, however, his athleticism and proclivity to adjust at each level of the minors bodes well for his ability to make adjustments once he reaches the games highest level. His strikeout rates have been around average at each of his stops. His ability to manage at bats has made it easy for him to hide some of the natural swing and miss that comes with his frame. Once Cruz becomes slightly more selective at the plate and continues to develop he could be a 40 homer threat annualy in the big leagues.
Defense/Speed
Despite frequent noise that the 6-foot-7 Cruz would have to move off shortstop, he has consistently proven his critics wrong and it's beginning to look like he will stick there long term. His huge size gives him more than enough range for the position and his 80 arm should make him a specialist in turning hits in the six hole into outs. His frame makes it tough for him to come in on slow choppers but his arm is good enough to make up for it and then some. Cruz adds another plus tool in his speed, which is possibly plus-plus once he gets going. It takes him a while to get to his top speed so stolen bases and infield hits may never be strengths for him. With nobody blocking him from shortstop in Pittsburgh, a move to center or right is unlikely, although Cruz projects as a plus defender at either spot.
Outlook
Cruz is a unicorn among baseball's top prospects. Nobody has ever played short at his size. Add in the fact that two of his tools grade out as 80 and you have a player with possibly a top 5 ceiling in all the minor leagues. How much Cruz hits will ultimately determine his worth and even if he doesn't, he should provide value with his immense physicality and tools.
Age: 22 | Height/Weight: 6'0, 175 lb | Bat/Throw: L/R | IFA: $250K – 2016 (PIT) | ETA: 2022
| | | | | | |
| --- | --- | --- | --- | --- | --- |
| FASTBALL | SLIDER | CURVEBALL | Changeup | COMMAND | FV |
| 55/60 | 55/55 | 60/65 | 40/45 | 40/50 | 55 |
Arsenal
Sent over to the Pirates ahead of the 2021 season in the Jameson Taillon trade, Contreras dominated from day one in the Pirates organization. Contreras saw his fastball tick up to 94-96, topping out at 98. However Contreras' biggest improvement was his feel for spinning his pair of impressive breaking balls.
By pitch profile, Contreras's curveball is his best pitch. The bender sits around 80-82 MPH with sharp downward break approaching 3,000 RPMs. Contreras uses the curve as his go-to put-away pitch while using his above average slider more frequently earlier in the count.
The slider is more in the 85-87 range and he commands it really well. Contreras's confidence in the offering can be seen in his comfort going to it in neutral and hitter's counts. The slider has late break and a knack for missing barrels and is an above average offering that plays up thats to his command of it. The 22-year-old also has a changeup that is average and gives him another look against left handed hitters.
Outlook
There's no debating the quality of stuff that Contreras has and his numbers reinforce that. He did miss some time with injury, but picked up right where he left off after returning to earn his way to a big league debut. In the minors, Contreras pitched to a 2.64 ERA, 2.68 FIP, 29.5 K-BB% and .188 WHIP.
With a plus heater, two nasty breaking balls, and a decent feel for a changeup, Contreras has a ridiculous arsenal paired with strong command. As long as Contreras can stay healthy, he has the chance to be a frontline starter for the Pirates very soon.
Age: 22 | Height/Weight: 6'0, 175 lb | Bat/Throw: L/R | 1st Round (18) – 2019 | ETA: 2022
| | | | | | |
| --- | --- | --- | --- | --- | --- |
| FASTBALL | cutter | CURVEBALL | Changeup | COMMAND | FV |
| 50/55 | 50/55 | 70/70 | 35/45 | 40/50 | 50 |
Arsenal
While he didn't flop in 2021, I definitely expected a better season from the Pirates first round pick in 2019. Priester has one of the best curveballs in the Minor Leagues, a 12-6 breaker that drops off of the table at the last moment. Because of its vertical, late break the pitch is effective to both lefties and righties–both of which produced an OPS below .320 against the curve last season.
Priester's fastball is above average and has some life at 93-96 MPH. The right-hander has a cutter that he uses on occasion and is above average as well as a a changeup that can get pretty firm. The cutter is likely to be his third offering as Priester has shown a better feel for that pitch in the upper 80s.
Outlook
As mentioned earlier, I was surprised to only see a 14.5 K-BB% from Priester this year, though he did not give up much loud contact. The 22-year-old often struggled to hit his spots, especially with his fastball. Falling behind so frequently in the count resulted in Priester not being able to go to his best pitch (the curveball) more often.
Because of the quality of his stuff, he was able to avoid major damage, but I am worried that upper level hitters will feast on Priester's inconsistent fastball. Priester's elite curveball helped him get by in High-A last year, but he will need to improve his overall command and find more comfort in a third pitch to have success in the upper levels.
The good news is, Priester earns high marks for his makeup and work ethic, he's a great athlete on the mound, just 22 years old, and has one of the best offerings in the minors with his curveball. There's a ways to go for Priester, but he has what it takes to reach his potential as a middle of the rotation arm or better.
Age: 20 | Height/Weight: 6'1, 200 lb | Bat/Throw: R/R | IFA: $475K – 2017 (ARI) | ETA: 2023
| | | | | | |
| --- | --- | --- | --- | --- | --- |
| HIT | RAW POWER | GAME POWER | RUN | FIELD | FV |
| 40/55 | 45/50 | 35/45 | 60/60 | 45/50 | 45+ |
Offense
With great bat to ball skills and plenty of athleticism, Peguero is a high floor prospect who put up respectable numbers in his first full season. The 20-year-old was the youngest player invited to the Pirates alternate training site because of the ahead-of-his-years polish he possesses.
While his swing is geared for frequent contact and line drives, Peguero showcased some pop last season, launching 14 home runs in High-A. Peguero deploys an all fields approach and impressive barrel control, giving me plenty of reason to believe that he can be an above average hitter. While his flat swing resulted in a lot of ground balls last season (50% GB rate), he has the speed to be a high BABIP guy.
As Peguero matures in the box and leverages his hitter's counts, I expect the power to shine through a bit more as he has already produced exit velocities as high as 109 MPH. If Peguero looks to get the ball in the air to do damage when he is ahead, I can see 20+ home run potential–his HR/FB rate was well above average last season at 17%, it is just a matter of getting the ball in the air a bit more.
There is a lot to like in Peguero's bat and while I am not sure that he will ever be a .900 OPS guy, he has the tools across the board to produce a strong slash line to go with exciting complementary characteristics.
Defense/Speed
Peguero is a plus runner and despite MiLB's weird experimental rules which made holding runners on impossible, I think that the shortstops 31 stolen bases last season are a component of his game we can expect to continue–just maybe not at that frequency. Peguero is a hustle player who is always looking to take the extra base, he profiles really well as a spark plug leadoff hitter with some sneaky pop.
Defensively, Peguero has athleticism and actions to be an above average shortstop. Peguero's those were inconsistent at times, resulting in a few too many errors, however I expect that to clean up and am optimistic in his ability to stick at short. In the event that Peguero's defense doesn't develop the way I think it will, his athleticism will allow for him to land at another spot and potentially thrive there.
Outlook
While he may not have superstar potential, Peguero is a high floor shortstop who I think will unlock a bit more at the plate. If his defense continues to develop to above average, his bat to ball skills, burgeoning power, and athleticism give him a good chance to be an above average regular at the shortstop position.
7. Anthony Solometo – LHP – (Complex)
Age: 18 | Height/Weight: 6'5, 220 lb | Bat/Throw: L/L | 2nd Round (37) – 2021 | ETA: 2024
| | | | | |
| --- | --- | --- | --- | --- |
| FASTBALL | SLIDER | CHANGEUP | COMMAND | FV |
| 50/60 | 55/65 | 30/50 | 35/50 | 45+ |
Arsenal
An over slot second rounder in the 2021 MLB Draft, Solometo has as funky of a delivery as you're going to find, but repeats his mechanics quite well. If anyone ever asks what the point is of switch hitting, just show them some Anthony Solometo video against a left-handed hitter, because facing him looks like a nightmare for lefty hitters.
Solometo has a fastball that has a wide range of velocities, residing in the 90-94 range but topping at 96 MPH. The 6-foot-5 southpaw stays closed late in his delivery, before whipping his arm around from a low three quarters release point. As you could expect, that delivery makes for a wipeout slider that is extremely difficult on lefties and effective in back-legging righties; I can't help but think of Madison Bumgarner when I watch him throw.
Those two offerings were all Solometo needed in high school, but I am eager to see how his change develops. Even if the changeup is average to above, the 18-year-old's difficult to pick up release point will allow the pitch to play up big time. A good example of this is Trevor Rogers who by pitch profile has an above average changeup, but because of the life on his fastball and the deception he creates, his changeup plays up to a plus pitch.
Outlook
Solometo has a fantastic baseline with his fastball and slider as well as surprisingly good command. If the southpaw can develop a changeup and maintain average command, he has a ton of upside as a high volume strikeout starter. Look out for this kid, he could explode onto the national radar in 2022.
8. Bubba Chandler – SS/RHP – (Complex)
Age: 19 | Height/Weight: 6'3, 200 lb | Bat/Throw: S/L | 3rd Round (72) – 2021 | ETA: 2025
| | | | | |
| --- | --- | --- | --- | --- |
| FASTBALL | CurveBall | CHANGEUP | COMMAND | FV |
| 55/60 | 45/60 | 30/50 | 35/50 | 45+ |
Pitching Grades
| | | | | | |
| --- | --- | --- | --- | --- | --- |
| HIT | RAW POWER | GAME POWER | RUN | FIELD | FV |
| 30/45 | 50/55 | 35/55 | 55/55 | 40/50 | 45+ |
Hitting Grades
Bubba Chandler is one of the most dynamic athletes I have seen in a very long time. Chandler was committed to Clemson's football team as a quarterback and baseball team as a two-way player. Not only does he hit and pitch on the baseball field, but he is a switch hitter too. Oh yeah, and he excelled on the basketball court too.
Word is that the Pirates plan to let Chandler try to hit and pitch, but as a shortstop, I can't help but wonder the kind of strain that could put his arm through as opposed to Shohei Ohtani DH'ing or playing outfield. Chandler is incredibly raw given his multi sport background, but now that he can focus on baseball exclusively, the Pirates are excited to see how he develops.
Offense
Chandler's twitchy athleticism shines through in the batter's box with his plus bat speed and explosive lower half. There's more present power in his right-handed swing, but his left-handed stroke shows promise as well. Chandler just needs reps, the bones are there for a good swing that can generate solid contact rates and above average power, but he is just raw.
Defense/Speed
Given that he is able to run it up to 97 MPH on the mound, it probably isn't a surprise that Chandler has a plus plus arm at shortstop. His actions are a bit inconsistent, but with the kind of athleticism and arm strength that Chandler has, I think he can be a great defensive shortstop with more experience.
An above average runner, Chandler should be able to make his presence known on the base paths. That speed would also translate into the outfield if the Pirates preferred to move him there, where of course Chandler's arm would play big as well.
Arsenal
Chandler turned heads after his fastball jumped to the mid-90s, topping out at 97 MPH during the spring. The right-hander's twitchy athleticism can be seen on the mound as well with his rapid arm speed and ability to throw strikes despite somewhat shaky mechanics. Chandler's best out pitch is his mid-70s curve which he shows a good feel for spinning. The distant third offering is Chandler's changeup, but he will likely work on developing the offering ahead of the 2022 season.
I see a reliever profile here with a lively fastball and potentially plus curve along with the whole two-way thing as a shortstop. That said, Chandler is such a good athlete that I wouldn't rule anything out, especially with his limited focus on baseball prior.
Outlook
It would be ridiculous for me to pretend like I know what is going to happen with Bubba Chandler. What I can say is that there's so many different landing spots for the 19-year-old that there's a high probability he gives them value in some way. Whether it is a two-way player all the way to the show, or "just" a switch hitting position player, or a starting pitcher, or a reliever, Chandler will be a piece for this Pirates organization in some fashion.
9. Carmen Mlodzinski – RHP – (Triple-A)
Age: 22 | Height/Weight: 6'2, 232 lb | Bat/Throw: R/R | 1st Round (31) – 2020 | ETA: 2023
| | | | | | |
| --- | --- | --- | --- | --- | --- |
| FASTBALL | Cutter | Slider | CHANGEUP | COMMAND | FV |
| 55/55 | 50/50 | 50/55 | 40/45 | 35/50 | 45 |
Arsenal
After dominating on the Cape prior to his shortened 2020 junior season, Mlodzinski boosted his stock big time and was selected 31st overall in the 2020 MLB Draft. Mlodzinski was a bit of a risky pick given his limited track record as a starting pitcher at South Carolina, but when a young arm strikes out 40 against just four walks in the Cape Cod League, teams take notice.
Mlodzinski throws from a short arm slot and generates good arm-side run on his fastball which sits 93-95, topping at 97. The right-hander also has an above average slider in the mid-80s which he will manipulate to a cutter in the low 90s. The firm cutter contrasts his tailing fastball well, allowing the pitches to be effective to lefties and righties. Mlodzinski's fourth offering is his average changeup with good fade to it. The 22-year-old can lose command of the pitch at times, but is an effective offering to left handed hitters when he keeps it down.
Outlook
While Mlodzinski lacks a true plus pitch, he has four viable offerings and at least three of them are average or better. Mlodzinski will have to have above average command to be a quality starter at the big league level, but hasn't given me too much reason to believe that he cannot develop decent command. After a solid first pro season, Mlodzinski has a good baseline to build on as he works towards a rotation spot for the Pirates by 2023. I see a high-end No. 4 starter with an outside shot at becoming an average No. 3.
10. Matt Fraizer – OF – (Double-A)
Age: 23 | Height/Weight: 6'3, 220 lb | Bat/Throw: L/R | 3rd Round (95) – 2019 | ETA: 2022
| | | | | | |
| --- | --- | --- | --- | --- | --- |
| HIT | RAW POWER | GAME POWER | RUN | FIELD | FV |
| 45/50 | 55/55 | 45/55 | 60/55 | 45/50 | 45 |
Offense
After a miserable first professional season in 2019, Fraizer showed up in 2021 with a new looked swing. Fraizer struggled to control his body at all in his professional debut, deploying a pre-swing load that included a rock back and forth which caused him to be more in his quads and resulted in his lower half drifting forward ahead of his swing. That drift caused the barrel to drag and sapped Fraizer's power.
In 2021, Fraizer simplified his load and stayed in his back hip much better. As a result, he generated more separation between his front side and hands allowing for more of that desired "rubber-band effect".
The proof is in the results for Fraizer, who launched 23 home runs last year between High-A and Double-A. While the majority of those home runs came in High-A, Fraizer was still well above average following his Double-A promotion, which is a huge talent gap. Frazier hit just three homers in 37 games, but slashed .288/.356/.492 on his way to a 129 wRC+.
The 23-year-old has sneaky raw power, producing exit velocities over 110 mph on several occasions–including a 113 MPH homer. Fraizer's all-fields approach and feel for the strike zone give me confidence in his ability to hit through the upper levels.
Defense/Speed
A plus runner, Fraizer has great closing speed on balls in the gaps for a center fielder. In the games I saw, Fraizer looked the part in center and should have no problem sticking there. His arm is average, but shouldn't be an issue.
On the bases, Fraizer took advantage of the lower level pitching rules by running wild, but stole only one base in 37 Double-A games. The former third round pick has enough speed to still 15 bags or more, but I don't expect stolen bases to be a huge part of his game.
Outlook
I am not sure why we are not seeing Fraizer higher on the top prospect lists for the Pirates. Yes, 2019 was rough, but we have a much larger sample size in 2021 and saw tangible adjustments from the 23-year-old as well as production in Double-A. While Fraizer's power tapered off a bit after his promotion, his ability to still provide value without launching a ridiculous amount of home runs makes me optimistic in his big league value.
I am sold on the swing adjustments Fraizer has made. Pair that with his high end exit velocities as a left-handed hitting center fielder with a good feel for the strike zone and there's plenty of reason to believe that he can be an above average regular at the Major League level.
Other Names to Watch
Michael Burrows – RHP – (High-A): Burrows has wipeout stuff. The 22-year-old struck out 34% of batters behind his lively fastball and plus curveball. The curve is downright nasty and could be a strikeout pitch in a big league bullpen tomorrow. Ultimately, I think Burrows ends up in the bullpen, but he has closer stuff.
Hudson Head – OF – (High-A): Another fantastic athlete, there is plenty to dream on with Hudson Head. One of the main pieces in the Joe Musgrove deal, Head is a plus runner with above average raw power and a good arm from the outfield. The question on Head–and it is a big one–is how much he will be able to hit. I have my concerns that his lack of contact skills will hold him back, but he is still just 20 years old and worth following.
Jared Jones – RHP – (Low-A): A projectable righty with a lively fastball, Jones comes with some intrigue. The 20-year-old can run it up to 98 MPH and simply overpowered lower level hitters at times. His command needs a lot of work, but the breaking balls flash a ton of potential as well.
Canaan Smith-Njigba – OF – (Triple-A): Smith-Njigba may not be the sexiest prospect in the world, but the guy can hit. He grinds out at bats, takes his walks, and can still punish you if you leave it over the middle. Smith-Njigba will probably need to hit for more power to be an every day corner outfielder, but I like the bat to ball skills and approach.