Rankings
2022 Cincinnati Reds Top Prospects
A look at the top prospects in the Cincinnati Reds farm system.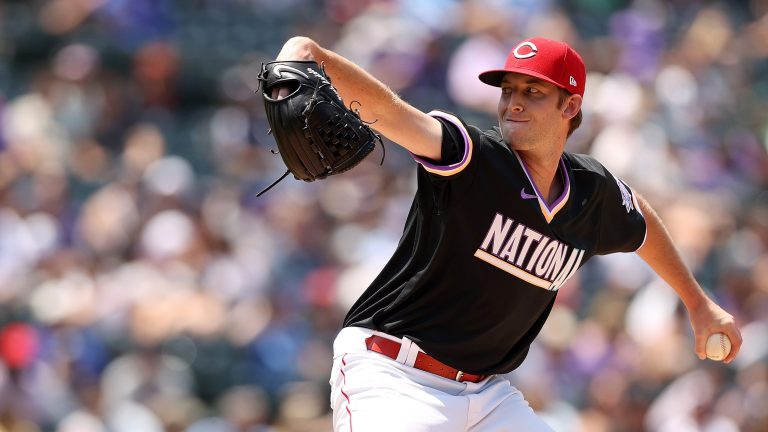 The Cincinnati Reds have a top-heavy system led by the best pitching prospect duo out there with Nick Lodolo and Hunter Greene. On the offensive side of things, the Reds organization is littered with high-variance, toolsy prospects which is why I was such a big fan of the high-floor Matt McLain pick in this year's MLB Draft.
The graduation of Jose Barrero from our top prospect list eliminated the only high-end upside prospect with a track record of hitting in the Minor Leagues from this list, but there are still some high upside positional players to watch in this Reds system.
1. Nick Lodolo – LHP – (Triple-A)
Age: 23 | Height/Weight: 6'6, 205 | Bat/Throw: R/R | 1st Round (7), 2019 (CIN) | ETA: 2022
| | | | | |
| --- | --- | --- | --- | --- |
| FASTBALL | SLIDER | CHANGEUP | COMMAND | FV |
| 60/65 | 60/65 | 50/55 | 55/65 | 60 |
Had his season not been cut short by shoulder fatigue, Nick Lodolo would have been one of the most dominant pitchers in professional baseball last year. Still, in his 50 innings pitched, the Reds southpaw clued us in to what he is capable of. We will have to see how the Reds decide to handle Lodolo's workload in 2022, but he has an elite combination of stuff and command which has the 23-year-old poised for a big league debut next season.
2021 Stats (AA/AAA): 50.2 IP, 2.31 ERA, 2.09 FIP, 0.97 WHIP, 39 K%, 5.5 BB%
Arsenal
Low ¾ arm slot with some crossfire built into the delivery. Slow-moving body until delivery where the heater explodes out of the hand and his firm front-side creates heavy sink and run on the offering. The built-in deception of Lodolo's delivery combined with the 92-96 mph velocity and movement on the pitch give it clear plus potential.
Most of the heaters are located to his glove-side due to his natural feel to groove the pitch across his body, although Lodolo showed much more comfort locating to his arm-side last season. The heater mostly misses east and west because of the ridiculous horizontal movement the pitch has as well as his tremendous ability to keep it down in the zone. The movement profile and overall ability to locate his fastball help Lodolo to an impressive 54% ground ball rate when he isn't striking guys out at a ridiculous 39% clip.
Lodolo's slider gives him another plus pitch in his arsenal. A sweeping breaking ball in the low 80's that features filthy slurve-like movement with 12 inches of horizontal break. It has become his out-pitch against both lefties and righties and he gets tons of swings-and-misses when he locates it down and to his glove-side.
The southpaw commands the pitch so well that he also uses the slider to steal strikes when he's behind in the count. The sweeping action and sheer movement of the pitch has some similarities to the slider that Chris Sale has made a career off of. If he continues to refine it and somehow makes it even tighter, it has the upside of an elite out-pitch at the big league level.
Lodolo also possesses a changeup that flashes above-average, though he hasn't needed it much as he's ascended through the minor leagues. It features good fading action to his arm-side in the mid 80's and has the ability to be a weapon against righties when he's on. His command and feel for the changeup is clearly behind his other two pitches. If Lodolo is to hit his ceiling, he will need to mix in the changeup for strikes against both left and right-handed hitters. There is definitely potential for the offering to miss bats if he refines his command of it.
Outlook
Lodolo is one of the most polished pitchers in the minors and possesses the rare high floor/high ceiling combination. His ability to sequence his pitches stands out almost as much as his electric stuff, and he is likely ready for the big leagues today. His arsenal is extremely similar to Twins reliever Taylor Rodgers, which is terrifying given the fact that Lodolo comes with rotational staying power.
If Lodolo continues to refine his changeup and command, his ceiling is a true ace. Even if he never develops advanced feel for the changeup, we believe he has the floor of a high-end No.3 starter thanks to the combination of stuff, command and feel for pitching. Lodolo has become one of the most intriguing pitching prospects in the Minor Leagues, and we should see him called up to the big league club soon.
2. Hunter Greene – RHP- (Triple-A)
Age: 22 | Height/Weight: 6'5′, 230 | Bat/Throw: R/R | 1st Round (2), 2017 (CIN) | ETA: 2022
| | | | | |
| --- | --- | --- | --- | --- |
| FASTBALL | SLIDER | CHANGEUP | COMMAND | FV |
| 70/80 | 60/60 | 40/55 | 40/50 | 60 |
A pitcher with generational arm talent and athleticism, Greene has the goods to become one of MLB's most electric arms. The 22-year-old does come with some holes in his arsenal which will need some addressing for him to achieve the success that many are expecting from the former second overall pick.
2021 Stats (AA/AAA): 106.1 IP, 3.30 ERA, 3.65 FIP, 1.18 WHIP, 31.7 K%, 8.9 BB%
Arsenal
High ¾ arm slot with arm speed that rivals anyone in the sport. Greene's smooth and consistent mechanics make it easy for him to repeat his delivery and when combined with his elite athleticism, creates command that is already close to average and could improve to plus when he's further developed.
The bread and butter of Greene's arsenal is his electric fastball that sits anywhere from 97-102 and reportedly has topped 104. Greene is able to hold his velocity late in games and rarely looks like he is overthrowing, it's one of the easiest 100's you will ever see.
That being said, Greene gives up more loud contact on the fastball than you might expect from a guy who throws as hard as he does. That is not due to a lack of quality in the pitch, it is simply his over reliance on it. Greene throws his fastball nearly two thirds of the time, allowing hitters to cheat for the pitch and play the percentages. The slider–which I'll get to in a second–is a plus pitch, but upper-level hitters were just daring him to locate it three times for a strike. Greene's distant third offering of a changeup shows flashes of being a strong third pitch, but he only threw it 5% of the time.
As a result, Greene allowed 11 of his 13 home runs on the season on his fastball.
Greene has shown flashes of command of his heater, but does have the propensity to miss over the middle at times, serving up a punishable pitch for the hitters who were sitting dead-red on his fastball. He'll need to shore that up in order to produce at the big league level, as fastballs over the middle get hit in the big leagues no matter how hard you throw; especially when they have the propensity to flatten out over the middle.
Greene's go-to secondary offering is a low-to-mid 80's slider with good tilt and depth that he throws to both left and right-handed hitters. His command of the offering varies from outing to outing, but it gives Greene another plus pitch. The slider lacks the elite bite that you see in typical big league out-pitches, though his command of it should only improve as he develops and will allow for the pitch to play up.
Greene's changeup is still a work in progress, though it does flash above-average when and if he has feel for it. It sits right around 90 MPH with some ASR and drop but like the slider, it lacks the deception and pure movement to consistently miss bats. He currently deploys it almost exclusively to left-handed hitters while ahead in the count, and as he matures it should give him another soft contact inducing pitch. The fact that Greene only threw his changeup about 5% of the time last season can clue you in to the lack of confidence he has in the pitch
If he's able to consistently land it for strikes against left and right-handed hitters, it could become a real weapon. Greene also reportedly began throwing a low 90's cutter, although it remains to be seen how effective the pitch will be. A pitch breaking hard to his glove side could create difficulty for hitters to stay on Greene's heater which will be vital for his success.
Outlook
While Greene has the electric velocity we typically see from big league aces, his lack of a third pitch is holding him back from his massive ceiling. With that being said, Greene's athleticism and feel for pitching bode well for him. Plus command is not out of the question and could take some pressure off of a need for a third pitch, but one of the two will need to develop further in order for Greene to be the ace we all know he can be.
3. Brandon Williamson – LHP – (Double-A)
Age: 23 | Height/Weight: 6'6, 210 | Bat/Throw: L/R | 2nd Round (59), 2019 (SEA) | ETA: 2023
| | | | | | |
| --- | --- | --- | --- | --- | --- |
| FASTBALL | SLIDER | CURVEBALL | CHANGEUP | COMMAND | FV |
| 55/55 | 50/55 | 60/65 | 45/50 | 45/55 | 50 |
2021 Stats (A+/AA): 98.1 IP, 3.39 ERA, 3.20 FIP, 1.18 WHIP, 37.4 K%, 8.1 BB%
Arsenal
Standing at 6-foot-6 with long levers, Williamson creates a deceptive, downhill plane from his high release point. Williamson's fastball sits 92-94 MPH, but plays up thanks to the aforementioned deception. Another big reason why Williamson's fastball plays up is the way it works off of his plus curveball. Williamson's downer curve has sharp 11-5 break from the same high release point. The two pitches work off of each other beautifully, reminiscent of a firmer Rich Hill bender. The vertical break of the curve allows it to work against both lefties and righties.
Williamson's changeup and cutter are vying to stand out as his third offering with both flashing above average. Williamson commands the cutter better to his glove side, making it an effective pitch to bore in on right handed hitters. The changeup has been inconsistent at times, but the pitch has a chance to be above average thanks to the deception that he creates with his delivery and the pitch's fade when he gets on top of it. While Williamson's command is presently average, he does not exhaust a ton of effort in his delivery and has even simplified his mechanics a bit since college; the southpaw showed great command in several individual outings last year including his final two starts of the season. I expect the command to develop to above average.
Outlook
A plus curveball, above average fastball and viable third and fourth offerings bode well for Williamson's chances to become a No. 3 or No. 4 starter in the big leagues; the natural deception the southpaw is able to generate only furthers that notion. The depth and vertical break on Williamson's curve makes it effective to both lefties and righties, giving him steady splits as well.
At 6-foot-6, 210 pounds, I am still holding out hope that Williamson can see a bit of a velocity bump in the future. Still, the southpaw has been able to generate a ton of swings and misses (14 K/9) between High and Double-A. Williamson is no doubt a name to watch for the Mariners and could be big league ready by next year.
4. Elly De La Cruz – SS/3B – (Low-A)
Offense
5. Matt McLain – SS – (High-A)
Age: 22 | Height/Weight: 5'10', 180 | Bat/Throw: R/R | 1st Round (26), 2021 (CIN) | ETA: 2023
| | | | | | |
| --- | --- | --- | --- | --- | --- |
| HIT | RAW POWER | GAME POWER | RUN | FIELD | FV |
| 50/60 | 40/45 | 35/40 | 60/60 | 45/50 | 50 |
A polished college bat, McLain received an aggressive assignment straight to High-A after being selected 25th overall in the 2021 MLB Draft. After being drafted in the first round by the Diamondbacks in the 2018 MLB Draft, McLain opted to fulfill his dream to play for UCLA. The move proved beneficial as McLain continued to look better and better each time I saw him, following up a rough freshman year with a great summer in the Cape and a phenomenal collegiate career for the Bruins.
McLain put his well-rounded game on display during his 29 games in Dayton and has all the makings to climb through the Minor Leagues very quickly.
2021 stats (High-A): .273/.387/.424, 3 HR, 9 XBH, 27 wRC+, 20 K%, 14.3 BB%
Offense
McLain has as simple of a swing and set up as you're going to find. The right-handed hitter starts upright and takes a short stride before just letting his strong bat speed and elite hand eye coordination kick in. The simplicity of McLain's swing and his easily repeatable movements make it easier for him to be on time frequently. The flip side is that I am not sure how much power McLain will be able to hit for this way.
McLain is a line drive hitter who splits the gaps and can get into some home runs on his pull-side, but there is not a ton of violence in his swing. Given his bat-to-ball skills and short, quick swing, McLain does not need to hit 30 home runs to be a successful big leaguer. I do wonder if some slight tweaks may be made to accommodate a bit more power without undermining his bat-to-ball skills considering McLain looks like he is playing pepper up there.
What encourages me most about McLain is his strong approach and pitch recognition. This is generally typical of players who are quick to the ball and do not have to accommodate a ton of pre-swing movement; those types of hitters just have more time to decide.
As is, McLain's offensive profile will put a bit of pressure on his hit tool, however I am willing to bet on that hit tool from what I have seen through the years and most recently in High-A. McLain's elite feel for the barrel makes it extremely difficult to beat him and his plus speed paired with a ton of line drives should make him a high BABIP candidate.
Defense/Speed
A plus runner, McLain made it a point to be a bit more aggressive on the base paths in his professional career, swiping 10 bags in just 29 games. In his 121 collegiate games prior, McLain stole just 16 bases, but was also only caught three times. With his speed and athleticism, 20 stolen bases should be more than attainable at the big league level if he can improve his jumps.
McLain played all over the field in his collegiate career, but that is not because he is not capable of sticking at his drafted position of shortstop. McLain got plenty of run in centerfield early in his career because of the presence of now Tigers prospect Ryan Kriedler at shortstop. Once Kreidler was selected in the 4th round of the 2019 MLB Draft, it was McLain's turn to take over at short.
Given the fact that McLain had just simply been blocked from shortstop his freshman year, then had his sophomore year cut short due to COVID, looks were limited. I really like what I saw from him at the shortstop position in his first professional stint. The 22-year-old has strong foot work and an above average arm, giving him solid range and an ability to make all of the plays a shortstop needs to make and then some.
I have a ton of confidence in McLain sticking at short, however he can also play centerfield or second base if his defense takes a step back for whatever unlikely reason. I expect above-average defense at the shortstop position for McLain.
Outlook
A high-floor offensive profile along with plus speed and an above-average glove has all the makings of a safe, back-end top 100 prospect. McLain does not expand the zone much at all, posting impressively low chase rates, helping him get on base at an impressive clip for a guy who pitchers are not necessarily pitching around.
While he may not be a superstar, McLain has a really good chance to be an above average regular at the shortstop position as a flat out gamer who can set the tone for your lineup. McLain could get a nice little boost at Great American Ballpark as well with some of those doubles turning into home runs. I expect McLain to climb quickly and help the Reds sooner rather than later.
6. Chase Petty – RHP – (Complex League)
Age: 18 | Height/Weight: 6'1, 190 | Bat/Throw: R/R | 1st Round (26) – 2021 (MIN) | ETA: 2025
| | | | | |
| --- | --- | --- | --- | --- |
| FASTBALL | SLIDER | CHANGEUP | COMMAND | FV |
| 65/70 | 60/70 | 45/55 | 35/50 | 50 |
The biggest arm in the 2021 draft class, Petty reached 102 mph on the radar gun in high school. Petty's profile comes with a ton of risk, however it is impossible to deny his upside. Acquired in the Sonny Gray deal from the Twins.
Arsenal
Petty's fastball is already off the charts. There is a bit more effort than you would probably like to see in his delivery but the frequency in which the young right-hander can sit in the upper 90s to triple digits is undeniable.
The pitch has a lot of movement as well, looking more so like a two-seam fastball because of its heaviness and arm-side run. The catalyst behind Petty's high-end velocity is his ridiculous arm speed and athleticism, which hedges some of the concern in regards to the effort in his delivery.
Petty has also shown a plus slider that has the chance to be plus-plus as he continues to develop his command of it. When the pitch is on, it can be devastating with sharp, late horizontal break.
The right-hander has also mixed in a changeup, though he understandably did not need to throw it much in high school. The change has shown flashes of potential, but will need much more refinement as Petty accumulates professional innings.
Outlook
While the track record for hard-throwing righties out of high school is a bit sketchy, Petty is a supreme athlete who has already shown at least some feel for his secondaries. There is plenty of implied reliever risk here, however his athleticism should allow him to improve his mechanics and repeat them as he develops.
7. Allan Cerda – OF – (High-A)
Age: 22 | Height/Weight: 6'3', 170 | Bat/Throw: R/R | IFA: $100K, (2017) – CIN | ETA: 2023
| | | | | | |
| --- | --- | --- | --- | --- | --- |
| HIT | RAW POWER | GAME POWER | RUN | FIELD | FV |
| 35/45 | 55/65 | 50/60 | 55/50 | 45/50 | 50 |
A player with as much upside as any offensive prospect in the Reds system not named Elly De La Cruz, Cerda started to turn tools into production in 2021. Some mid-season tweaks to his setup helped Cerda make more frequent contact down the stretch, the most important thing to watch with the young slugger moving forward.
2021 Stats A/A+: .250/.361/.523, 17 HR, 54 XBH, 136 wRC+, 28.9 K%, 11.3 BB%
Offense
Explosive tools and big time raw power, Allan Cerda is often times the most exciting player on the field. The raw power is the calling card for Cerda, who hit some towering shots last season that would silence the crowd in awe; the big right-handed hitter would also swing through fastballs at times that he should've connected with, but that improved as the season went on.
Like most young, powerful hitters, Cerda looks to do damage to his pull-side by trying to get extended out in front of the plate. That could result in some length to his swing at times and struggles to catch up to elevated velocity. On the contrary, Cerda was able to demolish hanging breaking balls, hitting a majority of his home runs off of benders.
I'd be a bit more concerned about Cerda's inconsistency against fastballs if he didn't show me on numerous occasions that he has the whippy bat speed to catch up to high velocity. It seems like more of an approach thing than an ability or swing capability thing for Cerda, which I expect the newly turned 22-year-old to iron out as he accumulates at-bats; it's important to remember that this was Cerda's first season above rookie ball.
Cerda made an adjustment to his set up in the final month or so in the season which helped him keep his weight back and stay behind the baseball a bit better. The slight change played a big part in Cerda's fantastic finish to the season his smooth transition into High-A.
With more room to fill out and twitchy athleticism, Cerda has big time home run potential, especially in Great American Ballpark. As the projectable outfielder continues to improve his approach, he could turn himself into the name to watch in this system offensively.
Defense/Speed
Presently an above-average runner, Cerda could slow down a step as he continues to add strength to his large frame. As a result, we will probably see the 6-foot-3 outfielder move to a corner from center field. Still, I expect Cerda to move well enough in the corner outfield to be an above-average defender thanks to his plus arm and overall athleticism regardless of his pure speed.
Outlook
Cerda is your classic volatile prospect with major upside, but this Reds system needs high upside guys, especially on the offensive side of things. The Reds seemed to have been very risk tolerant in the past, drafting guys like Austin Hendrick and Rece Hinds, however the Cerda is my favorite of the risky bunch. At 22 years old with already some proven ability at the High-A level, I expect Cerda to swing it well next year. The big jump for the right-handed power hitter will be to Double-A, where plus fastballs dominate the landscape.
If Cerda makes the necessary adjustments to his approach, his skillset should allow him to adjust to the tougher competition. I was incredibly encouraged by Cerda's ability to make up for lost time and if it all clicks for this guy, he could be a corner outfield masher who is surprisingly athletic. Something like Mitch Haniger is what I could see if it all goes right.
8. Graham Ashcaft – RHP – (Double-A)
Age: 23 | Height/Weight: 6'2′, 240 | Bat/Throw: L/R | 6th Round (174), 2019 (CIN) | ETA: 2022
| | | | | | |
| --- | --- | --- | --- | --- | --- |
| Fastball | SLIDER | Curveball | CHANGEUP | COMMAND | FV |
| 60/60 | 60/65 | 40/45 | 40/50 | 40/45 | 45+ |
A sixth round pick in a system that features two of the most exciting pitching prospects in baseball, it's easy to understand why Graham Ashcraft may not be getting all of the fanfare. He deserves plenty of attention, however, posting really strong numbers in Double-A as he became more in-tune with his unique arsenal.
2021 stats (A+, AA): 111 IP, 3.00 ERA, 2.86 FIP, 1.11 WHIP, 28.4 K%, 8.1 BB%
Arsenal
One of the more unique pitching prospects you'll find, Ashcraft's arsenal is so unique it even tricks Trackman sometimes. Ashcraft relies heavily on his 95-97 MPH fastball, which registers at times as a cutter because of its unique movement profile. Whether Ashcraft is intentionally throwing a slightly different variation of the fastball or if it is somewhat of a natural occurrence between the pitches that register as a four-seam and the cutter on Trackman is a question that I would love to ask him, but regardless, the two similar pitches are effective; given that the only difference between the two offerings is less than two inches of horizontal movement. I'd venture to say that his fastball just naturally has different movement from start to start or even pitch to pitch.
While that can be a bit challenging to command at times, Ashcraft has used his unique fastball to his advantage, burying it down in the zone and causing hitters to either swing over it or beat it into the ground. The right-handed pitcher recorded a ridiculous 60.5% groundball rate in his 72.1 innings at Double-A Chattanooga.
Ashcraft's go-to secondary is his slider, which sits 85-88 and tops out at 90 MPH. The pitch is sharp with late horizontal and vertical break making me almost want to call it a "Power Slurve". The bottom really drops out of the pitch on top of the horizontal movement, making it effective to both left-handed and right-handed hitters. Ashcraft has started to phase out his changeup, because the movement profile of his two main pitches actually make him a reverse splits guy.
Vs. LHH: .445 OPS, 34 K%
Vs. RHH: 656 OPS, 23.4 K%
Watching his starts, it became evident how confident Ashcraft is going down and in on left-handed hitters–something most pitchers shy away from. Even when the right-hander is not getting swings and misses, he does a great job of pitching to ground balls and weak contact, giving him a safer baseline. I would like to see a third offering sprinkled in a bit more for the sake of providing a third speed and Ashcraft seems to be deciding whether he wants that to be his curveball or his changeup. Both of which he threw a combined 4% of the time.
It is a tough line to toe, because as a pitcher you also want to throw your better pitches more frequently and even when hitters would play the percentages on Ashcraft and sit fastball, the uniqueness and natural variance of the pitch almost gives him that third look. When it comes to projecting Ashcraft long-term, he could be a really solid middle of the rotation arm. The difficult aspect of projecting a player like this is that there's not many starters with an arsenal like Ashcraft.
The fact that he does not have a pitch that plays well up in the zone does concern me a bit against more advanced hitters. The last thing you want to do as a pitcher is allow hitters to eliminate a quadrant of the zone. The counterargument though is that Ashcraft will still throw up there just enough to keep it in the hitter's mind, but he knows with the movement profile of his stuff that if he leaves his fastball above the belt too frequently, it will get hit.
Outlook
I like Ashcraft because his fallback truly could be a wipeout back-end reliever. After all, the profile on his fastball and slider is similar to Guardians closer Emmanuel Clase, as crazy as that sounds. If Ashcraft does make the move to the bullpen, his stuff would likely play up even more, with the potential to live more in the upper-90's with his heater.
For now, I expect the Reds to continue to roll Ashcraft out as a starter as his high ground ball rate and improving command should play well in Great American Ballpark. Ashcraft has the upside of a unique middle-of-the-rotation starter who can show flashes of more than that when he is on and the fallback of a lights out reliever.
9. Jay Allen – OF – (Complex)
Age: 19 | Height/Weight: 6'3′, 190 | Bat/Throw: R/R | 1st Round (30), 2021 (CIN) | ETA: 2025
| | | | | | |
| --- | --- | --- | --- | --- | --- |
| HIT | RAW POWER | GAME POWER | RUN | FIELD | FV |
| 35/50 | 50/55 | 40/55 | 55/55 | 40/50 | 45+ |
After going with the safer selection of Matt McLain 17th overall in the 2021 MLB Draft, the Reds went back to their pursuit of toolsy high-upside prospects by selecting three-sport star Jay Allen. With above-average tools across the board, Allen is another high-upside prospect who the team was eager to throw into the bunch.
2021 Stats (CPX): 19 G, .328/.440/.557, 3 HR, 7 XBH, 159 wRC+, 16 K%, 10.7 BB%, 14 SB
Offense
A physical 6-foot-3, 190-pound build, Allen put his already present pop on display in his short professional debut this season, launching three homers in just 19 games. Allen's power is already above-average to his pull-side showing explosive rotational ability with his lower half.
Like most young professional hitters who make the jump from high school, Allen struggled at times to read spin in the limited looks I was able to get, having the tendency to want to go get off speed pitches, resulting in his weight shifting forward too early and a decent amount of roll overs. When Allen stayed behind the baseball, you could see how his swing is actually further along than most multi-sport athletes drafted out of high school as well as the easy carry he is able to generate.
I would like to see Allen let the ball travel a bit more and have the confidence to drive the ball to all fields, because I think his swing is more than capable of allowing him to do that this early in his professional career, however, 19 games is hardly enough time to even feel anything out. Allen has a chance to post above-average power numbers and he has a great feel for the strike zone. I am most definitely eager to see more of the newly turned 19-year-old in the batter's box.
Defense/Speed
An above-average runner, Allen can be a solid defensive outfielder if he can develop strong reads and routes. I haven't seen enough of Allen in center field to formulate a strong opinion, but I would be crazy to write off a guy who excelled on the hardwood and the gridiron, even if his sprint times do not quite reach plus territory.
Allen has a better than average arm and the offensive profile to be able to accommodate a move to a corner if he slows down a step, where he would likely be a great defensive outfielder.
Outlook
Nothing quite jumps off of the page with Allen, however prospects with above-average tools across the board do not grow on trees. Possessing a more advanced swing than I was expecting to see while still offering exciting upside, Allen is yet another high variance name to watch in this Reds system, though I do think he is a bit more advanced than some make him out to be.
10. Austin Hendrick – OF – (Low-A)
Age: 20 | Height/Weight: 6'0′, 195 | Bat/Throw: L/L | 1st Round (12), 2020 (CIN) | ETA: 2024
| | | | | | |
| --- | --- | --- | --- | --- | --- |
| HIT | RAW POWER | GAME POWER | RUN | FIELD | FV |
| 30/45 | 55/65 | 45/60 | 50/45 | 45/50 | 45+ |
The Reds knew that they were inheriting a bit of a project when they took Hendrick 12th overall in the 2020 MLB Draft. The big draw to Hendrick is his off of the charts bat speed and raw power, but he has a lot to figure out at the plate before it translates into production.
2021 Stats (A): .211/.380/.388, 7 HR, 23 XBH, 119 wRC+, 37.6 K%, 19.2 BB%
Offense
This is going to come off a bit harsh, but I am laying out the many issues with Hendrick's swing to highlight how much can change for him with some pre-swing adjustments.
Hendrick has a ridiculous amount of pre-swing movement in his swing, which he was able to get away with as a high schooler thanks to his insane bat speed. Unfortunately, wasted movement and moves that obstruct your timing are incredibly hard to get away with in professional baseball, even at the lowest levels.
Hendrick starts upright with his weight stacked a bit on his back-side and his hands up above his head. His bat sticks straight up like a lightening rod and he will bring his hands down as he loads, tipping the barrel so much that the cup of the bat is almost pointing towards the pitcher. It is incredibly difficult to get to where his hands are slotted to the point of contact. Even for a hitter with as much raw bat speed as Hendrick. An "armsy" swing makes it incredibly difficult to catch up to velocity, which was exactly the case for Hendrick, hitting just .125 against fastballs 93 and above.
After reading all of this, you're probably thinking, "then why is he a top 10 prospect in the Reds system?"
Well, I think that with the right adjustments Hendrick can show why he was taken 12th overall out of high school. Hendrick's raw power is undeniable. When everything is on time, he can launch majestic home runs. It is rare to see a player who is 19 years old to start the season put up multiple 110 MPH exit velocities, but even despite all of Hendrick's swing issues he was able to put the power on display.
Aside from the fact that he is only 20 years old and has an overall good eye for the strike zone, I am not ready to give up on Hendrick because he actually could get away with deploying almost no pre-swing movement and still post well above-average pop.
For example, if Hendrick had Matt McLain's quiet pre-swing movement, I think he would still be able to produce impressive pop and would obviously make much more contact. At his age, with his raw twitchy bat speed and athleticism, it would be malpractice to write this kid off. He could show up in 2022 with a totally refined set up and it all could click.
That said, a rough 2022 with more of the same look at the plate will result in him sinking like a rock on our prospect rankings. Hendrick's ability to spray it all over the field and hit monstrous homers when he connects should allow Reds fans to hold out some hope and dream a bit on 30+ homer potential.
Defense/Speed
Slightly above-average speed and a plus arm in right field, Hendrick should have no problem being an above average defender in a corner outfield spot. For a young, first-year player, Hendrick gets good reads and takes solid routes. He should add some value defensively in either corner.
Outlook
By now, you probably get the picture. Hendrick is as volatile as it gets, but he is still just 20 years old with some unteachable tools. While the swing-and-miss is concerning, there are some clear fixes to the problem and even if he doesn't iron out every kink in his swing, a few adjustments could make a massive difference.
The fact that Hendrick doesn't chase a crazy amount and has the ability to be extremely quick to the baseball gives me enough hope to hold out for next season and see what he looks like.
11. Rece Hinds – 3B – (Low-A)
Age: 21 | Height/Weight: 6'4′, 220 | Bat/Throw: R/R | 2nd Round (49), 2019 (CIN) | ETA: 2024
| | | | | | |
| --- | --- | --- | --- | --- | --- |
| HIT | RAW POWER | GAME POWER | RUN | FIELD | FV |
| 35/45 | 65/70 | 45/60 | 45/45 | 40/45 | 45 |
One of the best power bats in the 2019 prep class, the Reds shelled out an above slot bonus of $1.8 million to sign Hinds away from LSU. Your classic power vs. whiff prospect, Hinds provided some reason for optimism that the power could prevail in 2021.
2021 Stats (CPX/A): 54 G, .259/.332/.542, 12 HR, 29 XBH, 126 wRC+, 28.8 K%, 7.5 BB%
Offense
Prior to 2020's MiLB season cancellation, Rece Hinds had only played three games in Rookie Ball after signing with the Reds in 2019. Context is important because Hinds is a prospect who detractors believed would not make enough contact to have success. While swing-and-miss was a present aspect of his game in 2021, the newly turned 21-year-old likely would have hit his way to a High-A Dayton promotion had he not missed time due to a knee issue.
Hinds simplified things with his swing a bunch, letting his elite power shine through with minimal effort. Not every hitter has the liberty to do that, but the 6-foot-4, 220-pound Hinds does not need much to get into a baseball. For hitters of his profile, high-end velocity and breaking balls are areas of concern and weakness. Hinds pulverized fastballs to a .333/.402/.653 clip and did not see his production dip against heaters 93 MPH and over.
Not quite as dominant against breaking balls, Hinds still held his own, posting a .752 OPS and palatable whiff rates. Breaking balls will only be tougher and tougher as Hinds climbs, but at least it was not a gaping hole in his approach.
Hinds has easy 30+ home run power and it will be largely dependent on how much contact he is able to make. His quality of contact was elite, slugging .741 when he connects, but if his contact rates dwindle as he ascends through the Minor Leagues, that figure becomes less important. Something that will take a lot of pressure off of the questionable hit tool of Hinds is simply just seeing more pitches and walking more.
Even at his best, Hinds is not going to be a high batting average guy, but as we all know, home runs and walks will play in today's game. Hinds is just a bit too trigger happy to facilitate above-average walk rates at this point.
I came away encouraged overall from Hinds performance in 2021 and am interested to see how he will handle High-A and eventually Double-A pitching next year. Though not a show-stopping year, I think it is fair to say that Hinds took a step in the right direction in what was his first professional season.
Defense/Speed
An average runner, Hinds moves pretty well for his size and has a strong arm at third base. I haven't seen any reason to believe that Hinds can't stick at the hot corner and be an average glove there, but he moves well enough and has the arm to accommodate a move to an outfield corner if needed, alleviating the risk of moving to first base and having the maximum amount of pressure on his bat.
Outlook
In terms of raw power, the Reds system has no shortage of it. Hinds joins De La Cruz as the two most elite power profiles if it all clicks, but as the clear and common theme has been through this system, there's a lot of ways things can go for Hinds. If Hinds is even a slightly below-average hitter, his quality of contact should allow him to launch 30+ home runs in a full season and his ability to get on base will be an important thing to monitor moving forward.
12. Andrew Abbott – LHP – (Low-A)
Age: 22 | Height/Weight: 6'0′, 180 | Bat/Throw: L/R | 2nd Round (53), 2021 (CIN) | ETA: 2023
| | | | | | |
| --- | --- | --- | --- | --- | --- |
| Fastball | SLIDER | Curveball | CHANGEUP | COMMAND | FV |
| 50/55 | 50/55 | 55/60 | 40/45 | 45/50 | 45 |
One of the most dominant pitchers in college baseball for UVA in 2021, Andrew Abbott dominated hitters on his way to becoming a Golden Spikes Award semi-finalist.
2021 Stats (CPX/A): 13 IP, 4.15 ERA, 3.67 FIP, 1.23 WHIP, 39.5 K%, 7.1 BB%
Arsenal
After throwing more than 100 innings in his collegiate season at UVA, looks were limited of Abbott, in professional baseball as the Reds made sure not to overwork him. Abbott was dominant in a tough ACC and parlayed that into a strong pro cameo in Low-A Daytona. During the collegiate season, Abbott operated more in the 90-92 range with his fastball, but the pitch posts above-average spin rates and riding life, helping him rack up above-average whiff rates on it. Abbott will also mix in a two-seam fastball that he uses on occasion to get ground balls.
Given that his "starts" were really two inning spurts in pro ball, Abbott's fastball ticked up to 92-94 MPH. When the Reds look to stretch Abbott back out like a normal starter 2022, it will be interesting to see if he can sustain the slight uptick in velocity.
While a bump in the velocity department would be nice, pitchers like Ranger Suarez and Nestor Cortez have demonstrated that low 90s fastballs with high spin and life can play in the big leagues, especially when you have a strong complementary arsenal that works off of the pitch well.
Abbott has just that, featuring a hammer of a 12-6 curve in the upper-70s that is already above-average and flashes plus. The southpaw has also played around with a slider since joining the Reds, which is closer to the low-80s range and features a bit less vertical break, making it a tad easier to throw for a strike.
Already showing a decent feel for his changeup, the offering looks to be average with a chance for a bit more.
Outlook
The Reds didn't draft Andrew Abbott in the second round with the anticipation of him becoming an ace, but they did draft a polished lefty who they have an incredibly high amount of confidence in to slot into a No. 4 spot in a rotation. I wouldn't cap Abbott's ceiling there as an uptick in velocity and further refinement of his changeup could give him an outside chance to be a No. 3. Regardless, the Reds have an incredibly high floor arm who should climb through the system quickly.
Other Names To Watch
Ivan Johnson – 2B/SS – (High-A): A switch-hitter with above-average pop in the middle infield is always an intriguing prospect. Couple that with the fact that Johnson is a plus runner and you have a player who is worth monitoring. A 30% K-rate and defensive limitations are whet help Johnson out of the top 10, but a strong season in 2022 can change that.
Tyler Callihan – 2B/3B – (Low-A): A rare high-floor prospect in this system with a good feel to hit and strong approach, we just have not been able to see much of Callihan due to 2020's cancellation and Tommy John surgery this year. While he may never be a superstar, I wouldn't write this kid off.
Daniel Vellojin – C – (Low-A): A left-handed hitting catcher with a big arm and good bat-to-ball skills, Vellojin is a name not often discussed given the fact that he signed for just $10K in 2018. Pair a strong first pro season stateside for Vellojin with the Reds track record of developing catchers and consider me intrigued.
Matheu Nelson – C – (High-A): Nelson broke out in a big way for the Florida State Seminoles in 2021, launching 23 home runs after leaving the yard just seven times in his first 74 collegiate games. Nelson's plus arm has helped evaluators hold out hope that he can stick behind the dish, but he will also have to prove that 2021 was not a flash in the pan for an experienced collegiate bat and more a product of things clicking for him long-term.
Lyon Richardson – RHP – (High-A): An athletic pitcher with an interesting mix of pitches, Richardson's fastball has been pummeled since being drafted in the second round fo the 2018 draft, which has made things difficult for him. The velocity on his fastball jumped a bit in 2021 and if Richardson can improve his command, there is hope that the 22-year-old can develop into a solid back-end rotation piece.
Michael Siani – OF – (High-A): A plus runner and elite defensive outfielder, Siani does not need to be an offensive monster to offer MLB value. The problem is, Siani has struggled to even be competitive at the plate thus far in his pro career. That said, Siani has swiped a ridiculous 75 bases over his last 218 games. Speedy fourth outfielder is likely the profile.
Alejo Lopez – UTIL – (MLB): The 25-year-old Lopez mashed his way to a big league call-up last season and garnered a ton of buzz from Reds fans. His 14-game MLB cameo was a bit disappointing, but Lopez's rare bat-to-ball skills still have my attention and his defensive versatility could make him an ideal utility man for the Reds if he can swing it a little bit at the highest level.
Bryce Bonnin – RHP – (High-A): Even after a rocky collegiate career, Bonnin is a data darling who earned enough intrigue to be selected in the third round of the 2020 draft by the Reds. He has crazy swing-and-miss stuff with an electric fastball/slider combination giving him a back-end bullpen projection if he can develop even slightly below-average command.
Check out our other Top Prospect Lists by team here!