Rankings
San Francisco Giants Top Prospects
Just Baseball's prospect rankings for the San Francisco Giants.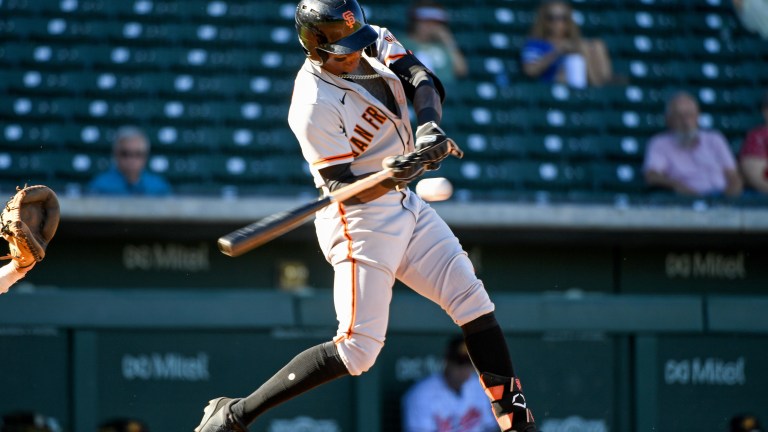 There are few organizations run better than the San Francisco Giants. Three World Series titles since 2010 and last year's most unexpected division champion finish would back that up, but so would their consistently solid farm system.
Even when depleted through the years, great drafting along with strong international scouting/development have helped the organization replenish their young talent. As it currently stands, the Giants have a top 10 farm system in baseball.
1. Marco Luciano – SS – (High-A)
Age: 20 | Height/Weight: 6'2′, 180 | Bat/Throw: R/R | IFA: $2.6M (2018) | ETA: 2023
| | | | | | |
| --- | --- | --- | --- | --- | --- |
| HIT | RAW POWER | GAME POWER | RUN | FIELD | FV |
| 40/50 | 55/70 | 50/70 | 50/45 | 40/45 | 60 |
One of baseball's most exciting prospects, Luciano packs a punch that you would never expect from a player of his stature thanks to his off the charts bat speed. Luciano could feasibly be baseball's top prospect by 2022's end, but his hit tool will be the determinant.
2021 Stats (A/A+): .258/.344/.471, 19 HR, 42 XBH, 112 wRC+, 10.6 BB%, 26.9 K%
Offense
Made small adjustments to his set up during the season, starting slightly open with his feet a little wider than shoulder width apart and weight a bit more stacked on his back side than before. Luciano uses a more toned down leg kick in order to generate lower body momentum and is much more controlled and consistent with his timing since quieting things down a bit. Once he's in his launch position, Luciano unloads what is one of the fastest swings in all of baseball; Luciano truly has Javier Baez level hand speed without as much movement or effort.
Too talented for the level he was at in 2019, he simply waited for a pitch to do pull-side damage with and unleashed. Luciano started this season in Low-A and looked much more advanced approach wise, but still has room to improve.
After mashing Low-A pitching, Luciano earned a promotion to High-A where the newly turned 20-year-old had some of the inconsistencies in his approach highlighted (38.5 K%). Facing Low and High-A pitching in 2021 was more of a challenge for Luciano in terms of his approach, as he will have to give in and show his ability to go the other way as he progresses through the minors.
Defense/Speed
His physical development will likely go one of two ways: either he has a playing weight of 190-200 and sticks at shortstop, or he becomes a 210+ pound, physical monster who moves off the position. Given that he already possesses plus-plus raw power, the Giants could prefer to keep him lighter and more athletic. He has average quickness for a shortstop, but doesn't always take the right angels to balls, and his hands are currently below average. Luciano does have a plus plus arm which helps him at short. He is a fringe above-average athlete, and flashes average home to first times.
If he does become the 220+ pound physical monster, a move to third base or right field will be the most likely outcome. He has the best infield arm strength in the minors, and his only big league comparisons in regards to arm would be Fernando Tatis, Carlos Correa, and Javier Baez. Those guys are better athletes than Luciano, however he could have more raw power than all of them.
Outlook
The Giants could have a perennial All-Star and MVP on their hands with Luciano. It's easy to dream on a .285/.375/.600 slash line with around 40 homers a year. Even if he has to move off shortstop, Luciano's bat will play anywhere on the diamond. While High-A was a bit struggle for the newly turned 20-year-old, there is no reason to believe that he will not get acclimated in his second taste of the level next year. Like many prospects with ridiculous raw power, it will come down to the hit tool for Luciano.
2. Luis Matos – OF – (High-A)
Age: 19 | Height/Weight: 5'11', 160 | Bat/Throw: R/R | IFA: $725K (2018) | ETA: 2023
| | | | | | |
| --- | --- | --- | --- | --- | --- |
| HIT | RAW POWER | GAME POWER | RUN | FIELD | FV |
| 45/55 | 50/60 | 40/55 | 55/55 | 40/50 | 55+ |
Despite not being the top teenage prospect in his own organization, Matos is one of the most exciting teenage prospects in baseball, which is a testament to the upside of the Giants' system. Similar to Marco Luciano, Matos has power and bat speed that defies his frame, making it hard to place limits on his power potential.
2021 Stats (A): .313/.358/.494, 15 HR, 51 XBH, 21 SB, 121 wRC+, 12.4 K%, 5.7 BB%
Offense
A simple upright setup before using a small gathering leg kick to get into his back side, Matos relies on his athleticism and ridiculous bat speed to impact the baseball with minimal effort. Matos has plus power to the pull side, but is a bit too eager to do damage that way, largely in part to his aggressive approach.
The newly 20-year-old often looks to catch pitches out in front of the plate leading to higher than average chase rates and an off the charts 55% pull rate. While Matos will need to adjust his approach in order to have success at the upper levels, his impressive season was buoyed by fantastic bat-to-ball skills. Despite an aggressive approach, Matos boasts impressive contact rates combined with exit velocities routinely above 105 MPH thanks to his exceptionally quick hands.
Matos has the capability to let the ball travel and use the whole field which is why his aggressive approach doesn't knock down the hit tool projection for him too much.
At this point, Matos' bat-to-ball skills are almost a double edged sword: on one hand, he is able to spoil tough pitches in two-strike counts, playing a big part in his minuscule 12% K-rate, but on the flip side, Matos will produce weak contact swinging at a ball off the plate early in the count that most other hitters would whiff and recalibrate. The thought that he can get to any pitch is confidence inducing, but also approach compromising. If Matos looks for certain pitches in certain spots and displays more patience, he should see an uptick in the power and walk departments, while his K-rate would increase a negligible amount at most.
In terms of natural talent, Matos is the whole package offensively and it is important to note that his only experience prior to last season was 60 games in Rookie Ball as a 17-year-old. Matos will only get better as he gets more at bats under his belt and he is likely to mature physically as well.
Defense/Speed
A plus runner combined with impressive quickness, Matos is a threat on the base paths and has an strong chance to stick in center field. Matos swiped 21 bases last season in 26 chances and made 85 of his 109 starts up the middle. Matos has an average arm that is more than fine in center. As his reads/routes continue to improve, Matos should be a solid defender out there.
Outlook
Matos has already shown an ability to integrate his exciting tools into live game action through his performance last year in Low-A San Jose. While the free-swinging aspect to Matos' approach presents at least some risk, his lack of professional at-bats and proven ability to produce (despite youthful aspects to his game) bode well for his long-term upside. The combination of enviable bat-to-ball skills and room for growth within his frame give Matos exiting offensive upside.
There's five-tool potential here for Matos as a player who should be able to hit for a high average, run into 25 or more home runs and steal 20+ bases all while sticking in center field. A big X-Factor for Matos will be his selectiveness at the plate, which could be the difference between him being a decent regular and an All Star.
3. Kyle Harrison – LHP – (High-A)
Age: 20 | Height/Weight: 6'2′, 200 | Bat/Throw: R/L | 3rd Round (85)- 2020 | ETA: 2023
| | | | | |
| --- | --- | --- | --- | --- |
| FASTBALL | SLIDER | CHANGEUP | COMMAND | FV |
| 55/65 | 50/55 | 55/60 | 35/50 | 50+ |
In a 2020 MLB Draft dominated by college arms, the Giants were able to entice prep southpaw Kyle Harrison to forgo his UCLA commitment with a $2.5 million signing bonus. The Giants like to target naturally deceptive arms with unique pitch profiles and Harrison fits the bill quite perfectly.
2021 Stats (A): 98.2 IP, 3.19 ERA, 3.48 FIP, 1.40 WHIP, 35.7 K%, 11.8 BB%
Arsenal
Harrison used his lively four-seam fastball to overpower Low-A hitters. A plus offering, Harrison's heater sits 93-95 mph, occasionally grabbing a six or seven. The pitch's perceived velocity is closer to the upper-90s thanks to Harrison's low release point and high spin rates. Averaging nearly 2400 RPMs from a high three-quarters release, Harrison is able to achieve the widely sought after rising action on his fastball, combined with a release that is difficult to pick up because of the way he is able to hide the baseball.
Harrison's above-average changeup worked in tandem with his fastball to make at-bats extremely difficult on opposite-handed hitters. Sitting in the mid-80s, Harrison's changeup features a ridiculous 18 inches of horizontal movement. The pitch has shown plus and works well off of his plus heater.
Because of the slingshot type of release Harrison has, it is difficult for right-handed hitters to see the ball out of Harrison's hand, making it a bit of a guessing game as to whether the pitch will be that fastball riding up or a changeup fading away which helps both pitches play up even more.
A great example of a pitcher who benefits from a similar effect is Trevor Rogers of the Marlins, and similar to Rogers, Harrison produces reverse splits, holding righties to meager offensive production. Harrison could benefit sacrificing a bit of the horizontal break for some more vertical drop which would allow for the pitch to tunnel a bit better with his fastball. Right now, Harrison's changeup is more of a side spinner, but it still differentiates effectively from the fastball, especially to his arm side.
Harrison's third offering is a slider in the mid-80s which flashes above-average when he can command it. Harrison leans on the slider more against left-handed hitters, but does not totally shy away from it against righties. From the 20-year-old's tricky release point, the slider can look like it is coming at the hip of same-handed hitters, before breaking back over the plate. When his command is on, Harrison sets up the slider well with tough fastballs in on the hands of lefties. The struggle for Harrison was that his command became sporadic and there were times where left-handed hitters could really just key in on the fastball when the feel for the slider wasn't there.
When Harrison had a good feel for his pitches, he was more than comfortable using the slider to backdoor right-handed hitters for early strikes in order to set up his changeup which has the opposite action. Righties slashed just .207/.329/.298 against Harrison last year because they had to worry about pitches either breaking towards them, away from them or rising. Left-handed hitters posted an OPS nearly 200 points higher due to the inconsistency of Harrison's slider along with his reluctance to go to the pitch against left-handed hitters due to how much it breaks towards them. Another reason why some more vertical drop on the changeup could help.
Outlook
Nineteen years old at the start of the season, Harrison handled the Low-A competition with ease striking out 36% of batters, while doing a good job of keeping the ball in the yard (3 HR in 98.2 IP). Harrison's fastball is an above-average big league heater and his secondaries have already shown enough to make a legit MLB three-pitch mix easy to envision.
Harrison's strong arsenal combined with natural deception and maybe even room for a tick more velocity bode well for his massive upside. If Harrison can continue to improve in the command department, it is easy to envision a high end No. 3 starter or even average No. 2 starter. If Harrison's command remains fringy, his stuff should allow him to be a high volume strikeout guy who strands just enough guys to survive in the back of a rotation.
4. Patrick Bailey – C – (High-A)
Age: 22 | Height/Weight: 6'1′, 210 | Bat/Throw: S/R | 1st Round (13) – 2020 | ETA: 2023
| | | | | | |
| --- | --- | --- | --- | --- | --- |
| HIT | RAW POWER | GAME POWER | RUN | FIELD | FV |
| 50/55 | 50/50 | 35/45 | 35/35 | 40/50 | 50 |
Viewed by many as the best all-around catcher in the 2020 MLB Draft, Bailey battled injuries in his first professional season, but finished on a high note by hitting .369/.466/.640 in his final 30 games of the season at Low-A.
2021 Stats (A/A+): .265/.366/.429, 9 HR, 34 XBH, 113 wRC+, 24.7 K%, 13 BB%
Offense
A switch-hitter with an excellent feel to hit, Bailey barreled baseballs from the day he stepped on campus at NC State hitting .321/.419/.604 as a freshman with 28 walks against 32 punch outs. Bailey was off to an absurd start to the 2020 season, launching six homers in his first 17 games before COVID cut the season short. Many were surprised by the selection of Bailey when the Giants had Buster Posey at the big league level and his heir apparent in Joey Bart, but Bailey possesses some of the desired qualities that Bart lacks.
Bailey may not pack the power that Bart possesses, however the switch-hitting catcher is a natural hitter whose hands work extremely well in helping him get to difficult pitches. Not the most aggressive of hitters, Bailey will work plenty of walks and is comfortable going deep into counts. As a result the 22-year-old can find himself in defense mode before he even gets a chance to take his "hitter's count" swings. Another reason why Bailey's power output was a bit limited in his professional debut is because of his inconsistent lower half.
Starting with an upright stance, Bailey uses a gathering leg kick to sink into his back leg, but struggles to keep his weight back as he starts his swing. With a lot of Bailey's swings, you could see a heavy land on his front foot and his weight coming forward before his hands even launch. As a result, Bailey's barrel can drag under elevated heat or he will go after off-speed in front of the plate and roll over.
Bailey was still able to produce some good offensive numbers because of his mobility in the box and fantastic hands, however his drift from the left side will continue to be exposed as he sees more elevated riding heaters that have become en vogue.
Defense/Speed
The excellent hand-eye that Bailey possesses at the plate makes its way behind the dish as the 22-year-old backstop demonstrated strong catch and throw skills, along with solid receiving and an above-average arm. Bailey's blocking could use a bit of work, however he is athletic enough to work through that as he makes some adjustments with his pre-pitch set up behind the dish. Bailey has the goods to be an above-average defender.
Outlook
While Joey Bart will likely get plenty of looks in 2022, it is seeming more and more likely the Giants are looking at Bailey to be the team's long-term answer at the catching position. Bailey could still use some refinement defensively to catch Bart in that department, but Bailey has all of the tools behind the dish to get there and a much safer offensive profile.
It was encouraging to see Bailey finish on a high note in 2021, however it is worth noting that he entered last season as an experienced polished bat who we would expect to make easy work of Low-A competition after three years in the ACC.
A concussion, along with some other nagging injuries, made last season a bit chaotic for Bailey and it was chaotic to begin with for everyone. Next year will be a very important season for Bailey to prove that he can be the franchise's next backstop in 2023 and beyond.
5. Heliot Ramos – OF – (Triple-A)
Age: 22 | Height/Weight: 6'1′, 190 | Bat/Throw: R/R | 1st Round (17) – 2017 | ETA: 2022
| | | | | | |
| --- | --- | --- | --- | --- | --- |
| HIT | RAW POWER | GAME POWER | RUN | FIELD | FV |
| 40/45 | 55/55 | 40/50 | 55/55 | 40/50 | 50 |
Rushed development resulted in Ramos taking a bit of a step back in 2021, however Ramos put up above-average numbers in Double-A as a 19-year-old and in 2019 and did more of the same in 2021 before getting the bump up to Triple-A Sacramento, where he struggled to find the same production.
2021 Stats (AA/AAA): .254/.323/.426, 14 HR, 42 XBH, 94 wRC+, 28 K%, 8.5 BB%
Offense
Despite having a somewhat aggressive approach, Ramos uses the entire field really well, especially against southpaws. Ramos doesn't have too many moving parts to his swing, but sometimes looks a bit rushed in the box. It could be inconsistent timing or a struggle with pitch recognition, but at times Ramos will seem to be caught in between and on other occasions he will sit back well on a breaking ball and drive it the other way or won't have much issue catching up to the heater.
The impressive bat speed and body control of Ramos allow for him to put good swings on tough pitches, but consistency is where the trouble lies. Whether it is a matter of being on time more frequently and/or pitch recognition, both will come with more upper level at bats. It may feel like Ramos has been around for a while, but the former high school draft pick made his way to Triple-A after two and a half professional seasons. For Ramos to realize his potential, he will need to cut down a bit on the chase rate, as his aggressive approach has limited him to just an 8% walk rate in his career as well as putting balls in play that he cannot do much with.
Defense/Speed
Ramos may not be much of a base stealer, but he is a fringe above average runner who is capable of playing all three outfield spots. Once closer to a plus runner, there is a bit more pressure put on the jumps and routes for Ramos when in center field, however he can be average out there. Longterm Ramos could wind up in a corner where his plus arm and still solid speed should translate to comfortably above average defense.
6. Joey Bart – C – (MLB)
Age: 22 | Height/Weight: 6'2′, 230 | Bat/Throw: R/R | 1st Round (2) – 2018 | ETA: 2022
| | | | | | |
| --- | --- | --- | --- | --- | --- |
| HIT | RAW POWER | GAME POWER | RUN | FIELD | FV |
| 35/35 | 60/60 | 45/55 | 30/30 | 50/55 | 45+ |
A track record of hitting all the way back to his freshman days at Georgia Tech, an early leap to the big leagues after playing only 22 games above High-A resulted in some swing flaws being exposed for Bart in 2020. Despite making some improvements in Triple-A last year, Bart's inconsistency at the plate has cast a bit of a shadow on his overall outlook.
2021 Stats (AAA): .294/.358/.472, 10 HR, 25 XBH, 107 wRC+, 29.4 K%, 7.5 BB%
Offense
Built like a linebacker with the ability to leave the yard even when he doesn't get all of the baseball, Bart is capable of producing some towering homers. The challenge for the Giants catching prospect has been adjusting to the plan of attack that opponents have developed for him after his stint in the Big Leagues.
When Buster Posey opted out of 2020's abbreviated season, Bart was thrusted into action for the Giants, struggling to a .609 OPS along with a brutal 37% strikeout rate against just a 3% walk rate. Not only was Bart's aggressive approach exposed, but his struggles against velocity became evident as well. The newly turned 25-year-old posted an OPS hardly above .500 against fastballs 94 mph and above, especially when elevated. This is of course a major concern as riding mid-90s fastballs are the norm in today's MLB.
At 6-foot-2, 240 pounds, Bart is maxed out physically and his build actually seems to be restrictive at times in the box. Bart has the tendency to be stiff and lack some of the natural fluidity and elasticity many good hitters have in the box. The lack of twitchiness for Bart results in him needing to make earlier decisions to avoid getting blown up by velocity which can often result in more chases.
Bart did improve his chase rates last year, but that is somewhat expected when moving back to Triple-A from MLB. The fact that Bart was able to put up above-average numbers in Triple-A Sacramento provides some hope heading into 2022, however most of the data points towards similar flaws being exposed at the MLB level. Bart has the type of power that can make up for gaps in contact, but it is starting to look like his slugging on contact will have to be Mike Zunino level to achieve big league success.
Defense/Speed
Bart moves pretty well for a big burly dude. You can really see it behind the dish where he blocks really well and boasts excellent catch and throw skills. Bart threw out 33% of attempted base stealers last year and is an above-average framer. The comfortably above-average defense that Bart offers helps his overall MLB outlook a bit.
Outlook
It is becoming harder to envision Bart translating into the do-everything catcher that the Giants hoped he would be when they took him second overall in the 2018 MLB Draft. Still, Bart looks the part of an above-average MLB backstop defensively and possesses raw power that you just don't see from a many catching prospects.
Given the increasing doubt as to whether Bart will be able to hit enough to consistently tap into his plus pop, it is probably fair to say that Giants fans should hope for a Mike Zunino type of outcome at this point with Bart.
7. Jairo Pomares – OF – (High-A)
Age: 21 | Height/Weight: 6'1′, 185 | Bat/Throw: L/R | IFA: $975K (2018) | ETA: 2024
| | | | | | |
| --- | --- | --- | --- | --- | --- |
| HIT | RAW POWER | GAME POWER | RUN | FIELD | FV |
| 40/45 | 55/65 | 45/55 | 50/50 | 40/50 | 45+ |
Pomares has big time raw power from his sweet left-handed swing and athleticism that helps him produce explosive bat speed. A trigger-happy approach challenged Pomares after his High-A call up, but last season boosted his stock big time.
2021 Stats (A/A+): .334/.378/.629, 20 HR, 48 XBH, 155 wRC+, 26.5 K%, 5 BB%
Offense
Pomares has a relaxed setup, starting upright with his hands resting low. Pomares uses his rhythmic hand load to start his move to get into his back hip, which includes a leg kick that he times up pretty consistently.
A big reason why Pomares is able to get into so much power is his ability to stay on his backside. While the K-rate jumped a bit in High-A, it was not due to being overmatched or overpowered, but rather approach flaws being exposed. The 21-year-old did damage against all types of offerings, posting a .900 OPS or better against fastballs, breaking balls and changeups; a testament to the athletic hitter's body control.
While I have not seen many "plus" power grades from other evaluators on Pomares, I would argue that his raw pop easily projects as plus if not a hair more. Seven of Pomares' homers traveled 110+ mph along with nearly 50 batted balls 105+ mph last season.
After dismantling Low-A pitching, High-A arms were a bit more wary of what they were throwing to Pomares, using the young hitter's willingness to expand the zone against him. Pomares still made plenty of contact in High-A and did not get cheated in his quality of contact, but he only walked one time in 104 PA's.
The fact that Pomares has success against all types of pitches and showed plenty of comfort letting the ball travel and shooting it the other way against the shift on plenty of occasions leads me to believe that the 21-year-old is capable of working through his approach limitations. Like many young hitters with a feel to hit, Pomares' confidence in his bat-to-ball skills can lead to wanting the pull the trigger at everything. The left-handed hitting outfielder has only played 77 games of full season ball in his professional career and should only continue to progress in that department with experience.
Defense/Speed
Athletic enough with the arm to supplement an above-average defensive profile, Pomares' inexperienced reads and routes were visible at times. The young outfielder did get better as the year went on in that department and has the tools to be a solid defender in either corner with more reps. Pomares can post run times a tick above average and gets out of the box quickly, but he will likely be an average runner as he progresses.
Outlook
Entering the 2021 season, few had Jairo Pomares tabbed as a breakout candidate, but his performance last season was convincing. Pomares has a quick bat and body control that allows him to get to difficult pitches, but that doesn't mean he has to swing at them early in the count. As Pomares continues to realize and work through that, his skills will continue to be an unteachable strength rather than a cause of his nearly nonexistent walk rates.
Pomares boasts an impressive spray chart with home runs leaving foul pole to foul pole and his pull-side power can be silence the crowd level of impressive when he connects. While I believe that Pomares will improve enough defensively to not be a negative in either corner, his bat will ultimately dictate where his career goes. There is plenty of risk in a profile like that of Pomares, but players less gifted than him have worked through similar approach issues. If Pomares can cut down the aggression in the box, there is a good chance he will be making kayakers in McCovey Cove very happy for years to come.
8. Will Bednar – RHP – (Low-A)
Age: 21 | Height/Weight: 6'2′, 225 | Bat/Throw: R/R | 1st Round (14) – 2021 | ETA: 2024
| | | | | |
| --- | --- | --- | --- | --- |
| FASTBALL | SLIDER | CHANGEUP | COMMAND | FV |
| 50/55 | 55/60 | 35/50 | 35/50 | 45+ |
A lights out finish to his 2021 season for Mississippi St. on college baseball's biggest stage resulted in Bednar catapulting up the draft boards and eventually being selected 14th overall by the Giants as a draft eligible sophomore. The younger brother of Pirates reliever David Bednar, Will has an excellent feel for spin and despite some effort in his mechanics, he shows an ability to repeat them.
2021 Stats (NCAA): 92.1 IP, 3.12 ERA, 1.061 WHIP, 139 K's, 26 BB's
Arsenal
Nasty breaking balls run in the Bednar family. For older brother David, his curveball was instrumental in his big season out of the Pirates bullpen last year. For Will, his sweeping slider in the mid-80s was just too much to handle for collegiate hitters and that carried into limited pro action last year. Bednar commands the slider really well to his glove side, making him confident using it as a pitch that either darts away from righties or bites in on the back leg of lefties.
Bednar's fastball sits in the 93-95 mph range with arm side run. The right-hander is comfortable locating the pitch on both sides of the plate and is effective in tandem with his plus slider. As right-handed hitters start looking out over the plate for the slider, Bednar is comfortable running his fastball in on their hands making for plenty of weak contact.
Because of the dominance of Bednar's main two pitches, he has not had to go to his changeup much. He threw it less than 5% of the time at Miss St. and in limited professional action, we did not see much of it either. When Bednar does throw the change, it features good arm side fade and could be an above-average pitch as he continues to find the feel for it.
Outlook
Bednar's mechanics can look a bit erratic, featuring some tug and fall towards first base that you see more often from higher effort relievers. Despite that surface level concern, Bednar has an incredibly durable frame. He was able to sustain his velocity deep into starts and does not struggle to repeat his mechanics much.
With already a plus out pitch, an above-average slider and a track record of throwing strikes, the Giants are likely hoping for a mid-rotation piece here. On the younger side for a college arm, there is plenty to like with Bednar and he is a name to watch who could rise up this top 10 list by mid season. If Bednar struggles to develop beyond his pitch mix now, he could still find success in a bullpen.
9. Matt Mikulski – LHP – (CPX)
Age: 22 | Height/Weight: 6'4′, 205 | Bat/Throw: L/R | 2nd Round (50) – 2021 | ETA: 2024
| | | | | | |
| --- | --- | --- | --- | --- | --- |
| FASTBALL | SLIDER | CURVEBALL | CHANGEUP | COMMAND | FV |
| 55/60 | 50/55 | 40/45 | 50/60 | 35/45 | 45+ |
Mikulski led all qualified NCAA starters in ERA (1.45) and K/9 (16.33) while setting Fordham records for single season and career strikeouts. The southpaw dominated against higher end competition on the Cape, giving the Giants enough confidence to take him with their second selection in last year's draft.
2021 Stats (NCAA): 68.1 IP, 1.45 ERA, 0.82 WHIP, 124 K's, 27 BB's
Arsenal
Yet another unique southpaw with an effective fastball/changeup combination in this Giants system, Mikulski hides the ball extremely well by staying closed late into his delivery with a short arm action that doesn't allow the hitter to see the ball until it's flying towards him. Mikulski's best out pitch is his mid-80s changeup that features good arm side fade and separates well from his fastball. The 22-year-old went to the offering 18% of the time against right-handed hitters and racked up a ridiculous 70% whiff rate.
Mikulski's closer to average breaking balls play up left on left because of his difficult release point. The southpaw's slider has flashed above-average, but is really difficult for lefties because it looks like it is flying at their front hip before breaking into the strike zone. Even Mikulski's average curveball is effective early in the count for that reason.
Outlook
The fact that Mikulski was pitching in the Atlantic 10 Conference caused evaluators to take his numbers with a grain of salt to a degree, but the second round pick carved up the Cape Cod League and has an arsenal that should allow him to be effective in a rotation. The left-hander's fastball profile looks strong, but it will be important to see if the offering has close to the same level of effectiveness up in the zone in professional baseball.
Mikulski throws strikes, but he will need to hit his spots a bit more in order to have continued success at the next level. Because of his sheer quality of stuff, Mikulski got away with missing over the heart of the plate on occasion, especially when he would tug his changeup glove side. With potentially three above-average pitches and a unique delivery that can create discomfort for hitters, Mikulski has middle rotation upside with a good chance to be a back-end starter.
10. Averson Arteaga – SS – (Low-A)
Age: 18 | Height/Weight: 6'1′, 170 | Bat/Throw: R/R | IFA: $1 million – 2019 | ETA: 2025
| | | | | | |
| --- | --- | --- | --- | --- | --- |
| HIT | RAW POWER | GAME POWER | RUN | FIELD | FV |
| 35/50 | 45/50 | 35/45 | 60/60 | 55/70 | 45+ |
Signed as a glove-first prospect out of Venezuela, Arteaga surprised by showing a bit more at the plate in his pro debut than expected.
2021 Stats (CPX): .294/.367/.503, 9 HR, 22 XBH, 123 wRC+, 30.5 K%, 10.2 BB%
Offense
Admittedly, looks have been limited when it comes to Arteaga, as 2020's cancellation delayed his debut and the 18-year-old expectedly spent his entire 2021 season at the complex. With a somewhat slight build, scouts wondered if Arteaga would be able to impact the baseball enough to avoid falling into more of a utility profile, however his athleticism translates in the box in the form of a quick bat and twitchy strength.
Arteaga has a simple set up in the box, relying on a slight weight shift into his backside and a small gathering leg kick to start the move. He has quick hands and a swing geared for line drives to all fields. There seems to be a bit more power in the tank than expected and an offensive profile that could be good enough to hold down an everyday spot at shortstop; especially if he adds a few pounds of muscle.
Defense/Speed
An absolute lock to stick at shortstop, Arteaga has legitimate Gold Glove upside defensively. He displays phenomenal footwork, clean actions and a strong arm. Arteaga is comfortable making difficult throws from different arm slots moving in either direction and is simply just fun to watch flash the leather. A plus runner, Arteaga should be able to make an impact on the base paths as well.
Outlook
Arteaga could find himself enjoying an Oswald Peraza type of boost to his stock if he continues to exceed expectations offensively. There is still some doubt for how his feel to hit will translate in full season ball, but with the plus glove that the 18-year-old already possesses, paired with his exciting athleticism, Arteaga has a good chance of being a super utility type with room for plenty more upside.
Other Names To Watch
Ryan Murphy – RHP – (High-A): One of the best 1-2 punches in Division II baseball, Murphy pitched alongside Josiah Gray in LeMoyne College's rotation. Murphy is a command over stuff guy, but mixes his four offerings well and enjoyed fantastic results in his 2021 debut.
Casey Schmitt – 3B – (High-A): A defensive wizard at the hot corner, Schmitt possesses above average power, but is still working to consistently tap into it. Schmitt makes a lot of contact and is a name to watch if he can tap into his 20+ homer potential.
Hunter Bishop – OF – (High-A): An excellent athlete who received Division-I looks as a wide receiver in high school, Bishop's breakout junior season helped him play himself into the top 10 in 2019s MLB Draft. An above average runner with big time power, Bishop is worth following, but he struggled in limited short season looks in 2019 and only played 16 games in 2020 due to injury. There is a long way for Bishop to go offensively to be able to hit upper level pitching and the soon to be 24-year-old has a lot of ground to make up.
Nick Swiney – LHP – (Low-A): Following the Giants theme, Swiney is a southpaw who helps his lower 90s fastball play up thanks to a ton of riding life and natural deception. As a result, Swiney gets a lot of swing and miss up in the zone which sets up his secondaries well. Swiney's curveball and changeup are both above average with the changeup flashing plus. Right now, Swiney projects as a back end rotation piece, but if his velocity could tick up a hair there could be a bit more upside.
Gregory Santos – RHP – (MLB): A potential bullpen piece for the Giants next season, Santos has a big league bullpen ready fastball/slider combo. Santos heater can reach triple digits and when he locates the slider it is wipeout. The 22-year-old is a bit of a sprayer but he can get away with it in a bullpen role with the quality of his stuff.
Luis Toribio – 3B – (Low-A): A silky smooth swing form the left side with sneaky pop, Toribio has not quite found the consistency offensively, but 2021 was really his first year of full season ball. There is enough offensive upside here to keep tabs.
Seth Corry – LHP – (High-A): Nonexistent command has undermined what is an impressive pitch mix for the former third rounder. Corry gets a ton of swing and miss, striking out 32% of batters, but also walked a jaw-dropping 20%. The hope is that Corry can command his stuff well enough to get lefties out in relief.
RJ Dabovich – RHP – (Double-A): A fourth round pick in 2020, Dabovich really impressed in his pro debut, striking out a ridiculous 49% of batters in 32 1/3 innings. A plus plus fastball and knee buckling curve give him lights out back end bullpen potential.