List
Top 10 Most Underrated Pitchers in Major League Baseball
Despite their best efforts, these talented pitchers keep getting overlooked. Here are the top 10 underrated pitchers in baseball today.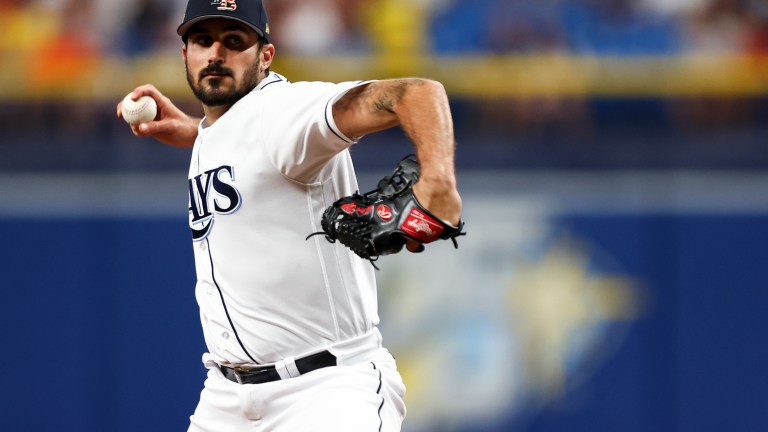 A couple of weeks ago on The Just Baseball Show, our own Peter Appel and Aram Leighton analyzed the most underappreciated pitchers in baseball this season.
Many are buried under the Gerrit Coles of the game, who fill their stat lines with double-digit strikeouts over seven-plus innings. These underrated names can spin the ball just as well, however, their talents aren't always visible in a single box score but rather through their consistency on the mound.
Kevin Gausman
When ranking Gausman amongst all starting pitchers in the league, he ranks just outside the top ten to most baseball fans. However, there's an argument he not only belongs in the top ten but that he's a top-three pitcher in MLB.
Since 2022, he ranks first in fWAR (9.7) by a full win over the pitcher in second place. This year, he's second in FIP (2.84) and is posting a 3.24 ERA. When Gausman takes the mind, the Blue Jays have a guy who doesn't allow many baserunners or walks (2.31 BB/9) while simultaneously striking out 11.6 K/9 – second only to Spencer Strider.
You can only be a good player if you're on the field, and Gausman is that guy. He's been one of the most durable starting pitchers over the last three seasons outside of a few guys. Sandy Alcantara and Aaron Nola are workhorses, but they have been inconsistent this year. Cole has thrown more innings, too, but he is undeniably one of the best in the game.
Only two pitchers have thrown more innings than Gausman with a lower ERA since the start of 2021: Corbin Burnes and Zack Wheeler.
Tanner Bibee
Never a widely analyzed prospect or a big name in the minors, Tanner Bibee has exploded in his rookie year. Bibee is taking the ball every fifth day for the Guardians, serving up a 3.01 ERA through 113 IP and punching out nearly nine batters per nine.
"He's just a walking quality start," our own Aram Leighton put it perfectly when describing Bibee. He is similar to his fellow Cleveland arm Cal Quantrill, yet Bibee's stuff is more electric with violent movement.
There are many skill sets to pitching: good mechanics, good stuff, and then the chess match, which is arguably the toughest to master. Bibee is simply a smart guy when it comes to the mental game of pitching. His success on the bump is a direct result of his ability to match his pitch arsenal strengths against hitters' weaknesses and win the chess match side of the game.
Zach Eflin
The Rays put themselves ahead of the pack with one of the hottest starts in baseball history. Since then, they have lost three of their top starting pitchers to injury. The former Phillies backend starter has abruptly become the ace for a team striving to compete for a deep run in the postseason.
"He's the most important pitcher in baseball right now," claimed Peter Appel on the Just Baseball Show. The name appeal isn't scary at first, however, Eflin has been making noise all year, currently leading the league in xERA and ranking tenth in fWAR amongst pitchers. What's made him great is his ability to get a strikeout, force a groundball and limit walks; he places in the 98th percentile in BB%.
So what changed for Eflin? The Rays took in Eflin and examined his pitch arsenal, uncovering his three best pitches (sinker, curveball, and cutter). They increased his usage of all three pitches in order to throw hitters off their timing more frequently.
From the same release point, Eflin comes at hitters from all angles. Mixing in his sharp sinker at the knees, an option of dropping a curveball out of the zone, or using his cutter, which dives away from right-handed hitters and into the hands of a left-handed hitter. His success is credited to his ability to mix those three pitches while keeping hitters honest with the occasional high heat.
Bailey Ober
Ober is another name that gets lost in a rotation consisting of Pablo López, Sonny Gray and Joe Ryan. He simply isn't one of those big market names that takes the ball and punches out ten-plus hitters over seven innings.
However, Ober deserves some respect from baseball fans with a 3.41 ERA, 1.12 WHIP, and 24 K% through 118.1 IP. He features a good fastball with plus command that earns a boost thanks to a disgusting changeup. Ober is another walking quality start and serves as the Twins' third or fourth arm in the rotation, creating tremendous depth.
Sure, a handful of players have had one great season in their careers, but Ober has been doing this for multiple years. In 52 career starts, he's earned a 3.64 ERA and 1.13 WHIP over three seasons with the Twins.
Kyle Bradish
Despite entering the 2023 season at 26 years old, Bradish is pitching in his first real, full season in the big leagues and could be a great depth arm for a rotation getting stronger. Pitching is arguably the most important strength for a team with World Series hopes. If the Baltimore Orioles can strengthen the top of their rotation and place Bradish as the third or fourth arm, that is a scary rotation.
A 3.03 ERA this season ranks him third in the league, tied with Gerrit Cole. Despite a high xERA of 4.01 and an ocean-blue Savant page, Bradish has had success. His sinker has been useful for producing grounders and forcing double plays to get out of jams.
Smart hitters catch on to pitcher tendencies, and Bradish is heavy on commanding his sinker around the knees to produce those groundballs. If he can implement the same tactic Eflin does by dominating with his three best pitches and mixing in an elevated fastball to keep hitters honest, it will keep the door open to live at the knees and induce groundballs.
Brayan Bello
On a Red Sox team with a faltering rotation, Bello has been a bright spot, and his potential at 24 years old sweetens the pot more for the solid season he's put together.
Ever since his debut, Bello hasn't met the standard of what was advertised during his rise through the minors. He turned in a 4.72 ERA through 57.1 innings last season, with walks being his kryptonite; he gave up 27 free passes.
His ability to create swing and miss was holding him back from reducing his ERA and regaining the attention of those who once viewed him as a top prospect. He's never looked more like a complete pitcher in his professional career than he has over the course of this season, dropping his walk rate to 6.2% and increasing his whiff rate.
Bello has drastically improved his changeup, which has quickly become his put-away pitch. Hitters are whiffing on his changeup 42% of the time and hitting just .176. Even when Bello gets behind in the count, his late-breaking sinker catches hitters out front, forcing groundballs. If he continues to limit barrel consistency and get the occasional strikeout, he will remain successful on the mound.
Chase Silseth
The Angels got a good one in 23-year-old Chase Silseth, a former 11th-round pick out of Arizona. Silseth was brought up briefly last year but struggled with the Halos, resulting in a demotion back to AAA.
He's recently been brought back up and has made some big-time adjustments. He has multiple pitches with over a 32% whiff rate. Compare that to Cole, who doesn't have a single pitch this season with a whiff rate over 30%.
Despite posting a 4.00 ERA through 45 innings this season, Silseth has a 1.29 WHIP and is punching out hitters 26% of the time. Peter Appel's galaxy brain went to work with his hot take on Silseth, stating, "He has as much upside as anybody in the Angels rotation right now, outside Shohei Ohtani."
Braxton Garrett
Garrett is another depth arm that has raised some eyebrows in the Miami Marlins organization, creating a new narrative as he takes on a bigger role in the rotation. A 1.17 WHIP and 132 strikeouts through 128 innings have made Garrett stand out.
He is another guy who's not going to take the ball and shove for seven innings like Cole, however, he'll run into a deep start from time to time if his stuff is clicking. Garrett is an arm that gives you a solid five or six innings, especially because Marlins manager Skip Schumaker typically takes the ball prior to the third time through the order.
Garrett does a great job using his best pitches to his advantage, getting the cutter in on the hands of a right-handed hitter and mixing in a changeup that dives down and away, keeping his opponents off balance.
With Sandy Alcantara, Jesus Luzardo, and Eury Pérez at the top of the rotation, Garrett in the four spot is a solid option for a team starting to step on the gas. The Marlins are one of the best organizations at developing pitching. At 26 years old and with some talent to work with, Braxton Garrett is a name to watch out for down the road.
Cole Ragans
Cole Ragans has been stellar ever since joining the Royals, with a 2.08 ERA and 1.80 FIP over 34.2 IP. The lefty is only walking 2 per nine while striking out 12 per nine and practically eliminating the big fly with just one home run allowed since he arrived in Kansas City.
His stats are incredible, but his pitch arsenal will make your jaw drop. Ragans throws a slider that produces a 45% whiff rate (for comparison, Shohei Ohtani's splitter has a 41% whiff rate). Against the slider, opponents are hitting just .185 with a .222 slugging percentage.
The craziest part is Ragans originally threw low 90s while still in the minors. He battled through two Tommy John surgeries, and now, all of a sudden, he's sitting 96. In what world do pitchers gain a full six MPH on their fastball post two TJs? The Rangers may be in contention for a World Series, but they gave up a pretty penny in the Aroldis Chapman trade.
Johan Oviedo
Oviedo comes at hitters with a large 6-foot-5, 245-pound frame and crazy extension. His scouting report tells most of the story. He throws a fastball that sits 96 and can flirt with triple-digits, paired with a nasty slider that owns 52% of his 129 strikeouts this year and is only getting better. His curveball has been violent through the eyes of his opponents, who are hitting just .195 against the pitch this season.
At only 25 years old, this year could be his "figure it out" season, and next season is his chance to put his name on the map. Oviedo has the opportunity to make a drastic leap next year if he can improve his fastball command and blend it with his slider and curveball combination. For a wildly talented and young Pittsburgh team, Oviedo is on a long list of players to look out for on the Pirates next year.
Stats updated before games on August 25.