Analysis
The Miami Marlins Unsung Hero – Braxton Garrett
Not one of the Marlins highly-touted starters, Braxton Garrett has quietly been the glue that has kept their rotation together this season.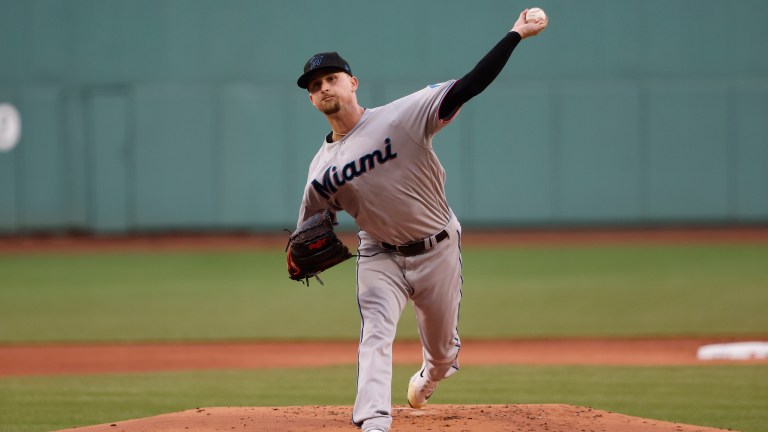 It has been stated multiple times that the Marlins are good at developing pitchers.
However, as this season has gone on, their most consistent starter has come from an unlikely left-handed pitcher named Braxton Garrett.
Coming into the season, Braxton was actually the odd man out of the rotation after the Marlins decided to go with Sandy Alcantara, Jesus Luzardo, Edward Cabrera, Trevor Rogers, and Johnny Cueto to round out the starting five.
After being designated as Miami's long-man in the bullpen, and even being sent down to Triple-A for some time, Garrett has taken his production to the next level and has been a consistent staple in this rotation ever since he was slotted in after some injuries.
Coming off of his latest outing against the Red Sox, where he went five innings, only allowing one run on three hits, one walk, and striking out two, Braxton has continued to add to his strong 2023 season. Garrett has not recorded a loss since May 8th, going 3-0 over those nine starts with a 1.98 ERA, 0.80 WHIP, and a strong 64:9 K:BB over 50 innings pitched.
What's Changed from 2022 into 2023?
First, let's take a look at the pitch usage from last year compared to this season thus far: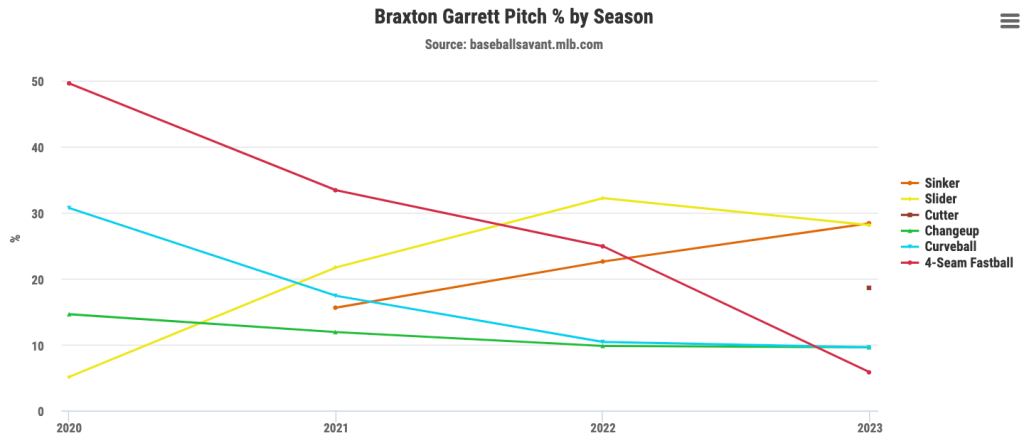 2022:
2023:
In my opinion, and supported by advanced metrics, the best decision that Garrett has made thus far is using the four-seamer a little less often than he had previously. In 2023, the fastball is allowing a wOBA of .525. While the sinker usage also hasn't been tinkered with much, it has been far more effective this year with a 16.8% Whiff%, compared to 10.0% last year.
Now, the best, and probably most impressive, change has been his in-season implementation of a new cutter, which he is throwing 18.2% of the time. This single pitch has a Whiff% of 29.5% (!) and a lowly .236 wOBA. The addition of this pitch has helped the effectiveness of his slider with the disparity of 5 MPH between the two pitches.
The change-up has produced similar numbers when you look at the two seasons. Meanwhile, the curveball continues to be the pitch that has given him fits, even dating back to 2022.
Here are the results between the two seasons, including his latest start against the Red Sox on Wednesday.
2022:
24% K%, 6.4% BB%, 22.9% Hit%, 48% GB%, 12% SwingingStrike%, 3.58 ERA, 1.25 WHIP
Expected stats including adjusted park factors: 3.2% HR%, 24.5% H%, 4.55 ERA, 1.34 WHIP
2023:
28.7% K%, 4.5% BB%, 23.6% Hit%, 48% GB%, 14% SwingingStrike%, 3.64 ERA, 1.15 WHIP
Expected stats including adjusted park factors: 3.5% HR%, 23.7% H%, 3.94 ERA, 1.15 WHIP

Is It Sustainable?
Braxton Garrett's emergence has been a big part of the Marlins' success this season. While it is a team sport, it bodes well to have someone you can consistently depend on every fifth day when you are competing for a playoff spot.
The changes that Garrett has, and continues to, make are key to him continuing this dominant stretch throughout this year. The new cutter is leading to a higher K%, a lower BB%, and lower xERAs and WHIP this year.
If I had to highlight one thing in Garrett's profile, it is the HardHit% that sits above league average. His average exit velocity off him is sitting almost 2 MPH harder than it was in 2022.
The barrel% is also at one percent higher than the league average this season of 8.0%, whereas last year it sat at 7.2%. Most of that damage has come off of his four-seam fastball and curveball. His buy-in to morphing the cutter into the effective pitch it is today has been the key difference-maker between the two years.
What this tells me is that even though he is getting hit harder than he was in the past, his confidence in his ability to throw effective pitches when he needs to is far outweighing the few times that opponents are finding success against him.

Braxton Garrett might not be known as one of the "elite" pitchers in today's game because he doesn't possess a flashy 100 MPH fastball, but what he does is consistently show up when his team needs him.