Analysis
Cole Ragans and the Royals Improving Pitching Development
The Kansas City Royals identified Cole Ragans when they traded Aroldis Chapman to the Texas Rangers and the deal is now looking like a steal.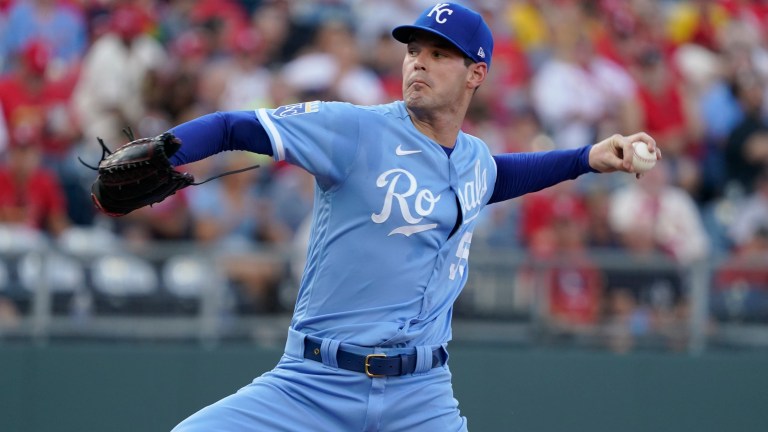 There was a time when Cole Ragans thought that he may never pitch again. When the left-hander was with the Texas Rangers, he found himself facing two back-to-back Tommy John surgeries. The second one coming at the 14-month part of his recovery process from the first Tommy John. 
The 2016 first rounder was back to square one. The thoughts of his career potentially being over creeped into his head. But Ragans persisted, eventually making his major league debut in 2022. Four years later he found himself being the centerpiece of a trade that sent Aroldis Chapman to Texas and him to Kansas City.
Since coming over to the Royals, he has been posting career-highs in multiple categories. In his debut start against the Tampa Bay Rays he went five innings pitched, one earned run, two walks, and three strikeouts. The punchouts weren't quite there, but boy, did they start to pile up over his next two starts. On August 2nd, Ragans posted a career-high in strikeouts with eight and quickly followed that in his next start on August 7th by striking out eleven. 
Over his first four starts with the Royals, Ragans has posted a 2.38 ERA, striking out 27 batters over 22.2 innings pitched. Ragans improvements aren't just seen in the box score either.
To say the stuff is nasty is an understatement. According to Baseball Savant, his fastball increased from 92.1 mph in 2022 to 96.2 mph this season and he ranks in the 90th percentile in fastball spin. One of the main reasons J.J. Picollo and company pursued Ragans.
On top of that, Ragans is in the 71st percentile in Whiff% and 67th percentile in K%. Many expect this number to continue to increase as he gets more starts with Kansas City. The improved fastball has led to him also seeing many improvements in his off-speed pitches (changeup, curveball, slider, and cutter). His improved fastball command is allowing his off-speed to play off that and is leading to his Chase Rate to slowly creep up. 
The stuff he has in his five-pitch mix and his ability to execute is already starting to pay dividends and get the respect of many on his team and across the league. His start against the Boston Red Sox on August 11th was not only the best by any Royals starter, but one was one of the best starts by a pitcher across the league. He generated 18 Whiffs in that start with a 34% CWS according to Pitcher List. 
Ragans worked the fastball up in the zone (getting it up to 98mph at one point) and his cutter on the inner half to get to hitters. He was able to back door the curveball to righties, paint the slider on the outer half to lefties, and keep the changeup low in the zone to generate even more swing and miss. It was a beautiful masterpiece.
For a Royals rotation that has struggled all year long, Ragans put together the best start by a Royals starter and has pretty much set himself up to be a lock in the rotation in 2024. A lot of the success can of course be attributed to Ragans himself, but the improvements made in the Royals pitching department by Brian Sweeney and Zach Bove should also be recognized.
A Hat Tip to the Royals Trade Analysis and Pitching Development
When Ragans was with the Texas Rangers, he was primarily being used as a reliever. Brian Sweeney and company did an incredible job of quickly getting him stretched out to be a starter in a short period of time. Not something we had seen in the past from the Royals.
On top of that, the Royals weren't known to target a guy like Ragans in previous trades. Oftentimes, they were acquiring prospects who weren't quite major league ready yet. The Royals did their homework and evaluated underlying data and metrics that drew their interest in Ragans.
According to an article by the Kansas City Star, they "explored his medicals, strength and conditioning, nutrition, and mental health."
What is most impressive about this is not only did they break down the data and evaluate him as an athlete, but they took a whole-person approach to the acquisition of Ragans. It's not often that you hear a team diving into the entire person before acquiring them. The new approach by the Royals has paid dividends early on and he's been exceeding their expectations.
On top of their ability to evaluate and acquire talent like Ragans, the Royals have done a fantastic job in making improvements to the development of their arms at the minor league level. What is happening at the top is making its way down to each level of the minor leagues. Anne Rogers of MLB.com had a fantastic article that focused on the revamped approach the Royals were taking on the pitching development side.
According to Rogers, at the All-Star break, five Royals pitchers ranked in the top 100 of all Minor leaguers (min. 30 IP) in strikeout percentage and strikeout-to-walk percentage. In 2022, the Royals had just one pitcher rank in the top 100. The "Raid the Zone" theme that popped up during spring training was making its way throughout the entire organization. The improvements have just been seen all across the board.
If you're a Royals fan there is a lot to be excited about in what is a somewhat down year. It is a long process, but the changes the Royals have made to how they make acquisitions via trade and ability to develop arms is a major positive to take away this season.
With not having many trade pieces at the deadline this year, they've seen a ton of early success from guys like Cole Ragans, Nelson Velazquez, Roni Cabrera, Henry Williams, and many others.
The hope is that many of these early successes on both the development and trade side will carry over to 2024.