Analysis
San Diego Padres Offseason Outlook for 2023-2024
A look into what to expect in the coming months, because lord knows the San Diego Padres are incapable of having a quiet offseason.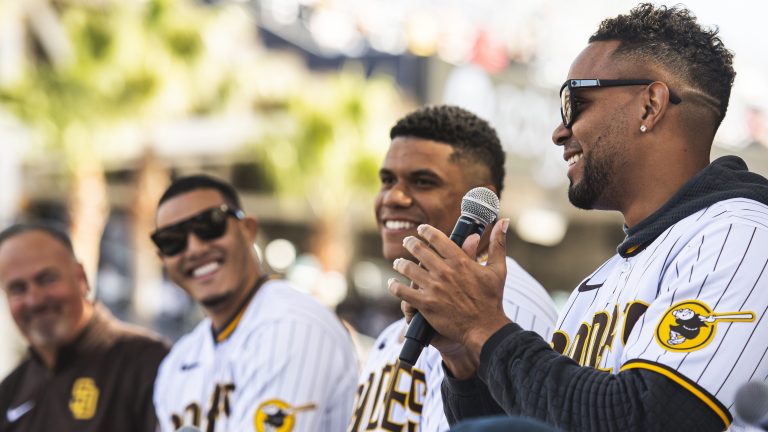 The Padres are in the worst position for a team that's in a good position. They've got all the superstar power in the world (Fernando Tatis Jr., Manny Machado, Juan Soto, etc) and an ownership that's shown a willingness, unlike many other teams, to spend on top-tier talent.
And yet they suffered one of the most disappointing seasons in franchise history, have reportedly expressed a desire to cut back on their payroll, and their manager and general manager may want to Joe Pesci each other.
Below we'll be taking a look at some of their pending free agents followed by five of the biggest questions revolving around the team's roster future, managerial future, and general vibes future. Let's kick those tires and light those fires, folks, because lord knows the Padres are incapable of having a quiet offseason.
Pending Free Agents
Unrestricted: SP Blake Snell, RP Josh Hader, RP Drew Pomeranz, SP Rich Hill, LF Jurickson Profar, 1B Ji-Man Choi, 1B/OF Garrett Cooper, RP Luis Garcia, C Gary Sanchez, 1B Brandon Dixon, RP Craig Stammen
Options: RHP Seth Lugo (player), 1B/DH Matt Carpenter (Player), SP/RP Nick Martinez (Club), SP Michael Wacha (Club)
Pitching Situation
The first things that jumps out, of course, are Blake Snell and Josh Hader — two players who were quite comfortably better in their roles than any others in the National League. The former of the two is likely to net himself a Cy Young award to coincide with a fat, juicy contract to match this offseason. Considering the Padres' already beefy payroll — and with two of their main starters, Yu Darvish and Joe Musgrove signed long-term — it may not be plausible for the team to bring him back.
It's certainly not ideal to lose a Cy Young-caliber pitcher, but the 2023-24 free agent class may be secretly deeper than people realize. Jordan Montgomery was already an interesting arm before the postseason, but his dominant starts of late might push him to the top of everyone's wish lists.
Then there are other notables like Sonny Gray, Aaron Nola, Lucas Giolito, Martin Perez, Clayton Kershaw, and — albeit not for next year — the legendary Shohei Ohtani.
If the Padres decide to go for back-end starters, players like Alex Wood, Julio Urias, Hyun-Jin Ryu, Michael Lorenzen, Tyler Mahle, Frankie Montas, and Luis Severino are worthy of looking into.
It might behoove the team to bring back one of either Seth Lugo or Michael Wacha and instead of taking some fliers on the players mentioned above. The Padres have a solid enough rotation without Snell that they don't necessarily need to go big-game hunting; even a player like Carlos Carrasco, whom their beloved pitching coach Ruben Niebla has worked with before, might not be an outrageous idea.
The bullpen is also in a similar situation, as Josh Hader is almost certainly gonezo after a season that had plenty of drama start arising in the waning moments of this season:
Bullpen is often a little tricky to figure out the top targets as it's historically the most volatile position in the sport. Considering the number of lefties the Padres deployed, they may look for some righty help with guys like Kenyan Middleton, Jake Junis, and perhaps the best of all in Reynaldo López. Considering their bullpen was shaky last season in high-leverage situations (6.00 ERA, according to FanGraphs) even with Hader, the team may seek more quantity than quality.
Lineup Situation:
As for bats? Well, there's a lot less wiggle room. Given that Manny Machado, Xander Bogaerts, Fernando Tatis Jr., and bizarrely Jake Cronenworth have been signed long-term, there are some players the team will obviously be unable to pursue.
Plus, you've still got Ha-Seong Kim firmly cemented into the lineup after a breakout 2023 campaign as well as Juan Soto. The only player that could be swapped out is Trent Grisham, assuming the team decides to move on from him.
The Padres may try to move Cronenworth back into the infield — with even some reports that Xander Bogaerts could be moved to first — which would clear things up. But that feels unlikely, so the Padres may instead be looking at players that could fill in at the DH spot and role players to give them lineup diversity off the bench. Nelson Cruz, Matt Carpenter, and even Rougned Odor weren't getting it done.
At this year's deadline, we saw the Padres acquire Garett Cooper and Ji-Man Choi in an effort to bolster the DH spot in particular. Their thinking, that Cooper (135 wRC+ against lefties) and Choi (career 122 wRC+ against righties) could make for a solid platoon, was smart even if it didn't quite work out.
If they decide to do the same this offseason and want a power-oriented approach, Teoscar Hernandez as a righty and Joey Gallo — who the team has been interested in for a while — as a lefty could be strong targets.
And if the team were able to move Grisham, Gallo could potentially slot in at right field (where he's been an excellent defender before) while Tatis moves to center. Rhys Hoskins could also be an interesting target, as his return from injury is obviously set to make his price a lot less steeper than it would've been otherwise. Plus, you might've heard he's a fan of bat spikes, which is of course a huge plus in his favor.
There's also Jurickson Profar, who is a favorite of the Padres Twitter armada in particular. If you're a believer in vibes (the team went 20-7 after signing him back on August 31st), Profar could be a mightily cheap option to add to the bench.
Of course, there are more questions than simply who the Padres could target amongst free agents, which is where the next segment comes in…BIG QUESTIONS TIME!
Big Question #1: Spending Reduction
It's already been alluded to many times, but there's an argument this may be the question of the offseason. Despite being such heavy spenders under general manager AJ Preller, the Padres haven't won 90 or more games in a season since he took over in 2014.
From afar, the Padres have woefully underperformed and, rather unfortunately, give credence to the brainwashed mindset of other fanbases that spending isn't everything and culture and a strong farm system is what it takes instead.
Both sides of that argument are fraught with inaccuracies, especially the non-spending side, but that's for another day. While the Padres have been disappointing on the field, their spending has resulted in an increase in attendance and overall relevancy.
Will the team seek to stop the positive momentum now?
They certainly could, and if it does happen, this might be a sign that fans shouldn't get their hopes up for any of the big fish this offseason. Especially in the case of…
Big Question #2: Juan Soto
The entirety of this article, up until this point, may be rendered a moot point depending on what happens with the superstar slugger. Given that they traded a treasure trove of assets to acquire him at last year's deadline, you'd be right to assume the Padres best course of action would be to lock him up for as long as possible. And yet, the team spent last offseason giving out a major deal to Xander Bogaerts, as well as extensions to Manny Machado, Yu Darvish, Robert Suarez, and Jake Cronenworth.
So, the rumor mill is churning real well.
Could the possible reduction in spending be foreshadowing? Is this indirectly a warning to not get too attached? Or is a potential trade in the works? It's hard to say, especially given this current Padres team is clearly constructed to win now. But everything else they do depends on Soto, and it's likely the thing you'll hear the most updates on all offseason.
Big Question #3: Yu Darvish's Health
If you're an optimist, losing Blake Snell — as productive as he may be — isn't the end of the world. The Padres rotation is deep enough, but it also relies heavily on star Yu Darvish's health. The team shut him down with an elbow injury back in September, and given his age and a contract that will take him into his 40's, there's plenty of reason for concern.
It's possible the injury played a big part in his mediocre 2023 campaign, as the same thing happened in 2021 while he was on the Padres. But if he's able to bounce back after some rest, just like he did in 2022 and 2020, then there are many pitchers worse to bet on aging gracefully than Darvish. If it's age-related, though, the Padres may need to be a bit more aggressive in their free-agent pursuits.
Big Question #4: Could Jackson Merrill Be on the Opening Day Roster?
This one is a bit of a longshot at the moment, but there's reason to believe it'll play a major factor in the Padres offseason plans. The team reportedly considered that Merrill, Just Baseball's #11 ranked prospect, could be a late-season call-up for center field. This not only shows the Padres' affinity for his potential but also an indictment of the production they've gotten from Trent Grisham.
The Padres haven't shied from calling up their top prospects before, either. Fernando Tatis Jr. is the most obvious case, but CJ Abrams and Luis Campusano were brought onto the team early (and perhaps too early) in an attempt to bolster their win-now roster. The discussion about the Padres being hasty with their call-ups is an important one, but in this case, Merrill's potential promotion would be enormous not just for Grisham, but in their free-agent pursuits, too.
Big Question #5: AJ Preller vs Bob Melvin
This question is a bit of a cheat, as it's more likely that any potential results of the reported beef between these two will be seen during the regular season.
Preller has already stated that Melvin will return, sure, but it's hard to ignore all the drama surrounding it. Will this affect the team's ability to recruit new staff?
After all, the Padres have shown an issue with getting the best out of their talent, and if a general manager micromanages too much it may dissuade people from wanting to join in on the Slam Diego fun.
Furthermore, it will be interesting to see if there's anyone else brought in — new hitting coaches, baseball operations personnel to oversee Preller — during such a crucial offseason. Such an amalgamation of different issues and questions will make San Diego's next few months worth paying attention to throughout.
Whether it be personnel, prospects, player health, or superstar extensions, this team has you covered.