Analysis
Did the San Diego Padres Actually Win the Trade Deadline?
While the San Diego Padres did not make the splashy moves, they improved their overall depth to supplement their stars to make a run in 2023.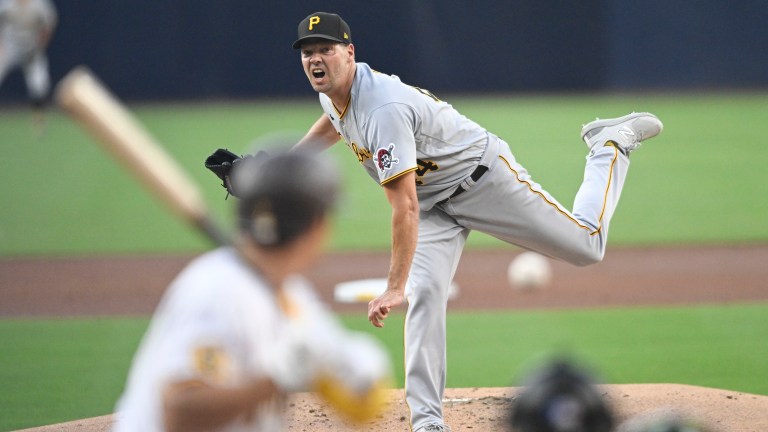 Me and you, the reader, are the same. Not just because we're humans. Not just because we have the same degenerative addiction to the stupid sport known as baseball. We're the same because we're both used to the San Diego Padres being the team to make the blockbuster move. They've done it nearly every year, every offseason, and every trade deadline.
But not this time.
That honor likely goes to the Houston Astros for landing Justin Verlander, serving as a staunch reminder of the adorable job we all do, as fans and media, to pretend the Astros aren't just going to win the World Series again. But in terms of who might claim the prestigious second-place spot for a "Winning" the 2023 Trade Deadline award, the Padres might have a decent case.
The Padres, if not for the Mets, have largely been one of the most disappointing teams the league has seen in quite a while. Much of the talk prior to the deadline was about how much the team could get in return for Blake Snell and Josh Hader, both of whom will be unrestricted free agents at the season's end. Given the Padres record — and the general rule of thumb with highly valuable players on bad teams — many expected those two to be shipped off in an effort to retool for another run in 2024.
Instead, they did this:
On the surface, nothing jumps out — especially considering the scorched-earth acquisition of Juan Soto just a year ago. Of course, that is only because surface-level analysis is what mortals do; you must be greater. You must be a demi-god of baseball calculus and expertise to understand the inner machinations of ingenuity and chess-playing going on here. It's a tough task.
But because it's really late and I haven't had much free time and want to go to bed, I'll drop the facade. The main thing the Padres did is quite simple: depth. While the team is certainly home to some exceptional players like Juan Soto, Fernando Tatis Jr., and Ha-Seong Kim (all three of whom are in the top-20 of fWAR), the Padres have struggled a bit with depth.
Jake Cronenworth has regressed mightily, Rougned Odor somehow keeps getting chances, and Austin Nola was somehow allowed to start 52 games despite rocking a 37 wRC+ with mediocre catcher defense. 
But in some ways even more disastrous, the Padres offseason signings of Nelson Cruz and Matt Carpenter to fill in as some sort of platoon at DH has cost the team dearly. Cruz was already let go by the team, and Matt Carpenter hitting .166/.296/.302 with a 72 wRC+ basically sums it up. So, the Padres (hopefully) amended that by bringing in Ji-Man Choi and Garrett Cooper.
Neither Choi nor Cooper have had particularly strong seasons (Choi has been hurt, and Cooper's 115 wRC+ last year has declined to 96 this season), but they both won't be asked to do much. Cooper is slashing an impressive .348/.386/.485 and 141 wRC+ against lefties this season, while Choi owns a career line of .245/.350/.459 and a 124 wRC+ against righties. The latter also brings some immaculate vibes, too.
Choi and Cooper alone aren't all that impressive by themselves — especially by this team's aforementioned trade standards — but for this particular Padres team, tidying up around the edges could prove vital. They already have the stars; they just need to execute. Perhaps they're taking a key from their divisional rival Giants, who have a motley crew of hitters that can platoon against all sorts of pitching matchups, albeit without many true superstar studs on their roster like the Padres.
So, really, they could be the best of both worlds. Never underestimate simply improving upon extremely bad production to become at least average-level.
The Padres also acquired some pitching help in the form of Scott Barlow, Rich Hill, and Sean Reynolds. The latter two — with one, Reynolds, being a converted reliever — are the definition of fliers when it comes to depth. Hill has been incredibly effective before, but he's also pretty far removed from that period of dominance at age 43 (!). It's likely that he'll serve as a spot starter so long as Michael Wacha remains on the IL, or potentially as a piggyback option for pitchers like Nick Martinez and Pedro Avila.
Barlow is the real story here, and perhaps in all the deadline madness became an afterthought. His 5.35 ERA is scary, but some underlying factors portend of some positive regression being due — and I'm not just talking about him being freed from the perpetually rebuilding Royals.
He has an xERA of 3.82, a FIP of 3.64, an xFIP of 3.97, and was tied for the 6th-best ERA mark (2.30) among all relievers from 2021 to 2022. And, if you're in the mood to be a hater, Royals catcher Salvador Perez is…not exactly known for being a great pitch framer, so perhaps the Padres tandem of Gary Sanchez and Luis Campusano can fare better.
It wouldn't be the first time the Padres have dealt with an elite reliever that inexplicably combusted; they just went through the same thing with Josh Hader last season and that's turned out pretty well. He also, evidently, has a certain breed of animal inside him:
To a smaller extent, one might compare all of this to what the Braves did at the deadline in 2021 — a recency-bias example, sure, but with a similar sentiment. Sometimes the low-risk moves can prove to be the most prudent.
They managed to not give up any of their exciting prospects like Jackson Merrill, Ethan Salas, or Dylan Lesko. Instead, they dealt some minor-level guys on top of Ryan Weathers who, while talented and still plenty young, has struggled with consistency his whole career. 
Wolf, meanwhile, recently had his first major league start that saw him do decent enough considering a rain delay, but he also only got one strikeout and one (1) whiff against a poor Tigers lineup. He's still going to need time, and the Padres are a team built for winning right now.
Often enough, we assume the biggest moves at the trade deadline equate to being the biggest winners. The Angels bet big with some of their moves, but the downside is steep.
Recent acquisition Lucas Giolito just got torched by the Atlanta Braves, and they paid a decent price for him. There's some obvious downside there, especially if Shohei Ohtani leaves this offseason for (likely) greener pastures. The Padres, unlike them, opted for an approach that has hardly any downside. 
It's why the story of the 2023 Padres deadline is one of a shift in strategies. General manager AJ Preller has oscillated between being beloved and maligned in fan and media pundit circles more than Aaron Nola's year-to-year ERA, but this latest haul of players could be what the hipster baseball fan calls his Actual Best Work Yet.
Other teams are, rightfully, criticized for not doing enough at the deadline despite their strong standing (e.g. the Orioles). Most times, it's incredibly fair, as the realities of baseball and money-hungry owners cause most teams to kick the can down the road rather than truly compete. The Padres made moves similar to teams of that ilk, but their past history of blockbuster after blockbuster trades/signings makes them largely immune from such criticism.
It shows that they're learning from some of their mistakes, and trying something new, rather than tripping into that famous quote about insanity being doing the same thing over and over.
The Padres deadline moves didn't cause any fireworks or rock concert mosh pits, but rather a welcome sigh of relief that things might just be okay after all.