Analysis
Blake Snell's Wild Ride to the NL Cy Young Award
With his focus on missing bats above all else, San Diego Padres ace Blake Snell is heading towards an ERA title and his second Cy Young Award.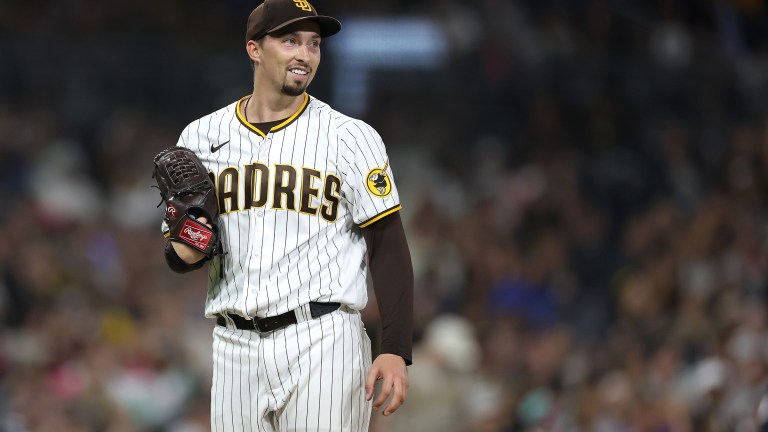 Baseball is a beautifully weird sport. It's a game that's become so advanced that we can judge what actually happens on the field as well as what should have happened.
No other sport plays close to the amount of games baseball does and yet, it's filled with randomness, even over a 162-game sample.
Blake Snell's 2023 campaign has been anything but ordinary. He's walking batters at the highest rate the league has seen since 2000. He's leaving runners on base at a higher rate than only 13 other pitchers ever since 1912. He also owns a 2.33 ERA, the best ERA in baseball, and far ahead of Kodai Senga, who owns a 2.96 ERA, good for second-best.
He's bailed himself out of every situation possible this season and with only one more turn through the rotation remaining, he is likely in line for the NL Cy Young Award.
The second inning of Blake Snell's start against the Rockies on Tuesday night encapsulates his season perfectly. After striking out the side in the first inning, Snell walked two batters to begin the second inning.
Then, as he's done so many times this season, he escaped danger by striking out both Elehuris Montero and Hunter Goodman and then got Alan Trejo to weakly groundout. He ended the night with seven innings of no-hit, no-run ball and in true Snell fashion, he walked four and struck out 10.
Walks, strikeouts, and weak contact, that's been Blake Snell's recipe for success this year and it's hard to argue he should be doing anything different.
A Complete Disregard for the Strike Zone
Apart from a few exceptions to the rule, walks are not a desirable outcome for a pitcher. If we take the 50 best starting pitching seasons by ERA since 2015, the average walk rate in those seasons was 6%. Even further, there are only three examples since 2015 of pitchers having an ERA under 2.70 and a walk rate above 8%; Blake Snell in 2019, Dylan Cease in 2022, and Blake Snell in 2023. His walk rate in 2023 sits at 13.5%, the highest walk rate of any starting pitcher since 2000.
With Stuff+ making its way into public domain, "stuff" has become a regularly used buzzword around baseball, but for good reason.
Pitchers that display above average "stuff" usually have higher strikeout rates and lower ERA's. What stuff can't account for is command and control and by now you're probably aware that Snell doesn't really care about control, at least not in the traditional sense.
He's trying to miss as many bats as possible and the way to do that is to throw pitches outside of the zone. Amazingly, Snell is throwing less than a third of his pitches in the strike zone this year. Snell's 32.5% zone rate is the lowest since Fangraphs started tracking zone rate in 2010. He's not just throwing out of the zone more, he's throwing out of the zone more than we've ever seen before.
Lucky for Snell, he's good at getting hitters to swing outside the zone and even better at getting them to whiff when they do. His strikeout rate of 31.7% is only trumped by Spencer Strider, who owns a whopping 37.9% strikeout rate.
When batters swing at pitches outside of the zone against Snell, they're only making contact with 46.9% of them, which is the second-lowest rate behind Strider. Snell's swinging strike rate is also the second-highest in baseball behind Spencer Strider.
It's credit to Snell for tinkering with his pitch usage and creating an arsenal that can get an insane amount of whiffs without being predictable.
Last season Snell relied on his slider and curveball as his secondaries, only throwing his changeup 5% of the time. It's clear Snell put an emphasis on incorporating his changeup more this season as he increased usage of it by 13% and decreased usage of his slider by 10%.
It's allowed him to dominate righties, who he struggled against in 2021 and 2022. So far this year he's held righties to a .568 OPS, a career-low for Snell.
2023 Blake Snell Secondary Pitch Data
Curveball – 19% usage, 55% whiff rate, .083 average, .128 wOBA
Changeup – 18% usage, 47.7% whiff rate, .198 average, .270 wOBA
Slider – 14% usage, 54% whiff rate, .123 average, .210 wOBA
Blake Snell vs Spencer Strider
There's no question that Blake Snell has been dominant and is likely going to run away with the NL Cy Young award now that Justin Steele's ERA has crept up to 3.00, but Spencer Strider deserves credit for having an even more dominant season without the results to show for it.
He's been by far the best at getting strikeouts and he ranks at the top of ERA predictor stats such as xERA, FIP, xFIP and SIERA, which is all well and good, but his ERA sits at an undesirable 3.75.
The difference between Spencer Strider and Blake Snell this season has been their batted ball luck. The synopsis is this: Blake Snell is allowing the third-fewest home runs per nine innings, the second-lowest batting average on balls in play and has stranded the highest percentage of runners in baseball.
Dating back to 2010, Snell's left on base percentage this season is the seventh-highest. Strider, on the other hand, ranks poorly in all luck based metrics despite giving up the same amount of hard contact as Snell.
| | | |
| --- | --- | --- |
| Stat | Blake Snell | Spencer Strider |
| Left on Base Percentage (LOB%) | 86.2% (Highest) | 70.8% |
| Home Runs per 9 innings (HR/9) | 0.78 (3rd lowest) | 1.07 |
| Batting Average on Balls in Play (BABIP) | .255 (2nd lowest) | .312 |
| Hard Hit Rate (HardHit%) | 34.2% | 34.3% |
| Expected ERA (xERA) | 3.75 xERA | 2.98 xERA |
| Earned Run Average (ERA) | 2.33 ERA | 3.75 ERA |
Side by side comparison of Blake Snell and Spencer Strider.
There are a couple factors that can influence these discrepancies. Firstly, there is plain old luck.
Let's face it, we're talking about a ball that's less than 3 inches in diameter meeting a baseball bat at 90+ MPH, which is then hit onto a 2.5 acre field. Over a full season some wonky stuff is bound to happen in either direction.
Secondly, and much more importantly, is the difference between San Diego and Atlanta's defenses. By Outs Above Average (OAA), San Diego's defense ranked tied for third with 24 OAA compared to Atlanta's defense, which ranks 25th with -11 OAA. Snell has had the luxury of an elite defense behind him, which over the course of a full season definitely has an impact on limiting runs.
In Line for his Second Cy Young
Outside of an absolute disaster in his final outing of the season against the Giants next week, Blake Snell is going to take home the 2023 NL Cy Young Award. This would be Snell's second Cy Young in five seasons.
If you'll recall, he took home the 2019 AL Cy Young Award as a member of the Tampa Bay Rays and became only the ninth starting pitcher since 2000 to finish a season with an ERA below 2.00.
He'd be joining an even more exclusive club as only the 22nd pitcher to have won two or more Cy Young Awards. Pitchers with exactly two Cy Young Awards includes Corey Kluber, Tim Lincecum, Jacob deGrom, Johan Santana, Roy Halladay, Tom Glavine, Bob Gibson, Gaylord Perry, Bret Saberhagen, and Denny McLain.
With how much disaster has surrounded the San Diego Padres this season, Blake Snell has been a bright spot. He deserves all the praise for making changes to his repertoire and executing an unconventional approach that baseball really hasn't ever seen work to the effect it has for Snell this season.