Analysis
Padres Plans to Cut Costs Are Unfortunate, But Not Without Merit
The 2023 San Diego Padres have been such a nuclear wasteland that we're getting reports about budget cuts. But it's not without merit.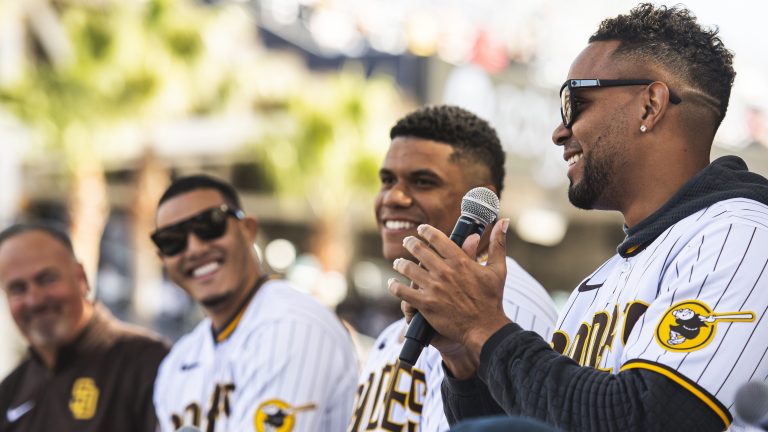 That's where we're at. The 2023 San Diego Padres have been such a nuclear wasteland that we're getting reports about budget cuts. The same team that remolded itself entirely — in a landscape littered with teams uninterested in spending on star players so their owners can afford 57 extra Lamborghinis — is about to renege on the very philosophy that netted them so much attention.
The same team that once couldn't afford Chase Headley and transformed into one whose 11-year, $280 million contract to Xander Bogaerts is somehow only the, like, fifth wildest blockbuster they've done is about to pull out the rug from underneath.
But considering everything that's happened to the Padres, it's understandable.
Unlike those aforementioned billionaire owners more interested in green stock market arrows than fielding a halfway decent product, the Padres third-highest payroll highlights the team's desire to win — or at least attempt to win. And yet, for the majority of this franchise metamorphosis, which can largely be traced back to general manager AJ Preller's hiring in 2014, there have been more disastrous failures than not. 
It's one thing to lose and disappoint, but it's another thing entirely to find new ways to lose and disappoint. In 2019, the first season of superstar Manny Machado's with San Diego, they had an abysmal 25-47 record in the second half.
In 2021, after an offseason splash fest that netted them Yu Darvish, Blake Snell, and Ha-Seong Kim, they suffered perhaps the greatest collapse in the history of the sport. 
But those failures look like a stickman doodle compared to the Mona Lisa the Padres painted in 2023. They got a nice bounce back season from Fernando Tatis Jr. (especially as a defender), Juan Soto absolutely raked, Ha-Seong Kim made the leap Suns fans kept hoping for Deandre Ayton, and Blake Snell is the presumptive favorite for the NL Cy Young.
As a team, being seventh in OBP, 12th in slugging, 12th in home runs, and fourth in ERA is usually pretty solid! They managed, despite so much roster realignment thanks to their offensive moves, to be quite good defensively with an Outs Above Average mark of 24 that was the fourth best among teams. They even managed a +97 run differential. Good stuff.
But for every step forward from the Padres in 2023, there were about 37 going backwards. Their bullpen floundered, despite having Josh Hader — who was somehow kept at the trade deadline despite, apparently, not wanting to pitch?
Their offense was 26th in the league with runners in scoring position. In what FanGraphs constitutes as high leverage situations, the Padres hit an anemic .194, which ranked dead last in the sport. Saying this season has been frustrating is like saying Curt Schilling isn't a nice guy; yeah, no s***, thanks for the observation! 
The fact that, as of this writing, the team hasn't officially been eliminated from playoff contention speaks to their ineptitude. Even after all this failure, they still had a chance. All they had to do was the bare minimum, which its roster full of superstars getting paid top dollar apparently felt no desire to do.
But of course, that suggests the players weren't trying — which is dangerous and often, unless we're talking about Jay Cutler, blasphemous. So, apologies for that, but it's hard to stay measured when a heated iron has been sinking into your forehead for six months. The players didn't show up, but when a team consistently finds new ways to lose, it speaks to larger problems at hand, as has been detailed greatly in The Athletic and San Diego Union-Tribune.
One season? That can be a fluke, because baseball is stupid, and weird stuff happens all the time. But multiple seasons, with this high of a payroll?
As has been widely speculated and reported, the Padres have a cultural problem, despite what Manny Machado says. Sure, Manny, those reports are definitely misleading! Just take a look at this very normal postgame presser from manager Bob Melvin!
There's a rightful belief that Padres upper management is to blame, namely AJ Preller, who has had the position on lockdown since 2014. He's the common denominator for all the collapses and dysfunction. The relationship between Preller and Melvin is reportedly "unfixable." What sounds more unlikely? That the three-time manager of the year just forgot how to manage? Or the GM who, if Melvin were to be dismissed, would be looking at hiring his SIXTH manager. It's practically unheard of for GMs to get three chances at finding their clubhouse skipper, let alone six.
This all coalesces into the situation of payroll reduction the Padres find themselves in. It's rare that you'll see me, or any other baseball prognosticators, not be fully against the idea of cutting costs, but the Padres may be the exception for all the reasons outlined already.
The team is littered with long-term deals — some good, some bad, and some outright unnecessary — and continuing this all-in-on-the-present approach isn't productive. You don't need to sign more superstars when you already have them in droves; this isn't the NBA. 
You still need superstars — that nice and cute little season from some role players your team turned into fringe All-Stars, as playoff history tells us, might be a tad overmatched when you've got Spencer Strider throwing you fireballs every at-bat.
But perhaps more patience is needed. In a way, this season gives credence to that notion. Ha-Seong Kim and Luis Campusano both had breakout seasons, and they came after the team gave them time to get acclimated (especially the latter). 
The biggest question for the Padres offseason will be retaining Juan Soto, but considering this report on a decrease in spending, it's possible that may not be in the cards.
That could be a true disaster, especially after everything the Padres gave up to acquire him, but again speaks to the team's overall mismanagement. After giving up so much of your future, how was Soto not extended this past offseason? Yet it was okay to sign Bogaerts, extend Machado, extend Robert Suarez, extend Jake Cronenworth, and extend Yu Darvish? 
Those decisions — not just one, but clearly, several — may end up costing the team one of the best bats of the generation.
But there's still hope, too. Even if the Padres weren't able to retain Soto, they still have him for the 2024 season and their team is conducive to a win-now approach. If they lose him, Tatis, Machado, and Bogaerts are still an excellent core of stars to build around.
One might even hope that a reduction in spending will force the Padres to pay better attention to the tertiary aspects of building a team: accumulating depth of the bench, spot starters for injuries, a bullpen not relying on a guy who won't go four outs, a more refined analytics department and trained staff. 
A reduction to a $200 million payroll isn't thrilling news, but it isn't one that dooms the team for all eternity. The Baltimore Orioles are having their best season in nearly a decade at the moment, yet their owner is already claiming they can't afford to keep their stars despite having the third-lowest payroll in the sport. 
Basically, there are worse positions to be in than the Padres. Time will tell if the team does a thorough overview and realize AJ Preller's positive qualities as a GM are being dwarfed by his negative ones, but at least they're a team that's trying.