Analysis
Philadelphia Phillies Trade Deadline Outlook
As the Philadelphia Phillies fight for a National League Wild Card berth, they could use some reinforcements on both sides of the ball.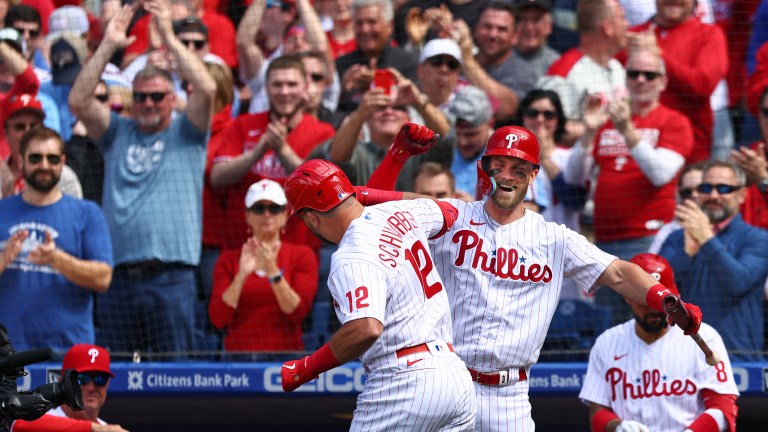 On June 2, the Philadelphia Phillies were 22-29, 12 games back in the National League East. They sat just behind the Pittsburgh Pirates in the NL Wild Card race. Things in Philadelphia looked bleak.
The very next day, manager Joe Girardi was relieved of his duties. Bench coach Rob Thomson was promoted to interim manager for the rest of the season.
Since then, the Phillies have gone 27-14. That's a .659 winning percentage, or a 107-win pace over a full 162 games. As the first half drew to a close, the Phillies were seven games above .500 and holding onto the third NL Wild Card spot.
They will certainly be buyers this trade deadline, as Dave Dombrowski looks to get Philadelphia to the postseason for the first time in over a decade. The Phillies are a good team, but to compete with opponents like the Cardinals, Padres, Giants, and Braves in the Wild Card race, they're going to need reinforcements.
Starting Pitching is an Area of Concern
The Phillies have had one of the best starting rotations in baseball this season. By ERA, they rank fourth in the National League and by FanGraphs WAR they rank third.
The only problem is health. Zach Eflin is currently on the injured list with a sore right knee. He maintains that it is unrelated to the knee issues that have plagued him in the past, but it is worrying nonetheless, and the timetable for his return remains unclear.
Ranger Suárez has also spent time on the IL this season with back issues. While he seems to be feeling better, his back is something to keep an eye on. If Eflin or Suárez — or another Phillies starter — goes down with a serious injury, the team is in real trouble.
Their depth starters are Bailey Falter and Cristopher Sánchez, neither of whom is ready to take on a bigger role. Between the two of them, they have made just nine big league starts, and each has only made it out of the fifth inning on one occasion.
Simply put, a team with postseason aspirations cannot rely on either one of them to pitch every five days.
How to Address the Rotation
There are two paths Dave Dombrowski can take to acquire a starter. He can choose to pursue a back-of-the-rotation type pitcher to bolster Philadelphia's depth, or he can bring out the big guns and acquire a true difference maker. Both options have their pros and cons.
If the Phillies pursue a back-end starter — someone like Drew Smyly, perhaps — they will be getting insurance for the back of the rotation and will be able to use their most valuable trade chips elsewhere. The downside, in this case, is the lack of upside. An acquisition like Smyly won't significantly improve the team, it would just patch a hole.
Luis Castillo and Frankie Montas, on the other hand, are the two most talented players available on the trade market. Either of them would represent a significant upgrade for the rotation.
If the Phillies are seriously worried about Eflin's health, Castillo or Montas is the way to go. But if Eflin returns to form, the team could find themselves with a surplus of starting pitchers, and Dombrowski might wish he had used his best trade chips on an area of higher need.
In theory, Dombrowski could also take a third route and pursue one of the mid-tier starters on the trade market (José Quintana comes to mind), but this option doesn't make quite as much sense. If the Phillies believe in the five starters they have, there's no need to waste trade chips on someone like Quintana. And if they are looking to improve the rotation, why not try to make the best improvement possible?
Shoring Up the Bullpen
As hard as it is to believe, the Phillies bullpen has actually been quite good this season. By ERA they rank fifth in the National League, and by fWAR they rank fourth.
They've been especially good as of late — since the start of June the Phillies bullpen ranks first in both ERA and fWAR.
However, the relievers have struggled to come through in big moments. According to FanGraphs, Philadelphia's bullpen ranks as the least "clutch" in the league. They've been better lately, but even so, they still rank as one of the least clutch bullpens since June 1.
Part of this can be chalked up to poor bullpen management — using the wrong relievers at the wrong times — but some of it is because of the relievers themselves. Corey Knebel signed this offseason to be the new closer, but he has struggled mightily in high-leverage spots. Jeurys Familia, another veteran brought in to pitch the late innings, has performed poorly all year.
With that in mind, the Phillies could really use a stabilizing presence at the back of the bullpen.
Bullpen Targets for the Phillies
Pittsburgh Pirates closer David Bednar is the best reliever on the market, but while he would certainly improve the Phillies bullpen, he isn't the best fit.
Bednar is not arbitration eligible until 2024, so any team that trades for him will be paying a premium in prospects. Money is one of Philadelphia's greatest assets, so they shouldn't be giving up valuable prospects to acquire a cost-controlled reliever.
Instead, Dombrowski would be wise to target relievers on one-year contracts like David Robertson, Michael Fulmer, or Daniel Bard. Andrew Chafin could be another great target as well, although he signed a two-year, $13 million deal this offseason.
Robertson, Chafin, Fulmer, and Bard are all having excellent seasons, but none would cost a top-tier prospect. Any one of these pitchers would bolster the back of the bullpen and give Rob Thomson another reliable arm to call upon in the late innings.
The Phillies Could Use Another Big Bat…
The final thing the Phillies could really use is an impact bat for the middle of the lineup.
Coming into the season, Philadelphia was set to have one of the most fearsome offenses in the league. Then, Bryce Harper and Jean Segura were both hit by pitches and broke fingers. They had been the team's two best hitters up to that point.
Dave Dombrowski's biggest offseason signing, Nick Castellanos, has been a disaster so far this year. He is hitting just .251 with a .673 OPS and eight home runs. Other key members of the offense, like J.T. Realmuto and Alec Bohm, have also been underperforming.
Harper and Segura will be back before the year is up, and hopefully some of the other hitters will find their footing in the second half, but the Phillies could still use another bat to help them get through the summer.
…But Do They Have the Room?
The problem will be finding the right fit. The Phillies already have established starters at most positions. Even Harper's position, designated hitter, is being filled admirably by rookie Darrick Hall (4 HR, .827 OPS in 16 G).
Center field is the position most in need of an offensive upgrade — Phillies center fielders are hitting a combined .217/.273/.325 — but there aren't many better options on the trade market. Unless Dave Dombrowski is able to put together an enticing enough package to convince the Pirates to trade Bryan Reynolds, he isn't going to be adding a heavy-hitting center fielder via trade.
The Phillies would have much better luck finding an impact bat in a corner outfielder/DH who could split time with Hall and Castellanos, but things will get crowded once Harper returns from the IL.
For that reason, Dombrowski can really only trade for someone who will be a free agent after the season. Rob Thomson can shuffle things around to find playing time for everyone this year, but the Phillies can't go into 2023 with that many corner outfielders on the roster.
That being the case, Andrew Benintendi of the Kansas City Royals seems like the best fit. He is a left fielder who swings a good bat and is soon to be a free agent. The Phillies could use a .300 hitter, and he would also provide a defensive upgrade over Castellanos or Schwarber. Unfortunately, Benintendi is left-handed, so it's hard to see how he could get enough playing time. The Phillies' roster already includes lefties Harper, Schwarber, and Hall.
With limited options in center and too many corner outfielders already on the team, the final option for the Phillies is to get creative. They could replace one of their current infielders with an offensive upgrade.
Brandon Drury is having an excellent year at third base for the Cincinnati Reds (18 HR, .864 OPS). If the Phillies are ready to move on from Alec Bohm, Drury would be a strong addition to the middle of the lineup.
What Do the Phillies Have to Offer?
The Phillies may not have the deepest farm system, but they have some talented prospects to dangle at the deadline. Consensus top prospects Mick Abel and Andrew Painter seem untouchable, but most others should be up for grabs.
Catcher Logan O'Hoppe had his breakout year last season and continues to impress at Double-A. He'll be a valuable trade chip for Dombrowski.
Donny Sands is another catcher who might soon be packing his bags. He's having a great year at Triple-A, but he has no path to regular playing time with the Phillies. He is also taking up a spot on the 40-man roster.
Luis Garcia and Johan Rojas are two further names often thrown around in trade rumors. However, both are having down years, so the Phillies might prefer to hold onto them a little longer.
On the pitching side of things, Ben Brown is having a breakout year at High-A. He is someone the Phillies could hope to sell high on at the deadline. Griff McGarry is another name who could be a valuable trade chip. He is a promising arm who would be hard to part with, but Dombrowski must be willing to make sacrifices.
It's hard to say just which prospects will be gone by August 2nd at 6:00pm, but if Dombrowski wants to get this team back to the postseason, he's going to have to part with some of the best names in the system.
As Red Sox and Tigers fans know, he has a pretty good track record of doing exactly that.