Analysis
Top Impact Relievers Who Could Be Traded at the Deadline
Every contending team will be looking to bolster their bullpen at the deadline. Here are some of the best arms that could be on the move.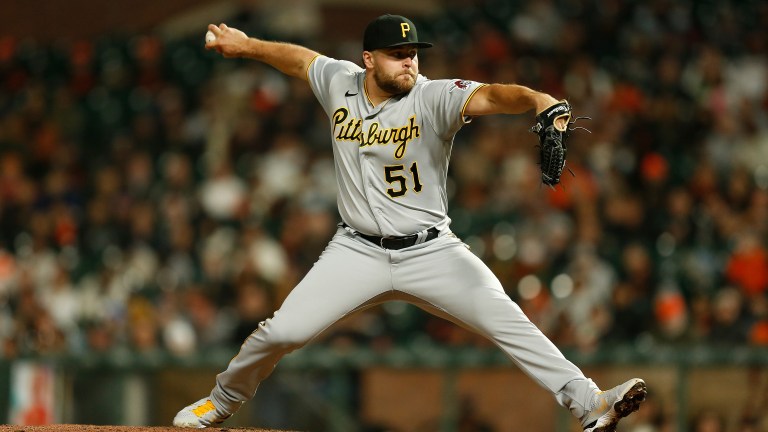 Written By: Max Cutler
As the trade deadline approaches, contending clubs around the league will look to add players on both sides of the ball in an attempt to fix some holes in their rosters. Every year, we see some blockbuster moves that shake the league.
Just last year, the rebuilding Nationals shipped off three-time Cy Young winner Max Scherzer and power/speed threat Trea Turner to the Dodgers for a prospect package headlined by Josiah Gray and Keibert Ruiz.
Although we are likely to see several big trades, smaller trades that go under the radar often make the biggest waves in late season and postseason play. The reigning champion Braves acquired eventual World Series MVP Jorge Soler (not to mention Joc Pederson, three playoff home runs) via a deadline deal, for the cost of just their 21st ranked prospect at the time.
These smaller deals might not get as much traction in the dog days of summer, but the right move could be the difference between a ring and an early vacation.
One item on just about every GM's checklist?
Bullpen help. Some elite teams, like the two atop the American league, the Astros and Yankees, might not need it. The two have a 2.65 and 2.95 bullpen ERA, respectively, good for tops in the AL. After that, just about every contender could use another arm or two (or three).
Toronto's pen has struggled mightily, with some of their top innings-eaters struggling; Trent Thorton leads Blue Jays relievers with 37 innings pitched but sports a 4.94 FIP, and Trevor Richards has been woeful, walking over five batters per nine and posting a 5.61 ERA over 33.2 innings.
All three AL Central teams in competition, the Twins, Guardians, and White Sox, have bullpens outside of the top-10 in ERA. The Giants' relievers have a 4.16 ERA. Evidently, the list is long.
Thankfully for the front offices and fans of these competing ballclubs, several rebuilding teams have some gems in their pens, many of whom may be available, and able to help another team down the stretch. Let's take a look at some of them.
RHP Michael Fulmer, Detroit Tigers
The Detroit Tigers entered the 2022 season with higher expectations than in recent years. To say they have not met them would be quite the understatement. The Tigers sit 12 games out of first in the AL Central with a 37-53 record. They have the worst offense in baseball by a wide margin, and are the only team in baseball whose position players are worth a combined negative WAR. GM Alex Avila should be making calls to see if he can move some veterans who have value for young prospects.
Fulmer, the winner of the 2016 AL Rookie of the Year award, moved to a relief role in 2021 after struggling as a starter, and has really blossomed out of Detroit's pen.
In 90.1 innings as a reliever, Fulmer has posted a 2.29 ERA (just 1.89 this season) and almost 10 K/9, after striking out under seven batters per nine as a starter. It's no fluke, either. Fulmer is missing barrels more than anyone (99th percentile) and has outstanding peripherals altogether.
This has come, in part, from the right-hander throwing a ton more sliders. Its usage is up over 60% this year, after using it less than 25% of the time as a starter. He throws his slider hard– averaging 90 mph on the pitch, well over the league average of 84 MPH.
It has a hard, late break, and has been worth -11 RV. The only two sliders more effective this year?
They belong to Dylan Cease (-21) and Shohei Ohtani (-14). Talk about good company. Teams should be in on Fulmer, who is signed to a one-year deal of just $5 million.
RHP Daniel Bard, Colorado Rockies
Colorado inked former MVP Kris Bryant to a seven-year, $182 million deal in the offseason, and did… nothing else. Bryant has been on and off the IL and although he's starting to heat up (4 HR in 7 games), Colorado was never really going to compete in the NL West, as they sit 18 games out approaching the break. They do have some intriguing names in the bullpen, though. Bill Schmidt, new general manager, should maximize value on some of these arms.
Bard has been the closer in Denver just about all year. As of July 15th, he's racked up 18 saves, tied for third in the senior circuit with Edwin Diaz of the Mets. But what opposing teams should be salivating over is what Bard has done differently this year, and how much success he's seen as a result.
He's completely altered his pitch repertoire, essentially now just a two-pitch pitch. Bard is throwing his sinker 51.6% of the time, way up from just 14.6% a year ago. Opposing batters are hitting just .167 against the pitch, after hitting .341 against it last year. But it's not luck– it's a different pitch.
Bard's sinker is getting hit straight into the ground. An average launch angle of -14 is practically unheard of, and it's led to a ton of ground balls. His slider, on the other hand, is a big sweeper, and leads to a ton and whiffs (35.2%) and pop-ups, helping Bard to an 88th percentile average exit velocity, and an ERA of just 2.08.
The 2006 first-rounder who made a comeback after seven years off the mound is now one of MLB's elite relievers, and the Rockies should make the pending free agent available for the right price.
RHP Carl Edwards Jr., Washington Nationals
In a July 1st interview with NBC Sports, Edwards Jr. spoke on the idea that he could be traded from a rebuilding Nationals team,
"If they can get good prospects or another player for me to help them out in the upcoming years that's what they're going to do and I can't fault them for that … if I do get traded, it will give them the opportunity to just get someone [to] help them out in the future if not myself."
Edwards Jr. understands that this is a business, and the Nationals, who entered the season without a real desire to compete, should be selling high on the 30-year old on a one-year, $700,000 deal.
Some of the numbers might not jump off the page: a fastball that sits 94-95, a pedestrian 31:14 K:BB ratio in 29 innings pitched, and a good-but-not-great 3.45 ERA.
Despite posting lower strikeout numbers in D.C. than he ever did in Chicago (Edwards Jr. had a career-high 13 K/9 in 2016), his peripheral numbers will have analytic departments around baseball drooling. A fastball in the 97th percentile of spin rate sneaks up on hitters, a 55% ground ball rate is the highest of Edwards Jr.'s career (min. 15 IP), and his ability to avoid barrels has led to a 89th percentile xwOBA and xERA. Look for Edwards to be on the move before the deadline.
RHP Wil Crowe and RHP David Bednar, Pirates
The Pirates are bad. But, they have some bright spots. Oneil Cruz is hitting and throwing balls really hard, as you've probably heard. Bryan Reynolds is apparently on the radar of big-market teams like the Yankees, and why not?
The switch-hitting center fielder has proven he has the ability and the talent to be a perennial 5+ WAR player, and he's under team control through 2026. Then again, that might not be the type of player you trade.
There may be another player on Pittsburgh's roster, also with a while until free agency hits (4.5 seasons), for whom teams may be calling just as much. That would be David Bednar, closer.
The 27 year-old righthander is a former 35th round draft pick by the Padres, who is enjoying an All-Star quality season on the heels of a breakout 2021. Bednar has been a revelation, and has cemented himself as one of the top relief pitchers in the entire sport. There is no question he would command a haul in return– much, much more than anyone else on this list.
It's for good reason. Dating back to the beginning of last season, Bednar has a 2.69 FIP, 11.8 K/9, and is holding opponents to just a .206 batting average overall, including a .133 against his curveball, which he throws 30% of the time. Bednar's excellent performance hasn't been a fluke– it's been the emergence of a premier late inning option. Don't expect him to go anywhere, unless a team really is willing to give up assets for this budding star.
However, Bednar is not the only arm in the Pittsburgh 'pen who might be sought after. Will Crowe does not have nearly the track record or pure stuff as his teammate, but has been excellent this season after an abysmal 2021, during which he was used as a starter.
Since moving to the bullpen, Crowe has averaged an extra 1.2 MPH on his fastball, struck out more hitters, walked fewer, and given up way fewer home runs (25!!! in 116 innings last year, just two so far this year in 50.2 innings). Those are all recipes for success, and it's been a very successful campaign for the right-hander.
Crowe's four-seamer got pounded last year (+16 RV) and he's throwing it a lot less, and it's been harder, and more effective (-3 RV). He throws a ton of changeups and sliders, which he spots at the bottom of the zone, and limits hard contact.
Here's a crazy one: All of Crowe's pitches (not including the curveball which he has thrown only 20 times) were hit last year for an xwOBA over .300 (not good).
This year? They're all under .300, and the results are extraordinary. A 2.66 xERA, 96th percentile barrel rate, and whiff rates and chase rates well above average. The righty is under team control until the end of 2026, but will likely not cost as much as some of these other names due to a small sample size of success.
LHP Joe Maintiply, Arizona Diamondbacks
Mantiply is likely the reliever on this list who will command the second-largest return in a trade (after Bednar). First, some mind-bending numbers: Mantiply has a 35:2 K:BB ratio, a sparkling 2.31 ERA, and ranks in the 95th percentile or above in just about everything: xwOBA, xERA, barrel %, BB%, chase rate.
The left-hander out of Virginia Tech is enjoying what is easily a career year. He does not overpower hitters, as his sinker (primary pitch) averages just 90 mph, though his curve and change are both about average in terms of velocity. Command has been a large reason for his success: he's keeping his curveball down in the zone, and spotting that changeup right where he wants to. Command is in. The Nestor Cortes' and Joe Mantiply's of baseball are here to stay.
Despite not having excellent stuff, the left-hander hasn't struggled against right-handed hitters, as many of his type tend to. He's been capable of getting anyone out, and is holding those righties to just a .222 AVG and .263 SLG. He's been nearly unhittable.
Perhaps most important to teams looking to acquire Mantiply is his contract situation. The reason why I mentioned that Joe might net the largest return is because he is not arbitration eligible yet, and won't be until 2024.
Although Mantiply debuted in 2016, his first season throwing more than 10 innings was just last year – 2023 will be his final year of pre-arbitration, meaning anyone who acquires the southpaw will get 4.5 years of control. That's huge, and may mean the Diamondbacks could be hesitant to let him go. However, selling high on veteran relievers tends to work out.
Several teams could use a high-quality left-handed reliever (Mets, Blue Jays, and many more), and Arizona's front office should be receiving many calls about the Virginia native.
Honorable Mentions:
LHP Andrew Chafin, Tigers (2.30 ERA, 0.167 BAA LHH)
RHP Jorge Lopez, Orioles (1.70 ERA, 92nd percentile hard hit rate)
LHP Matt Moore, Rangers (1.77 ERA, top 4% in xBA and xSLG)
RHP David Robertson, Cubs (2.10 ERA, 31.9% K%)
RHP Scott Effross, Cubs (92nd percentile chase rate, funky delivery, 97th pct xwOBA and xERA)
RHP Anthony Bass, Marlins (1.40 ERA, wipeout slider: -6 RV, 58% usage)
*Stats as of games completed July 14th