Analysis
Philadelphia Phillies Trade Deadline Guide
The Phillies could use some extra help for the postseason chase, but their most important pieces are already on the roster.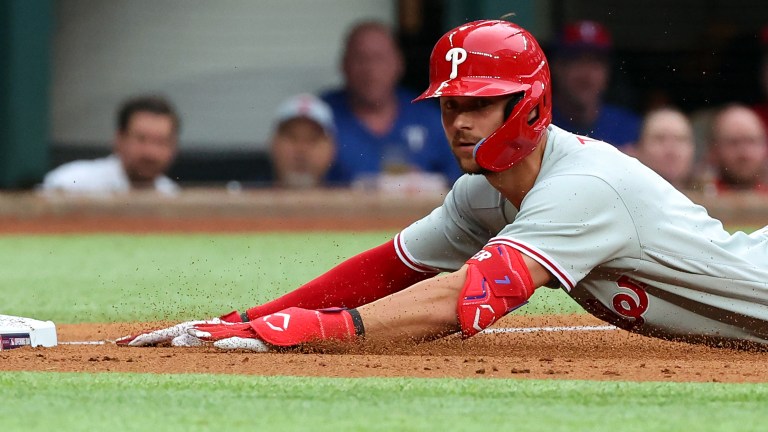 The Phillies are pretty much where I thought they'd be at the trade deadline. I don't say this to brag about my prognostication skills, however. It's quite the opposite. While the Phillies are in third place fighting for a Wild Card spot, the way they got there isn't at all how I would have drawn it up.
I always thought they'd come third in the division, but I never would have guessed they'd be trailing the Marlins at the deadline.
Similarly, I knew there would be a tough battle for the Wild Card, but I would have thought they'd be fighting with the Braves/Mets, the Dodgers/Padres, and the Cardinals/Brewers, not the Marlins, Giants, and Diamondbacks.
I would never have guessed Bryce Harper would return so soon or Nick Castellanos would bounce back so well, but I also couldn't have guessed that Trea Turner would have an 85 wRC+ through 98 games.
All this to say, a lot of things I never would have predicted have resulted in exactly what I expected. That's baseball for you.
Thus, as strange as the year has been, the Phillies' needs are exactly what they were at the start of the season. They need a right-handed bat to fill a Rhys Hoskins-shaped hole in the lineup. They need a fifth starter, which they essentially entered the season without. Finally, they could use some bullpen depth and a bench bat, too.
How will Dave Dombrowski address these needs at the deadline? Let's talk about it.
Areas of Need
Right-handed bat
Fifth starter
Bullpen help
Bench bat
Key Trade Chips
Considering their areas of need, I'd expect the Phillies to trade lower-level, lottery ticket-type prospects this deadline. However, these are some names to watch, especially if Dombrowski surprises fans with something big.
Johan Rojas: One of the Phillies' top position player prospects. He's close to MLB-ready.
Mick Abel: The second-best prospect in the system and the best prospect they'd be willing to trade. He only gets dealt if the Phillies make a huge move.
Símon Muzziotti: He's close to big league ready, with everyday center fielder potential.
Noah Song: Song has been a Wild Card all season. As a Rule 5 pick, he needs to be added to the MLB roster once he's healthy. If the Phillies don't have a spot for Song, they could try to flip him instead.
Rafael Marchán: Marchan is ready for his shot in the majors, but he's blocked by J.T. Realmuto and Garrett Stubbs.
Jake Cave: Cave tore it up at Triple-A, but the Phillies don't need another left-handed corner outfielder.
Right-Handed Bat
| | |
| --- | --- |
| Player | Current Team |
| Tommy Pham | Mets |
| Hunter Renfroe | Angels |
| Randal Grichuk | Rockies |
| C.J. Cron | Rockies |
| Andrew McCutchen | Pirates |
| Mark Canha | Mets |
| Teoscar Hernández | Mariners |
The Phillies' four best hitters this year have been Brandon Marsh, Bryce Harper, Nick Castellanos, and Bryson Stott. For those of you keeping track at home, that's three out of four lefty batters. This team could use some right-handed thump.
Plus, with Harper playing first base and Kyle Schwarber moving to DH, they need someone else to play the outfield.
The Options
Tommy Pham is a name fans have been discussing lately, and according to Bob Nightengale of USA Today, the Phillies "would love to land Pham from the Mets."
Indeed, Pham makes perfect sense. He's a free agent after the season, he's right-handed, and he can play a better left field than Schwarber (a low bar, I know).
Other players who fit this mold include Hunter Renfroe, Mark Canha, Teoscar Hernández, Andrew McCutchen, and Randal Grichuk.
Renfroe isn't hitting as well as Pham this season, but he's been the better player over the last several years. The same is true for Canha, although the Mets might be less willing to part with him given his team option for 2024.
Hernández was one of the best hitters in baseball from 2020-'22, but he's having a down year. It also isn't clear if the Mariners will be selling at the deadline.
Meanwhile, McCutchen might be having the best season of the bunch, but both he and the Pirates have expressed little interest in a trade. And as much as Phillies fans would love to have him back in the clubhouse, his outfield defense might be just as bad as Schwarber's.
As for Grichuk, it depends on how much the Phillies believe in his bat. He has a 115 wRC+ right now, but he had a 90 wRC+ from 2020-'22. Has he genuinely taken a big step forward, or is he due for some regression?
One more name to consider is C.J. Cron. He plays first base, not the outfield, but he's been tearing the cover off the ball since his return from a back injury in June. If the Phillies decide to end the "Bryce Harper at first base" experiment, Cron makes plenty of sense as a trade target.
Fifth Starter
| | |
| --- | --- |
| PLAYER | CURRENT TEAM |
| Jack Flaherty | Cardinals |
| Michael Lorenzen | Tigers |
| Kyle Hendricks | Cubs |
With the news that Andrew Painter will undergo Tommy John surgery, the Phillies really don't have much rotation depth for the stretch run. Cristopher Sánchez has proven to be a reliable fifth starter over the past few weeks, but he is inexperienced and has been inconsistent in the past. More importantly, the team has very few options behind him.
Therefore, the Phillies could use another starter. They're not looking to spend significant prospect capital – why break the bank for a player you won't even need in the postseason? – but another arm would come in handy over the final 60 games of the year.
The guys I listed above are all possibilities – they're impending free agents who won't command huge returns – but with the way Sánchez has been pitching, Dombrowski might opt for a lower-impact arm he can stash at Triple-A instead.
Bullpen Help
| | |
| --- | --- |
| PLAYER | CURRENT TEAM |
| Scott Barlow | Royals |
| David Robertson | Mets |
| Reynaldo López | White Sox |
| Keynan Middleton | White Sox |
| José Cisnero | Tigers |
| Chris Stratton | Cardinals |
| Jordan Hicks | Cardinals |
| Giovanny Gallegos | Cardinals |
| Michael Fulmer | Cubs |
This is essentially a laundry list of right-handed relievers nearing free agency on non-contending teams. With José Alvarado, Gregory Soto, Matt Strahm, and Andrew Vasquez, the Phillies certainly don't need more southpaws.
It's unlikely the Phillies will be in the market for Scott Barlow, since they already have a closer and some set-up guys they like, but I wouldn't rule it out. Above all else, the Phillies are looking to improve, and if Dombrowski can't find the right deal for a righty bat or a fifth starter, he could try to make a splash in the bullpen instead.
With so many relievers available, it's hard to predict what Dombrowski will do, but I'd expect at least one new arm in the Phillies 'pen by August 1.
Bench Bat
It's not worth listing players a tier down from Randal Grichuk and C.J. Cron, but it is worth mentioning that Dombrowski will be on the lookout for bench upgrades. The Phillies' bench has been a liability this year, and catcher Garrett Stubbs is the only backup whose job seems totally safe.
If Dombrowski finds a good deal for an upgrade over Josh Harrison/Kody Clemens/Edmundo Sosa/Christian Pache/etc., he won't be afraid to pull the trigger.
Conclusion
As you can see, I don't expect the Phillies to make any huge moves over the next week. There aren't really any big trades that make sense (although I'd be willing to throw sense out the window to see Ohtani in Phillies pinstripes).
Instead, if the Phillies are going to stave off the competition and earn a Wild Card berth, they need the guys already on the roster to step up. Almost everyone has to be a little bit better, starting with Bryce Harper, Trea Turner, and Aaron Nola.
If those guys play up to their potential, the Phillies are one of the top six teams in the National League. If not, the reigning NL champs might not get the chance to defend their title.