Analysis
Philadelphia Phillies Offseason Outlook
Featuring the reigning MVP and Cy Young runner-up, the Phillies are a few solid offseason moves away from contention in 2022.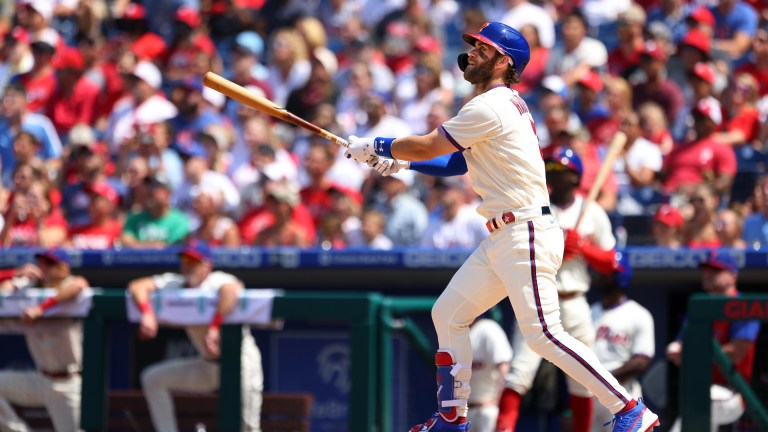 After a disappointing 82-80 record in 2021, the Philadelphia Phillies will look to build off of a promising roster. With stars such as catcher J.T. Realmuto and NL MVP Bryce Harper holding down their lineup, the Phillies will look to make the playoffs next year, a feat not achieved since 2011.
With Dave Dombrowski at the helm, the Phils should look to make a splash through free agency. Another focus for Philadelphia should be developing their young talent such as third baseman Alec Bohm and top prospect Bryson Stott.
With a nice class of a free agents still available this offseason, the Phillies should capitalize, spend some money, and set their sights high for 2022.
Addressing the Bullpen
This offseason features a deep, impressive class of potential bullpen options. Headlining the group is Dodgers' legend Kenley Jansen, who if signed, would impede the Phillies' chances of making sizable financial commitments to other free agents.
In my opinion, a key to a successful bullpen is a mix of arm slots, strengths, and handedness. For example, 2021's best bullpen in the San Francisco Giants featured under-hander Trevor Rogers, hard-throwing righty Dominic Leone, and control-specialist Jake McGee. Other pitchers such as Jose Alvarez and Caleb Baragar offered a change of pace with their lower fastball velocities.
In 2021, the Phillies' arm barn disappointed. The group ranked 27th in bullpen WAR, while only managing a collective 4.60 ERA and tied for first in blown saves. Philadelphia's bullpen was headlined by franchise strikeout leader Hector Neris, who recently signed with the Houston Astros. While he wasn't good at closing, Neris produced high strikeout rates, along with elite Whiff% and xBA metrics.
The horrendous Phillies bullpen did offer some bright spots, however. Rookie Connor Brogdon turned in an impressive season, producing a 3.43 ERA and 3.78 FIP in 57.2 innings. The 26-year-old Brogdan has a fastball that can reach the high 90s and a nasty changeup with terrific horizontal movement.
Another highlight was fireballer Sam Coonrod, who the Phillies traded for last January. While possessing a fastball that can reach triple-digits, the 6-1 righty limited hard contact, while also cutting down on walks.
In order to compete in 2022, the Phillies will no doubt have to improve on their reliever core. They had a good start before the lockout, getting Corey Knebel on a one-year deal. With prior closer experience, Knebel will most likely take over that role next season. While many names jump out to me on the free agent market, a few make perfect sense for Philadelphia.
In an attempt to add diversity to a righty-heavy pen, I think the Phillies will look into some southpaws on the market. Last offseason, the Phils signed former Diamondback Archie Bradley. Bradley's good friend from Arizona is available and his name is Andrew Chafin. In 71 outings last year, Chafin dominated, owning a 1.83 ERA and a 2.98 FIP.
Another familiar name to Phillies fans is Jake Diekman, who played with Chafin in Oakland. After being drafted by the Phillies in 2007, Diekman played in parts of four seasons with the team, becoming a bullpen mainstay. The 34-year-old southpaw is a prototypical high K%-high BB% guy, who comes from a funky arm slot.
While the Phillies' rotation is very strong, it lacks depth. Although it can be easily fixed with the odd-man-out of the rotation, Philadelphia doesn't have a long reliever. A productive signing would be veteran Collin McHugh, who turned in a fantastic 2021 campaign.
In 64 innings, the 34-year old righty posted a 1.55 ERA with a 30% strikeout rate and miniscule 4.9% walk rate. McHugh did everything well last season, as shown by his advanced metrics below.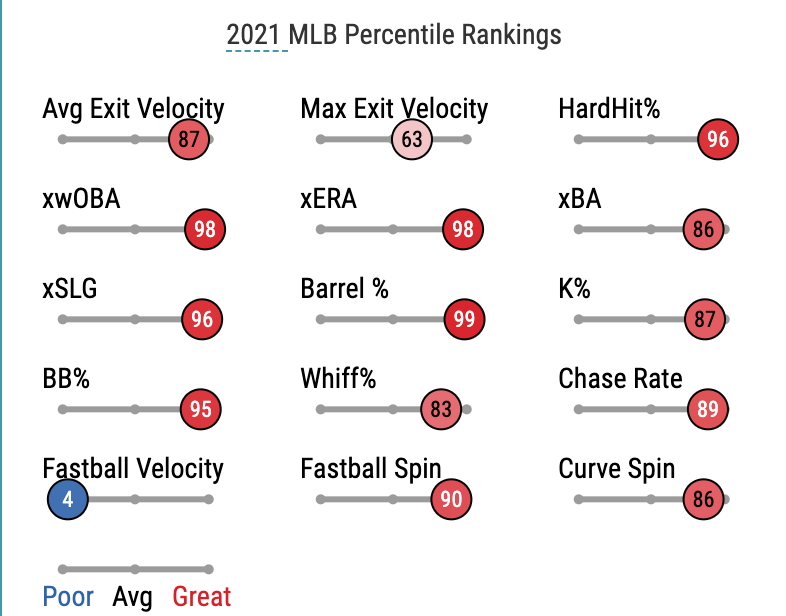 Free Agent Predictions
LHP Andrew Chafin: 2 years, $16 million.
RHP Collin McHugh: 1 year, $8 million.
LHP Jake Diekman: 1 year, $5 million.
Improving Defensively
The two things that anger baseball fans most are bad bullpens and bad defense. For the Phillies, their 2021 season featured both.
Girardi's squad ranked dead last in Defensive Runs Saved while finishing with the tenth most errors in baseball. Maybe the two most important positions, shortstop and center field, were the darkest spots for Philadelphia.
After parting ways with both Andrew McCutchen and Odubel Herrera earlier this offseason, the Phillies will look for other options to compliment MVP Bryce Harper. While Harper isn't a horrible defender, he isn't a good one, and the Phillies need some defensive help. For the Rays, a stacked outfield means limited at-bats for top prospects Josh Lowe and Vidal Brujan.
With defensive-minded outfielders such as Brett Phillips and Manuel Margot already on the roster, the Rays could look into moving Kevin Kiermaier and his $12 million salary. The 31-year-old has been regarded as one of the best defenders in baseball, with three Gold Gloves and a Platinum Glove to his name. Kiermaier also managed a 101 wRC+, appearing in 122 games during the 2021 season. This would be a perfect player for the Phillies to go out and get, improving their team exponentially.
At shortstop, top prospect Bryson Stott–our No. 60 Prospect–is close to the big leagues, and should more than likely taking over for Didi Gregorius at some point this season. Stott, 24, was a first round selection by the Phillies in 2019, steadily progressing through the organization. Last season, he split time between three levels, making it up to Triple-A. Stott slashed .299/.390/.486 in 112 games, while also projecting to stay at shortstop.
Trade Proposal
Acquire CF Kevin Kiermaier from the Tampa Bay Rays for LHP Erik Miller and RHP Griff McGarry.
Sign an Impact Outfielder
After Starling Marte and Avisail Garcia were signed last month, the free agent class of outfielders looks pretty thin. Fortunately for Philadelphia, there is one guy still available that is a perfect fit. Kyle Schwarber can easily be pictured in a Phillies uniform and would fit nicely into their already deep lineup.
A former first round pick by the Cubs in 2014, Schwarber slugged 32 homers in 2022, splitting time between the Nationals and Red Sox. The 28-year-old combatted a 27% strikeout rate with a 13.6% walk rate, producing a .266/.374/.554 slash in 471 plate appearances. A slightly below average defender, Schwarber played at both left field and first base in 2021.
Free Agent Predictions
OF Kyle Schwarber: 3 years, $55 million.
2022 Outlook
On top of a terrific offensive season by right fielder Bryce Harper, the Phillies have some other stars in their lineup, such as second baseman Jean Segura and catcher J.T. Realmuto. Segura had an underrated season, putting up a 109 wRC+ and .338 wOBA, while playing solid defense at second base.
Realmuto, however, didn't have the season we are used to. The 30-year-old backstop still managed 17 homers, but took a step back on defense, a usual strength. Realmuto remains an anomaly, with a power/speed combo rarely seen from catchers. Expect J.T. to bounce-back in a big way in 2022, building off of an All-Star year last season.
With a strong rotation showcasing righties Aaron Nola and Zack Wheeler, the Phillies will look to make a run at the NL East in 2022. Their back-end starters are also impressive, which included breakout lefty Ranger Suarez, Zach Eflin, and veteran Kyle Gibson. The Phils recognize their weaknesses, already looking to build on what they have through free agency. If Dave Dombrowski and staff have an offseason similar to the one highlighted above, they will be high on many preseason power rankings.