Analysis
Philadelphia Phillies Offseason Outlook
The 2022 season went better for the Philadelphia Phillies than anyone could have imagined, and they should be major players in free agency once again this winter.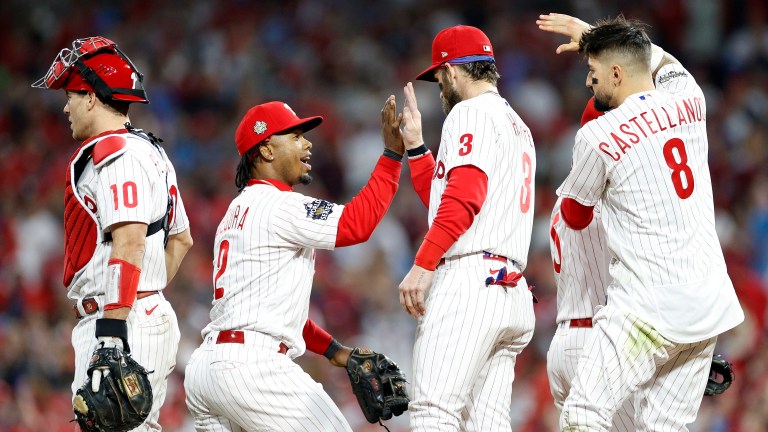 There's no question – the 2022 season was a resounding success for the Philadelphia Phillies.
After getting off to a dismal 21-29 start, things seemed all but over by the end of May, as the Phillies sat 7.0 games out of a postseason spot. Then, they went 52-29 from June through August, forcing their way back into the playoff conversation. A mediocre September, capped off by a 4-10 losing skid almost ruined things, but the Phillies managed to right the ship just in time to claw their way into the postseason with the third and final Wild Card spot.
From there, they thrived, beating the Cardinals, Braves, and Padres handily on their way to the World Series. With each playoff victory, the team was exceeding expectations, and although they came up short in the Fall Classic, there was no room for disappointment.
Now, however, the shine of Philadelphia's magical postseason run has begun to wear off, and it's time to get to work. As incredible as the 2022 season turned out to be, the Phillies can't count on repeating that success in 2023 without making some serious improvements. If they're going to defend their title, they can't count on squeaking into the postseason again next season.
This is a team with tremendous talent, as evidenced by their 52-29 summer and postseason accomplishments. Yet this is also a team with holes and flaws and question marks. President of Baseball Operations Dave Dombrowski and the rest of the front office have their work cut out for them this winter.
Thankfully for the Phillies, they have money to burn and no shortage of options on the free agent market. If Dombrowski plays his cards right, this team can – and should – be one of the best teams in the National League next season.
Philadelphia Phillies Free Agents
The Philadelphia Phillies saw a large swath of their 2022 roster enter free agency this November, including three starting pitchers, four relievers, and two infielders. All nine are listed below, with their 2022 salary in brackets.
Starting Pitchers
Zach Eflin ($5.55 million)
Noah Syndergaard ($21 million)
Kyle Gibson ($7.67 million)
Relief Pitchers
David Robertson ($3.5 million)
Brad Hand ($6 million)
Corey Knebel ($10 million)
Chris Devinski ($1 million)
Position Players
Jean Segura ($14.85 million)
Johan Camargo ($1.4 million)
Not all of those players were on the team for the full season, so Philadelphia doesn't have exactly that many spots to fill or exactly that much extra money to spend. Nevertheless, it's clear from this list that the Phillies have several needs to address this offseason, and they have the financial wiggle room to do so.
In addition, the team let go of three veterans mid-season, freeing up additional payroll space for 2023.
Released Players
Didi Gregorius ($15.25 million)
Jeurys Familia ($6 million)
Odúbel Herrera ($1.75 million)
Biggest Areas of Need for the Philadelphia Phillies
With Eflin, Gibson, and Syndergaard hitting free agency, the Phillies will need two more starting pitchers to slot into the rotation alongside Zack Wheeler, Aaron Nola, and Ranger Suárez. They might try to fill one of those spots with an internal option (Mick Abel or Griff McGarry – more on that later), but Dave Dombrowski will need to add at least one new starter this offseason.
The Phillies will also need to make a few moves to their bullpen. Seranthony Domínguez and José Alvarado will be back to hold down the eighth and ninth innings, so Dombrowski isn't necessarily looking for a frontline reliever, but the team could use a couple of veteran arms to fill out the rest of the 'pen.
Lastly, Philadelphia needs a new middle infielder to replace Jean Segura. Incumbent shortstop Bryson Stott will most likely slide over to second base next season (where he profiles better defensively) and the team will add a shortstop in free agency. This new shortstop should also meet the team's need for a new top-of-the-order bat.
Free Agent Targets
Philadelphia's top priority this winter should be the aggressive pursuit of a new star shortstop. That means one of Carlos Correa, Trea Turner, Xander Bogaerts, or Dansby Swanson. The Phillies have a hole to fill in their middle infield, they have money to spend on a new superstar, and their competitive window is wide open. The shortstop class this offseason is stronger than it will be for years to come, so now is the time to pounce.
Turner seems to be the most likely candidate, since rumors have already come out linking the two sides. The better fit, however, might be Correa or Swanson, both of whom are Gold Glove winners. Defense has long been a problem in Philadelphia, and particularly for third baseman Alec Bohm. Bohm did improve throughout last season, but he remains a liability at the hot corner. If the Phillies can sign a stud defensive shortstop, it will take a great deal of pressure off their young third baseman.
On the pitching side, the Phillies should be looking for a mid-rotation arm they'd feel comfortable handing the ball to for a postseason start. That means someone like Tyler Anderson, José Quintana, or Chris Bassitt. They could, however, turn out to be surprise contenders for Carlos Rodón too, especially if they miss out on the star shortstop of their choosing.

Finally, Philadelphia needs bullpen arms, but they'll probably spend most of the budget on a shortstop and a starting pitcher. Don't expect them to be in on the top guys like Kenley Jansen or Craig Kimbrel, but they could look to sign one or two relievers from the next tier down, such as Seth Lugo, Robert Suarez, or Chad Green.
Philadelphia Phillies: Down On the Farm
While the Phillies will make some big additions in free agency, they're also hoping to see a couple of top prospects step up in 2023. Philadelphia has three of the best pitching prospects in the game in Mick Abel, Andrew Painter, and Griff McGarry. At least two of them, Abel and McGarry, are on track to debut at some point next season. If all goes well, they would make fantastic additions to the back end of the rotation.
That's a lot to ask from two young players with no major league experience, but if their performances last season are any indication, Abel and McGarry are up for the challenge. They should both get the chance to fight for a rotation spot in Spring Training, and you can certainly expect to see them at some point in 2023.
Possible Extensions
While Dave Dombrowski's top priority this winter will be improving the team for the 2023 season, he can't forget about the future. The Phillies have three core players who will be free agents next winter, and Dombrowski may want to think about offering each one an extension before they hit the open market.
Aaron Nola is on the final season of a five-year, $56.75 million extension he signed in 2019. He was an instrumental part of the team's postseason run, and he has been one of the most reliable starting pitchers in baseball for the past six years. He turns 30 years old next June, and there's really no reason why the Phillies shouldn't try to keep their homegrown ace in red pinstripes for the next several seasons.
José Alvarado was one of the breakout stars of 2022. He had always been an inconsistent reliever who flashed signs of dominance, but he put the inconsistency behind him this past year and turned into one of the best relievers in baseball. He is still only 27 years old, and pitchers with 100 mph sinkers don't exactly grow on trees.
Finally, there's first baseman Rhys Hoskins. Hoskins is the longest-tenured position player on the roster, and in many ways, he has taken on the role of de facto captain over the past several years. He's a good hitter and a great clubhouse presence, but the Phillies will have to decide if they can afford to sign another slow-moving, poor defensive slugger over 30. Of the three impending free agents, Hoskins is the least likely to receive an extension.
Philadelphia Phillies 2023 Outlook
The outlook is bright for the Philadelphia Phillies heading into 2023. They have a strong core of star players and a good chance to add another one this offseason. Managing partner John Middleton has every incentive to improve his team after a spectacular 2022 run, so Dave Dombrowski should have no budgetary concerns to worry about in free agency. What's more, the Phillies have two exciting young pitchers on the verge of making their big league debuts.
With the addition of an All-Star shortstop, a new starting pitcher, a deeper bullpen, and a couple of top prospects, the Phillies will be a better team in 2023 than they were in 2022. The next great Phillies team is officially here.