Analysis
Trea Turner, Taijuan Walker Headline Strong Offseason for Phillies
The Philadelphia Phillies made their biggest moves nice and early this winter, setting themselves up well to defend their NL title.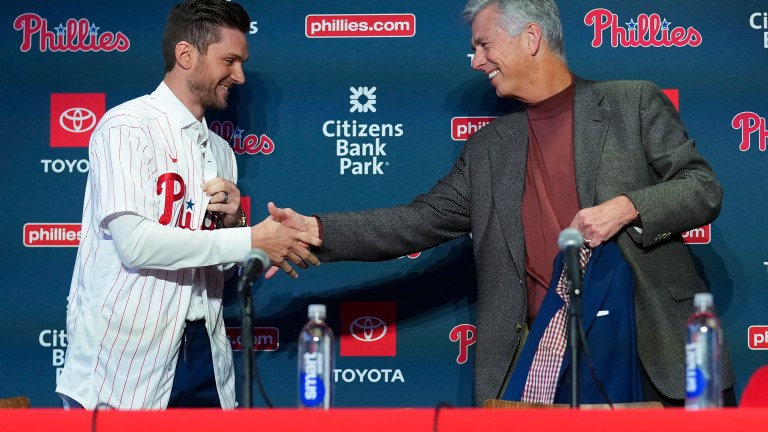 The Philadelphia Phillies are a better team today than they were last month, when Nick Castellanos popped out to end the 2022 World Series. We won't know just how much better until the 2023 season begins, but what's important is that team president Dave Dombrowski didn't rest on his laurels – not even for even a moment. The Phillies have committed $387 million to free agents this offseason, which ranks fourth in baseball. Those free agents combined for 9.1 FanGraphs WAR in 2022 alone.
As the hot stove begins to cool down for the holiday season, here's a quick look at everything the Phillies accomplished in December.
December 8: Phillies officially sign Trea Turner to an eleven-year, $300 million contract
This is the move Phillies fans were waiting for all year. Indeed, signing Trea Turner became such a topic of conversation amongst the fanbase that it would have been highly disappointing had he gone anywhere else.
Turner is a five-tool player who improves the Phillies in just about every way. He's a more natural fit for the leadoff spot than Kyle Schwarber, he's a better shortstop than Bryson Stott, and he's going to be the team's biggest threat on the bases since prime Jimmy Rollins. He'll be taking Jean Segura's spot in the lineup, which should net Philadelphia another 2-3 wins (at least), and he has the upside of a 6+ WAR player.
With Turner in the fold, the Phillies now have three players who could compete for an MVP in the coming years: Turner, Bryce Harper, and J.T. Realmuto. Add in legitimate Cy Young contenders Aaron Nola and Zack Wheeler, and this team is looking pretty dangerous for the next few seasons.
Some fans might gripe about Turner's contract, which pays him $27.27 million a year through his age-40 season. It's important to remember, however, that Turner doesn't have to be a superstar throughout the entire deal. The contract is backloaded to reduce the average annual value for luxury tax purposes, so the Phillies aren't actually expecting him to be worth $27 million in the final years of his career.
As long as Trea Turner keeps playing at his current level for a few more years, followed by a few more years of above-average play in his mid-thirties, this contract should work out well for both sides.
December 16: Phillies officially sign Taijuan Walker to a four-year, $72 million contract
Taijuan Walker wasn't the move most fans were expecting, but in hindsight, it makes a lot of sense. Walker didn't receive the qualifying offer from the Mets, which means the Phillies didn't need to give up any draft picks to sign him. After they had already sacrificed two picks to sign Turner, they really couldn't afford to give up any more.
Only two pitchers who did not receive the QO are significantly better than Walker: Justin Verlander and Clayton Kershaw. Neither one of those veterans was on Philadelphia's radar.
What's more, Walker was also one of the youngest starting pitchers available. Among free agent starters worth at least 1.0 fWAR in 2022, only four were 30 years old or younger.
The Phillies were drawn to Walker this offseason for his relative youth and lack of QO penalties. He's not a splashy signing, but he provides stability for the back of the rotation at a reasonable cost.
December 9: Phillies officially sign Matt Strahm to a two-year, $15 million contract
Philadelphia needed another left-handed reliever, and they found their man in Matt Strahm. Strahm is a capable bullpen arm with a wide array of pitches, but his $15 million payday indicates the Phillies think he can be something more.
Pitching coach Caleb Cotham has done a great job unlocking special talents in his relievers over the past two years, and Strahm looks to be his next challenge.
Other Moves
Phillies Claim outfielder Jake Cave on waivers
On December 2, the Phillies claimed Jake Cave on waivers from the Baltimore Orioles. Cave plays all three outfield positions, and grades out as a strong defender in left. He's a career .235/.297/.411 hitter.
Cave had a couple of good seasons in 2018 and 2019, but he's fallen off the map in recent years. Since 2020, he has a meager 83 wRC+ against right-handed pitching and a dismal 27 wRC+ against southpaws. It's unlikely he cracks Philadelphia's Opening Day roster, but he's a fine addition for a team thin on outfield depth.
Phillies select Noah Song in Rule 5 draft
For the first time in years, the Phillies made a truly interesting selection in the Rule 5 draft. Noah Song is a 25-year-old right-handed pitcher who throws a high-90s fastball and a good slider. He had an excellent college career, and the general consensus is he would have been a first-round draft pick had he not attended a military academy. Instead, he fell to the fourth round in 2019, because he was required to serve five years in the Navy.
He's in the process of requesting to delay his service, and his petition remains unresolved. It's hard to know when – or if – Song will return to pro ball, but there's no downside to this pick. The best-case scenario is that he successfully delays his service and becomes an intriguing pitching prospect in Philadelphia.
For the second consecutive offseason, no Phillies were taken in the Rule 5 draft.
What's Next?
Turner and Walker are the headlining acquisitions of the offseason, and the Phillies are probably done making big moves. That being said, Dave Dombrowski still has a few tasks left on his winter to-do list. He got his most important shopping done early, and now he has plenty of time to finish things up.
Shore Up the Bullpen
Matt Strahm may end up being Philadelphia's biggest bullpen signing, but the team needs a few more arms to fill out the pen. As things stand, Sam Coonrod and Cristopher Sánchez both project to make the Opening Day roster. In other words, the Phillies could use some upgrades. Plus, they have very little bullpen depth in the minor leagues.
The most likely outcome is that Dombrowski looks to strike gold with some bargain-bin signings. Alternatively, if he wants a bigger name, Adam Ottavino, Chad Green, and even Craig Kimbrel are still available. He could also explore a trade for a top arm like Liam Hendriks or Gregory Soto.
Extend Aaron Nola
Now that Carlos Rodón has signed, we have a better idea of what an Aaron Nola extension might look like. The Phillies have every reason to keep their homegrown ace around, so they'd be smart to start those talks ASAP.
With his big free agent spending out of the way, Dombrowski should have a good sense of his budget. If he wants to turn this Phillies offseason from a success to a roaring success, extending Nola is the way to go.