Analysis
New York Yankees Trade Deadline Outlook
Boasting MLB's best record, the Yankees don't have to make any additions at the deadline, but the right moves could put them over the top.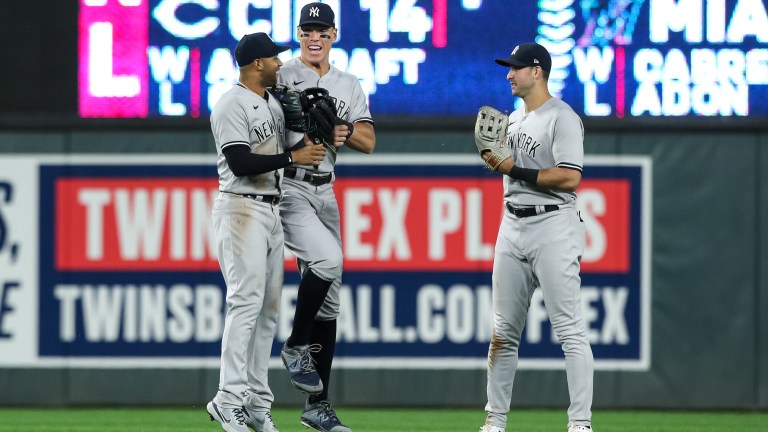 The New York Yankees find themselves in an interesting position towards this season's trade deadline. Currently sitting at 62-27, the best record in the entire sport, life has been good for the 2022 Bronx Bombers. The pitching has been dominant, the bats have been electric, and this team has been incredibly successful during the first half.
This front office is no stranger to trade deadline blockbuster moves. Just last season, the team sent a haul of prospects away for left-handed sluggers Anthony Rizzo and Joey Gallo. While Gallo's tenure in pinstripes has been a complete failure, Rizzo's 22 home runs this year have been a major impact to the roster. Since dealing for the former Cubs legend, the Yankees have a record of 86-42. He's been an instant impact both offensively and defensively.
While yes, this team has been remarkable through their first 89 games, there are still areas where they can improve.
A relative hole in the outfield still remains with the aforementioned Gallo. The starting rotation has been otherworldly, but has seen a drop off in production in the past few weeks. And with any contending team, it's always best to bolster your bullpen in order to make a back-half run to glory.
Should the Yankees add a starter?
Yankees starters have combined for the third-lowest ERA as a staff this season at 3.21. For a consistent stretch, the combination of Gerrit Cole, Nestor Cortes Jr., Jordan Montgomery, Luis Severino and Jameson Taillon formed the best staff in the entire sport. It was exhilarating.
For a long stretch of time prior to this year, the Yankees never had a solid rotation that could carry them through a given season. The nightmares of J.A. Happ and Sonny Gray have disappeared and turned into Matt Blake's laboratory of arms.
Two Yankees starters will be represented the team at the All-Star game, with both Gerrit Cole and Nestor Cortes Jr. making the trip to LA. Well-deserved for the pair that have led this staff over this remarkable run. Montgomery has come alive in 2022, pitching to the tune of a 3.19 ERA and has been the perfect number three. Two other starters remain, and there's some… issues.
Severino was fresh off Tommy John surgery at the beginning of the campaign and was fired up right out of the gate. His 27.2% strikeout rate is the second-highest among Yankee starters, just behind Cole. In 86 innings this season, he racked up a respectable 3.45 ERA, to go along with a 4.03 FIP. An injury scare has hit him once more, as he will now be sidelined for the rest of the month with a lat strain. A scary sight for a pitcher who has already dealt with these same types of injuries in the past.
Jameson Taillon seemed to be having a complete career renaissance in 2022, until the inevitable happened. Through his first 13 starts, he garnered a gorgeous 8-1 record with a 2.70 ERA. Incredible. This run even included a perfect game bid against the Angels back in June, which was foiled after seven.
His last four starts however, have been horrific. Taillon has allowed a whopping 20 runs in his last 20 2/3 innings, accumulating a 8.70 ERA. Yikes.
So clearly, a hole has formed in this group. Taillon's struggles have become an issue, and Severino's health is a cause for concern. When we really stack up these Yankees starters to say, a team like the Astros, they seem outmatched. In turn, I believe the Yankees should deal for a high-caliber starting pitcher. And they have the assets to make a deal.
Luis Castillo – Starting Pitcher – Cincinnati Reds
Seemingly a match made in heaven and a long-time rumored individual to don the pinstripes, the Yankees should deal for Luis Castillo immediately. He would comfortably slot in as the number two starter just behind Cole, and would give this team the competitive edge in the playoffs.
Luis Castillo is one of the most elite ground-ball pitchers in the sport. If qualified, his 48.5% GB rate would be the eleventh-highest mark in the game. He also led this stat in 2021, finishing at a 56.6% rate last season. The right-hander has been the one constant force in a struggling Cincinnati Reds rotation. Castillo is posting career-highs in ERA, FIP, average against, WHIP, and BABIP. His 2.71 ERA is the fifteenth-lowest in MLB. He's been incredible!
Castillo had a nice little audition in the Bronx on Thursday night, shutting down this potent Yankees lineup to give the Reds the series win. In a no-decision, Luis threw seven innings of one-run ball with just two hits, striking out eight and walking four. A bit of a sneak peek? Who knows, hopefully it was.
The Yankees certainly have the assets to make a Castillo deal happen, as the Reds front office looks to stack up prospect capital in this ongoing rebuild. Cincinnati can explore through the options of Trey Sweeney, Clarke Schmidt, Oswald Peraza and Luis Medina to find a suitable package. Kind of seems like a no brainer move for Cashman and Co. to make this play.
Jose Quintana – Starting Pitcher – Pittsburgh Pirates
While Jose Quintana is no Luis Castillo, he's still a pitcher who can improve the depth of this rotation. He wouldn't be nearly as expensive as a Castillo. The 10-year vet is enjoying a relative bounce back season after a few years of extreme mediocrity.
Quintana relates to Castillo, in the fact that they are both extreme ground ball pitchers. He's consistently had over a 40% GB rate in any given season, including a 44.2% clip this season. He has recorded the second-lowest FIP of his career at 3.32 through his first 18 starts. His home run to fly ball rate has reduced a significant amount in 2022, dropping from 21.4% to 7.9%.
Jose Quintana isn't an elite front-line starter that will change the face of a rotation, but he can be a steady innings eater for a team that will look to make a deep playoff run. If the Yankees are unable to get Castillo, Quintana would be a great backup option.
Tyler Mahle – Starting Pitcher – Cincinnati Reds
Tyler Mahle seems like another backup option if the Yankees are unable to obtain Castillo. Based on the face stats, you would think that Mahle is one of the worst pitchers in the sport. A 4.48 ERA through your first 92 innings would give that impression. However, that doesn't seem to be the case. Great American Ballpark, his home stadium, has the second-highest park factor in MLB and consistently works against him.
While pitching at home Mahle is horrid. This includes a 4.22 FIP, 1.59 WHIP, and a .340 BABIP against. In contrast, the starter is incredible on the road. Pitching in away starts, he has a 2.66 FIP, 0.98 WHIP, and a .248 BABIP against. That's incredible!
The Reds have to get Mahle out of Cincinnati. It's evident that his home stadium is his biggest enemy. Should the Yankees decide to forego the previous two options, Mahle could be in pinstripes come deadline time, and would be a solid pickup
Addressing the hole in the outfield
About a month ago, I wrote an article on this website detailing the enigma of the Yankees outfield. At the time, the Bronx Bombers were getting a mixed bag of results. Stanton and Judge have both cruised to being All-Star starters, and Aaron Hicks has begun to pick it up after an abysmal start.
Joey Gallo seems to be the odd man out, as his lack of production at the plate and mediocre results in the outfield have left Yankee fans everywhere upset. The elite defense and explosive power that we were promised have turned into complete and utter disappointment with Gallo.
It's obvious that Gallo will have no business getting playoff at-bats with this team. So in turn, the Yankees need a new outfielder. There are a few options the Yankees could go with here, so allow me to present three different scenarios the Yankees could explore during their trade deadline madness.
Staying Pact
In my opinion, the most likely scenario for the Yankees at the trade deadline is holding onto the pieces they have or making minimal moves. A few factors have played into this thinking, as much has changed since the last time we spoke about this group.
The resurgence of Matt Carpenter has been key to this team's success in the past few weeks. His 282 wRC+ in his first 30 games has been legendary, giving the Yankees another massive bat. Carpenter's defensive versatility has also been underappreciated. Able to fill in at first, third, or a corner outfield spot, he's the perfect utility man. It's also another DH option for when you want to play Giancarlo Stanton in the outfield. There is tons of potential here.
While I don't personally expect Carpenter to continue on this historic run, he'll still be a serviceable player down the stretch. Being able to have Judge, Stanton, Hicks and Carpenter rotate through the three outfield spots and DH is a good thing.
Use Joey Gallo as a fifth outfielder and a defensive specialist. To me, this seems like the most likely scenario with the Yankees front office attacking starting pitching first.
Dealing for an elite outfield bat
The second option the Yankees FO will be exploring is trading for a top-tier corner outfielder. This would be one of Ian Happ or Andrew Benintendi. Both players are great options for this team, and both players will be looking for a move at the deadline. With Kansas City and Chicago both looking to sell, it's likely these two will be in different uniforms come August 2nd.
Andrew Benintendi: has dominated the Bronx headlines surrounding his imminent move away from Kansas City. The outfielder has slowly changed his entire approach at the plate, becoming a contact bat. His current total of three home runs in 2022 is the lowest number of his entire career. But with the lack of power production, the 28-year-old is hitting .317 with a whopping .386 on-base percentage.
Benni has transformed into an OBP machine who hits for high average. Swapping Andrew Benintendi with Joey Gallo would be a complete change of pace from Gallo's three true outcome approach in the box. It could provide a great impact to this lineup, with DJ LeMahieu really being the only type of player with that kind of hitter profile.
Ian Happ made his first appearance in an All-Star game Tuesday night. Happ is having a career-year in 2022. His 126 wRC+ is the second-highest total over his six years in MLB, and he's getting on base at an elite clip with a .364 OBP.
His 2.2 WAR through his first 90 games is already the highest total of his career. Happ is a switch-hitting corner outfielder who would fit right in on any team. He's an okay defender, nothing too special. Swapping Happ for Gallo wouldn't necessarily be a complete switch up, but there's more offensive production and more guarantee. Happ's wRC+ has never dipped below the league average of 100, with his lowest tally coming last year at 103. He's a safe option.
Both outfielders hit from the left side of the plate, giving themselves an advantage in Yankee Stadium with the legendary short porch. It's unclear whether or not the front office will put their full intentions on another big-time outfielder, but is should be a priority. And starting with one of these two guys would be excellent.
A visit from an old friend?
With the most realistic scenario of the Yankees staying pact with their outfield on tap, they'll certainly be in the market for a fourth or fifth outfielder. Like I previously mentioned, Joey Gallo is now physically unplayable. If they decide to ship him off at the deadline and don't bring in one of the marquee names we talked about, there's only one man for the job.
Let. Brett. Bang.
Long-time Bronx Bomber and the final member from the 2009 championship team to play for the Yankees, Brett Gardner is currently sitting at home without a major league contract. It was puzzling when the 38-year-old announced that he would not retire from baseball after the offseason, as there were options on the table for him. Both the Braves and Blue Jays offered Gardner a big-league contract, but he denied. He only wants to play for the Yankees.
Gardner's 93 wRC+ season in 2021 was nothing to be proud of. But on the bright side, he was a better offensive player than Gallo's been. He's clearly past his prime yes. But as a fifth outfielder?
Why not?
If the Yankees continue to push on with this World Series run, it would be fun to have Gardner back in pinstripes just once more. He won't play everyday, he'll fill in when needed, and he'll be a great voice in the clubhouse. I see no issues!
It would be an incredible story if the front office decided to bring back Gardner for another playoff push and would just add more character to the team. Bring back Brett!
Adding an elite bullpen arm
Any elite team on their way to a massive playoff push stockpiles their bullpen at the trade deadline. This is no different for the 2022 Yankees.
New York relievers as a whole have pitched to the tune of an elite 2.89 ERA, the second-lowest mark in baseball. Clay Holmes has transformed into one of the best closers in baseball. Michael King and Lucas Luetge have been elite setup men. And even complimentary pieces like Miguel Castro and Albert Abreu have been solid. However, questions still remain.
It seems like the team will no longer rely on longtime closer Aroldis Chapman, as he's fallen off a cliff. Johnathan Loaisiga has spent a majority of the year on the IL and hasn't been consistent in his return. And Yankee veteran Chad Green was forced to have Tommy John surgery just a few short months ago.
In turn, it would be wise for the Yankees to buff up their 'pen in the coming days. There are two names here that I would like to key in on who could bring real impact to this group.
David Robertson – Relief Pitcher – Chicago Cubs
Another old friend of the Yankees makes an appearance in this article, as David Robertson has been lighting it up in Chicago this year. Robertson spent the first nine years of his career in pinstripes, serving as the setup man to the great Mariano Rivera before becoming the full-time closer.
He's bounced around over the past few years including stops in Chicago (White Sox), Tampa Bay, and finally this year back in Chicago with the Cubs.
Robertson has quietly reached elite form with a struggling Cubs team. It's honestly puzzling how he didn't make the All-Star team!
In 37 innings in 2022, Robertson has recorded a 1.93 ERA, a 3.27 FIP, a 0.99 WHIP and is striking out hitters 31% of the time. His ERA tally is the lowest it's been since his historic 2011 campaign, where he pitched to a minuscule 1.08 ERA. Robertson's ground ball rate is at it's lowest since 2013, reaching the 49.4% mark.
The reliever has shown the ability to go multiple innings when needed and can still work perfectly as the setup man. Obviously, Robertson won't walk through the door and unseat Holmes. But he'll work perfectly in the passenger seat.
Besides, who wouldn't love this reunion? Maybe there's a possibility that Robertson can be packaged with Ian Happ to come to the Bronx? Only time will tell.
Michael Fulmer – Relief Pitcher – Detroit Tigers
Reliever Michael Fulmer is experiencing a breakout in Detroit after a rough last few years in the Motor City. The Tigers bullpen as a whole has quietly been incredible, accumulating the third-lowest bullpen ERA at 3.08 in 2022. Fulmer has been a huge part in this as a bullpen superstar who's been criminally underrated this season.
A whopping eight Tigers have below a 3.00 ERA this season. Fulmer is one of them, his tally being just the sixth-lowest on the team at 2.38. He's striking out nine hitters per nine innings, but doesn't produce the elite ground ball rate which others do, forcing groundouts just 32% of the time.
What makes Fulmer special is his home run-to-fly ball rate, which sits at 2.4%, the 14th-lowest mark in the game. He's made the switch from starter to reliever in stride and is one of the best in the game during this current campaign. He should be on the Yankees radar.
Given the fact that he isn't the top-grade piece of this Tigers bullpen, Fulmer shouldn't cost an arm and a leg. Similar to Robertson, he can fill a void as a middle reliever or a setup man. He will certainly be one of the many bullpen arms Detroit will ship off, as they are in no position to contend. This is a slam dunk move for the Yankees front office.