Analysis
The New York Yankees Should Not Trust Aroldis Chapman
Aroldis Chapman was once one of the best relievers in baseball. However, the last few years have been a struggle and the Yankees should no longer rely on him in high-leverage situations.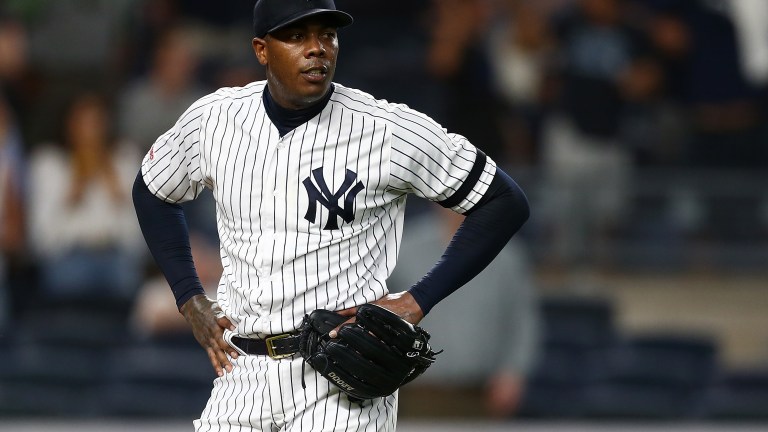 Aroldis Chapman is a seven-time All-Star who ranks 24th in MLB history with 315 saves. He's also 11th all-time in relief pitcher fWAR (20.2). With that being said, the New York Yankees would be unwise to utilize Chapman in high-leverage situations moving forward this season. Between his own struggles, combined with the emergence of other relievers in New York's bullpen, Chapman is best served moving to a middle-relief role during the second half of the year.
Shell of His Former Self
Chapman has had a sensational career. The accolades listed above make that evident. However, he's now 34 years old and hasn't been effective since the early goings of last season. Dating back to June 1, 2021, Chapman owns a 4.82 ERA, 1.64 WHIP and 17.6% walk rate, and has allowed 10 home runs over 52.1 innings. That's basically a season-long sample of poor performances.
Additionally, he's inducing a career-worst 28.9% whiff rate, which has fallen over 10% from last year. He's also generating the second-fewest ground balls of his career (34.8%) and allowing his second-highest rate of hard contact since 2015 (39.1%). This is more than a slump, and at some point, it's fair to wonder if the wear and tear of 13 big league seasons has finally taken its toll on Chapman's left arm.
Drop in Velocity
So far this year, Chapman's average fastball velocity is clocking in at a career-low 96.9 MPH. That's down nearly a mile and a half per hour from last year. His fastball spin rate has also been on a steady decline since 2017. Chapman is clearly no longer the flame-thrower who once regularly topped out over 100. As a result, he's utilizing his four-seamer less often than ever before (51.7% usage) and instead relying more on his slider (30.8% usage).
That would be fine if the slider was a successful pitch, but the opposite has been true. Hitters have a .286 batting average and .583 slugging percentage against the offering. Additionally, four of the six extra-base hits Chapman has allowed this year are off the slider. Chapman essentially lost confidence in the pitch he built his career on and is instead opting to use a below average breaking ball more frequently.
Shoddy Command
Struggles with command and free passes have always plagued Chapman. Even at his best, Chapman was prone to occasional implosions as a direct result of his poor control. Since 2015, he has never ranked in the top half of pitchers in walk rate. Things have completely bottomed out this season, however, as Chapman is walking batters at a career-worst 17.3% clip.
He's walked 13 batters over his last 13 innings pitched and has thrown strikes just 58% of the time during that stretch. This is precisely why Chapman can't be trusted in late/close situations. He's become a near lock to put at least one runner on base per appearance and is the personification of playing with fire.
Better Options
While Chapman has struggled on the mound and missed over a month with an Achilles injury, three other relievers are having career years for the Yankees. Clay Holmes, Michael King and Wandy Peralta have been nearly untouchable from the back-end of New York's bullpen. The three late-inning options have combined to post a 1.58 ERA and 0.90 WHIP over 124 frames. Unless someone falters, there is no excuse for Chapman to jump any of those three in the bullpen hierarchy.
Holmes, specifically, is producing one of the best relief seasons in Yankees' history. He's given up just two earned runs over 38 innings (0.47 ERA) and is 16-for-17 in save opportunities. Holmes ranks in the 97th percentile among all pitchers in walk rate and owns a ridiculous 82.6% ground ball rate. His sinker is one of the best pitches in baseball, with opponents batting a mere .157 with a .176 slugging percentage against it. Moreover, the sinker has a run value of +15 on Baseball Savant, which is the third-highest of any pitch this season. Holmes is ultra-reliable and doesn't beat himself. He's the anti-Chapman.
Largely thanks to the work of Holmes, King and Peralta, New York is second in team bullpen ERA this year (2.64) despite getting next to no production from Chapman. There's no reason for the Yankees to mess with what has worked and that means Chapman should not see any of the team's biggest spots down the stretch.