Analysis
The Enigma Of The New York Yankees Outfield
While Aaron Judge and Giancarlo Stanton are producing at an elite level, the rest of the Yankees outfielders have left a lot to be desired this season.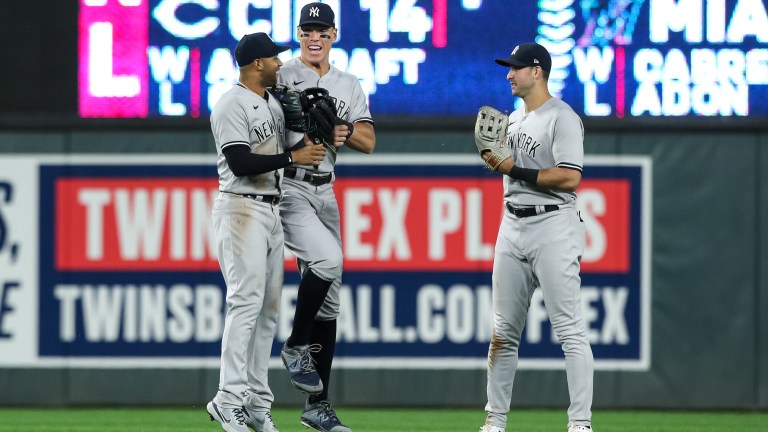 The New York Yankees, by their enormous 40-win total, have been the best team in baseball during the 2022 season. One of the best offenses, with a league-leading team wRC+ of 117, they've mashed throughout their first 56 games.
The Yankees outfield has always been a staple as one of the best in MLB for some time now. Consistently getting the best out of the three positions, Yankees' outfielders have impressed over the past few years.
While much of the team's success has to be accredited to the heroics of Aaron Judge and Giancarlo Stanton, fellow outfielders Aaron Hicks and Joey Gallo haven't provided much towards this bomber's lineup.
New Age "Bash Brothers"
Right fielder Aaron Judge has played at an MVP caliber level with his impending free agency looming. Producing at the highest rate of his career, he's slashed an elite .315/.385/.685 with a league high 22 home runs. His whopping 202 wRC+ is the number to beat. Judge's 45 runs batted in is the fourth-highest tally in MLB.
To go along with all of his offensive greatness, he's still an above-average defender, with a cannon for an arm. There isn't much choice but for general manager Brian Cashman to essentially hand the 30-year-old a blank check this offseason, because he deserves it.
Running mate and fellow bash brother Giancarlo Stanton, despite some early health issues, is also mashing. Playing in the outfield far more often this season has shown extremely positive results for Giancarlo. His .420 xwOBA is the highest mark of his career to go along with 1.3 WAR, half of what he produced for the Bronx Bombers in 2021.
Oh, and he's hitting the life out of the ball, with his exit velocity of 97.5 MPH topping the entire sport. While he cannot be relied upon to play in the outfield every single day, he can fill in when needed.
The duo of Judge and Stanton is truly one of the best in all of baseball. These two guys are the largest reason why the Yankees lead the league in home runs at 83. Assuming Judge is now the full-time center fielder, playing over 50% of his games there this year, and Stanton will rotate in as the right fielder when he isn't the DH, there's still two other outfield positions to discuss. And man, that is were the production really drops off a cliff.
Joey Gallo's Offensive Struggles Continue
Ah, the curious case of Joey Gallo. Us as a fanbase knew exactly what kind of player he was before he arrived in New York. Known for his incredible on-base percentage while bringing some of the most elite power in the sport, Gallo has made his presence felt during his eight-year career.
To add to an impressive offensive profile, he's been a force on the defensive side of the ball. He received his second career Gold Glove award in 2021, beating out teammate Aaron Judge for the right-fielder position. Gallo's lefty-swing is tailor made for the short porch in Yankee Stadium. By reading this section, you could probably assume Gallo has had a positive impact on this Yankees team.
You would be wrong.
Joey Gallo is the most polarizing player in the game. His 38.1% strikeout rate is the highest among all qualified hitters in MLB. An abysmal slash line of .186/.288/.329 and only 10 RBIs is a strong cause for concern. His isolated power of .143 is the lowest clip of his career. And the defense? Also poor. His -3 OAA is the lowest mark of his stint in MLB.
If you're familiar with my work, you would know that I have never been the biggest fan of Gallo. As a fan who watches every single one of his at-bats, most of them are just completely uncompetitive. Watching a player consistently provide nothing but a free out to an opposing pitcher is frustrating. While it's refreshing to watch him nuke a home run into the porch every once in a while, he's been a negative impact on this team.
The Yankees exercised Gallo's final year of arbitration just before the season began. So, unless a trade is on the horizon, he will be in this lineup for the foreseeable future. While there is still time for him to bounce back in the pinstripes, his time as a Yankee has been downright awful through his first 104 games.
Maybe it's a New York thing?
We've seen a handful of players come to New York and be unsuccessful following their arrivals. With the intense media coverage and constant heckling from the fans, it can become too much for a player.
For instance, look at the case of starting pitcher Sonny Gray.
After being dealt to the Yankees in 2017, he was a complete shell of himself, citing the media pressure that was constantly wearing on him. New York was forced to cut their losses with Gray and dealt him to Cincinnati, where he regained his old form.
We'll see what the future holds for Gallo. But as of today, it's scary to think about.
Aaron Hicks is a Shell of His 2018 Self
Aaron Hicks is another name that has struggled throughout his first 48 games in 2022. There was a stretch for a few weeks where Hicks was actually second in all of MLB in walk rate at 20%. However, this has quickly fallen to 15.1%, and he seems to be a completely different player from 2018.
Hicks racked up an impressive 129 wRC+ during the 2018 season, which resulted in the team investing in him for the next seven years with a $70 million contract. The following season brought turmoil, as it was announced that he would have to undergo Tommy John surgery on his throwing arm. At the time, this was a huge blow to a Yankees team that had figured he would be their long-term centerfielder.
This has not been the case, as Aaron Hicks' steady decline into mediocrity has finally arrived. His hideous .028 ISO is the worst mark of his career. A wild .357 OBP is only resulting into a .603 OPS, with the player slugging just .261. The worst thing about Hicks' offensive struggles has to be hitting with runners in scoring position. There are consistent key moments where the player just falls flat. Similar to Gallo, there are times where he becomes a complete dead hole in the lineup.
On the positive side of things, the Yankees outfielder has had a decent stretch in June. With back-to-back two-hit games this week against Minnesota, there's still some life there. He also made an incredible play in last night's 8-1 loss against the Twins, gunning down former Yankee Gio Urshela attempting to score at home plate.
Regardless of this, it's difficult to see a world where Hicks' massive $70 million contract turns out to be a success. At 32, Hicks must complete a career revival to ensure long-term success in pinstripes. And personally, my confidence is on the floor with this player.
The Other Guys
There have been stretches of time during this young season where the Yankees have been forced to pluck from the Triple-A affiliate to fill their three outfield spots. Three key names have played for the 2022 Yankees including Miguel Andujar, Tim Locastro and Estevan Florial.
Andujar, recently optioned back to Scranton/Wilkes-Barre, enjoyed a twelve-game stretch as the team's left fielder. A horrid wRC+ of 70 led to his demise, as he was simply a bad bat in this lineup. Following his demotion, he told manager Aaron Boone that he deserved a spot on the roster and demanded a trade. While I find his enthusiasm rather impressive, he is far removed from his Rookie of the Year award in 2018. Andujar isn't a player that can be relied upon anymore.
Tim Locastro is a player that provides immense value to a team. Considering his track record of being a below league average hitter, his inflated 133 wRC+ doesn't seem sustainable with only fifteen plate appearances. However, his speed can straight up change a game when needed. Ranking in the 99th percentile of sprint speed in the entire sport, his average of 29.9 feet per second ranks as the eighth-highest in MLB. As a pinch runner, he is elite.
To put it simply, Estevan Florial is not a big leaguer. He's failed to impress during his stints as the Yankees center fielder, with a staggering -74 wRC+ in his twelve plate appearances this season. He is hitless this season, with just one walk to pair with a .083 OBP. Yankees fans screamed for this guy's name multiple times this year. But I simply don't think he'll ever get a real opportunity on this roster.
If Hicks and Gallo continue to struggle and no reinforcements are on their way from the minors, the Yankees may need to make an addition at the trade deadline to add a third outfielder that they can pair with Stanton and Judge.