Rankings
MLB September Power Rankings: It's Still the Dodgers' World
The National League may be much deeper than many initially thought, while the American League is wildly top-heavy.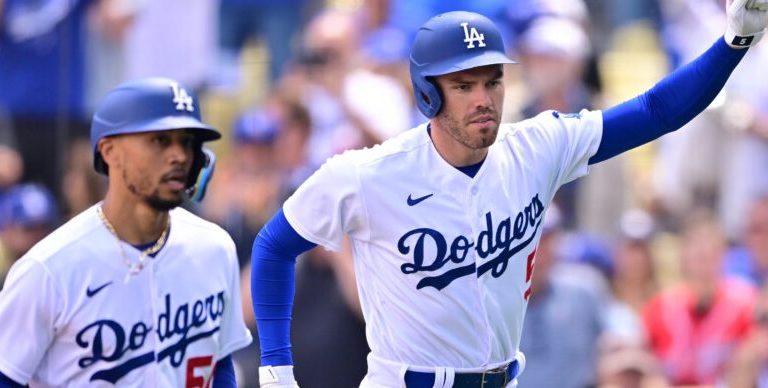 Home stretch time, ladies and gents! The deadline has passed, September Call-Ups are en route to the big clubs, and contenders have separated themselves from the pack.
The postseason push is a full go.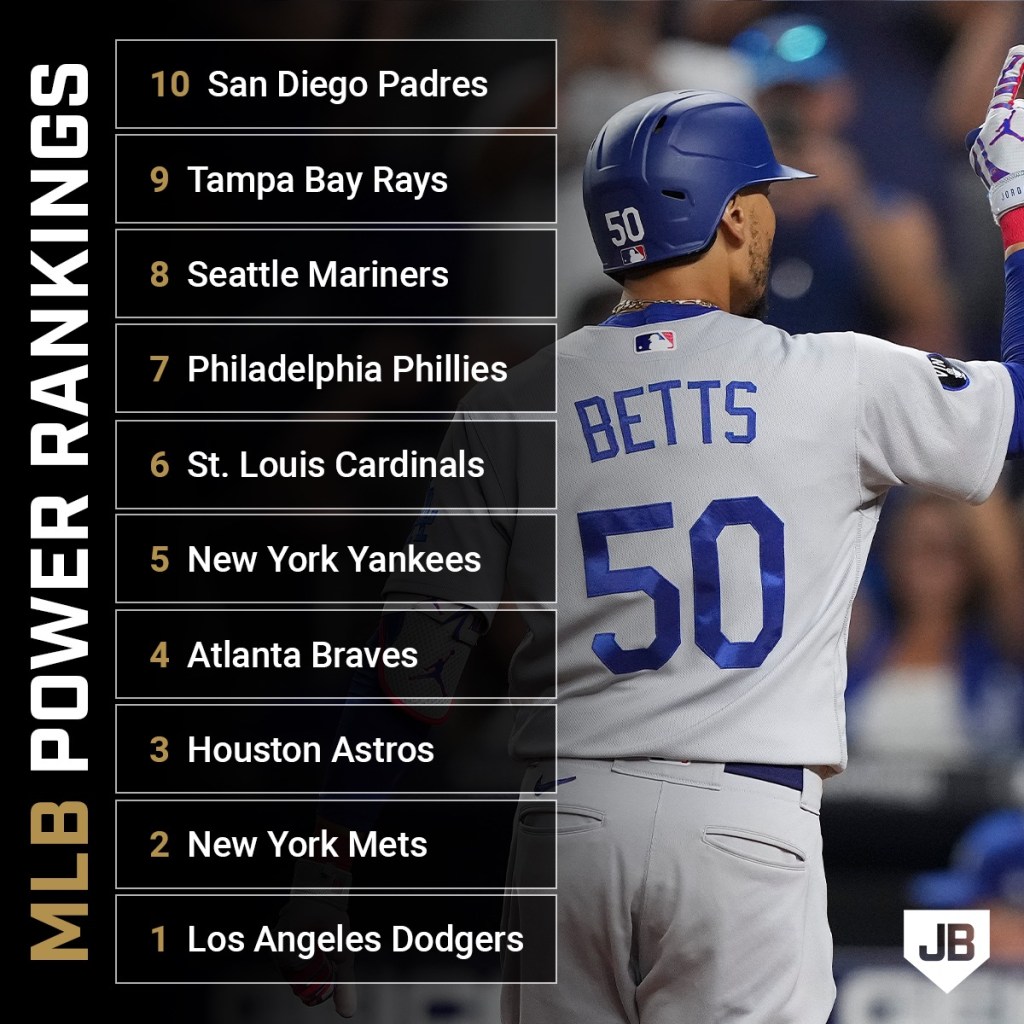 1. Los Angeles Dodgers (Previous Ranking: 2)
If you didn't think that the Dodgers could survive the brutal injury news for Walker Buehler and an unfortunate IL stint for Tony Gonsolin, think again. Since the All-Star break, the Dodgers are 30-9 with a league-leading 2.50 ERA, 64 points clear of Cleveland and Houston for the second-best mark. They can hit, too. Their .475 team slugging percentage since the Midsummer Classic is second only to the Cardinals.
2. New York Mets (Previous Ranking: 4)
Teams tend to get better when the modern-day Bob Gibson rejoins the fold. Through six starts, Jacob deGrom has thrown 36.1 innings, allowed just 17 hits (4.2 H/9), struck out 55, and walked just three. Along with Pete Alonso putting together a 31 home runs, 105 RBI season, the Mets seem to be set up for immense success through the fall.
3. Houston Astros (Previous Ranking: 3)
It really feels like the 'Stros can put the regular season on auto-pilot at this point. Riding a three-game winning streak, Houston's next 18 games come against the Angels, Rangers, Tigers, and A's. The stretch of mediocre opposition should give Justin Verlander time to get his calf back to a level of health he feels comfortable with.
4. Atlanta Braves (Previous Ranking: 5)
Everyone seems to be finding a good rhythm in this lineup at the perfect time. While Austin Riley and rookie star Michael Harris II were carrying the load through the early summer months, Ronald Acuña Jr. and Matt Olson have turned into the mashers that the Braves expected them to be. Acuña, in 33 games since the All-Star break, is OPS'ing .786, while Olson has been even better, slugging at a .500 clip with an .819 OPS. All this still sits behind Riley's .296/.380/.514 slash like since the break, propelling the Braves to the third-best team slugging percentage in all of baseball in that time frame.
5. New York Yankees (Previous Ranking: 1)
It's really, really hard to fathom that this team is 15-24 since the All-Star break. How does it happen?
Well, a 3.86 Staff ERA in that span doesn't help. Neither does a .225 team batting average, good for sixth-worst in baseball. Gleyber Torres hitting .189 with a .522 OPS certainly won't get it done. And DJ LeMahieu, Andrew Benintendi, and Josh Donaldson all logging an OPS under .700 is the icing on the cake. All I'll say: thank goodness for Aaron Judge and his 1.256 OPS with 18 home runs and 43 RBI's in his last 38 games. If Judge wasn't flirting with Maris at the moment, the Roman Empire in the Bronx may have already crumbled.
6. St. Louis Cardinals (Previous Ranking: 8)
Albert. Freaking. Pujols. In the Machine's last 28 games, Pujols is slashing .372/.425/.782 (1.207 OPS) with nine home runs and 21 RBI's. While Albert chases the elusive 700th home run, Nolan Arenado and Paul Goldschmidt are putting up OPS's right around the 1.100 marker, and Goldy has become the runaway favorite for the NL MVP and could become the first Triple Crown winner in the National League since the Cardinals' Joe Medwick did it in 1937.
7. Philadelphia Phillies (Previous Ranking: 14)
The king is back. In six games since returning from a broken thumb, Bryce Harper has hit .381 with a .976 OPS with two doubles, five walks, and just three strikeouts. While Harper was on the mend, JT Realmuto stepped into his own, elevating his game to a .996 OPS over his last 32 games, while Alec Bohm has been an .800 OPS player. Since the break, the Phils ranks within the top-5 in both team batting average and team OPS. By getting the third-most innings out of their starters of any team in baseball this season, the Phillies seem well-positioned to make noise in September and heading into the postseason.
8. Seattle Mariners (Previous Ranking: 7)
Now that the J-Rod Show is appropriately compensated financially, it's time to focus on everyone else. Robbie Ray has been so-so since the break, throwing to a 3.72 ERA over his last seven starts. It's been even tougher sledding for Logan Gilbert and his 24 earned runs over 38.2 IP in his last seven starts. However, the bullpen has picked up the slack. Erik Swanson has allowed just one earned run in his last 19 relief appearances, while Diego Castillo has surrendered three hits in his last 10 appearances, Matt Brash has struck out 19 and walked four over his last 13 innings, and George Kirby is throwing to a 2.11 ERA over his last seven starts.
9. Tampa Bay Rays (Previous Ranking: 12)
Shane McClanahan and Brandon Lowe going on the IL on the same day is not good. McClanahan's injury being much less severe than initially anticipated is relatively good. Wander Franco looking unlikely to return this season is not good. Tyler Glasnow possibly returning for a stretch run is good. There's a lot going on away from the foul lines for Tampa right now.
10. San Diego Padres (Previous Ranking: 6)
If there's anything we love to see more than a team trying to rally around each other in spite of a superstar testing positive for a banned substance, we have yet to see it. The Padres have won seven of their last 10 games, including a series sweep in San Francisco in which the San Diego starter recorded the win in all three games. Now, these Swingin' Friars head to LA to take on the Dodgers.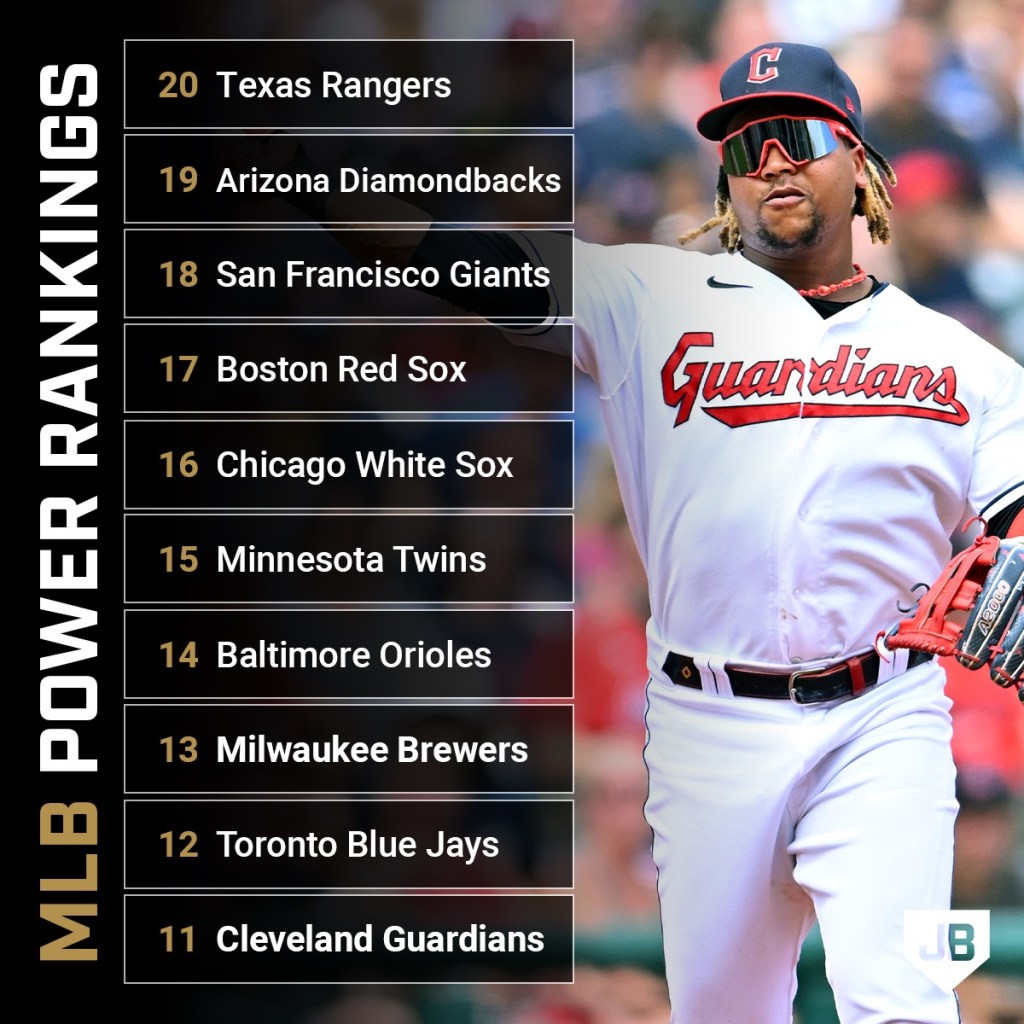 11. Cleveland Guardians (Previous Ranking: 17)
On the season, the Guardians have the fifth-best bullpen ERA in all of baseball. Over the last month, Cleveland's 2.80 ERA is the second-best clip in the game. The trio at the top of the rotation in Shane Bieber (2.53 ERA), Cal Quantrill (2.98 ERA), and Triston McKenzie (3.16 ERA) have all been great in the second half of the season, but the big story here is the quartet of Emmanuel Clase, James Karinchak, Nick Sandlin, and Sam Hentges combining to allow just two earned runs over 59 innings since the All-Star Break.
12. Toronto Blue Jays (Previous Ranking: 10)
Oh, what to make of the Toronto Blue Jays. In the second half of the season, Jordan Romano, Anthony Bass, and Yimi Garcia have all throw to sub-2.00 ERA's, but Alek Manoah and Kevin Gausman are sporting mid-3.00 ERA's and Jose Berrios, Yusei Kikuchi, and Mitch White are all hovering around or above 6.00. Springer, Guerrero, and Chapman have been exceptional over the last six weeks, but Whit Merrifield, Cavan Biggio, and Jackie Bradley Jr. have been dreadful. Which direction will they go in this final month?
13. Milwaukee Brewers (Previous Ranking: 9)
What many thought to be a demoralizing deadline deal, shipping Josh Hader to San Diego, has actually turned out to be a blessing no longer in disguise. Offensively, a gluttony of players have stepped up and excelled, led by Keston Hiura, Kolten Wong, and Rowdy Tellez, with rookie Garrett Mitchell sparking an immediate fire upon his arrival.
14. Baltimore Orioles (Previous Ranking: 18)
This team's vibes are truly immaculate. The promotion of top prospect Gunnar Henderson is all this crew needed, right? Well, it looks like you can't entirely rule out a return for the top pitching prospect in baseball, Grayson Rodriguez, just yet.
15. Minnesota Twins (Previous Ranking: 11)
Don't worry, I too did not have Nick Gordon, Jose Miranda, and Gio Urshela being the offensive catalysts over the last six weeks on my bingo card. Carlos Correa and Luis Arraez have been fine, but if this team wants to lock up a division with an injured Byron Buxton and a pedestrian-at-best starting rotation, those two need to be a lot more than fine.
16. Chicago White Sox (Previous Ranking: 16)
This team's morale couldn't be much lower than it is right now. Off of a Dylan Cease hiccup start and Michael Kopech's IL designation, the White Sox are as close to unwatchable as a team may get until Tim Anderson makes his way back from the Injured List.
17. Boston Red Sox (Previous Ranking: 13)
Dropping seven of their last 10 games, the Red Sox sit six games back of the Orioles and eight back of the final Wild Card spot in the American League. What a world we live in, where the Red sox will be playing meaningless baseball sooner than the Baltimore Orioles.
18. San Francisco Giants (Previous Ranking: 15)
If the wheels hadn't fallen off the bus for San Francisco already, losing seven in a row was certainly the final blow. Carlos Rodon will opt out and receive his well-earned bag, Logan Webb will continue to slice his way through opponents, and Joc Pederson will hopefully get a multi-year payday, but Farhan Zaidi needs to take a long look at the rest of this roster.
19. Arizona Diamondbacks (Previous Ranking: 23)
While they may not be a particularly good team this year, they're progressively getting more and more enjoyable to watch. The call-up of one of the top prospects in all of baseball in Corbin Carroll was the icing on the cake for many. If you haven't tuned in to Diamondbacks baseball over the last couple nights, I highly recommend you do so.
20. Texas Rangers (Previous Ranking: 20)
Let it be known, Nathaniel Lowe may be one of the best hitters in baseball since the All-Star break. Lowe, in his last 39 games, is slashing .366/.412/.641 with 20 XBH and 28 RBI's. Adolis Garcia has also been swinging a hot bat, but this team has drifted out of flirting with possibly sorta kinda contending, maybe. Possibly.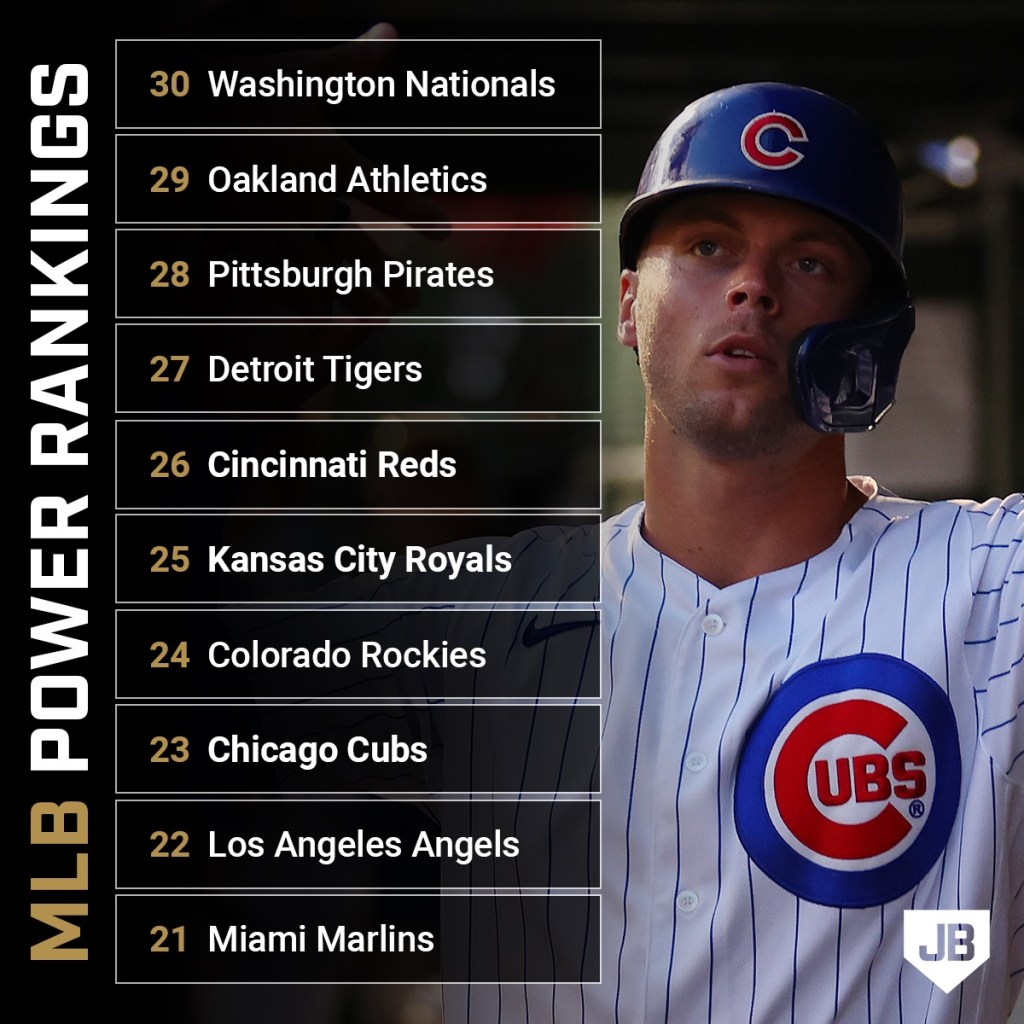 21. Miami Marlins (Previous Ranking: 19)
The Miami Marlins are slashing .211/.276/.325 (.601 OPS) as a team in their last 39 games. Each aspect of the slash line is the worst in baseball. But hey, at least Sandy's going to win the Cy Young!
22. Los Angeles Angels (Previous Ranking: 21)
It's a real limp to the finish line for the Angels at the moment. Shohei Ohtani's MVP candidacy and Mike Trout's return to the lineup are still worth closely monitoring, but if we've learned anything over the recent history of Los Angeles Angels baseball, it's that having two of the best players on Earth simply will not translate into wins.
23. Chicago Cubs (Previous Ranking: 25)
After three straight losing series, the Cubs head to St. Louis again for three more after dropping three of five a week and a half ago. While Seiya Suzuki and Nico Hoerner sputter to the finish line, let us marvel at Nick Madrigal's .300 batting average and .338 slugging percentage across his last 22 games.
24. Colorado Rockies (Previous Ranking: 22)
We LOVE to see Randal Grichuk turn it on, hitting .341 with an .897 OPS across his last 36 games. Brendan Rodgers and Jose Iglesias and Brendan Rodgers continue to accumulate the hits, and the promotion of Michael Toglia should have Rockies fans giddy for what's to come from the farm over the next few seasons.
25. Kansas City Royals (Previous Ranking: 28)
The youth movement is out in full force in Kansas City, with Vinnie Pasquantino, Michael Massey, Bobby Witt Jr., Nick Pratto, and MJ Melendez all seeing everyday reps. The bats, coupled with a newly-unearthed effective Brady Singer, provide ample excitement for a fanbase in dire need of some.
26. Cincinnati Reds (Previous Ranking: 27)
The trade deadline should've ignited a fire in Reds fans after Nick Krall aced the re-tooling of the farm system. On Thursday morning, the news of newly-acquired prospect Spencer Steer earning a call-up should have the Reds faithful even more invested.
27. Detroit Tigers (Previous Ranking: 26)
The Tigers offense is one of seven in baseball with an OBP under .300 as a team, and one of three with a slugging percentage under .350 as a team. Regardless of how well Matt Manning is throwing, there is hardly any reason to be optimistic about the Tigers' situation.
28. Pittsburgh Pirates (Previous Ranking: 24)
Oneil Cruz continues to do incredible things on the baseball field every couple of days, but the offense as a whole (Cruz included) has slumped as hard as any in the game. Since the All-Star break, the Pirates are slashing .215/.278/.339, all of which are the second-worst marks in baseball, only ahead of the Marlins.
29. Oakland Athletics (Previous Ranking: 30)
This team gets the bump from the cellar because of the promotion of both Shea Langeliers and Ken Waldichuk, the continued success of Cole Irvin and JP Sears, and splitting a series with the sputtering Yankees. Congrats!
30. Washington Nationals (Previous Ranking: 29)
Ahh, the bottom-dwellers. Not much to say about a team that has started seven different pitchers since the All-Star break with just two of them sporting an ERA under 5.00 in that span. The two, Anibal Sanchez and Cory Abbott, have second-half ERA's of 4.79 and 4.98, respectively.