Analysis
Rookies Offer Bright Future to the Kansas City Royals
While the team is currently in the midst of another rebuilding season, the debut of some top prospects has brought some hope to Kansas City.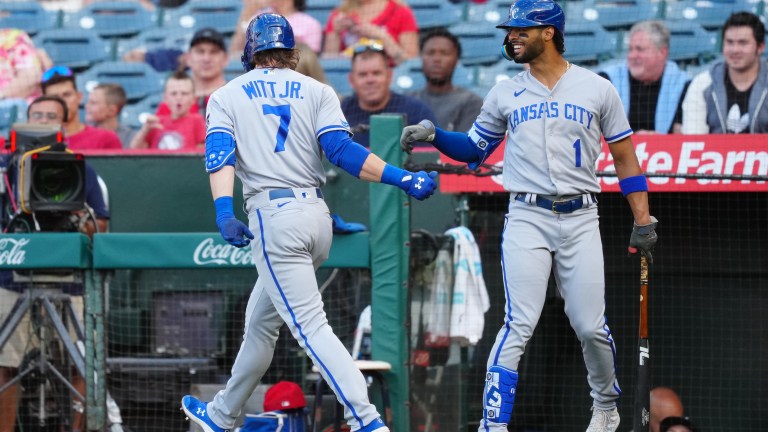 The summer of 2015 will never be forgotten in Kansas City. A team constructed of mostly homegrown talent went on to carry the small market Royals to a World Series Championship. Since hoisting the trophy on the first day on November 2015, the Royals have struggled to come close to that level of success. In fact, the have finished at or below .500 every single season since.
Currently, the Royals are 25 games below .500, just trying to get to the finish line. Another summer, another disappointing season in Kansas City. Each feeling longer than the last.
Although the win-loss record is ugly, Kansas City is beginning to build a core talented enough to help return the Royals to October baseball. Once again, homegrown talent has been the focus. Several top prospects are in the midst of their rookie seasons and showing the future is bright for the Royals.
Bobby Witt Jr – SS – 22 Years Old
2022 Stats: .252/.294/.448, 18 HR, 24 SB, 10 wRC+
A consensus top-five prospect in all of baseball coming into 2022, Witt has not had the start most were envisioning. Many were expecting Witt to hit the ground running adding much-needed offense to this Royals lineup. While the surface numbers have not been great, there's still positives to take away from his season to this point.
Witt has already shown his ability to seriously impact the baseball. A 40.2% hard hit rate is good for a rookie and his 90.2 mph average exit velocity falls into the 76th percentile. The power has been there all year but the contact and swing decisions will need to improve. Witt is walking at only a 4.7% clip thanks in part to his high 35% chase rate. Improving his eye for the zone is the next step in the young shortstops development.
Bobby Witt Jr. was a top prospect for a reason. He has shown elite speed and flashed power at only 22 years old. While his defense has not been great, there's no reason to believe it cannot improve over time. Sticking at short would be ideal, but Witt has shown the ability to play third as well.
I am sure everyone was expecting a bit more from the top prospect's rookie season. This goes as a reminder of how hard it can be to transition into the highest level of competition. Witt has displayed the ability to impact the ball, which already is a great sign. Although his numbers are not standing out, I still see Witt as a high ceiling talent.
MJ Melendez – C/OF – 23 Years Old
2022 Stats: .226/.321/.412, 14 HR, 44 RBI, 107 wRC+
The catching prospect exploded onto the scene in 2021 hitting 41 home runs across two minor league levels. With Salvador Perez cemented as the team's catcher (or DH) Melendez had to find other ways to enter the lineup playing right field for the first time. This versatility goes to show just how great of an athlete Melendez is.
The rookie has does nothing but impress at the plate. His 11.1% barrel percentage and 44.7% hard hit rate stand out, but his eye for the zone is beyond his years. The power he brings is not at the cost of plate discipline. A 12.7% walk rate combined with only a 24.9% chase rate is rare for anyone but especially a rookie.
The Royals have already shown faith in his approach slotting him into the leadoff spot. Melendez is also suffering from some bad luck with a .267 BABIP. Whether or not he ends up in the outfield or behind the plate, Melendez has star potential.
Everything that Melendez has shown through his first season points towards a big step next season and beyond.
Vinnie Pasquantino – 1B – 24 Years Old
2022 Stats: .263/.350/.434. 8 HR, 15 RBI, 123 wRC+
Of the Royals rookies, the former 11th round pick has perhaps done the most to impress the fans. No matter what level, Pasquantino has always shown the ability to hit at an elite clip. A mixture of power and plus bat-to-ball will make Pasquantino a dangerous hitter in the middle of the Royals lineup for years to come.
The sample size has not been huge, only 200 plate appearances, but Pasquantino has shown some flashes as to why prospect evaluators were so high on him lately. A 11% walk rate, combined with only a 13.5% strikeout rate, are fantastic signs for the young hitter. He's already posted exit velocities over 122 mph, while establishing a 49.7% hard hit rate. As far as being an all-around hitter, Pasquantino might take the crown from the other rookies. Putting up these numbers in his first year make me wonder if his ceiling is higher than most initially thought.
With some experience under his belt, I am very interested to see what Pasquantino can do with a full season sample size in 2023.
While these are the "big three", Kansas City still has other intriguing and promising young talents. They recently traded prime draft capital for outfielder Drew Waters and are giving him playing time. Outfielder/first baseman Nick Pratto has struggled, but has the talent to turn it around. Michael Massey, Kyle Isbel, and upcoming prospects round out a nice pool of young talent.
I know what you are thinking. He has not mentioned a single pitcher. Here in lies my greatest concern. The Royals have plenty of young options, but almost all have struggled enough to be unsure about their future impact. Brady Singer has finally started to put it all together and looks to be the best of the bunch. Daniel Lynch has had some good outings while Jonathan Heasley, Carlos Hernandez, Kris Bubic, and Jackson Kowar have underwhelmed.
The Royals are beginning to establish a legitimate core that could hit enough to push for division titles. Unless the coaching staff can finally develop some pitching, the front office will need to add via free agency or trade. Will that happen? Only time will tell.