Analysis
Chasing 700: Why Albert Pujols Should Come Back Next Season
Now 10 home runs away from 700 in his career and still one of the best lefty-mashers in baseball, Albert Pujols should play one more season.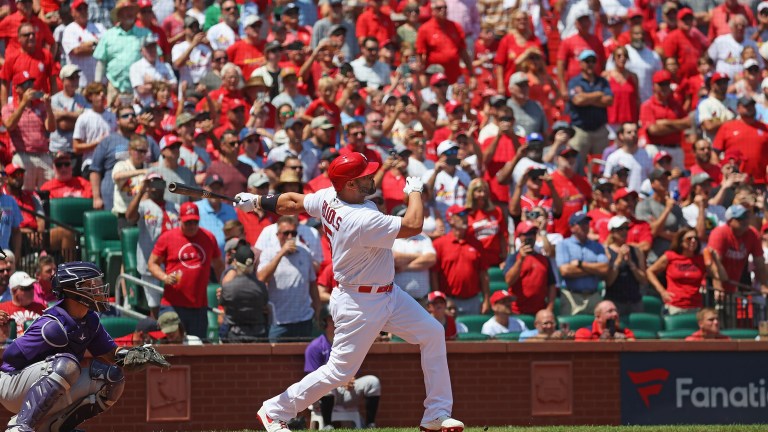 Albert Pujols is one of the greatest home run hitters in MLB history. That much has been established for a long time now.
Pujols is one of nine players to have eclipsed 600 career home runs and, after hitting a pinch-hit Grand Slam yesterday, is one of only five who have reached 690.
The 42-year-old has enjoyed a home run barrage as of late, blasting three home runs in his last 10 plate appearances to reach the 690-mark. Obviously this put everyone on notice, because Pujols is now within 10 home runs of joining the elusive 700-club. Only Barry Bonds, Hank Aaron and Babe Ruth have reached that remarkable feat.
Let's be realistic though. Albert Pujols will not hit 700 home runs by the end of this season.
While he has been great this year, particularly against left-handed pitching (we will get to this more in a bit), Pujols' 690th career home run was just his 11th this season. It took nearly five months since Opening Day for Pujols to get to 11, now you think he is going to blast 10 more in final seven weeks of the season? It is not likely.
Instead, if Pujols wants to chase 700 home runs and maybe even make a run at Babe Ruth on the all-time list, he will have to return for another season. The good news is, he has actually become a valuable player for St. Louis, so his return could be a welcomed one.
One of the Best Lefty-Mashers in Baseball
Simply put, Albert Pujols is one of the best hitters in baseball against left-handed pitching. Despite his age, Pujols is still a top-five hitter in baseball when it comes to facing southpaws.
This season, Pujols is hitting .363/.402/.700, with seven home runs, 21 RBIs and a 198 wRC+. The future Hall of Famer isn't even the best lefty-masher in the Cardinals lineup though, as the best in baseball just happens to share a lineup with Pujols playing his former position.
Cardinals first baseman Paul Goldschmidt is on a different planet this year altogether, but particularly when it comes to facing lefties. The 34-year-old is hitting .430/.524/.837, with eight home runs, 23 RBIs and a whopping 273 wRC+.
Having Goldschmidt, Pujols and Nolan Arenado has given the Cardinals one of the best lineups in baseball when facing lefties. St. Louis leads MLB with their team 128 wRC+ against left-handed pitching, with a .803 OPS that leads the league as well.
Pujols is in the top-five among hitters in baseball when it comes to his wRC+ (5th), SLG (3rd) and OPS (3rd) against left-handed pitching. There is no doubt that Pujols can continue to play at a high level when it comes to the specialized role of facing left-handed pitching, which means he can return next season for reasons other than just to chase numbers.
Still, the numbers are certainly still worth chasing.
Too Close to Making History to Give Up Now
Albert Pujols could have retired over a decade ago and still would have been inducted into the Hall of Fame. When he signed his 10-year, $254 million deal with the Los Angeles Angels, Pujols was already Cooperstown bound.
Across his first tenure with the Cards, Pujols was nine-time All-Star, six-time Silver Slugger, two-time Gold Glove and three-time MVP. He also had an NLCS MVP on his resume, as well as a batting title and two World Series championships. Not to mention being the 2001 NL Rookie of the Year.
Pujols hit 445 home runs in his first 11 years with St. Louis and has 245 home runs since. Now just 10 home runs away from reaching that elusive 700-home run club, should Pujols really just retire?
While it is hard to believe that he would hit all 10 of those home runs this year, there is a good chance he adds to that total a bit. Pujols could conceivably be within five home runs of that total, making it all but certain he would break through if he played one more season.
Pujols is currently six home runs shy of Alex Rodriguez for third on the all-time list. There is a chance he can pass up A-Rod this year, but it would take a remarkable barrage down the stretch. Instead, with a full season, Pujols will almost definitely move past Rodriguez and could even push for Babe Ruth's mark of 714 after he eclipses the 700-mark.
With historic achievements within his grasps, it would be disappointing to see Pujols retire now. Hopefully he either defies all the odds and puts up a crazy home run hitting stretch to close the year, or comes back next season to finish the job.