Analysis
Josh Hader has Been a Nuclear Disaster for the Padres
The Padres other star acquisition at the deadline has been anything but that since heading west.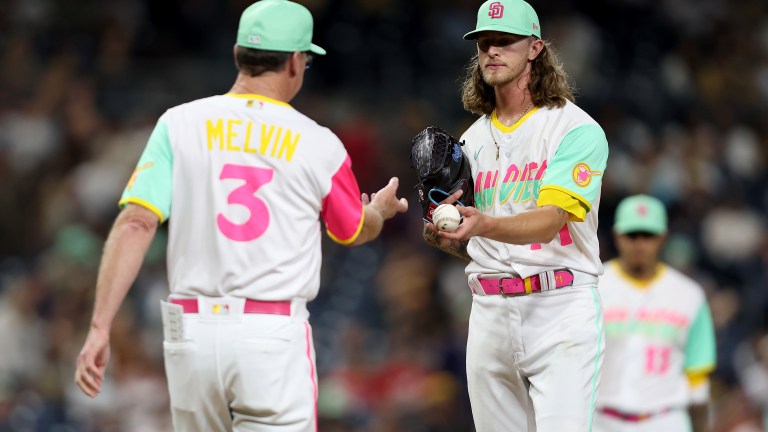 After a long week — complete with an embarrassing four-square performance at recess, failing a vocabulary pop quiz, and the dreaded five-second rule claiming the life of your PB&J sandwich that fell to the floor — you anxiously await the cornucopia of sugar on the horizon: Halloween. You're excited about your costume, yes, but it's the Trick-or-Treating that really has your blood boiling. And your dream materializes, as you successfully become the Jordan Belfort of candy and run home excited to stuff yourself and watch Michael Myers stab some fools.
But at the height of your madness, you get a little overzealous and consume one too many sweets. You're panicking and wishing you'd quit while you were ahead, and feel the room spinning like those old newspaper clips. Your stomach is about to combust. Your legs weigh more than a ton of bricks. Where did you go wrong?
This scenario of unhinged hubris is essentially what the current situation of the San Diego Padres is, and the excess candy comes in the form of All-Star closer Josh Hader. He's been perhaps one of the worst deadline additions in years.
The Padres are Reeling After the Acquisition
Preceding their historic trade for superstar Juan Soto, the Padres first splash of their busy trade deadline came when they sent Taylor Rogers, Dinelson Lamet, Esteury Ruiz, and Robert Gasser to the Brewers in return for the All-Star reliever. Aside from a couple of blowups prior to the deadline, Hader had been widely regarded as the best at his position in all of baseball, striking out batters with ease and surrendering nary even an extra-base-hit through five major-league seasons (exaggeration, but you get the point: he was basically untouchable). And now? Well, hmm, let's see, ah yes, he's cooked:
That's right, instead of simply underperforming, Josh Hader has decided on the interesting strategy of simply forgetting how to pitch entirely. Padres President of Baseball Operations A.J. Preller, bless his soul, seems to have yet again gotten a bit too trigger-happy and acquired a piece that was way more "name value" than actual value.
But in fairness to Preller, it's hard to point to anything specific that has resulted in Hader's implosion. None of the traditional stats, from strikeout rate to velocity to spin rate, seem to have dramatically changed. There's no enormous change in his pitch mix or even the smallest of known injuries to speak of.
He's simply not throwing strikes or getting batters to chase anything out of the zone.
Perhaps you could point to his latest outing against the Royals — an extremely Not Great team, by the way — and point out the horizontal break on his slider was down by three inches from his average, but that'd be grasping at straws. Instead, there are a number of other intangibles that might've been a sign that the Padres made a bad move.
The first is perhaps the most obvious: spending big on relievers is, oftentimes, a mistake. They're one of the most volatile positions in not just baseball, but arguably all of the major sports! Remember Chad Green's 2018 for the Yankees? Or Hansel Robles' 2019 for the Angels? Guys tend to fall off without warning, and Hader could be the latest in this line of tradition.
Of course, a difference between Hader and those gentlemen is, aside from their specific skill sets, the massive sample size of success he had displayed beforehand. Bar none, he'd been the most effective reliever in all of baseball for many years. He's never accrued an xERA higher than 3.00 throughout his career (and the highest, 2.99, came in the truncated 2020 season), he was tied for the best fWAR (8.8) among all relievers from 2017-2021, and the best strikeout-to-walk rate among all relievers during that same time.
So why should anyone have expected such catastrophe from a player like this? Well, that leads into the next red flag, which is that the Brewers — despite how infuriatingly cheap they are — don't often miss on trades.
The Brewers Got Out at the Perfect Time
As mentioned earlier, Josh Hader had been getting absolutely massacred prior to the deadline, raising his ERA from 1.82 on July 12th to a mediocre 4.24 by July 29th — the last time he pitched in a Brewers uniform. The timing of Hader's blowups, combined with him popping up in trade rumors, was suspicious, to say the least.
Sometimes, things don't show up on a Baseball Savant page. As analysts (if I can even call myself that), this might be a reminder that we often underestimate the importance of organizations. There's a huge difference between the Brewers trading away one of their perceived best players as opposed to the Colorado Rockies.
Of course, the Brewers hardly deserve much praise for this; simply trading away assets but not combining them with any real major additions is the kind of thing you do to feign competitiveness, not commit to it. They're a team that hides behind savvy trades to mask the fact that they haven't been to the World Series since the release of E.T. Instead, they relish in the self-aggrandizing affair of being consistently Fine like so many other MLB teams — much to the detriment of the sport as a whole — often do.
But the Padres fell for it, and that's what matters right now. Perhaps even more maddening is that the Padres likely didn't need to trade for such a high-cost player like Josh Hader, to begin with. Their bullpen ERA may not have been elite at the time of the trade, but their FIP being eighth prior to the deadline combined with several key injuries suggested that a more low-key addition would've sufficed.
Is there any hope? Well, much like when you're stuck in a candy coma, some downtime and patience can do wonders.
The Padres must hope that a player of Hader's talent, who'd succeeded for so many years, doesn't have one of the greatest fall-offs in recent memory — even by reliever standards. The most recent comparison to look at could be Aroldis Chapman, who in 2021 had a similarly horrid stretch that saw him post an ERA of 22.24 with four homers allowed and nine walks over 5.2 innings between June 10th and July 4th.
After that, Chapman posted a 1.95 ERA the rest of the way. Was he past his prime? Certainly. But was he at least an effective relief pitcher? Absolutely, and that's something the Padres could desperately use. Even still, the idea of already talking about Hader being past his prime at age 28 is scary enough by itself.
It seems that no matter what happens — and despite all the fireworks and excitement garnered from the acquisition of Juan Soto — Josh Hader has been yet another miss in a long line of misses under Padres management. If things don't improve soon, he may become San Diego's new Eric Hosmer, a regretful footnote and maligned by all.