News
Orioles Promote Top Prospect Gunnar Henderson To Fuel Playoff Push
Currently three games back in the Wild Card race, the Baltimore Orioles are calling on top prospect Gunnar Henderson to help them win now.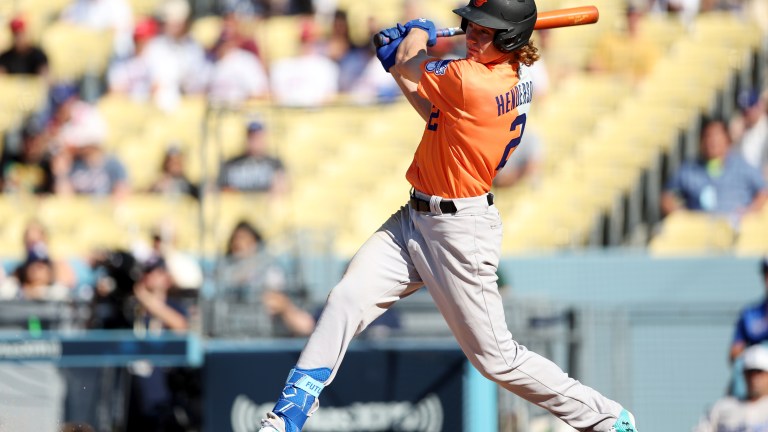 Expecting a prospect to instantly help a big league contender down the final stretch of the season is typically an ambitious assumption, especially for position players. However, there's a select few prospects every year both talented and polished enough to contribute at the highest level, fast-forwarding through the learning curve most rookies endure.
The Orioles have already seen former top prospect Adley Rutschman make the adjustment quickly and his fellow 2019 draftee Gunnar Henderson looks to have the ingredients to perhaps make the leap from top prospect to big league contributor seemingly over night.
Slated to be ranked among our top five prospects in our soon-to-be-released top 100 prospect update, the newly turned 21-year-old Henderson has been one of the best hitters in the minor leagues this season despite being one of the youngest players at each level.
Across 112 games between Double-A and Triple-A, Henderson has mashed to a .297/.416/.531 clip with 19 homers and 22 stolen bases on 24 tries. While the strikeout rate has jumped to 26% in Triple-A, Henderson has continued to walk at a high rate while putting up big offensive numbers.
Plus power, good speed, defensive versatility and a strong approach give Henderson five-tool potential. Even if he does not tap into his entire skill-set from the jump, the left-handed hitting infielder should provide a boost for the 'Cinderella Story' Orioles in the final month of the season.
Where Does He Fit In?
The plan to promote Henderson has likely been in the works for a couple weeks now. Viewed as a potential candidate to move off of shortstop entering this season, Henderson has looked great at the position this season, showcasing solid range and plus arm strength.
Henderson predominantly played shortstop and third base this season interchanging with Jordan Westburg. Over his last 11 games in Triple-A, Henderson has made six starts at second base and three at first base, both spots he has hardly played in his professional career.
The Orioles offense has stalled out a bit over the last couple weeks, scoring just 42 runs their last 12 games with a .643 OPS. Second baseman Rougned Odor has really struggled in the second half, hitting just .184 with five extra base hits in 34 games.
Expecting Henderson to replicate his Minor League numbers would be a overly optimistic, though it is probably safe to assume that Henderson can top Odor's 75 wRC+ on the season, while providing much better defense and more speed.
Odor has been a below average defender at second base, registering -6 Defensive Runs Saved and -4 Outs Above Average with below average wheels.
Considering the emergence of shortstop Jorge Mateo as one of the game's best defenders, who has continued to look better at the plate as the year has gone on, it would probably be safe to assume that Henderson will not eat into much of his playing time.
If there's one potential limitation for Henderson, it could be his ability to hit MLB lefties. As the season has gone on, Henderson has made improvements left-on-left, however he is still punching out 34% of the time with a .711 OPS in 142 plate appearances.
Due to limited platoon options, it could be unlikely that the Orioles look to shelter Henderson from lefties similar to the way that the Cardinals have avoided left-on-left at bats for Nolan Gorman.
Given what Henderson brings value both defensively and on the base paths, even a dip in offensive production against southpaws could still be an upgrade from what Baltimore is currently getting from the second base position. A spot where the team ranks dead last in baseball for fWAR at -0.6.
What Is His Long-term Position?
This may be a question that not even the team's general manager Mike Elias could answer at this point. Mateo has had a phenomenal second half, posting a 136 wRC+ while playing Gold Glove defense at shortstop all year, along with game-changing speed.
Ramon Urias has been solid at the hot corner for the Orioles, though he probably would not stand in the way of Henderson next season if third base is where the team prefers to play him. Former first round pick Jordan Westburg has also enjoyed a big offensive season and has similarly moved all over the infield in the upper levels of the minors this season.
The 23-year-old has hit 21 homers between Double-A and Triple-A this season and has a good chance to break camp next year. Depending on where the Orioles prefer Henderson, Westburg could slot into the other spot.
With Henderson's plus arm and more impactful offensive profile, it seems like third base could be the most realistic spot for the 21-year-old after this season with the ability to fill in at shortstop when needed while Urias and Westburg battle it out for the second base reps in 2023.
There's no doubting that the Orioles improved their team by promoting Henderson and sitting just three games out of the postseason, one of baseball's best prospects could help the magic in Baltimore continue.