Analysis
Shohei Ohtani is Still the League's Most Valuable Player
While Aaron Judge is probably having the American League's best season, it is easy to forget that Shohei Ohtani is history in the making.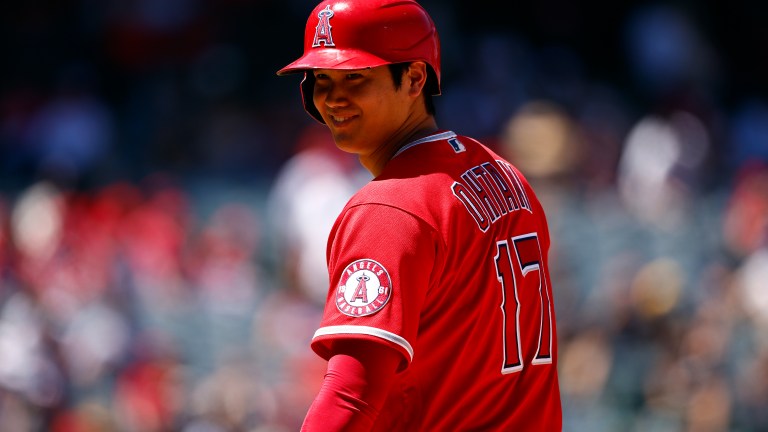 While it feels like yesterday, Shohei Ohtani made his MLB debut back on March 29th, 2018. The then 23-year-old was setting out to be the first player since Babe Ruth to be an impact two-way player. Here we are four years later and Ohtani has accomplished what at the time still seemed impossible.
He is both one of the best pitchers and hitters in the game today.
At times we may lose sight of how crazy that really is, but what we are watching is history unfold in front of us in real time. Since the start of the 2021 season, Ohtani has made 43 starts and has pitched to a 2.95 ERA, with 321 strikeouts across 247 1/3 innings pitched. He's also hit 72 home runs.
Last year, Ohtani was so special that voters unanimously awarded him with the American League MVP. At the end of the day, no player in baseball is more valuable to their team than Ohtani. He is the best hitter in the Angels lineup and is also their ace. That combination is invaluable.
Considering the fact that he is basically two All-Star wrapped into one roster spot, Ohtani should be prominent in any award conversation where we are evaluating who is the Most Valuable Player.
Let's make a case for why Ohtani should repeat as MVP.
Shohei Ohtani the Pitcher
Hitter Shohei Ohtani is a big league veteran at this point. With over 2,000 career plate appearances under his belt, Ohtani has established himself as one of the best power hitters in the game. His journey as a pitcher though, as been far more arduous.
Ohtani dazzled as a rookie back in 2018, pitching to a 3.31 ERA across 10 starts with a 10.97 K/9. Unfortunately during the season Ohtani started to deal with a UCL injury, which would eventually require Tommy John surgery. This all but kept Ohtani off the mound until the 2021 season.
Last year, Ohtani made 23 starts and pitched to a 3.18 ERA, with 156 strikeouts in 130 1/3 innings pitched. It was a remarkable first step in his road to becoming a true ace, flashing his potential while building a solid foundation of experience and workload he could build on.
This year, Ohtani has all but delivered on the promise of being that ace, as he has nearly eclipsed his inning and start total from last season with over a month of baseball still left to go.
Ohtani is taking the ball every fifth day and is going deeper in games, showing his ability to anchor a rotation. It has been over two months since Ohtani took the ball for a start in which did not record at least two outs in the sixth inning.
Across this 11-start span that dates back to June 9th, Ohtani averages 6.6 innings per start and has been the most valuable pitcher in baseball based on fWAR. Playing for an Angels team that is over 10 games under .500, Ohtani has gone 7-3 in his last 11 starts, with a 1.81 ERA.
Only Spencer Strider is striking out batters at a better clip across that span (13.50 K/9 compared to 12.92 for Ohtani), meanwhile Ohtani's xFIP of 2.18 is the best in baseball. He is getting stronger as the year wears on and still could have roughly nine more starts to add to his stats.
The crazy part about Ohtani is that he is a young puppy when it comes to his career as a starting pitcher. Still learning in really what is his first season taking on a full workload, Ohtani just keeps adding tools to his arsenal that are making him one of the game's nastiest pitchers.
While the overall premise of this article is to make Ohtani's MVP case, there is a rather compelling statistical argument to be made for his winning the AL Cy Young.
Considering Justin Verlander is pacing the league with his 1.85 ERA and is doing so coming off Tommy John surgery at 39 years old, the Cy Young could go back to a familiar home come season's end. Still, Ohtani is squarely in the conversation.
The 28-year-old is pitching to a 2.69 ERA, which is the sixth-best mark in the AL, but his 2.41 xFIP trails only Shane McClanahan (2.28). Ohtani is the only AL starter in the top 10 of ERA who has an xERA (2.68) that is actually lower than their actual ERA (2.69). He also is leading the league when it comes to strikeout rate, as his 35 K% is the best in the AL.
Ohtani would have to make a real push over his final two months of starts to actually win the Cy Young, but he is undoubtedly in the conversation and is heading towards at least a top-five finish.
Shohei Ohtani the Hitter
If we put the pitching aside, Shohei Ohtani would be nowhere near the MVP conversation as a hitter. He currently ranks 28th among American League position players in fWAR, mostly because he only brings value with his bat as a DH.
But when we combine the hitting and the pitching, Ohtani suddenly has a legitimate MVP case.
Take his 2.3 fWAR offensively and add it to his 3.7 fWAR pitching. Now you have a composite 6.0 fWAR player, making Ohtani the only player in the league outside of Aaron Judge to compile an fWAR over 5.0, much less eclipsing six wins above replacement.
This season, Ohtani is hitting .254/.349/.496, with 26 home runs and a 135 wRC+. The time may have finally come where Ohtani is more valuable as a pitcher than a hitter, but he is still mashing baseballs all the same.
Ohtani ranks in the 95th percentile or better in Average Exit Velocity, xSLG, xWOBA and Barrel%, showing that he makes some of the best contact in the game today. Since the start of last season, Aaron Judge is the only hitter in baseball with more home runs than Shohei Ohtani.
Should He Win the Award?
Probably.
There is nothing more valuable than a two-way player, who can be your team's ace, while still giving you 35 bombs. Ohtani is a unicorn, very much in the same way that Giannis Antetokounmpo is in the NBA. Yet while the Greek Freak might be the best and most physically player gifted in the NBA, he doesn't win the award each season.
What Aaron Judge is doing this season is simply too good to not be awarded with the MVP. The man might just break Roger Maris' home run record (the clean version) of 61 longballs in a season. If he does that, hand him the MVP unanimously.
Things can change in an instant though.
Ohtani has 45 games left this season to repeat as league MVP. There is no telling what Ohtani can do with nine more starts and another 180-200 plate appearances to close out the season. We could be talking about the first 200-strikeout, 40-home run season in MLB history (No, Babe never did it).
Regardless of the outcome, Ohtani remains an enigma that the game has really never quite seen before. There is certainly plenty of MVP's in his future, based on that immense talent alone.