News
Rockies Promote Former First Round Pick Michael Toglia
Riding a hot streak of 15 homers in his last 33 games, the Rockies are ready to see what kind of damage Toglia can do at Coors Field.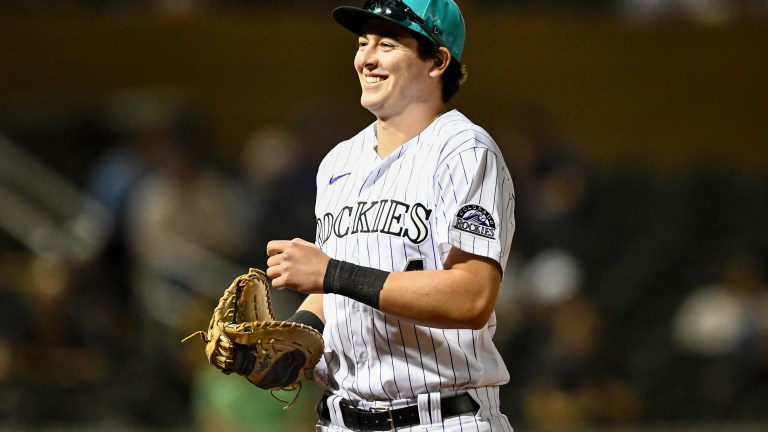 Already displaying impressive power numbers in a pitcher-friendly Double-A Hartford this season, Rockies first base prospect Michael Toglia went nuclear when he was promoted to the launchpad known as Albuquerque, home of the Rockies Triple-A affiliate Isotopes.
In just 17 games with Albuquerque, Toglia mashed seven homers and 14 extra base hits. The Rockies 9th ranked prospect has ridden the hot streak right into September call up time as he is set to make his big league debut Tuesday night against the Braves and Max Fried.
When the Rockies selected Michael Toglia with the 23rd pick of the 2019 MLB Draft, they envisioned a switch-hitting masher who could eventually feast at Coors Field. There was a slight detour in the journey, but that vision has started to come to fruition in 2022.
In the early days of Toglia's career, he showed what was to be expected, big time power and plenty of swing and miss. Toglia struggled to get to his power in Double-A in his second pro season, hitting just five homers in 41 games along with a pedestrian .217/.331/.406 slash line. Given the importance of his bat as a first base prospect, Toglia quickly began to slide down prospect rankings.
Still just 23 years old at the beginning of this season, Toglia had plenty to prove, but with 2020's Covid cancelled season, he had only played 152 professional games entering this year.
Toglia has reportedly been working with Rockies legend Todd Helton through this season while making some small tweaks at the plate that have helped him unlock a bit more power and consistency.
Cutting his ground ball rate down by nearly 10% has been an important factor which can largely be attributed to Toglia's improvements with his lower half as well as hunting the right pitches for him to do damage. Below is our scouting report on Toglia from early July.
The Scouting Report
Michael Toglia – 1B – (Double-A)
Age: 23 | Height/Weight: 6'5, 230 | Bat/Throw: S/R | 1st Round (23) – 2019 (COL) | ETA: 2022
| | | | | | |
| --- | --- | --- | --- | --- | --- |
| HIT | RAW POWER | GAME POWER | RUN | FIELD | FV |
| 30/35 | 60/60 | 50/60 | 40/40 | 55/65 | 45+ |
A switch-hitting first baseman with top-scale raw power, Toglia has the ingredients to be a corner masher, but has not completely found his footing in professional baseball yet.
Offense
Elite power potential from both sides of the plate and a good approach have helped Toglia stay somewhat productive through his inconsistent two and a half professional seasons, but the Rockies are hoping that their former first rounder will find a way to distance himself a bit from the three true outcomes designation.
Despite not really lighting up any minor league level so far, Toglia has also stayed afloat at every promotion, making him a bit difficult to peg. Toglia has walked nearly 14% of the time in his roughly 1,000 professional plate appearances and is just starting to tap into his plus raw power.
We have seen Toglia launch tape measure homers upwards of 113 MPH, but his pull-happy approach at times leaves him susceptible to a low batting average on balls in play and puts a lot of pressure on his ability to lift the ball out of the yard.
Over the last two seasons, Toglia has been more productive from the right side of the plate–a switch hitter's lesser used side–which is surprising given the fact that his left handed swing was more advanced as an amateur. Toglia uses the whole field a bit better from the right side, but has more power potential from the left which probably leads to that desire to pull a bit more.
Toglia has the kind of power to leave the yard 35+ times at Coors Field and his consistent ability to walk will help take some pressure off of the hit tool. Still, Toglia is going to have to find a way to mix in more base hits.
Defense/Speed
Extremely nimble for his size, Toglia is a plus defender who is a vacuum in regards to ground balls and picks at first. Aside from Nick Pratto, Toglia is arguably one of the best defenders at first in the upper minors and is not a liability on the base paths either.
Outlook
2020's pandemic cancelled season impacted everybody in the minors, but a player like Toglia might be one of the most affected. After an inconsistent collegiate career with flashes of brilliance, Toglia needed one thing: at bats.
At the end of the day, Toglia has only played 230 professional games at the time of this writeup which isn't even two full seasons. Given Toglia's solid approach, elite power potential from both sides of the plate and a plus glove to go with it all, it would be ridiculous to write off Toglia.
The 23-year-old really only needs to be a .230-.240 hitter to be a productive big leaguer as the homers will naturally come with that much contact and there's no question about his on base ability.