News
Full Breakdown of All the Club and Player Options Exercised Around MLB
A handful of MLB players have already exercised their opt-out clauses as the offseason starts to heat up for fans and front offices.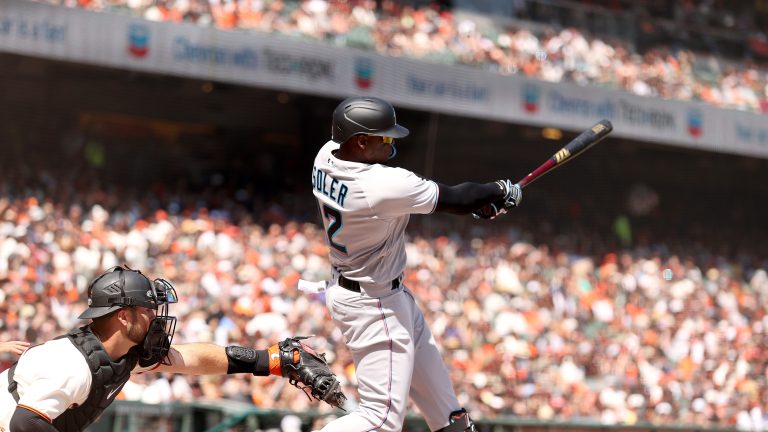 UPDATE: November 7th
Yesterday, managerial madness swept over Major League Baseball, with Craig Counsell's shocking move to the Chicago Cubs, as well as the hirings of Carlos Mendoza to the Mets and Stephen Vogt to the Guardians taking most the headlines.
When you also throw in the seven qualifying offers being extended to some of the top free agents in this class: Shohei Ohtani (Angles), Blake Snell (Padres), Josh Hader (Padres), Cody Bellinger (Dodgers), Matt Chapman (Blue Jays) and Sonny Gray (Twins); some of the minor news got lost within the shuffle.
The following list is the remainder of the contract option decisions that were made ahead of free agency opening today.
Drew Smyly picks up $8.5 million player option with the Cubs.
Javier Baez opts into the final four years and $98 million on his contract with the Tigers.
Tigers pick up $3.5 million club option on catcher Carson Kelly.
Marlins pick up $3.625 million club option on Jon Berti.
Adam Ottavino declines $6.75 million player option with the Mets.
Michael Conforto picks up his $18 million player option with the Giants.
Blue Jays exercise two-year, $21 million club option on Chad Green
Braves pick up Charlie Morton's $20 million club option
Atlanta declines options on relievers Kirby Yates and Collin McHugh
UPDATE: November 5th 7:00 p.m.
The business of the MLB offseason is in full swing, with countless transactions taking place over this weekend. Players have opted into and out of their contracts, teams have both accepted and declined options on their players and even a trade has been made.
Here's a further recap on everything that has taken place since we originally posted this article.
Multiple Relievers Hit the Market After Declined Options
The market for relief pitchers is always volatile, with more variance year-to-year than in any other position in Major League Baseball. Here are some relievers who are coming off down years that will not see their expensive club options exercised this offseason.
Braves decline their mutual $7 million option on Brad Hand, pay a $500K buyout.
Dodgers decline their $9.5 million club option on Joe Kelly. Kelly will earn $1 million buyout.
Diamondbacks decline their $5 million option on Mark Melancon. Will pay him a $2 million buyout.
Red Sox decline their $4.25 million club option on Joely Rodriguez. Will pay him $500K buyout.
Pirates decline their $3.25 million club option on Jarlin Garcia.
Rangers Return Two Pieces of Championship Team
The Texas Rangers had a pretty big no-brainer when it came to their options this weekend, with Jose Leclerc being available to return on a $6.25 million club option. Leclerc became the Rangers closer down the stretch and was integral to their World Series run.
Meanwhile starting pitcher Andrew Heaney had a $13 million player option, which he too exercised. Overall it was a rough first season with the Rangers for Heaney, who pitched to a 4.15 ERA. Still, he managed to stay healthy and picked up some book outs during the playoffs as well.
Padres Decline Their Option on Michael Wacha
The San Diego Padres had a two-year, $32 million club option to retain starting pitcher Michael Wacha. Considering he pitched to a 3.22 ERA across 24 starts in 2023, that is probably about what he will get on the market. But with the Padres cutting costs this offseason, they elected to decline.
The ball is now in Wacha's court, who now has the ability to exercise a $6.5 million player option for next season. Again though, based on the market he should enjoy, Wacha will likely become a free agent.
Josh Bell Exercises His Player Option with the Marlins
In a bit of surprising move, Josh Bell will exercise his player option to return to the Marlins. There was some thought that Bell could take advantage of a weak free agent class, particularly for impact bats and go into the market in search of a multi-year deal.
Bell did not have a great start to the season with the Cleveland Guardians, positing just a 96 wRC+, but after a midseason trade to the Marlins, Bell hit .270/.338/.480, with a 119 wRC+.
The 31-year-old has essentially decided to bet on himself and the good fit he found in Miami to enter the market again next year, after exercising his $16.5 million player option.
Ross Stripling Exercises His Player Option with the Giants
Ross Stripling will be returning to the San Francisco Giants next season, after a down first year with the club. Stripling had a $12.5 million player option for next season, which he surely would not have been able to match after pitching to an ERA over 5.00 in 2023.
Braves Expected to Decline Club Option on Eddie Rosario
The Atlanta Braves won't be hanging onto Eddie Rosario's services for the 2024 season, despite the fact that he hit 21 home runs in 2023. The 32-year-old performed far better than he did back in 2022, when he posted an OPS of just .587.
Rosario stayed healthy and improved that OPS all the way to .755, while appearing in 142 games. He even earned positive grades in defensive metrics (3 OAA and 3 DRS), making him a very intriguing free agent in this class.
The Braves have decided to go in another direction next season, when they could have brought him back on an affordable $9 million club option. Rosario will likely be able to find a similar contract in free agency, just from a different team.
Cubs Exercise Options on Kyle Hendriks and Yan Gomes
The Chicago Cubs will keep the last remaining member from their 2016 World Series team, as they have picked up their $16.5 million option on starting pitcher Kyle Hendriks.
The 33-year-old had a bounce back season in 2023, where he lowered his ERA by more than a full run to pitch to a 3.74 ERA. The Cubs also exercised their $6 million option on catcher Yan Gomes, keeping the 36-year-old backstop.
UPDATE: November 4th 7:00 p.m.
Dodgers Sign Max Muncy to a New Deal
The Los Angeles Dodgers have thrown out Max Muncy's contract and re-upped him on a new two-year deal. Muncy is now signed to a two-year, $24 million extension with a $10 million club option for the 2026 season.
Other notes from the Dodgers include declining their $18 million club option on Lance Lynn, while paying him a $1 million buyout. Also, Clayton Kershaw announced that he underwent shoulder surgery and hopes to available to pitch later during the 2024 season.
In other Dodgers news, they declined their $3 million option on reliever Alex Reyes, who never was actually able to pitch for them due to injury.
Angels Decline Options on Eduardo Escobar and Aaron Loup
The Los Angeles Angels declined a pair club options on Friday, sending infielder Eduardo Escobar and reliever Aaron Loup to free agency. Escobar was due $9 million on a club option, with a $500,000 buyout. Meanwhile Loup received a $2.5 million buyout on a $7.5 million option.
Matt Carpenter Exercises His Player Option, Nick Martinez Hits Free Agency
Matt Carpenter will be returning to the San Diego Padres, as he has opted into his $5.5 million player option for the 2024 season. After a resurgent 2022 season with the Yankees that saw Carpenter hit 15 home runs in 47 games, the 37-year-old hit just five home runs in 76 games in 2023.
In other Padres news, swingman Nick Martinez will become a free agent as the two sides simultaneously declined their mutual options for the 2024 and 2025 seasons.
White Sox Decline Option on Tim Anderson, Among Other Moves
The Chicago White Sox have been active in clearing the deck for 2024. They declined their option on closer Liam Hendriks, who underwent Tommy John surgery in August. The White Sox will pay the $15 million owed to Hendriks over the next decade in $1.5 million installments.
Chicago also outrighted outfielders Clint Frazier and Trayce Thompson, which should send both to free agency once they clear waivers.
Now the biggest story on the south side of Chicago was the White Sox decision to decline their $14 million club option on Tim Anderson. The two-time All-Star and former batting champion endured a miserable season in 2023, which saw him hit below .300 for the first time since 2018.
Anderson posted a dismal .582 OPS and hit just one home run.
Still, many thought the White Sox would still pick up their option on Anderson, hoping for a bounce-back where he could potentially improve his value enough to be an asset at the trade deadline. If not, at least Anderson could be a stopgap at shortstop.
Now the White Sox will turn to the future, with all eyes squarely on top prospect Colson Montgomery, who could debut as soon as next season.
One last note on the White Sox, Mike Clevinger has elected free agency, declining a $12 million mutual option that now pays him a $4 million buyout. Clevinger had a strong season with Chicago, pitching to a 3.77 ERA over 131 1/3 innings pitched.
Justin Turner Declines Option, Becomes a Top Free Agent
After a great first season with the Boston Red Sox, Justin Turner declined his $13.4 million option for the 2024 season. Turner's contract included a $6.7 million buyout. Combine the buyout with the contract he can enjoy in free agency and Turner is set to really get paid this offseason.
Set to turn 39 years old later this month, Turner hit 23 home runs and posted an .800 OPS with 93 RBIs in 2023. Turner will be one of the top bats available this offseason.
Cody Bellinger Declines Mutual Option
As expected, Cody Bellinger will be a free agent. He received a $5 million buyout and now gets to hit the market where he will be the top outfielder available after a resurgent season in Chicago.
Wade Miley Declines Mutual Option with the Brewers
Wade Miley will also enter free agency. After he pitched to a 3.14 ERA in 120 1/3 innings pitched in a return season with the Brewers, Miley has declined a $10 million mutual option for next season.
The left-hander should receive at least that in free agency, but likely can receive a multi-year pact, if not just a higher salary on a one-year deal.
Marcus Stroman Opts Out of Contract to Become a Free Agent
Marcus Stroman will again be a free agent, exercising the opt-out clause in his contract with the Chicago Cubs. Stroman was an All-Star this season, pitching to a 2.96 ERA in the first half. Unfortunately for the Cubs, Stroman struggled and then got hurt in the second half.
Now the 32-year-old heads back into the open market, where he headline the second tier of free agent starting pitchers. While he may not match the $21 million he was set to make if he remained with the Cubs, he should receive more over a longer-term pact.
Cincinnati Reds Decline Option on Joey Votto
Joey Votto's long tenure with the Cincinnati Reds has come to an end, as the club has declined their $20 million option on the 40-year-old first baseman. Votto will receive a $7 million buyout. It remains to be seen if Votto will retire or look to remain in the big leagues and sign with another club.
The Reds also declined their $4 million mutual option on catcher Curt Casali.
Hector Neris Declines Player Option with Houston
Houston Astros set-up man Hector Neris will become a free agent, after declining a player option that would have paid him $8.5 million. The option was actually complicated in that it was a club option, which turned into a player option if Neris made 110 appearances across the 2022 and 2023 season, and passed a postseason physical.
Neris made 141 appearances over his last two seasons in Houston and passed the physical to turn earn the deciding power over his option. After a career-best season where he pitched to a 1.71 ERA, the 34-year-old will look to cash in on another multi-year deal.
Detroit Tigers Acquire Mark Canha From the Brewers, Eduardo Rodriguez Elects for Free Agency
The Detroit Tigers swung the first trade of the offseason, acquiring outfielder Mark Canha from the Milwaukee Brewers. Canha was owed $11.5 million on a club option, which held a $2 million buyout.
By making this trade, the Brewers not only acquire minor league reliever Blake Holub, but also avoid having to pay that $2 million buyout. For the Tigers, they get one of the more consistent outfielders in baseball, who hasn't posted an OPS+ below 100 since 2017.
While they added Canha, the Tigers are losing starting pitcher Eduardo Rodriguez, who is exercising the opt-out clause in his contract. The deal would have paid him $49 million over the next three years, but now he will get to top that in free agency.
Rodriguez pitched 3.30 ERA over 26 starts and 152 2/3 innings pitched. E-Rod joins Stroman as one of the best pitchers in that second tier of free agents.
Original Post: Now that the Texas Rangers are champions of the free world, baseball fans and MLB front offices have switched their focus toward Opening Day 2024.
Free agency will dominate most of the offseason conversations but the first week following the World Series will bring about important roster decisions in the form of opt-outs and exercises being optioned.
The deadline for which players and teams must make option decisions for the 2024 season takes place just five days after the conclusion of the World Series. Said options include opt-outs, player options, club options, and mutual options.
As of November 6, free agents will become eligible to sign with any club.
A handful of players have already either used opt-out clauses or options.
Here's a recap of all the different decisions around baseball that players or clubs have already pulled the trigger on.
Marlins All-Star Jorge Soler declined his $13MM player option for 2024 and became a free agent on Thursday.
The Toronto Blue Jays announced that utilityman Whit Merrifield's $18 million mutual option for 2024 has been declined, making the 34-year-old a free agent.
The Minnesota Twins are exercising their club options on outfielder Max Kepler and infielder Jorge Polanco. Kepler and Polanco will make $10 million and $10.5 million, respectively.
The Washington Nationals announced they have declined their 2024 club option on outfielder Victor Robles.
Catcher Omar Narváez has exercised his player option with the New York Mets. The 31-year-old will return to the club on a $7 million salary.
Pitcher Seth Lugo has declined his $7.5 million player option with the San Diego Padres, making him a free agent.
The Milwaukee Brewers have declined club options on LHP Andrew Chafin and LHP Justin Wilson, making them both free agents.
The Oakland Athletics declined their 2024 club option on RHP Drew Rucinski, making him a free agent.
Here's a list of players with 2024 options sorted by option type.
OPT-OUTS
Javier Báez, SS, Tigers (Four years left on six-year, $140 million deal)
Josh Bell, 1B, Marlins (One year left on two-year, $33 million deal)
Michael Conforto, OF, Giants (One year left on two-year, $36 million deal)
Andrew Heaney, SP, Rangers (One year left on two-year, $25 million deal)
Sean Manaea, SP/RP, Giants (One year left on two-year, $25 million deal)
Eduardo Rodriguez, SP, Tigers (Three years left on five-year, $77 million deal)
Drew Smyly, LHP, Cubs (One year left on two-year, $19 million deal)
Ross Stripling, SP/RP, Giants (One year left on two-year, $25 million deal)
Marcus Stroman, SP, Cubs (One year left on three-year, $71 million deal)
PLAYER OPTIONS
Matt Carpenter, DH, Padres ($5.5 million player option)
Héctor Neris, RP, Astros ($8.5 million player option/$1 million buyout)
Adam Ottavino, RP, Mets ($6.75 million player option)
Justin Turner, DH, Red Sox ($13.4 million player option/$6.7 million buyout)
CLUB OPTIONS
Tim Anderson, SS, White Sox ($14 million club option/$1 million buyout)
Matt Barnes, RP, Marlins ($9 million club option/$2.75 million buyout)
Mark Canha, OF, Brewers ($11.5 million club option/$2 million buyout)
Alex Cobb, SP, Giants ($10 million club option/$2 million buyout)
Johnny Cueto, SP, Marlins ($10.5 million club option/$2.5 million buyout)
Eduardo Escobar, 3B, Angels ($9 million club option/$500,000 buyout)
Yan Gomes, C, Cubs ($6 million club option/$1 million buyout)
Kyle Hendricks, SP, Cubs ($16 million club option/$1.5 million buyout)
Liam Hendriks, RP, White Sox ($15 million club option/$15 million buyout)
Joe Kelly RP, Dodgers ($9.5 million club option/$1 million buyout)
Corey Kluber, SP, Red Sox ($11 million club option)
José Leclerc, RP, Rangers ($6.25 million club option/$500,000 buyout)
Lance Lynn, SP, Dodgers ($18 million club option/$1 million buyout)
Charlie Morton, SP, Braves ($20 million club option)
Eddie Rosario, OF, Braves ($9 million club option)
Joey Votto, 1B, Reds ($20 million club option/$7 million buyout)
Michael Wacha, SP, Padres ($32 million club option for 2024-25/$19 million player option for 2024-26)