Analysis
Will Whit Merrifield Return to the Blue Jays or Walk in Free Agency?
Whit Merrifield has an $18 million mutual option with the Blue Jays. Could he be free agent bound this winter?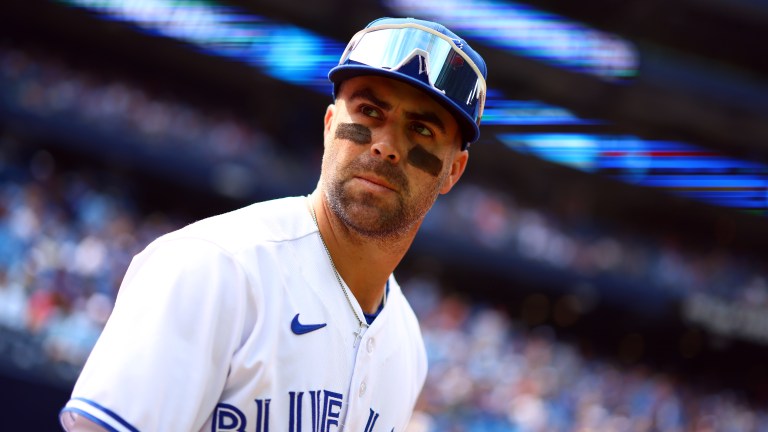 At the 2022 trade deadline, the Toronto Blue Jays added veteran Whit Merrifield from the Kansas City Royals in exchange for two prospects in RHP Max Castillo and OF Samad Taylor.
By adding the right-handed bat, the Jays were getting a player who had led the AL in hits twice in his career and in stolen bases three times. Although he had seen a downswing at the plate in recent years, he still offered defensive versatility and speed to the basepaths. The Blue Jays were hoping a change of scenery would help the South Carolina native on the diamond.
Since that deal, Merrifield has suited up in 189 games while slashing .274/.319/.394 to the tune of a .712 OPS across 668 at-bats. An All-Star this past season, the former Royal collected 16 home runs and stole 27 bases, 26 of which came this past year alone to lead the Jays.
Defensively he split his time between second base and the outfield, primarily in left field but with a few spot moments in center field in 2022 to boot.
Heading into the offseason, Merrifield is coming off a four-year $16.25 million contract and contains a mutual option worth $18 million for next year, after which he will become free agent eligible. The deal was signed when he was with the Royals prior to his arbitration years but his option now lies between him and the Jays, with a buyout worth $500,000.
Whit Merrifield and his contract option
Looking at the Blue Jays payroll, with Matt Chapman, Hyun Jin Ryu, Brandon Belt, and Kevin Kiermaier all destined for free agency, there is room in the budget should the Jays choose to exercise his option. The bigger question is whether the Jays will do so, considering the option is on the high side compared to other utility-type players.
The soon to be 35-year-old proved that he could swing it every day, evidenced by the 145 games he found himself in this past year, but after a hot start and a steady pace through the season, things ended on a sour note in August that brought his average down by roughly .20-.30 points.
In this month alone he went 13-for-72 (.181) and posted a low .472 OPS at the plate, but it was not what fans saw from him throughout the year, as Merrifield usually hovered around the .290-.300 mark and was sitting above the .300 mark heading into the last month of the season.
He would finish the year with a 1.5 fWAR and ranked 15th across big league second baseman. He also logged 600+ innings in the outfield (his 1.5 fWAR would be 12th amongst all left fielders).
Considering his usefulness as a utility-type player, there is no question that Merrifield will gain some interest over the offseason but predicting his next contract is a bit of a trickier subject. He ranks in the 81st percentile in baserunning run value and produced a .313 BABIP on the year.
Any team looking for a veteran right-handed bat should be giving him a call, just likely lower than the $18 million option. Spotrac currently has him valued at $6.4 million, which doesn't seem too high on a short-term deal for a team looking to add depth and teams are already evaluating on the possibility of him becoming a free agent.
Potential free agency looming for Merrifield
The Blue Jays could be in a position to bring Merrifield back this offseason but that is not guaranteed by any means.
Merrifield may be looking to explore the free agent market and was also critical of the Jays' handling of José Berríos during the AL Wild Card as well, which could add another wrinkle into his decision on whether to return or not, "It's definitely gotta be a team that's focused on winning and understand baseball… We're getting away from that a little bit in this game. So looking forward to some conversations to have with different teams."
Now that could mean nothing in the grand scheme of things, as Merrifield has expressed that he loved Toronto and the Blue Jays are a team poised to contend next year and likely spend for another postseason opportunity (which checks his boxes). There is a chance at a reunion if the stars align at a lower value than the $18 million.
Internally, the Blue Jays don't have a lot of prospect outfielders close to the big leagues (unless they move one) and if Kiermaier does not return, the Jays could use Merrifield in the outfield (left field and Varsho moving to centre) but there is a logjam at second with Cavan Biggio and Davis Schneider both looking to lock down the spot.
Should he want to be a primary infielder type, he will likely have to look elsewhere unless the Jays move Biggio or value Merrifield there and move the lefty-bat to the bench or corner outfield (which isn't out of the realm of possibilities).
It will be an interesting offseason for the Blue Jays and one of their first decisions will be whether to pick up Merrifield's option. After that, all cards are on the table if he indeed heads to free agency, with a move out of Toronto potentially on the horizon should the Jays buy him out.