List
Who Are the Top Bounce Back Bats Available in Free Agency?
Taking a look at the MLB free agent pool and determining which position players will sign one-year, "prove it" deals for the 2024 season.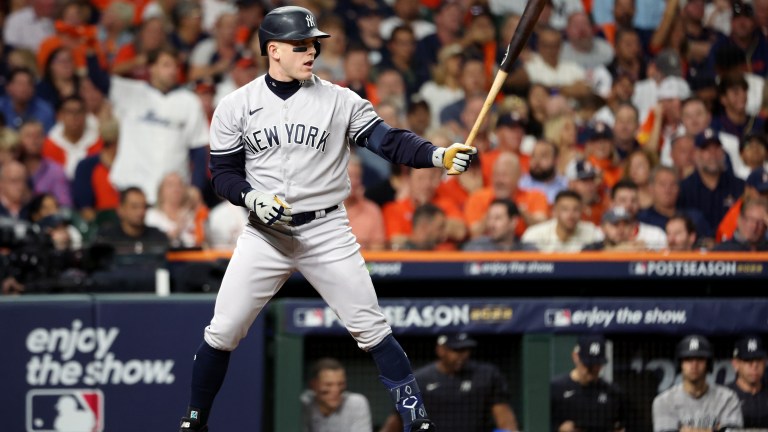 Now that the World Series is behind us and the Texas Rangers are world champs, it's time to turn our attention towards the offseason. The trade and free agent markets officially open five days after the World Series ends, so the action is sure to begin heating up here soon.
Each offseason, there are a handful of players who enter free agency coming off of a down-year. Whether said player was injured or simply underperformed, these are typically not the guys who target significant, multi-year contracts.
Instead, rebound candidates will sign one-year, "prove it" types of deals. This means they will take short-term contracts to see if they can boost their value and turn it into a multi-year deal the offseason after.
In recent times, the perfect example of this is Cody Bellinger. The former NL MVP just wrapped up a one-year, $17.5M deal with the Cubs and while his contract has a mutual option, there's no chance he picks up his end. Why? Because he is fresh off of one of the best seasons he's ever had in his seven-year career.
In 130 games, Bellinger, who had been injured and performing poorly for years for the Dodgers, went off at the plate. He hit 29 double, 26 home runs and 97 RBI, all the highest he's had in a single season since 2019. His plan worked to perfection, as he turned this one-year, "prove it" deal into what is sure to be a massive payday.
The question is, who will be 2024's version of Bellinger? Or even a lesser version of that, where a player can re-write the narrative of their career to sign a bigger deal next year.
In a weak class of free agents, there are a ton of candidates. Let's break them down.
Harrison Bader, OF, 29-years old
Long known as a defensive wizard, Bader had taken offensive strides in 2020 and 2021 before beginning a gradual drop-off in 2022. This year, he split time between the Yankees and Reds and hit just .232 with an OPS+ of 69. His defensive chops are still there, but Bader could use a strong offensive showing next year to prove he's still got it.
Garrett Cooper, 1B/OF, 32-years old
Speaking of players who struggle to stay healthy, Cooper is set to become a free agent for the first time in his career. The seven-year veteran has a ton of thump in his bat but durability has been a question mark for him over the years. It's worth noting that his OPS+ since 2019 has been 108, 127, 128, 112 and 96 this year. He's consistently been an above-average hitter and should be able to help any team looking for 15-20 home run pop.
C.J. Cron, 1B, 33-years old
Cron has always been a threat to hit 25-30 home runs a year but 2023 was a significant step back for him. The 10-year vet hit just 12 home runs in 71 games, posting a .248 average and 87 OPS+. He is a first base/DH type who, like Cooper, could be an asset to any power-hungry teams.
Eduardo Escobar, INF, 34-years old
Yet another player who moved around a bit in 2023, Escobar had quite the down year. The switch-hitter hit just .226 with a 67 OPS+ in 99 games between the Angels and Mets.
During his tenure in Los Angeles, his strikeout percentage spiked up to nearly 29 percent, easily the highest of his career. In 2022, he hit 20 home runs with a 106 OPS+, so a low-cost, one-year deal may be in order for him.
Joey Gallo, 1B/OF, 29-years old
Gallo is such a tough player to profile. At his best, he's one of the most fearsome sluggers in the league. At his worst, he is one of the easiest strikeouts in baseball history.
Unfortunately, the "Joey Gallo Experience" has shown time and time again that there's no in-between. This year, he hit 21 home runs but had just 40 RBI in 111 games.
Nearly all of his hits are home runs and he strikes out at alarmingly high rates. Yet, somehow, his OPS+ this year? 101. He was one percent above league-average, so there are some redeeming qualities in his game. The guy can hit a baseball farther than anyone else in the league, so the pending free agent will absolutely have teams pursuing him, even if he hits under .200.
Enrique Hernández, INF/OF, 32-years old
One of the most versatile players in the league, Hernández showed once again that he's the very definition of "utilityman". He began the year in Boston but struggled to the tune of a .222 average in 86 games. At the deadline, he was sent (back) to the Dodgers, where his offense improved. He hit .262 with a 95 OPS+ in 54 games post-trade. He plays every non-pitcher and non-catcher position, so there will be suitors.
Hunter Renfroe, OF, 31-years old
When Renfroe is on, he can be as intimidating a presence as any in the box. This past season, that version of him was nowhere to be seen.
All told, he made it into 140 games for the Angels and Reds but his 91 OPS+ and .713 OPS were both well off his career norms. After a second-half waiver claim landed him in Cincinnati, he lasted just 14 games before the Reds released him. He's still young enough where a strong 2024 could land him a two or three-year deal beyond that.
Gio Urshela, INF, 32-years old
Urshela has bounced around a bit in recent years, functioning as an under-the-radar utility player for five different teams. Injuries limited him to just 62 games this year so he's a guarantee to land a one-year contract. He's also young enough where a strong performance could go a long way to a multi-year pact coming together next time he's a free agent in the 2024-2025 offseason.
Jesse Winker, OF, 30-years old
It feels like Winker has been around forever, and yet he's still only 30. His single season with the Brewers was far and away the worst he's ever had, as he hit just one home run with 23 driven in across 61 games. There is no doubt about it, Winker was the worst hitter on this team. It's worth noting that he has had an OPS+ over 100 in every single other season of his career, so let's call this one a fluke and see what he's about in 2024.
Honorable Mentions:
Adam Duvall and Michael Brantley both feel like bounce-back candidates, but it's not clear what they're really bouncing back from.
At this point in their respective careers, what you see is what you get.
Duvall is a high-power guy who can hit 30 home runs a year if he's healthy, while Brantley is a lock to hit .300 and hit the ball to all fields. The key here, of course, is health. At 35 and 36, respectively, neither player is likely to get anything more than one-year deals to round out their careers, but it remains to be seen if they have 162 healthy games left in the tank.