Analysis
MLB Best Bets, Odds, and Predictions for Giants vs. Padres, Nationals vs. Cubs for August 8, 2022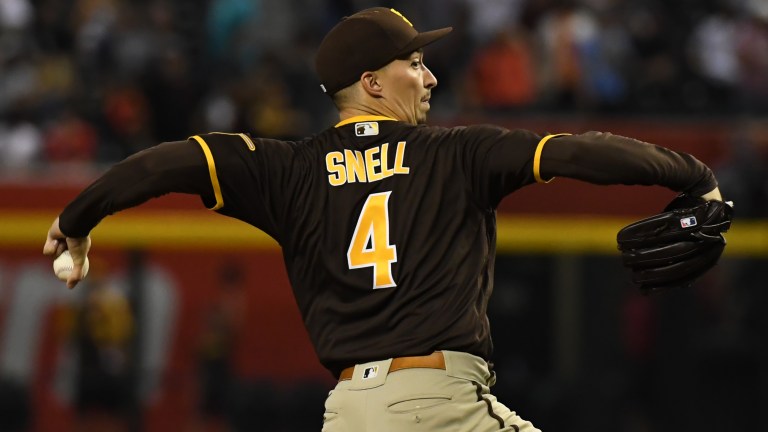 Yesterday was pretty annoying. We went 1-1, which is always better than losing, but the Red Sox had me so upset. They've burned us twice in a row, and they have officially been banned. They looked like they weren't even trying. No sense in putting our hard-earned money on them for the rest of the season.
The Blue Jays came through as Kevin Gausman made those proper adjustments I spoke about, and we won through the first five. Overall, we ended the week in the green. That's always a win.
Monday's are historically weird in baseball. It's a travel day for most teams, so we only have seven games to choose from. Looking at the slate, most games are driven by heavy favorites. On the surface, it may look tough, but I have three plays with much better value than taking a favorite's money line.
2022 MLB Regular Season Record: 155-132 (54%) +24.79 units
San Francisco Giants vs. San Diego Padres: 9:40 PM EST
Alex Wood (LHP, Giants) [7-9, 4.42 ERA, 1.25 WHIP, 106 IP, 105 K, 26 BB]
Blake Snell (LHP, Padres) [4-5, 4.16 ERA, 1.33 WHIP, 67 IP, 87 K, 34 BB]
This type of play is starting to get old at this point. If you are a consistent reader of this column (thank you), you already probably know what I'm going to go with. I'm a Blake Snell stan, but at the same time, this is a system play that has been one of the more profitable systems outside of Cal Quantrill.
What's that system play? Fading a team's offense coming off Sunday Night Baseball. Whether it makes sense or not, it's consistent that the team playing in a highly contested Sunday Night Baseball game often comes out slow the next day. I think the Giants, based on this, are a decent underdog today, but I could never truthfully play them after seeing what kind of offense they bring to the table.
Let's start with Blake Snell, who has an excellent matchup versus the new San Francisco Giants. I say "new" because these are not your 107-win Giants anymore. Trading Darin Ruff certainly doesn't help the attack against lefties, and with Evan Longoria still on the IL, the matchups look grim. Since the All-Star break ended, they have performed fine at the plate against lefties, but nothing worrisome. They rank 14th in wRC+ in that span, 15th in ISO, and 15th in OPS.
I expect those numbers to drop against Blake Snell, who they've never been able to time up. Not only is Snell better at home, but the Giants' current roster doesn't have many prayers against him. Through 58 PA against the Giants' current roster, Snell holds a .173 batting average, a .277 xwOBA, a .299 xSLG, and a 32.8% K rate. There is not a single Giants hitter I'm worried about in one of the best stadiums to pitch in at Petco Park.
Opposing Snell will be Alex Wood, due for some positive regression. It doesn't matter whether he is on the road or not, but who he faces does matter. He's faced the Padres three times this season, tossing 14.1 innings and allowing seven earned runs. That's not great, but his advanced numbers against this Padres' current roster relieve my worries.
In 105 PA, he holds a .240 opponent batting average, a .315 xwOBA, and a .413 xSLG with a 22.9% K rate. You may wonder how the new additions Josh Bell, Juan Soto, and Brandon Drury are against Wood. They are a combined 6-29 (.207 AVG) with two extra-base hits, both coming from Soto. The Padres have a 52 wRC+ against lefties since the trade deadline, ranking 26th in baseball.
Neither team had an off-day in between, but both teams had plenty of length from their starters from Sunday. I'll be on both sides of this under as I believe we see a fantastic Snell outing combined with a slow offense out of the gate by the Padres against Wood.
The Picks: Giants vs. Padres First 5 U 4 (-110), Full Game Under 8 (-115)
1.1 Units on F5, 1.15 Units on Full Game
___________
Washington Nationals vs. Chicago Cubs: 8:05 PM EST
Anibal Sanchez (RHP, Nationals) [0-4, 7.65 ERA, 1.50 WHIP, 20 IP, 15 K, 9 BB]
Keegan Thompson (RHP, Cubs) [8-5, 3.48 ERA, 1.27 WHIP, 93 IP, 83 K, 31 BB]
We head to Chicago for the first game of a three-game set. The Cubs opened as -175 favorites before moving up to as high as -190 with almost everyone over them. It's the right side, but I don't pay for high money line prices.
I hate to be so simple with my analysis, but this is a no-brainer. Similar to the Blue Jays bet yesterday in which we won with the public all over it, this will be much of the same.
Keegan Thompson will get the ball for the Cubs, who have severe home/road splits. At home this season, he's rocking a 2.50 ERA compared to a 5.09 ERA on the road. He's never faced the Nationals in an extended setting, so this will be the first time they face the right-hander in a scheduled start. The Nationals used to have Juan Soto and Josh Bell, and even with them since the All-Star break, the Nationals ranked 25th in wRC+, 27th in ISO, and 25th in OPS against righties.
Facing off against Thompson is Anibal Sanchez, who is just a filler of innings for the Nationals at this point. He averages about 4.5 earned runs a start, and right-handed bats have been crushing him to a 1.056 OPS. The Cubs lineup is filled with right-handed bats, and we should see much of the same against Sanchez.
The Cubs do not have a very good offense, but they match up well here. The Cubs struggle against high velocity and strikeout-oriented pitchers, but not slow, pitch-to-contact guys. The Cubs have a 101 wRC+ against righties since the All-Star break, ranking 19th in baseball.
This is a lopsided matchup, and the Nationals will have to travel from Philadelphia to Chicago without an off day while the Cubs get to sleep in their beds. That's not much of an edge, but it's enough to add it on top of the disadvantages the Nationals already have.
The Pick: Chicago Cubs First 5 Innings -0.5 (-120)
1.2 Units to Win 1 Unit