Analysis
Colson Montgomery Has Star Shortstop Potential for the White Sox
A former first round pick, Colson Montgomery had a strong 2023 campaign as he makes the push to be the White Sox shortstop of the future.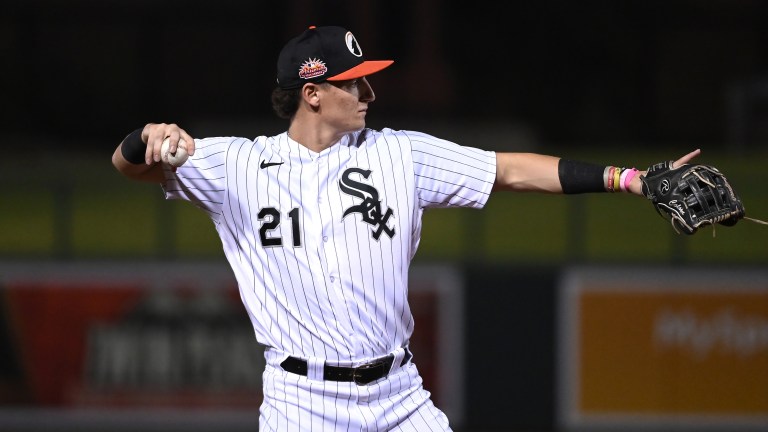 When the Chicago White Sox selected Colson Montgomery with the 22nd overall pick in the first round of the 2021 MLB Draft, expectations were sky-high for his potential. A tall shortstop with a sweet swing from the left side, Montgomery has drawn comparisons to Corey Seager setting a very high bar for what he hopes to one day become.
In his first year out of rookie ball last season, Montgomery was rather impressive at the lower levels of the minor league system. At the ripe age of 20 years old, he showcased a lot at the Low-A and High-A levels, but not so much Double-A.
In Low-A Kannapolis, Montgomery slashed .324/.424/.476 and collected four home runs and 26 RBI. Montgomery played a total of 45 games with the Cannon Ballers before being promoted up to High-A Winston-Salem.
His numbers declined but not by much to invoke panic, just yet.
During 132 plate appearances for the Dash, Montgomery finished with a slash line of .258/.387/.417. He also accomplished a 50-game on-base streak to go along with raising and lowering his BB% and K% to 15.9%, respectively. Montgomery's streak was good enough for the second-longest in the minors in 2022.
The youngster was looking like he was just finding his strides in the depth of the farm system for the Sox. But, current General Manager and Vice President Chris Getz had a revolutionary plan to pile all of their prized possessions into one team, no matter what their skill level. Getz during the time was Assistant General Manager and oversaw Player Development. Which explains the leverage to pull off such a move, or 17 moves to be exact.
In hindsight not the best move the club could have made. Montgomery went from a confident young rising star to a .146 BA and 28.8 K%. Colson was not the only one to struggle once the project kicked off.
As a unit, the top prospects in the Sox system played for a little over a month together and collected a record of 10-14. In the minors, the goal is not to, necessarily, win games. But, when you put together the players you are relying on for the future and they do not produce, some panic starts to creep in. More specifically towards the player with the largest spotlight on them.
At such a young age, doubt can be a dangerous thing. Players need to hold themselves with confidence coupled with humility. There needs to be a balance between believing in yourself and not being complacent when you start to achieve. Montgomery has started to display that, despite injuries holding him out for close to half of the 2023 minor league season.
After a spring training with the major league club, the top prospect was bumped down to the minor league camp. Somewhere along the way in the spring, Montgomery acquired an oblique injury that later was accompanied by a back injury.
It must have seemed that things were piling up in his young career. Getting thrown into a level that he was not ready for and not producing, and now getting hurt as he is gearing up for a crucial developmental year.
However, the brightest stars shine during the darkest nights.
Montgomery, once finally being able to get out of bed without pain, got to work. Colson was first assigned to the complex league in Arizona on June 5th. In a little under a month he played in 10 games, seeing time at both shortstop and DH. Montgomery racked up a .353 BA and a 1.099 OPS.
Here came Colson.
On July 4th, Montgomery was placed in Winston-Salem, where he put on a show at the plate that put rivaled what fans would see during the post-game fireworks show. Colson looked poised at the dish finishing 3-for-4 with two walks.
But, that was not it.
Montgomery kicked off his High-A season by reaching base in 12-straight games. He reached base in all but two of his 17 games played with the Dash.
Montgomery wasn't just reaching base with bloop singles or walks. He was smashing the baseball and finding ways to drive in runs.
Colson collected three home runs and three doubles, explaining his line drive percentage of 39.5%. He was also producing runs with his command at the plate, acquiring his highest wRC+ of his career in 198.
In just one adversity driven year, Montgomery was raking at a level that his numbers started to decline at. But, his true struggles came at the Double-A level, where he was off to next.
His first game with the Barons was full of excitement. The White Sox had recently acquired some star-studded prospects at the deadline and were now adding the No. 1 prospect in the system. Regions Field was ready for the action. 
Montgomery in his first at-bat hit a hard ground out to first base. But, it did not take him long to show that he was ready for a different experience in Birmingham this time around. In his second time at the plate, Colson bashed a double into the gap in right center field for his lone hit of the night.
He looked refreshed in his season debut for the Barons, but it did not last long as the next two games were rough. Montgomery would not record a hit in the next pair of games, and would only reach base on a hit-by-pitch and a walk.
As Montgomery stared at a .111 batting average, murmurs started to fly around that "this is the Colson they remember". 
Just like a former Barons legend Micheal Jordan said so perfectly.
He took that personally.
A game later, Montgomery silenced all talks of doubt. Colson exploded in his fourth game going 3-for-3 from the plate with a double, a home run, three RBI and two walks.
Montgomery did not have nights like that every night. But, he learned something way more important to his development: Consistent.
Montgomery finished his 37 games with Birmingham carrying a slashline of .244/.400/.427. He also finished the season with a wRC+ of 129, after finishing last season with a 19 wRC+ at Double-A. The 21-year-old met the challenge straight on and delivered in just his third season as a professional. 
Montgomery, during his time with the Barons, was one of the main players that carried themselves like they should be playing at the highest level to help the team win. No matter if he played well himself, if the team did not win, it seemed as if that stung more.
Colson knows the spotlight that is on him at all times, and carries himself like it. The Barons ranked towards the bottom of the Southern League way before he got there, and once he did the environment seemed night and day.
The energy from the players and coaches were improved, as they finished the last two months of the season with a 18-25 record. While that does not seem great, it is rather solid for a team that finished the year with a -218 run differential.
As Montgomery continues to grow, so will his expectations. He has appeared in 16 games for the Glendale Arizona Fall League and is slashing .254/.292/.463, with three home runs, one double and two triples. With his rise in the past year, and continued growth, Montgomery is being compared to a player that just put his team in the World Series just two seasons after joining in Texas Ranger's shortstop Corey Seager.
Seager is a dynamic player that has nine years of major league experience. This type of comparison puts a lot of pressure on a kid that is still in the middle of his development in the minors. But, the similarities are there.
Both in stature and performance on the field.
The duo stand at the same height with Montgomery just beating him in weight by 10 pounds, playing at 225 pounds. The stats are incomparable as they are players that came up in different generations, yet Montgomery seems to be following in Seagers footsteps. Both took steps in their second minor league seasons and continued to improve as players as the years went on.
Am I saying Colson will take the White Sox to the promised land within two years of joining the MLB roster? No. 
I mean I sure hope so. But that would be unrealistic.  
Colson is an outstanding player that looks destined for a long and fruitful career. But, for now, Montgomery is focused on the next challenges ahead in his development and not at what the future holds at the major league level.