Rankings
MLB June Power Rankings: Red Sox Surging, But The Yankees Hold Up Top
The AL East is shaping up to be the gauntlet we were promised it would be in 2022.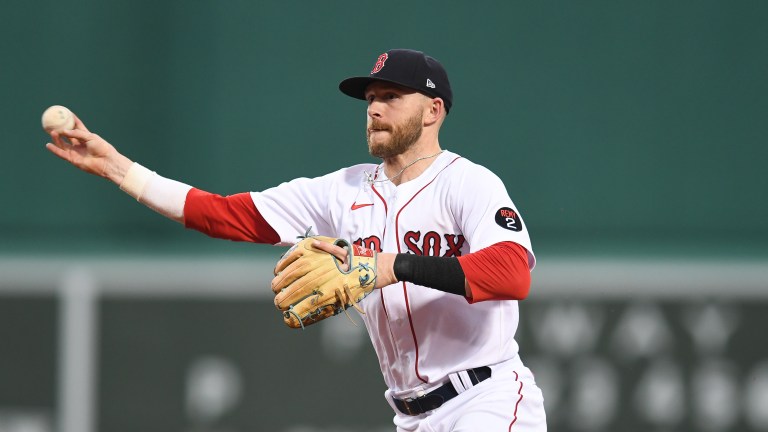 As we get into the third month of the season, we're starting to normalize a bit. The "good" teams, for the most part, have been good. The bad teams have been varying degrees of bad. Some could be considered great or terrible!
This sport is fun, huh? Let's get into it.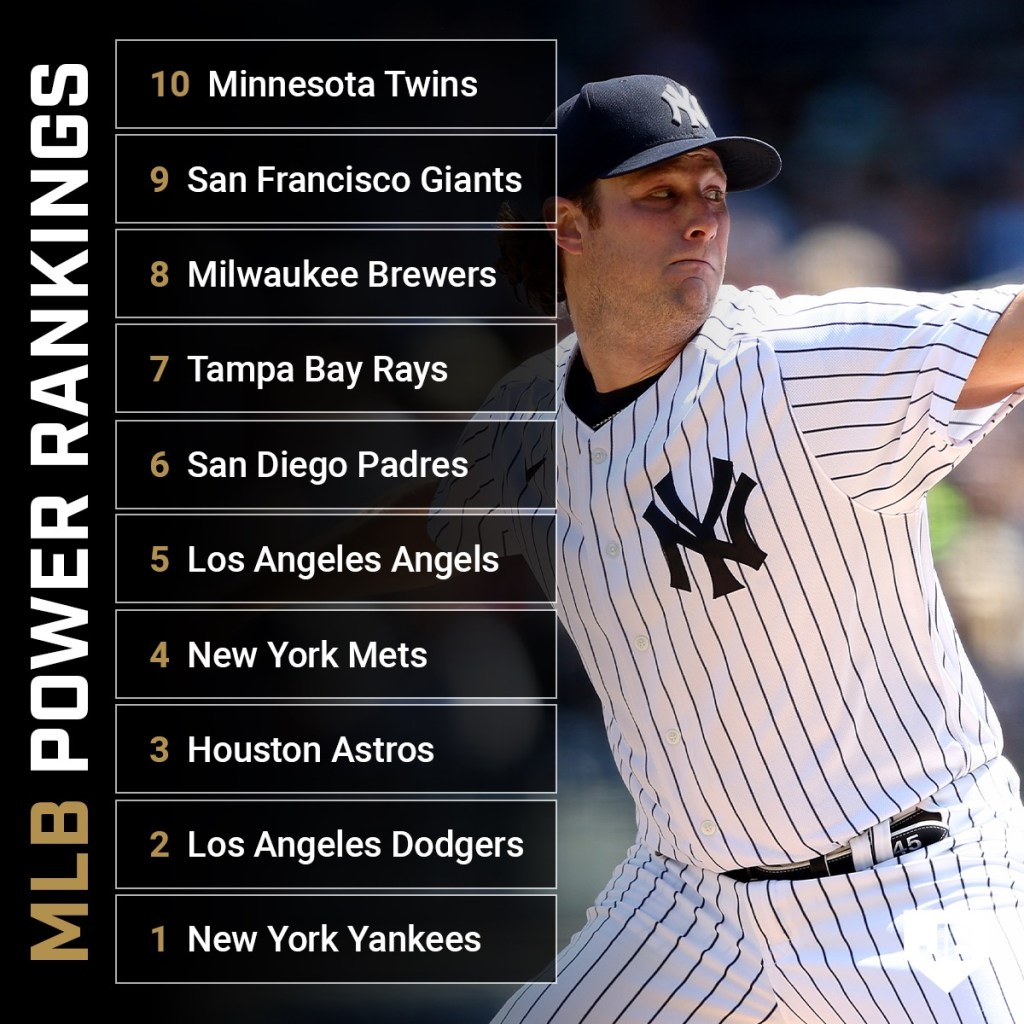 1. New York Yankees (Previous Ranking: 1)
It's been a weird stretch for the top dogs. Three consecutive losses were followed by a four-game win streak split between Baltimore and Tampa Bay, but the Bombers dropped two to end their first four-game set with the Rays this season over the weekend. Streakiness has been countered by consistent dominance from Aaron Judge, who ranks near the top in OPS and has catapulted himself to the front (or very near the front) of the American League MVP race.
2. Los Angeles Dodgers (Previous Ranking: 2)
This team has no flaws. Entering play on Monday, the Dodgers had won 13 of their previous 15 games and were riding a clean sweep of the Diamondbacks in Arizona. The pitching and defense has been utterly dominant; the Dodgers have not allowed five or more runs in a game since May 17th. The one caveat seems to be the caliber of team over the last few weeks, having played Arizona eight times with series with Philadelphia and Washington sprinkled in. Oh, and Mookie Betts looks otherworldly again.
3. Houston Astros (Previous Ranking: 3)
Yordan Álvarez could be a top-five hitter on the planet right now, and he's still just 24 years old. A two-homer game on Monday afternoon in Oakland has him looking like baseball's Thanos, and it comes at the perfect time; Justin Verlander looked human for the first time this year over the weekend in Seattle.
4. New York Mets (Previous Ranking: 4)
The team currently sporting the third best run differential in Major League Baseball is 7-3 over their last 10 games, with an impressive three-game sweep over the Phillies. Max Scherzer's injury is incredibly worrisome for the Mets' pitching staff, but an invigorated offense, led by big bopper Pete Alonso, will keep them thriving in the meantime.
5. Los Angeles Angels (Previous Ranking: 6)
The Angels have been sputtering mightily, but they were due for a regression. I'll be honest, though; I didn't think regression meant 3-9 over their last 12 games. However, they've stuck around in games, and more often than not low-scoring games. Mike Trout has been the most impressive player in the league (and should be in line for his fourth MVP), but the rest of the offense has seemingly stalled out.
6. San Diego Padres (Previous Ranking: 5)
San Diego's Monday loss to the Cardinals was the first time in nine games that they've allowed more than four runs. The pitching has been the calling-card, spear-headed by Joe Musgrove's Cy Young candidacy and MacKenzie Gore's Rookie of the Year plea. When the offense gets Fernando Tatis Jr. back in the fold, there will be an influx of cash on them to be the last ones standing in October.
7. Tampa Bay Rays (Previous Ranking: 7)
Print the shirts; through 10 starts, Shane McClanahan may be the co-leader in the clubhouse with Justin Verlander for the AL Cy Young Award. McClanahan currently sports a 2.01 ERA and is the Major League leader in strikeouts with 81. Wander Franco has been solid, but not solid enough against right handed pitching; while he's slashing .326/.341/.488 against lefties, those drop to .252/.295/.400 against right-handers.
8. Milwaukee Brewers (Previous Ranking: 9)
Ah, yes. Of course the Milwaukee Brewers would have the most home runs in baseball two months into the season. All may be butterflies and rainbows on paper, but this team is starting to get banged up. Starters Brandon Woodruff and Freddy Peralta are both on the injured list, with Peralta expected to miss "significant time." Shortstop Willy Adames sat on Tuesday after starting a rehab assignment with Triple-A Nashville last weekend. Here's to hoping he makes a speedy return to the lineup. While there may be trace amounts of uncertianty, one thing is for sure: Josh Hader is baseball's best closer.
9. San Francisco Giants (Previous Ranking: 10)
The Giants may be the team most likely to free-fall in these Power Rankings in two weeks. The offense, led by a red-hot Joc Pederson, have kept them afloat and five games over .500, but the pitching has been absolutely abysmal. As May comes to a close, the Giants end the month with a 5.58 ERA; only the Kansas City Royals pitching staff had a worse ERA as a collective unit. A lot of that may fall on Carlos Rodon, who logged an ERA near 6.00 in five May starts.
10. Minnesota Twins (Previous Ranking: 13)
Two qualified hitters had a batting average over .400 in May: J.D. Martinez hit .417, while Paul Goldschmidt hit .406. Luis Arraez finished third in May, slashing .395/.500/.432. He may have no power, but who cares? COVID-19 is running its course, with Joe Ryan, Carlos Correa, and rookie surprise Gilberto Celestino all on the COVID IL.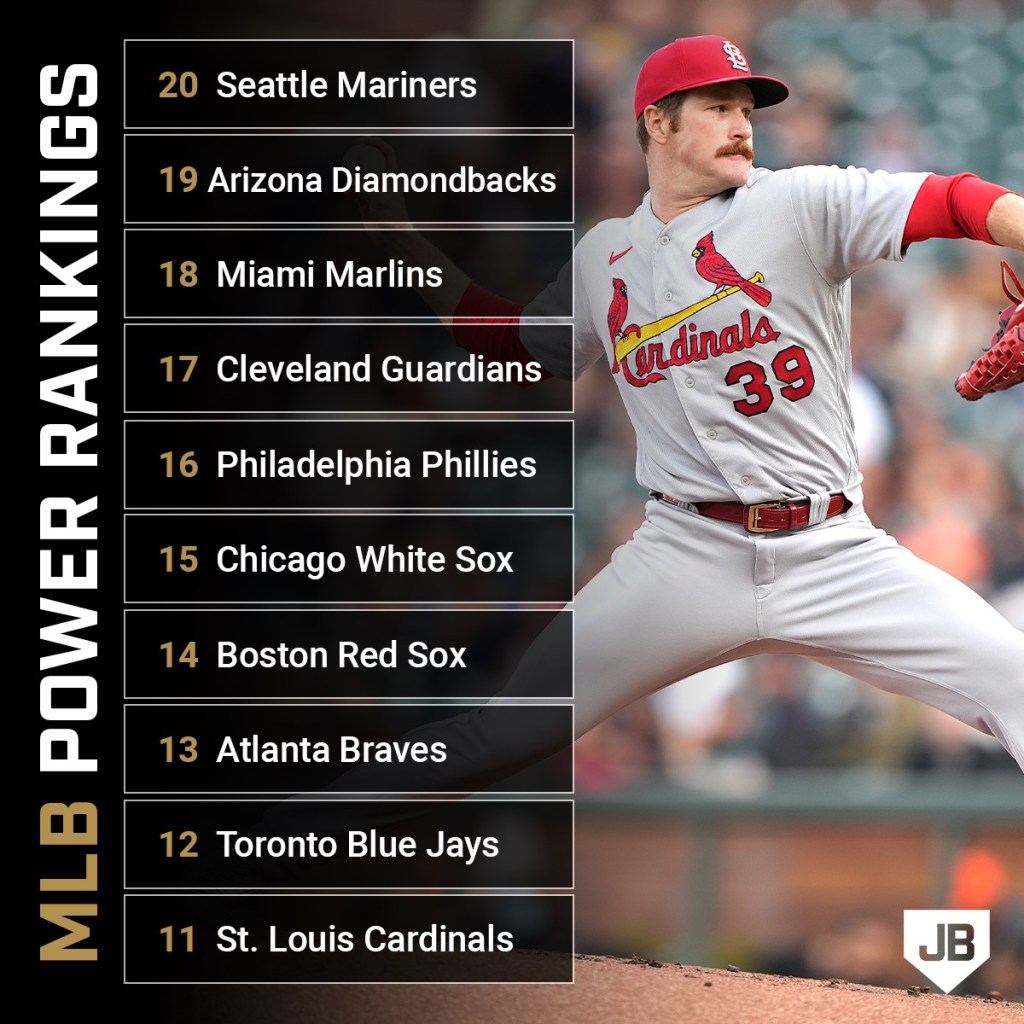 11. St. Louis Cardinals (Previous Ranking: 12)
While this team oozes veteran leadership, Albert Pujols and Yadier Molina may not ooze athleticism anymore. The rest of the offense picks up the slack; St. Louis' 40 stolen bases on the season pace all of baseball. Paul Goldshmidt has been one of the best hitters in the league, while rookies Nolan Gorman, Juan Yepez, and Brendan Donovan have all contributed to varying degrees.
12. Toronto Blue Jays (Previous Ranking: 8)
The argument could be made that Alejandro Kirk, George Springer, and Santiago Espinal have been the three most impactful position players for the Blue Jays so far this season. That's all fine and good, but Vladimir Guerrero Jr. and Bo Bichette cannot drastically underperform their expectations. The most disappointing piece for the preseason favorites in the American League has to be newly-extended ace José Berríos, whose 7.01 May ERA is the worst among all qualified starters.
13. Atlanta Braves (Previous Ranking: 11)
This offense cannot shake the strikeout bug to save their lives. Through the end of May, Braves hitters have struck out more than any other offense in baseball. Matt Olson could not get out to start the year, and now he can't get on base. Calling up Michael Harris should help shore up the outfield, which has been pieced together at points this month. Through all the ups and downs, Austin Riley continues to be as polished a hitter as we have in this sport.
14. Boston Red Sox (Previous Ranking: 22)
The hottest team in baseball is only this low because of how poorly they started. This offense screams legitimate contender, so why aren;t they higher up this list? Inconsistency in April may haunt this team in a playoff race in September. J.D. Martinez should be the leader in the clubhouse for the AL MVP runner-up (Mike Trout's better than everyone else). The biggest and maybe most impactful turnaround for this team may be on the mound; after allowing 15 earned runs in 16.1 IP in April, Nick Pivetta has allowed just nine earned runs in 38.1 IP in May.
15. Chicago White Sox (Previous Ranking: 15)
Who doesn't love contact? While the White Sox have drawn the fewest walks in Major League Baseball, they've also struck out the second-fewest times, only whiffing more than the Guardians. This team, however, CANNOT stay healthy. After Yoan Moncada and Andrew Vaughn got healthy, Moncada is back on the COVID-IL with Luis Robert. We're just lucky they bit the bullet by DFA'ing Dallas Keuchel.
16. Philadelphia Phillies (Previous Ranking: 16)
The last of the big spenders. After the offseason that Dave Dombrowski spear-headed, we were expecting the Phillies to be the worst defensive team in baseball. They've done just that, with their -19 Outs Above Average checking in two outs lower than the next lowest team. What we weren't expecting, however, is for this team to be below-average offensively. Philly's 99 team wRC+ ranks 16th in baseball; the epitome of slightly-below average. And, bad luck has run its course through this team.
17. Cleveland Guardians (Previous Ranking: 17)
Contact can only do so much. Entering June, the Guardians had the fewest strikeouts of any team in Major League Baseball. Steven Kwan, who took the baseball world by storm with a .354 batting average in 15 April games, hit a measly .173 in 21 games in May. The good news for Cleveland is José Ramirez is still playing like one of the best players in baseball, leading the American League in OPS, and Triston McKenzie and Shane Bieber have headlined a still-strong starting rotation.
18. Miami Marlins (Previous Ranking: 18)
This may be the Marlins team that we were expecting to see at the beginning of the season. The tandem of Pablo López and Sandy Alcantara have been the best 1-2 punch in all of Major League Baseball to this point, with López sporting a 1.83 ERA and Alcantara leading baseball in Innings Pitched. The arms have done their part; the offense has taken about four steps back. Jesus Sanchez had a .513 OPS in May. Avisail Garcia has a .513 OPS on the season. Things need to get better in the outfield.
19. Arizona Diamondbacks (Previous Ranking: 19)
The Diamondbacks' lineup is incredibly top-heavy, with Daulton Varsho, David Peralta, and Christian Walker leading the way. Rookie Alek Thomas has impressed mightily in his 20+ games at the big league level, slashing .260/.316/.452 thus far. The problem for Arizona, which will haunt them this month, is a lack of offensive depth. You can't ask four hitters to carry you through a summer in the desert, especially with Merrill Kelly taking the step back that he did in May.
20. Seattle Mariners (Previous Ranking: 14)
If the Phillies were the last of the big spenders, the Mariners are the last of the contenders. Seattle just hasn;t been able to figure it out. They have ample talent (that's getting healthier thanks to Kyle Lewis' return), but they still sit seven games below .500 and 10.5 back of the AL West-leading Astros. New acquisition Jesse Winker has been utterly disappointing, and the assumed "lights-out" bullpen has been anything but.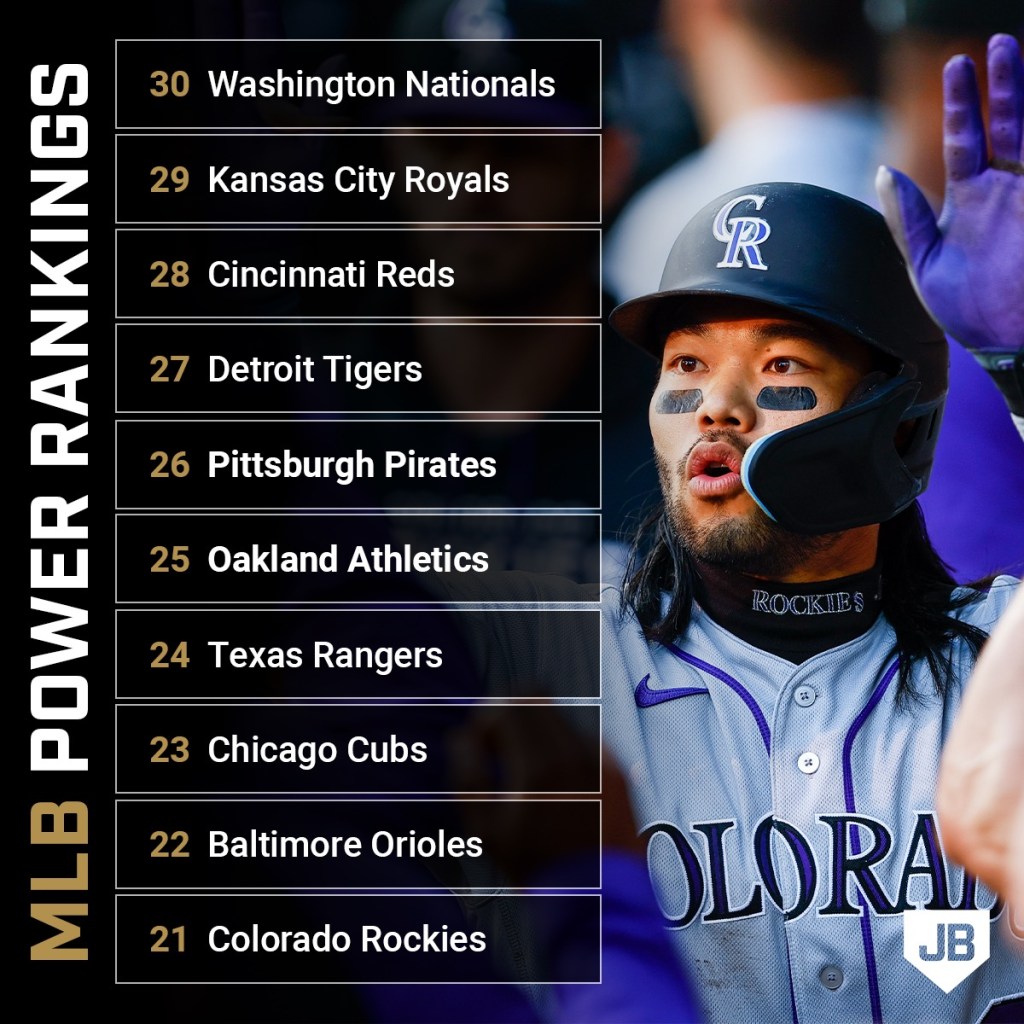 21. Colorado Rockies (Previous Ranking: 20)
The darling of April took a major step back in May. Offensively, it's easy to point to Kris Bryant's absence for the majority of the month as a main issue, but Charlie Blackmon and Randal Grichuk's regression also has much to do with it. The most glaring issue seems to be the bullpen; the Rockies are the only team in baseball with a bullpen ERA over 5.00.
22. Baltimore Orioles (Previous Ranking: 24)
Trey Mancini and Austin Hays are both hovering around a .300 batting average. That's awesome! What's not awesome is the new wall in left field, which has limited right-handed hitters to just 24 home runs so far this season. Anthony Santander's power numbers have taken a jump, which may incentivize Mike Elias to keep him around for the rebuild. Even though Adley Rutschman's struggling out of the gate (.529 OPS in his first 10 games), there will be copious optimism once Grayson Rodriguez gets the call to form the battery.
23. Chicago Cubs (Previous Ranking: 21)
This team seems to be perfectly mediocre at the moment. Willson Contreras is having a great season, but will Jed Hoyer look to lock him up long-term? Where does Ian Happ factor in to this team's future plans? Can the starting pitching get any worse? Great news for Cubs fans, though: Low-A through Double-A hitters in this system look utterly incredible.
24. Texas Rangers (Previous Ranking: 26)
Where were YOU when Marcus Semien left the yard for the first time this season? Jonah Heim and Kole Calhoun continue to swing hot bats, while Josh H. Smith's promotion screams excitement. Martin Pérez is throwing like a Cy Young candidate with a 1.42 ERA through his first 10 starts, but no other starter is throwing like a Major League pitcher.
25. Oakland Athletics (Previous Ranking: 23)
Two teams in Major League Baseball had a team OPS under .650 at the end of May: the Detroit Tigers and the Oakland Athletics, both at an even .610. Sean Murphy's been the most disappointing of the bunch, hitting .201 with a .379 slugging percentage, further diminishing his trade value. But, all hail Paul Blackburn.
26. Pittsburgh Pirates (Previous Ranking: 25)
Nothing like taking two from the Dodgers in Los Angeles to end the month of May. Late heroics from David Bednar are one thing; a strong outing from Mitch Keller is entirely different. This team is getting younger, and therefore more exciting, with the additions of Roansy Contreras, Cal Mitchell, Rodolfo Castro, Jack Suwinski, Tucupita Marcano, Yerry De Los Santos, and more in due time.
27. Detroit Tigers (Previous Ranking: 28)
This team cannot stay healthy, and they cannot hit. Spencer Torkelson may be the rookie we're most worried about two months into the season, and Javier Baez is leading all of Major League Baseball in chase rate. On the hill, it's unfair to ask Tarik Skubal to do everything. Casey Mize's setback in his rehab came just days before Matt Manning's. But, Riley Greene recently started a rehab assignment with Low-A Lakeland. All is going to be well. Hopefully.
28. Cincinnati Reds (Previous Ranking: 29)
This team keeps on climbing! The Reds are 6-4 over their last 10 games, highlighted by relatively great starts to the season from Brandon Drury and Kyle Farmer. Graham Ashcraft, one of the top pitching prospects in the Reds system, has shined in his first two starts, allowing just two earned runs in 10.2 IP. If Jonathan India returns shortly and Tommy Pham continues to slap it around the ballpark (get it?), this team should stay out of the cellar.
29. Kansas City Royals (Previous Ranking: 27)
The Royals may take home the award for having the least exciting rebuild in recent memory. It stinks to say; M.J. Melendez has shined when he's been in the lineup, and Bobby Witt Jr. is finally starting to unlock what he could do this year and for year's to come. Their problem lies in the young pitching. Daniel Lynch has looked solid enough, but no one else has shown any signs of promise so far this year. Royals fans, do yourself a favor: check out Vinnie Pasquantino's stats with Triple-A Omaha.
30. Washington Nationals (Previous Ranking: 30)
The bottom-dweller for the second ranking in a row. Nationals GM Mike Rizzo remains adamant that they won't be parting ways with Juan Soto. Even with one of the best hitters on the planet on their team, Patrick Corbin still has a 6.96 ERA in 11 starts.