Analysis
Will Josh Hader Become Baseball's First $100 Million Closer?
The Milwaukee Brewers closer has yet to allow a run since last July, which makes us wonder what kind of contract he could sign when he hits free agency in 2024.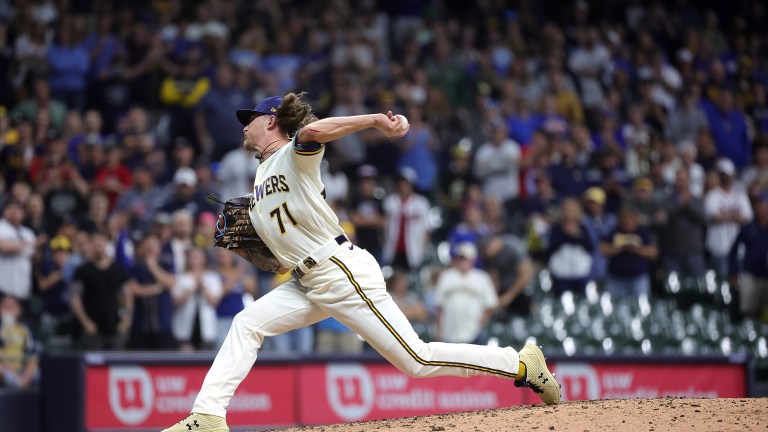 Josh Hader has not allowed a run since July 28, 2021. He has a streak of 39 consecutive scoreless relief appearances for the Milwaukee Brewers, converting each of his last 32 save opportunities.
When Hader notched his 16th save last Thursday, Milwaukee Brewers starter Eric Laeur explained the impact of their lockdown closer very well:
"We only play eight innings. When you've got a guy that's that good at the back end, the end of the game doesn't seem like the end of the game. It's like it's already over, almost."
This year in particular, that has certainly been the case. The Brewers have handed the ball to their closer 18 times, and have won every single one of those games. Hader has faced 61 batters this season. He has only allowed four hits and has 26 strikeouts (42.6 K%).
Since the start of the 2021 season, Hader has pitched to a 0.96 ERA across 74 1/3 innings pitched. There is simply no pitcher in baseball that is more dominant than the Brewers left-handed closer.
The Brewers are once again off to a great start this season, in large part thanks to Hader's dominance closing games. They are 32-18, currently four games ahead of the St. Louis Cardinals for first place in the NL Central.
For now, the Brewers don't have any tough decisions to make on Hader. The 28-year-old is under team control for another year beyond this season, so Milwaukee can focus solely on trying to win it all in 2022.
Still, for a small market team, the clock is ticking on what they will do with their closer long-term. Because if Josh Hader keeps this up, he could be the first reliever in MLB history to receive a $100 million contract.
Precedent on Closers Getting Paid
The price range for the top closers in baseball has never crossed the $20 million threshold annually, which is what it would likely take for Josh Hader to make $100 million when he hits free agency in 2024. We have, however, gotten very close to that over the past five years.
Aroldis Chapman hit free agency after the 2016 season, when he owned the title of being the game's most dominant closer. The fellow left-handed flamethrower was coming off a World Series title with the Chicago Cubs, whom he was traded to at the deadline by the New York Yankees.
The Yankees could not resist the urge to re-sign Chapman that offseason, picking up a prospect package that included Gleyber Torres for renting out their closer for a few months before bringing him right back.
Chapman received a five-year, $86 million contract from the Yankees, setting the record for both total guaranteed money and average annual value ($17.2 M) for a reliever. Kanley Jansen re-signed with the Los Angeles Dodgers that same offseason, signing a five-year, $80 million deal.
This set the new benchmark for top closers, as $16 million has become the going rate. Jansen just signed a one-year deal with the Atlanta Braves this offseason at that number, and Craig Kimbrel is making the same amount pitching in the final year of his deal with the Dodgers.
Coming in a tick below Jansen, Kimbrel and Chapman, Rasiel Iglesias signed the biggest contract of any reliever this offseason, landing a four-year, $58 million deal to return to the Los Angeles Angels. The AAV of that deal was $14.5 million.
Hader is all but guaranteed to make at least $15 million a year, but could make much more than that if continues his recent dominance for another 18 months.
The best comp for Hader remains Chapman, so let's take a look at how their stats heading into free agency compare.
| | | | | | | | | | | | |
| --- | --- | --- | --- | --- | --- | --- | --- | --- | --- | --- | --- |
| Closer | ERA | IP | SV | SVO | whip | K% | BB% | avg | HR/9 | xFIP | fWAR |
| Aroldis Chapman (2010-2016) | 2.08 | 377 | 182 | 203 | 0.99 | 42.6 | 11.6 | .154 | 0.45 | 2.14 | 14.0 |
| Josh Hader (2017-2022) | 2.14 | 299 | 114 | 129 | 0.84 | 44.3 | 9.8 | .136 | 1.02 | 2.58 | 9.9 |
Hader's numbers compare pretty well with Chapman's, especially when you consider the fact that they will only improve if he continues to pitch the way he has since the calendar turned to 2021.
There is no telling when Hader will allow another run and with each consecutive scoreless appearance, more money is getting added to his future contract. Based on a inflation alone, Hader could receive an extra $14 million, from what Chapman got five years ago, and land the first $100 million contract for a closer in MLB history.
Further, if he looks to sign a six-year deal, there is no question he will cross that nine-figure threshold.
Will Hader Be Worth $100 Million?
When Aroldis Chapman signed his contract with the New York Yankees, there was very little doubt as to if he would perform well on the deal. He was coming off his second-straight season with a sub 2.00 ERA and had been even better in the stretch-run with the Cubs, allowing just three earned runs in 26 2/3 innings pitched (1.01 ERA).
Since then, Chapman has been on a steady decline, as he currently boasts career-worst numbers across the board.
This season, Chapman has a 3.86 ERA with only 15 strikeouts in 14 innings pitched. The 34-year-old's 1.64 WHIP is by far the highest-mark of his career and this would be the first time that he has ever posted a strikeout-per-nine that is less than double-digits (9.6).
If we look at the overall production on this five-year deal, Chapman has been very good for the Yankees, yet he has still left something to be desired. Since signing his $86 million contract, Chapman has pitched to a 2.88 ERA, 3.04 xFIP, 14.25 K/9 and a 4.75 BB/9.
Would Hader fare better or worse than Chapman over the length over a long-term deal?
There is no way of knowing for sure, but one thing Hader has working in his favor is that his success is less predicated on the fastball than Chapman.
When Aroldis hit free agency, he was coming off a dominant season where he used his fastball over 80% of the time. This was during a four-year run where Chapman averaged more than 100 MPH on his heater, which set up his 88 MPH slider exceptionally well as a putaway pitch.
Fast-forward five years and Chapman is now averaging 96.8 MPH on his fastball and is throwing the pitch 51.9% of the time, while mixing his slider and split-finger 42.3%. As his velocity has diminished, so too has his effectiveness.
While Josh Hader certainly throws the ball hard, his sinker/slider combo could age better than Chapman as he does more than simply blow hitters away with velocity to generate his swings-and-misses.
This season, Hader is throwing his sinker 66.3% of the time and his slider 29.8%. He is yet to allow a hit on the slider and has generated whiffs 61.8% of the time on the pitch. With age, Hader could rely on his elite slider even more, keeping him effective throughout the life of his next contract.
What Should the Milwaukee Brewers Do?
The Milwaukee Brewers are in an interesting position as a franchise. They have plenty of young talent, particularly in their pitching staff with reigning Cy Young Corbin Burnes, Brandon Woodruff, Freddy Peralta, Eric Lauer, Adrian Houser and Aaron Ashby all young and under team control.
There is a window to contend right now, and Hader can play a huge part in that.
Still, this is also a small market team that could be hamstrung moving forward if they have a closer on their books for $20 million a season.
Even further, the Brewers have arguably the most-dominant set-up man in baseball in Devin Williams, who is under team-control through 2025. If Milwaukee decided to move on from Hader, Williams is more than capable of filling his shoes.
As a first place team, the Brewers aren't doing anything with Hader this season other than handing him the ball to hold tight leads and win them games. This offseason though, Milwaukee could look to flip Hader in a trade so they can get great return on the asset of having the best closer in baseball. Especially if they have no intention of paying him long-term.
Regardless of who he will be pitching for, Josh Hader is going to be very well-paid in a few years. That is what you get when you become the most dominant closer in the game.