Analysis
Atlanta Braves Promote Top Prospect Michael Harris II
Having struggled to find production from their outfielders this season, the Atlanta Braves are calling up their top prospect to provide a spark.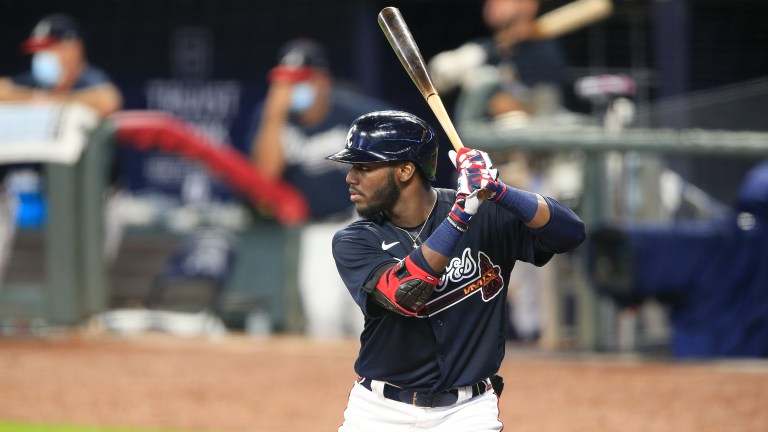 The Atlanta Braves are looking to spark their offense and they have gone down to the farm to do it. On Saturday they announced the promotion Michael Harris II, calling up their top prospect straight from Double-A.
Travis Demeritte was demoted to Triple-A to clear a roster spot for Harris. Demeritte has received a lot of playing time in right field this season, as he got off to a great start hitting .381/.435/.762 in April. The bat went cold in May though, leading to this roster move for Atlanta.
Across 19 games played this month, Demeritte hit .162/.205/.206, with only one extra-base hit, an inside-the-park home run against the Boston Red Sox nearly three weeks ago. Harris should be a big boost to this offense, assuming he can handle the jump without taking a single at-bat in Triple-A.
Through 43 games played this season, Harris was hitting .305/.372/.506, with 16 doubles, two triples, five home runs and 33 RBIs. Harris is an elite athlete, bringing an element of speed to the Braves lineup. He scored 33 runs and stole 11 bags in Double-A this year.
The 21-year-old will start today against the Miami Marlins, where he will play center field and bat ninth. Harris' ability to play plus defense in center field takes some pressure off his bat, and also allows the Braves to shift Adam Duvall over to right field, where the Gold Glover is even more effective.
Scouting Report
Michael Harris bring another one of our top 100 prospects to the show, as the Braves outfielder was ranked 60th on our latest update. Here is what Aram Leighton wrote prior to the season about Harris.
60.Michael Harris II – OF – Atlanta Braves
Age: 21 | Height/Weight: 6'0, 195 | Bat/Throw: L/L | 3rd round (98), 2019 (ATL) | ETA: 2023
| | | | | | |
| --- | --- | --- | --- | --- | --- |
| HIT | RAW POWER | GAME POWER | RUN | FIELD | FV |
| 50/60 | 45/55 | 40/50 | 55/55 | 50/55 | 55 |
A plus hit-tool and exciting athleticism has many believing that there is more power in the tank for Harris. Even without 25+ home runs, Harris has all of the ingredients to be an impact big leaguer, but we believe there's more power to be tapped into as well.
2021 Stats (A+): .294/.362/.436, 7 HR, 36 XBH, 27 SB, 114 wRC+, 18 K%, 8.3 BB%
Offense
An extremely advanced hitter with burgeoning power, Harris was picked by many as a breakout candidate last year after strong reports from the Braves Alternate Training Site. While Harris did not quite set the world on fire in his first full professional season, the then 20-year-old put his high-end hit tool and exciting tools on display in High-A.
Harris was initially drafted as a switch-hitter, but has had little issue left-on-left professionally which resulted in him committing to the left side of the batter's box full time. An athletic hitter, Harris deploys a decent sized leg kick but controls his body really well and has no problem with timing.
Like many young hitters with a plus hit-tool, Harris can get a bit aggressive and squander hitter's counts by swinging at borderline pitches that he cannot do much with. As Harris gets better at leveraging his hitter's counts as well as naturally fills out a bit more, 20+ home run power could easily be in the tank. Harris possesses impressive bat speed and has already put up 110+ mph exit velocities. As the 21-year-old gets better at picking his spots and gets the ball in the air a bit more, solid power numbers accompanied by a strong batting average is within reach.
Defense/Speed
A two-way player in high school, Harris was also getting looks as a left-handed pitcher in high school. Harris has a plus arm along with above-average speed and good instincts in the outfield, giving him a good chance to be at least an above-average defender in centerfield. Harris already takes good routes and gets solid jumps, making him a safe bet to provide value in the outfield.
While not quite a plus runner, Harris' instincts make their way to the basepaths where his above average speed allows him to effectively swipe bags. Harris stole 27 bases on 31 attempts last season, though 15-20 bags is probably a safer projection moving forward.
Outlook
Harris is the best all-around hitter in the Atlanta Braves system, and it's not particularly close. The 21-year-old boasts 55's across the board or better when it comes to his tools along with impressive baseball instincts. Harris has some Dylan Carlson in him and could be a part of the Braves outfield as soon as 2023.