Analysis
The 2021 Yankees: A Story of Frustration and Inconsistency
The 2021 New York Yankees season has been a rollercoaster ride of euphoric highs and crushing lows, but the team's final destination remains unclear.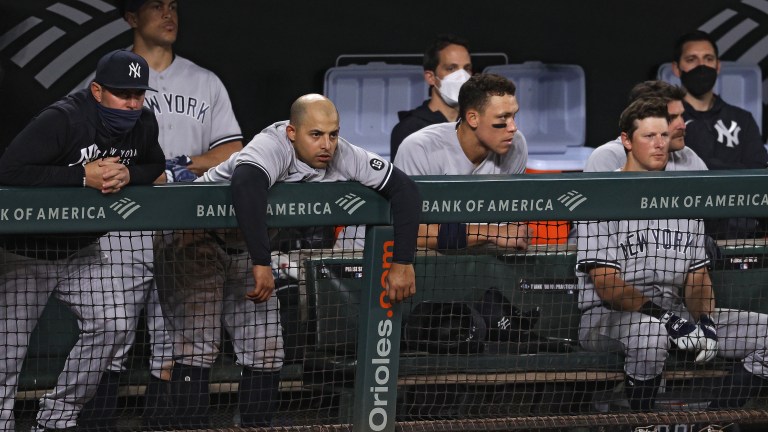 The Yankees opened the season as American League favorites. With a full season of Gerrit Cole leading the pitching staff, combined with much of the same lineup that finished top five in runs scored for three straight years returning, it was fair to dream big. After four straight years of gut-wrenching playoff losses, this had the feeling of a make-or-break season for New York's current core. A chance to legitimize themselves.
And yet, here we are. It's September 13th, and the fourth-place Yankees would miss the playoffs if the season wrapped up today. So how did we get here? Well, I'll tell you. Come along for this rollercoaster ride as I recount, in all its glory, the story (thus far) of the 2021 Yankees.
Early Season Nightmare
Something felt off about this year's Yankees almost immediately. They opened the year 5-10, getting dominated by multiple divisional opponents. It's one thing to lose games early on, but they were getting outclassed almost every night looking like a shell of the team that challenged for an American League title just two years ago.
Through 25 games, it wasn't much better. They sat at 11-14, and the offense, which was obviously expected to be a strength, was dragging the club down. As a group, they had a putrid 89 wRC+ (16th in MLB) and .679 OPS (20th). Most concerning was their .369 slugging percentage (22nd). Things got so bad that Jay Bruce up and retired.
The roster construction seemed so flawed. There was next to no competent left-handed hitting to balance the lineup, combined with a lack of speed and athleticism. Over the years, the Yankees have filled their lineup with more and more all-or-nothing power hitters, and it looked to finally be catching up with them.
Figuring Things Out?
During the ruthless grind that is the 162-game MLB season, even the best teams have bad stretches. The mighty, and seemingly invincible, Dodgers went 5-15 from April 18th through May 9th. It happens. After all, this sport we all love makes absolutely zero sense. That's why it seemed like the Yankees had righted the ship when they went 18-7 over their next 25 games to improve to 29-21. The April aberration was an afterthought and all was right in the world once more. Or so it seemed.
However, signs of trouble were still present. The offense was still below average, posting just a 98 wRC+ and .716 OPS during their winning month of May. Additionally, the only reason they were even that good was thanks to an otherworldly, and unsustainable, hot streak from Aaron Judge (eight home runs, 191 wRC+). Meanwhile, the two dead spots in their lineup at first base (68 wRC+) and left field (52 wRC+) were more indicative of the offense as a whole.
They were carried by their pitching staff (4.2 fWAR, 3rd best in MLB during that 25 game stretch), but there was ultimately nothing they could do once the roof truly caved in on the offense following that short taste of success.
Early-Summer Madness
Things came crashing down rather spectacularly during a three-game sweep in Detroit at the end of May. In those three games at Comerica Park, the Yankees scored a total of five runs. They also went a comical 2-25 with runners in scoring position. It was the first of several times this year that I mentally buried this team. I figured they had hit rock bottom. What a foolish belief that was. Over the next five weeks, the Yankees went 13-17, including 0-6 against the Red Sox. They were 42-41 on July 4th, 10 games out of first.
The middle months of the season really did damage to my psyche. The Yankees had no less than five, and probably closer to 10, soul-crushing losses. Each one seemed worse than the last. There came a point during a late-July series at Fenway where I pondered if I had perished and gone to purgatory.
Over a 48 game chunk from May 28th to July 25th, the Yankees went 22-26. While the offense actually improved (105 wRC+), the bullpen crumbled (4.62 ERA, 11 blown saves). It led to a sizable stretch of squandered games. After years of dominance, Aroldis Chapman and Zack Britton have a combined 4.36 ERA in 66 innings this year.
The Streak
To quote Michael Corleone in The Godfather Part III (what a letdown of a film), "Just when I thought I was out, they pull me back in." I was fully ready to give up on this team the moment Tim Anderson hit a walkoff home run deep into the corn-filled Iowan night at the Field of Dreams game. So what did they do next? Oh, just win 13 straight games (their longest streak since 1961), sweep a 3-game series from the Red Sox to erase a 10.5 game deficit to their bitter rivals in a mere four weeks, and pull within four games of the Rays for the divisional lead.
The deadline acquisitions of Anthony Rizzo and Joey Gallo seemed to spark the club and provide some much-needed right/left balance to the lineup. Additionally, the team started applying pressure on the bases (21 stolen bases during that stretch, 4th most in MLB).
During their 25-5 run from July 27th to August 27th, the Yanks were firing on all cylinders. The pitching staff was elite, posting a 3.04 ERA and 5.3 fWAR, both top two in baseball. The offense was tied for 5th with a 110 wRC+ and 154 runs scored. It was all coming together. The many months of nonsense and aggravation had finally cleared way to make room for a hopeful stretch run. For the first time all season, I truly thought the Yankees had a chance to do something meaningful in October. Then, our latest chapter began to unfold.
Colossal Collapse
What the hell? That's really all you can say about what the Yankees have produced as an encore to their 13-game winning streak. Since that prosperous stretch ended on August 28th, the team is 3-11 with series losses to the Angels, Orioles and Mets.
The offense has gone ice cold. Their 78 wRC+ in that span is good for 27th in the sport. The aggressive base-running that was so crucial during their hot streak is inexplicably no longer part of their gameplan (just two stolen bases in the last 14 games). They've gotten next to no offensive production from their infield. DJ LeMahieu, Gleyber Torres and Gio Urshela have a combined 86 extra-base hits this year. In 2019, they combined for 180 multi-baggers. Some nights, it feels like the team exists in some bizarro world where the goal is actually to lose games.
The pitching staff is also 24th in the sport with a 5.12 ERA during this downward spiral. It seems like Jameson Taillon (5.21 ERA in his last seven starts) has burned out in the latter stages of the season after combining to pitch just 37.1 innings in 2019 and 2020, and Corey Kluber (8.49 ERA) has been abysmal in three starts since returning from the IL. Meanwhile, the bullpen lost relief ace Jonathan Loaisiga (2.25 ERA) indefinitely to a strained rotation cuff. Altogether, this has probably been the worst two week stretch of their season, and there's no end in sight.
How Does this End?
When I look back on everything that has happened up to this point of the season, I'm honestly amazed the Yankees are still in contention. Don't take the above sarcasm and cynicism as a lack of gratitude for the fact that this team is somehow still 15 games above .500 and right in the Wild Card race. I realize things could be much, much worse. In fact, they probably should be. The 79-64 Yankees have a worse run differential (+27) than the 75-69 Reds (+29).
Now, am I foolish enough to attempt to predict how this squad's season will end? In fact, I am (kind of). I think the Yankees have one more run in them. Their next 10 games are against Minnesota, Baltimore, Cleveland and Texas. I'm expecting a 7-3 or 8-2 stretch to put themselves back into the top Wild Card spot with under two weeks to play.
However, it's the final chapter of this tale that is most enticing. The Yankees close their campaign with nine games against the Red Sox, Blue Jays and Rays. Those contests will determine their fate, and I'll allow you to decide how those closing stanzas will go.