Analysis
Digging into Tarik Skubal's Second Year Leap
Tarik Skubal has been one of the biggest breakout arms so far this season and a change in pitch selection is the biggest reason why.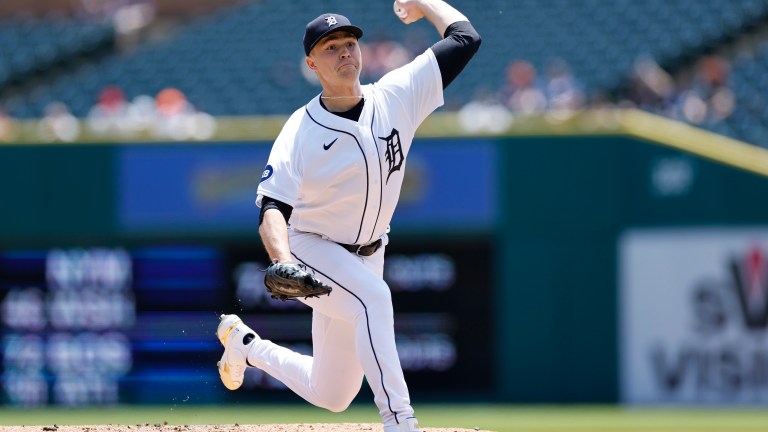 Every year, several players break out in their second full season after struggling through their rookie campaign. This season, Tarik Skubal fits that mold to a tee.
Over his first 39 games between 2020 and '21, Skubal owned a 4.57 ERA and 1.25 WHIP in 181.1 innings. The young lefty flashed signs of the brilliance to come, but inconsistency and a weakness of serving up home runs (more on that later) plagued him.
However, the script has flipped so far in 2022.
In nine starts (51.2 innings), Skubal has a 2.44 ERA, 1.03 WHIP and he's allowed just two long balls (both in the same game in Houston). Altogether, he's second among all pitchers in fWAR (2.0) behind only Kevin Gausman, after finishing tied for 197th last season.
Keeping the Ball in the Yard
The number one reason for Skubal's transformation this year is his limitation of game-changing damage. Between 2020 and 2021, his 44 home runs allowed ranked fourth among all pitchers. This season, Skunal is tied for third out of 54 qualified pitchers in big flies given up (2). The key difference is less use of his four-seam fastball and more reliance on a sinker/two-seam offering that keeps balls on the ground and induces more weak contact.
Overall, Skubal's four-seam usage is down over 15% from last year and the sinker is being utilized 8% more frequently. As a result, Skubal's ground ball rate has risen over 10 points from 39.3% last season to 49.6% in 2022. That's how you cut down on power numbers.
In 2021, Skubal allowed 22 of his 35 total home runs off of the four-seam fastball. Featuring the pitch more sparingly this year has also made it more effective. Last year, hitters had a .611 slugging percentage against the fastball, which has been cut down all the way to .359 in the current campaign.
Deep Bag of Tricks
Besides the valuable sinker, Skubal also boasts one of the best out pitches in baseball with his slider. At 30.3% usage, Skubal goes to his slider more often than any other pitch, and the results show why. Hitters are batting just .177 with a .226 slugging percentage against the slide-piece. The pitch also has a -7 run value according to Baseball Savant, making it one of the 20 best offerings in the game this season.
Honing in on the slider is another critical adjustment Skubal made in the offseason, as he's throwing it 7.5% more often this season. Sixteen of the young left-hander's 55 strikeouts this year have come via the slider.
Underlying Strength
The underlying numbers suggest Skubal's strong start is very much sustainable. In 2021, his Baseball Savant page was coated in dreaded shades of blue. This year, we see much more red. Skubal ranks in the top-third of pitchers in xERA, xBA, xSLG and xwOBA. His hard hit rate is still below average (35th percentile), but it's improved by over four points from last season. All of this indicates that Skubal's improvement over the first two months isn't a fluke. The change in pitch mix that we've already broken down is main the reason why.
| | | | |
| --- | --- | --- | --- |
| Tarik Skubal | xERA | xSLG | xwOBA |
| 2021 | 5.58 | .508 | .357 |
| 2022 | 2.67 | .373 | .275 |
The 25-year-old lefty has also maintained his strong strikeout and walk rates. Skubal's 27.1% punchout rate is 12th among qualified pitchers and his elite 4.4% free pass rate ranks in the top 10 percent of all pitchers. Whenever a pitcher delivers in both of those categories, it's a good indication that they're an elite arm.
A Bright Spot in Detroit
It's no secret that the Tigers have been a major disappointment this season. Their offense has been a colossal mess, they've gotten just four combined starts out of promising young pitchers Casey Mize and Matt Manning due to injury, and their 16-29 record is tied with Kansas City for the worst mark in the American League.
Despite all of that, Skubal has shined. Detroit is 5-4 in his starts and just 11-25 when anyone else takes the mound. The former top prospect has provided Tigers fans with some hope in an otherwise dreadful season. If Skubal stays healthy, he is a near lock to make his first All-Star team in a little over a month.