List
July MLB Power Rankings: Just How Good Are The Houston Astros?
Through the first three months of the season, the Yankees are still the best team in baseball.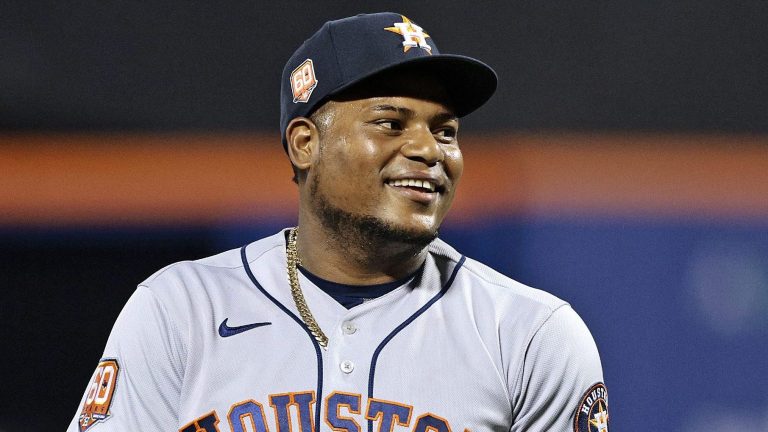 Judgment Day is upon us. At least, for baseball teams. July marks the midway point in the Major League season, the All-Star break, and the Trade Deadline, and every team needs to answer the burning questions that surround them.
For teams like the Yankees and the Mets, what could they be adding at the trade deadline? For teams hovering around .500, which direction do you want to turn? And for the Nationals, was Patrick Corbin's 12 strikeout performance on Wednesday night All-Star worthy?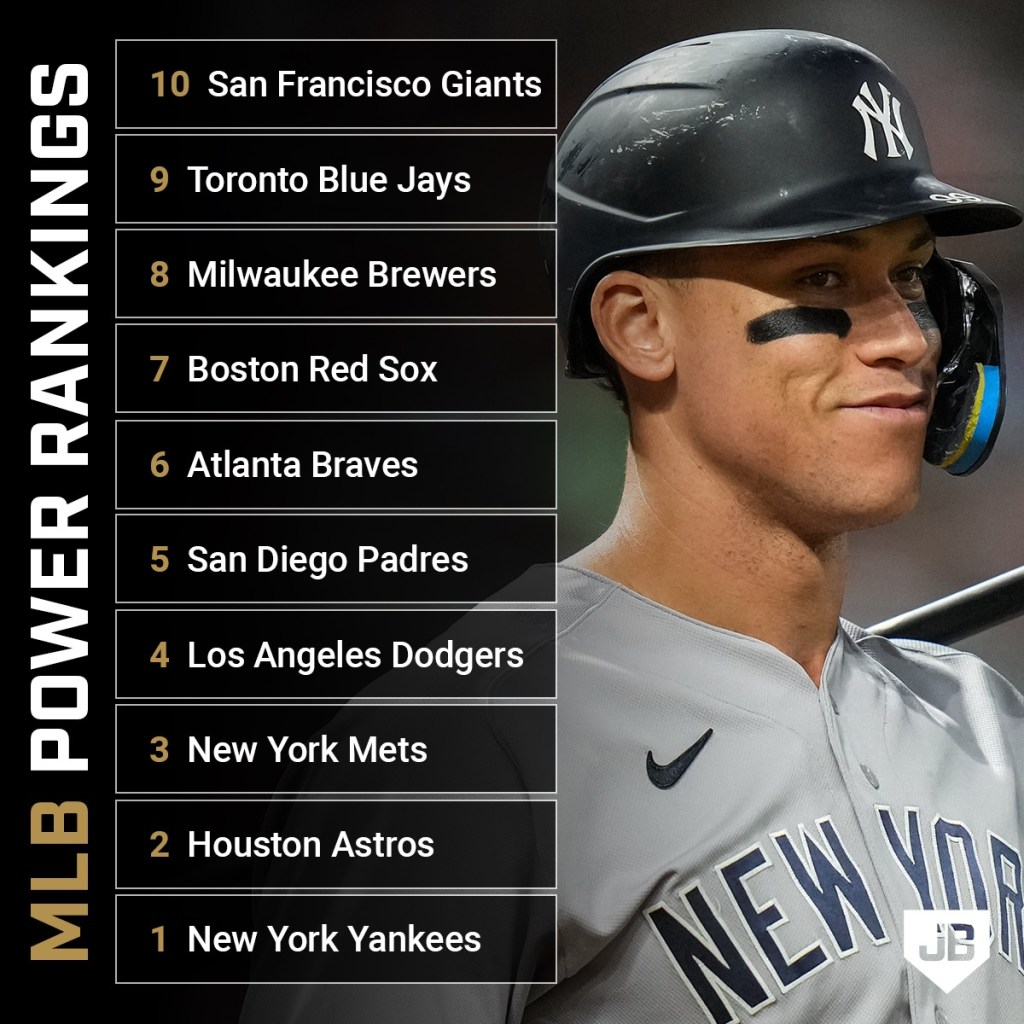 1. New York Yankees (Previous Ranking: 1)
What does a rough stretch for this team look like? They've won four in a row entering play on Thursday, and they bounce back from being no-hit this past weekend with a walk-off home run from the provisional AL MVP in Aaron Judge. Catching seemed like a weak spot during Spring Training, but Jose Trevino should be the reserve catcher for the American League. I'm having trouble identifying a flaw with this team.
2. Houston Astros (Previous Ranking: 5)
This team is utterly incredible. From Yordan Álvarez leading all of Major League Baseball in OPS (and we hope he's alright after a scary collision with Jeremy Peña on Wednesday), to Cristian Javier spearheading a no-hitter against the best team in baseball, this team should be on everyone's shortlist of true World Series contenders. Lance McCullers has reportedly been ramping up to start a rehab assignment, which would add another elite arm to the fold. Much like the Yankees, there isn't a real weakness here.
3. New York Mets (Previous Ranking: 2)
The Mets dropping to third is really more of a testament to the Astros' success. However, the Mets were bludgeoned by those same Astros in a two-game set at Citi Field this week, losing 9-1 to Framber Valdez and 2-0 to Justin Verlander. The Mets will play 17 games in 17 days before the All-Star break, but against a non-intimidating schedule; only Atlanta sits above the .500 mark.
4. Los Angeles Dodgers (Previous Ranking: 3)
All eyes are on Freddie Freeman and…Excel Sports Management and Freeman's former agent, Casey Close. The claims that Close withheld Atlanta's final offer to Freeman from the first baseman are baseless, but it's been painfully obvious that Freeman hasn't gotten acclimated to the avocado toast-laden lifestyle that defines the SoCal experience. The Dodgers are ridiculously talented, but they're hampered by injuries. While Walker Buehler's outlook this year looks bleak, Mookie Betts and Dustin May seem to be revving up to return sooner rather than later.
5. San Diego Padres (Previous Ranking: 6)
It's miraculous that Manny Machado is gearing up for a return this quickly after spraining his ankle in Colorado. Regardless, this team has survived without Machado, and thrived without Fernando Tatis Jr., who expects to start swinging a bat before the All-Star break. The pitching has done everything they can to keep them comfortably above water, led by the tandem of Cy Young candidate Joe Musgrove and Rookie of the Year front-runner MacKenzie Gore.
6. Atlanta Braves (Previous Ranking: 4)
The Braves are 7-3 in their last 10 games, Dansby Swanson is top-10 in all of baseball in fWAR, and Michael Harris II is hitting .327 with an .860 OPS in his first 30 career games. All is well in Atlanta, and the city's favorite son, Matt Olson, is starting to heat up again. In addition to being third in baseball with 43 extra-base hits, he's slugging .495 in June. The Braves should be deadline buyers to bolster the bullpen, especially with the Kenley Jansen scare, who's hitting the IL with an irregular heartbeat.
7. Boston Red Sox (Previous Ranking: 13)
The Red Sox continue to play like one of the hottest teams in baseball. While Nick Pivetta has been a steady force at the top of the rotation over the last several months, Rafael Devers has been one of the most electrifying hitters in baseball all season long. Devers is Major League Baseball's hits leader at this juncture, and is seventh in the game in slugging percentage. He should be accruing a ~bag~ this offseason.
8. Milwaukee Brewers (Previous Ranking: 12)
While the Cardinals have jogged in place, the Brewers have gotten off the treadmill and propelled themselves a game and a half in front of St. Louis by winning four in a row entering play on Thursday. The offensive highlight for the Brew Crew this month has been Andrew McCutchen turning back the clock; in 24 games in June, McCutchen hit .295 with an .858 OPS with as many walks as strikeouts (12). On the mound, Devin Williams has been the star of the show. In 12 appearances in June, Williams allowed just one hit and struck out 15 in 10 2/3 innings.
9. Toronto Blue Jays (Previous Ranking: 7)
The offense is starting to really click right now, and Vladimir Guerrero Jr.'s walk-off earlier this week embodied that. However, pitching is the primary concern up north. José Berríos has continued to struggle mightily, and with Hyun-jin Ryu out for the year, this deadline may be the one for the Jays to move for yet another starter.
10. San Francisco Giants (Previous Ranking: 9)
The Giants are, yet again, turning into the forgotten middle child of the NL West. The Dodgers and Padres steal the overwhelming majority of the headlines, but the Giants have continued to stay right around the contention window. Carlos Rodón, after a really rough May, logged a 1.25 ERA in six June starts. Logan Webb has a 2.08 ERA in five June starts. And, Joc Pederson and Evan Longoria have led the way for the offense as of late.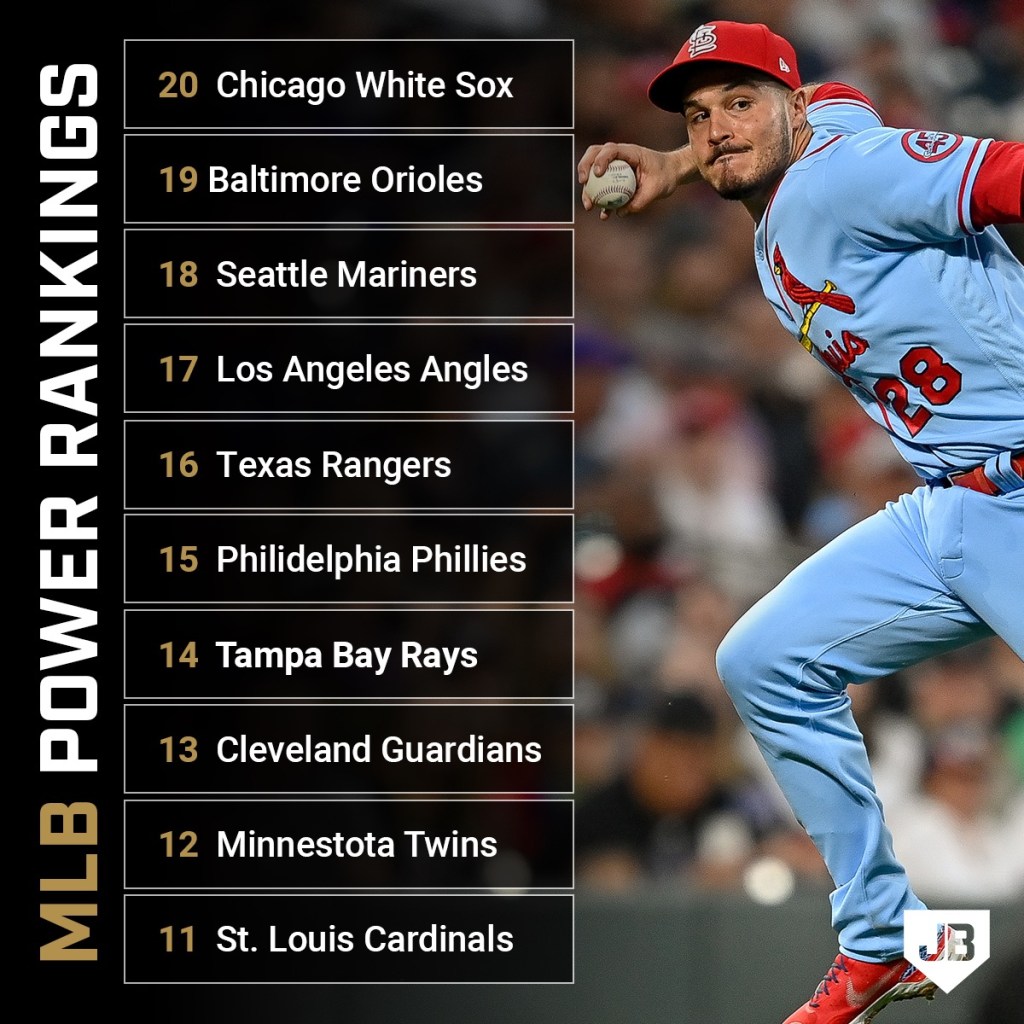 11. St. Louis Cardinals (Previous Ranking: 8)
The Jack Flaherty conundrum could become the most telling point of this season for the Cardinals. How do President of Baseball Operations John Mozeliak and General Manager Mike Girsch fill the void Flaherty leaves in the rotation? Will there be a deal for Frankie Montas or Luis Castillo on the horizon? If Flaherty can return, will he be able to co-front the rotation with Adam Wainwright effectively? A lot of question marks. No question mark here: Paul Goldschmidt put up a 1.063 OPS in June. He's the MVP frontrunner in the National League.
12. Minnesota Twins (Previous Ranking: 10)
This team seems to be a mystery. On one side of the coin, Luis Arraez and Jorge Polanco both hit comfortably over .300 in June, and propelled the offense to some quality wins. On the other side, the pitching staff has been littered with inconsistency as of late, and they'll be without their steadying force moving forward, as pitching coach Wes Johnson made the move back to the college ranks to hold the same title at LSU. If the Twins remain steady, the Guardians may just catch them.
13. Cleveland Guardians (Previous Ranking: 15)
It's really close. This was absolutely an intentional stacking of Minnesota at No. 12 and Cleveland at No. 13. Josh Naylor's infectious energy after a walk-off home run on Wednesday embodies what this Guardians offense has been about in June; under-the-radar performers playing a ferocious style of baseball that's become too successful to brush aside for much longer. Amed Rosario hit .360 in June. Steven Kwan and Andres Giménez weren't slouches, both logging on-base percentages north of .400. Zach Plesac has a 2.10 ERA over his last five starts. And, in 15 appearances in June, Emmanuel Clase saved 11 games in as many attempts, allowed just seven hits, and walked no one while striking out 16. This team should be buying, and they could be contending.
14. Tampa Bay Rays (Previous Ranking: 11)
Tampa may be at a crossroads this year. Shane McClanahan somehow ticked up across five June starts, logging a 1.36 ERA and posting a 42/4 K/BB ratio. However, Wander Franco played just four games in June, and Brandon Lowe hasn't appeared in a game since May 15. It would be one thing if Tampa was in a holding patter waiting to get healthy in another division. However, the AL East is as much of a gauntlet as we've seen in recent memory. July marks a sink-or-swim point for every team in the game, and Tampa may be going down if they don't make moves to bolster before the 31st.
15. Philadelphia Phillies (Previous Ranking: 14)
Oy. First, the Girardi firing. Then, the Phils got hot! Bryce Harper was playing like a guy who could've risen to the top of a thin MVP race in the National League. Then, Harper got caught on the thumb by a Blake Snell fastball, and Philly will be without one of the most impactful hitters on the planet for at least the next month. The great thing about the Phillies situation is that Aaron Nola is finally starting to dial it in to what everyone knew he was capable of; both he and Zack Wheeler had ERA's hovering around 2.50 in June. Offensively, Rhys Hoskins and Kyle Schwarber just wrapped up 1.000 OPS months as we move into July. But again, what's this team's ceiling without Bryce Harper?
16. Texas Rangers (Previous Ranking: 19)
If you scroll a teensy bit, you'll notice that we have not one, not two, but three AL West teams stacked here. This division has been an utter disappointment. I wouldn't have expected the Rangers to be second in the division at this juncture, but credit to them: they've been average while everyone else not in Houston has stunk. One player to highlight: Adolis García. García, in 26 games in June, hit .314 with a .929 OPS.
17. Los Angeles Angels (Previous Ranking: 16)
Hoo boy. I won't get too deep into this team. Mike Trout and Shohei Ohtani had incredible Junes; Trout slugged .679 across 24 games, while Ohtani had a .972 OPS and a 1.52 ERA across five starts. With all of the good, Luis Rengifo hit fifth for the Halos on Wednesday night. Barf.
18. Seattle Mariners (Previous Ranking: 20)
The Angels have been the bigger disappointment, but it's been a slow decline to where the Mariners are now. Credit to the bullpen, which has looked mightily formidable over the last month. Julio Rodriguez could be the leader in the clubhouse for the AL Rookie of the Year by month's end, and Cal Raleigh just put together an exceptional month, but how much do we really trust this team's ability to string quality wins together? We simply haven't seen it yet this year, and I'm not sure we will this season.
19. Baltimore Orioles (Previous Ranking: 24)
The Orioles are hot! Cedric Mullins has caught fire, while Ryan Mountcastle continues to slug and Adley Rutschman is finally starting to find his footing in his first taste of Major League Baseball. On the hill, Felíx Bautista has become one of the most overpowering relievers in the game, not allowing a single earned run across 12 appearances in June. This year, especially in the AL East, is a non-contention year. However, we may be looking at an 80-win fifth place team come season's end. What a rapid ascension for this club.
20. Chicago White Sox (Previous Ranking: 17)
And the award for biggest disappointment of the year goes to! At the start of the year, the bats weren't complementing effective work from the starting rotation. This past month, the script has flipped; Michael Kopech had an ERA over 5.00 across six starts, Lance Lynn posted a 6.19 ERA through his first three starts of the year, and Lucas Giolito has been abysmal as of late. Offensively, the health luck has continued to take horrible turns. José Abreu and Andrew Vaughn have torn the cover off the ball over the last 25 games, but in a perfect world, they play the same position.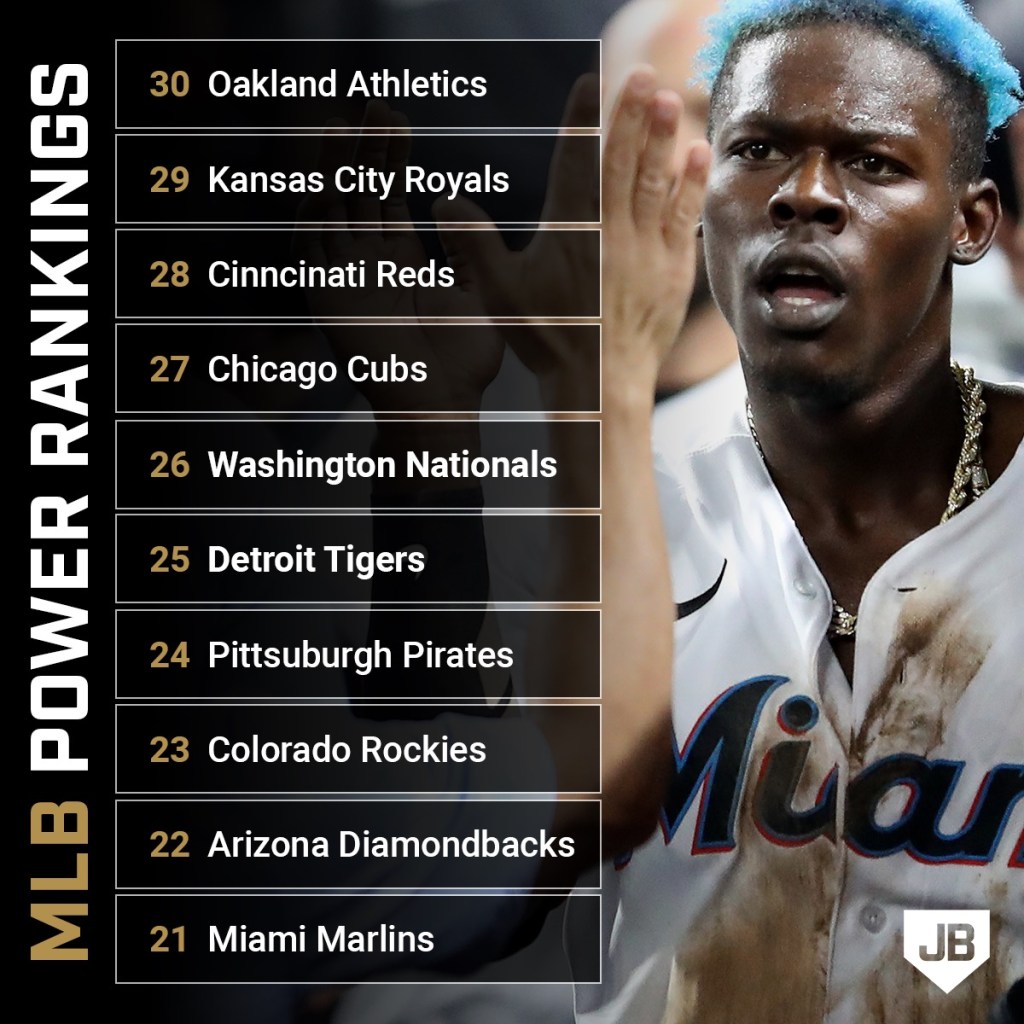 21. Miami Marlins (Previous Ranking: 18)
What Sandy Alcantara is doing this year is truly special, and we should be making him must-watch TV every time he toes the rubber. His ability to morph his arsenal and his method of attacking hitters with the purpose of finishing games that he starts is something that we've only seen from pitchers that are locked in to busts in Cooperstown, New York. While Sandy has been the best pitcher on planet earth this year, the offense has been…meh. Credit to Garrett Cooper, who hit .378 in June. Everyone else, meh.
22. Arizona Diamondbacks (Previous Ranking: 21)
After a pleasant surprise of a start to 2022, the Diamondbacks have fallen back to the level of mediocrity that we've come to expect over the last couple of seasons. There hasn't been a standout performer in the positive over the last month, to be completely honest. Among Diamondbacks hitters that logged 10-plus games in June, more of them hit under .200 (eight) than over (five). All in all, get Christian Walker to the All-Star Game.
23. Colorado Rockies (Previous Ranking: 22)
All hail Connor Joe's .412 on-base percentage in June! Charlie Blackmon got hot, hitting .308 with five home runs and 18 runs driven in over the past month, but there hasn't been much going right for them on the mound as of late. The Rockies should get out of the cellar with Kris Bryant back from the Injured List, but this is yet another year of the Rockies lacking ability to get to the .500 marker.
24. Pittsburgh Pirates (Previous Ranking: 23)
Pirates baseball is much more enjoyable to watch on July 1 than it was on May 1. Young talent has fully infiltrated the roster, with Oneil Cruz assuming the everyday shortstop role and Jack Suwinski having as surprising a rookie campaign as there's been in baseball. However, the pitching staff hasn't pulled their weight. It took until the last day of June for J.T. Brubaker to collect the seventh win on the season for Pittsburgh's starting rotation, far and away the fewest in all of baseball. Not to mention, the new role that the Pirates have for David Bednar, going long relief every few days instead of the prototypical closer role, is failing miserably. There's more room to grow.
25. Detroit Tigers (Previous Ranking: 27)
Riley Greene's arrival injected life into this lineup, and it started to show in the back half of June. While Spencer Torkelson is still struggling, Javier Báez has started to click. Also, the new Miguel Cabrera is objectively hilarious; of the 27 hits in June that Miggy collected, 26 were singles. The lone extra base hit was a double, netting him a .314 average and a .326 slugging percentage. Bless you, Miggy.
26. Washington Nationals (Previous Ranking: 28)
The lone appealing part of the Nationals' season seems to be the reports surrounding Juan Soto extension talks. While we know that Soto rejected an extension offer in February, Héctor Gómez reported that Soto was offered a 13 year, $425 million extension. Jesse Dougherty of the Washington Post and Britt Ghiroli of The Athletic both refuted the numbers that Gómez floated. Ahh, the stove.
27. Chicago Cubs (Previous Ranking: 25)
Cubs President of Baseball Operations Jed Hoyer branded their offseason moves as a "re-tooling" instead of a true rebuild. I think he may have missed the boat on that. In arguably the worst division in baseball this season, the Cubs have sputtered mightily, failing to string together consistent performances whatsoever. Good news! Seiya Suzuki homered in the first game of his rehab assignment!
28. Cincinnati Reds (Previous Ranking: 26)
The Reds, after looking like that horrific start was just a perfect storm, have again looked like a team that lacks any competitive fire over the last several weeks. Brandon Drury's .333 batting average and 1.003 OPS in June should have him slated for his first All-Star game, but the end of this month should signal the end of Luis Castillo and Tyler Mahle's Reds careers.
29. Kansas City Royals (Previous Ranking: 29)
Bobby Witt Jr.'s starting to really get going, and immediate fan favorite Vinnie Pasquantino made his Major League debut last week, but this team simply does not have any pitching worth noting. Hard to not be one of the three worst teams in baseball when you have close to zero talent taking the mound at any point.
30. Oakland Athletics (Previous Ranking: 30)
The team that has stopped trying entirely. Paul Blackburn, Frankie Montas, Ramon Laureano, and Sean Murphy should not be on this team by month's end. They deserve better.