News
Kansas City Royals Promote Top Prospect Vinnie Pasquantino
On Monday, the Royals traded first baseman Carlos Santana to make way for top prospect Vinnie Pasquantino.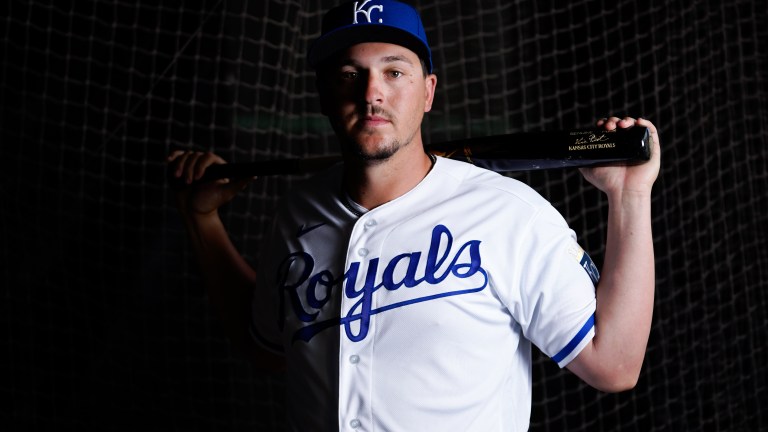 After losing last night, the Kansas City Royals fell to 20 games under .500 for the season at 26-46. With any realistic shot at making the playoffs out the window, now is the time to focus on their rebuild and that means giving opportunities to young players who could be building blocks of the future.
No move is more indicative of that philosophy than when the Royals did yesterday, trading veteran first baseman Carlos Santana to clear a spot in the everyday lineup for top prospect Vinnie Pasquantino.
Santana signed with the Royals prior to last season on a two-year, $17.5 million contract. The 36-year-old struggled across his tenure in KC, hitting just .215/.326/.341, with 23 home runs over 210 games played.
The Royals sent Santana over to the Seattle Mariners in a trade yesterday, paying $4.3 million of his remaining salary in a exchange for a pair of depth arms in right-handers Wyatt Mills and William Fleming. The real story here though is Pasquantino.
This move was strictly made to get their slugging prospect in the lineup, as Pasquantino joins fellow top prospects Bobby Witt Jr. and MJ Melendez, who have also graduated this year.
An 11th-round draft pick in 2019, Pasquantino posted a wRC+ over 150 in each of his first three stops in the minors. In 2019, he hit .294/.371/.592 with 14 home runs in 57 games played in Rookie Ball. Last season, Pasquantino split his season between High-A and Double-A, mashing 64 extra-base hits in 116 total games played.
The Royals opted to start the 24-year-old first baseman in Triple-A this season, where he once again showed his ability to rake at every level. Across 69 games played, Pasquantino hit .280/.372/.576, with 18 home runs, 16 doubles and two triples.
Pasquantino scored 51 runs, drove in 67 and posted a wRC+ of 144 that was the second-best mark in the International League behind only Alec Burleson (who joined the Call-Up yesterday) this season. There is no doubt his bat is ready to play at the next level. Now its just time for Pasquantino to prove it.
Scouting Report
This offseason, Vinnie Pasquantino was one of the prospects that cracked our top 100 prospect list, coming in at No. 98. Here is what Aram Leighton had to say about Pasquantino's potential and why he made the top 100 this season.
98. Vinnie Pasquantino – 1B – Kansas City Royals
Age: 23 | Height/Weight: 6'4′, 240 | Bat/Throw: L/L | 11th Round (319), 2019 (KC) | ETA: 2023
| | | | | | |
| --- | --- | --- | --- | --- | --- |
| HIT | RAW POWER | GAME POWER | RUN | FIELD | FV |
| 65/70 | 60/60 | 50/55 | 30/30 | 45/50 | 50+ |
One of the most overlooked bats in the minors, Vinnie Pasquantino has done nothing but rake at every single stop. A fan favorite in the making whose bat will have to carry him, but it shouldn't have any issue doing so.
2021 Stats (A+/AA): .300/.399/.551, 24 HR, 68 XBH, 153 wRC+, 12.9 K%, 13.2 BB%
Offense
Open stance into a toe tap that gets him back closed while keeping weight back before unleashing with an explosive lower half. Pasquantino always had the bat-to-ball skills, but answered the questions about his power output with 24 homers in 2021.
What is really impressive about Pasquantino is his ability to repeat movements. His swing is so consistent and there is no wasted energy. Pasquantino's elite body control helps him almost always be on time and get to tough pitches. Pasquantino's feel to hit blended with his more developed power is hard to find; the first baseman was the only prospect in the entire minor leagues to have a 1.00 K/BB ratio or greater and more than 20 home runs. If 24 home runs wasn't enough to be sold on Pasquantino tapping into plus pop, he produced consistent exit velocities in the top five percent of the minors.
An 11th round pick out of Old Dominion in 2019, Pasquantino just wasn't going to be on top prospect radars unless he put up monstrous numbers. He has did just that in 2021, yet we are not seeing him ranked by the industry where he should be. Those who I have spoken to who played against Pasquanino marveled at his approach and polish at the plate. Pasquantino has the potential to hit in the .280 range with a high on-base and 20+ homers, and his floor doesn't seem too far off from that.
Defense/Speed
At 6-foot-3, 240 pounds, Pasquantino is not the most nimble, but he does have soft hands defensively at first base. His foot work is good enough and he is good with the glove, whether it's digging balls out of the dirt or smothering grounders. Speed will not be a part of his game, but Pasquantino is a smart base runner.
Outlook
Pasquantino excels at the most important aspect of baseball, making consistently hard contact and getting on base. There is not a freakish tool to dream on and he is a first baseman, which is what causes him to be a victim of what I like to call the "Ty France Effect"–in other words, we ignore steady offensive production as it pertains to prospect rankings because of defensive limitations or a lack of jaw-dropping tools.
In a game that is riddled with so much swing and miss, players like Vinnie Pasquantino are incredibly undervalued. In fact, Pasquantino and Jose Miranda of the Twins (No. 56 prospect) were the only two prospects in baseball with more than 20 home runs and a K% below 13%. Pasquantino is as safe of a bet as you're going to find in the minors to be able to hit at the highest level.