Analysis
Unlikely All-Star: David Bednar's Rise to Top-Tier Closer
Dating back to 2021, David Bednar has been one of the most elite relievers in the game. Could this be the first season where he is recognized as an All-Star?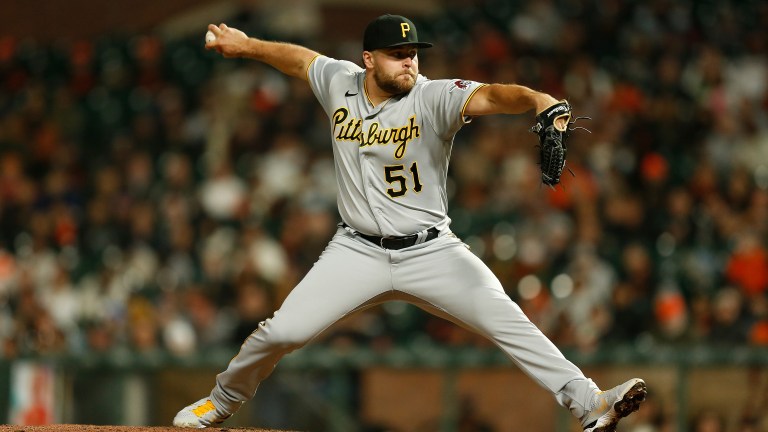 Moving on with our unlikely All-Star series, next stop is Pittsburgh. The Pirates are a young team filled with blossoming talent. Unfortunately, this hasn't resulted in much success in 2022.
Sitting at 29-44, third place in a mediocre NL Central, with a staggering -100 run differential, it's been a rough year. However, each team must have an All-Star. And while this team hasn't been incredible, there have been some standout talents.
Center fielder Bryan Reynolds is finally starting to heat up after an abysmal start to his season. Recently back from injury, Ke'Bryan Hayes has had a solid start to the year with incredible efficiency on both offense and defense. And the phenom, Oneil Cruz, has lit the league on fire during his short stint in the bigs thus far.
Despite all of this, there is only one guy that fully deserves the nod to attend the Midsummer Classic representing Pittsburgh. And that man is David Bednar, the 27-year-old Pirates closer who has been lights out this season. Bednar is quietly becoming one of the best relievers in the game, and it's time we start putting more respect on his name.
David Bednar's All-Star Case
2022 Stats: 35.1 IP, 1.78 ERA, 2.39 FIP, 11 SV, 36% K%, 7.4% BB%
Being a closer for a struggling team can have it's clear disadvantages. If your team isn't presented with a save opportunity, it can become difficult to rack up numbers in that category. For some context, Bednar ranks just 19th in that department, with half the amount of saves as the league leader Taylor Rogers. Despite this, Bednar has been incredible this season.
In his 28 appearances, Bednar has struck out 49 hitters, good for a 36% K rate. His 1.78 ERA ranks as the eighth-lowest in MLB among relievers who have thrown more than 30 innings. And Bednar is rarely walking the opposition, with just a 7.4% walk rate.
Adding 1.1 fWAR to this Pirates team this season, he's been incredible in big spots. We saw a glimpse of this in 2021, as he accumulated just a 2.23 ERA over his 61 appearances last year. A dip in his ground ball percentage from 41.4% to just 31.4% has been replaced by an increased amount of strikeouts. His strikeouts per nine has increased from 11.42 to 12.48, ranking in the 98th percentile in strikeout rate on Baseball Savant.
Speaking on his Savant page, it's gorgeous. Bednar ranks in the 98th percentile or above in expected ERA, whiff percentage, expected batting average, xwOBA, and fastball velocity. He's typically using a two-pitch mix, including a fastball and a curveball, and a splitter that he's only throwing 13.8% of the time.
His fastball in particular, he's throwing an insane amount at 56.6%, with 27 of his 49 strikeouts coming from the pitch. Opposing hitter's are hitting just .045 against his curveball, with just a single hit coming off the pitch this season. With his fastball averaging 96.6 MPH and his curveball an entire 22 MPH lower at 77.3, it's impossible to get a read on this guy. He's been incredible.
As I mentioned before, Bednar has the ability to strikeout hitters at an elite rate. His strikeout per nine numbers are up there with some of the best in baseball, including Josh Hader, Liam Hendriks, and Kenley Jansen. Among relievers, his 1.1 fWAR ranks as the 11th-highest in baseball, higher than the save king Taylor Rogers. He's been up there with some of the best.
A potential deadline trade chip?
It's no secret that the Pirates have struggled in 2022, so it wouldn't at all be shocking if Pittsburgh decided to move on from Bednar at the deadline to accumulate more young talent. He's still under team control for the next four seasons and won't even hit arbitration until 2024. And with his asking price possibly at an all-time high, it might be the perfect time for Pittsburgh to sell.
The Pirates are clearly all-in on a youth movement. With the likes of Hayes, Cruz, and Contreras blossoming before our eyes, they want to invest in prospects that will be ready in the next couple of seasons. It'll be difficult in their division's current setup to attempt to compete. Both St. Louis and Milwaukee have squads that are ready to contend, and Pittsburgh doesn't have the assets to keep up. With the futures of both Cincinnati and Chicago up in the air, they could make a run for it soon enough. But not now.
Bednar would likely demand an egregious package for his services. I mean, he's been one of the best pitchers in baseball this year. Pittsburgh would be getting back a solid package for the reliever. And while it would hurt to see him go, it could pan out in the end for this young team.
Another factor that could play into Bednar's value is his ability to go multiple innings. There have been a few occasions where he's thrown longer than an innings, stepping out of the traditional closer's role. An outing against St. Louis two weeks ago saw the closer throw 43 pitches over 2 1/3 innings, earning him the save. That provides real value for one of the best bullpen arms in the game. For team's that already have a solidified closer, this could be a huge addition for them.
Bednar's potential landing spots
There are a multitude of clubs that would be interested in trading for the reliever at the deadline. Many contenders are actually in need of some serious bullpen depth. There's a few teams that I have in mind who would be perfect trade partners with the Pirates.
Teams like Boston, Toronto, Philadelphia, St. Louis, and the Dodgers would all certainly be interested. While most of these teams have solidified closers (outside of the Phillies), Bednar could become a real asset to one of these teams. Four of these clubs will certainly make the playoffs, with Philadelphia looking to bolster their bullpen in an attempt to make a push towards October.
Both Toronto and Boston are easily in need for some help at the back-end. The Blue Jays especially will be in the market, as their 4.36 ERA among relievers is the seventh-worst mark in all of baseball. For a team that has incredibly high aspirations, that will be a need they will be forced to address in the next month. The Cardinals would be looking to push themselves over the edge with this move, but a deal to a division rival seems unlikely. And the Dodgers…well they're always in play for anyone.
My pick would be Philadelphia here. With a glaring need in their bullpen, Bednar would fit right in with the Phillies. The Pittsburgh native wouldn't have a far commute and seems like the easiest option. The only question is if the Phillies have enough in the farm to get a deal done.
The Pirates have a tough decision to make. With one of the most elite relievers in the game on their roster, should they cash in? I believe they will. And whoever gets this David Bednar will reap the benefits. Regardless though, this man deserves to be an All-Star. No matter what.