Analysis
Five MLB Trade Deadline Targets With Proposals
Some of the most likely names to be moved at MLB's Trade Deadline and what a deal could look like for each of them.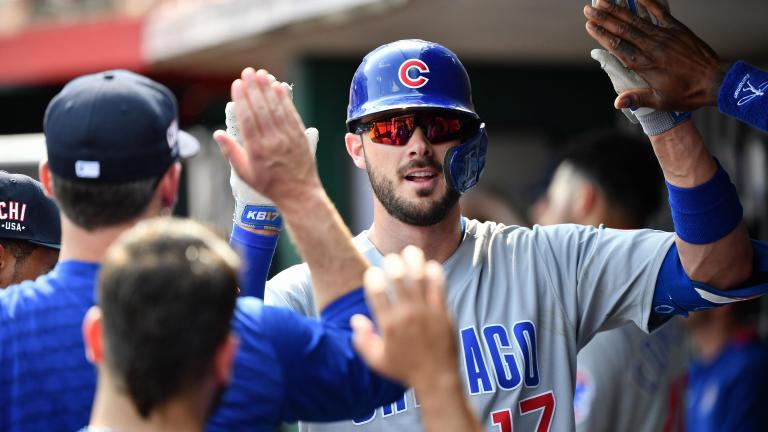 As it seemingly always does, the MLB Trade Deadline is sneaking up on us, just a little over a week away. A handful of teams are clear-cut sellers, while some others are a bad week away from likely heading into that category as well. Lets take a look at some of the best and most likely players to be dealt at the deadline.
Eduardo Escobar – INF – Arizona Diamondbacks
Trade Probability: 100%
Suitors: White Sox, Red Sox, Yankees, Mets, Anyone
Price: Low-Moderate
There have reportedly been been ongoing talks between the D-backs and White Sox regarding Escobar, after the Sox found out that they will be without second baseman Nick Madrigal for the remainder of the season. Escobar would add power and versatility to any team who acquires him, having already hit 18 homers while splitting time between second and third base.
Escobar doesn't walk much at all, sporting just a .290 OBP on the season and a .307 mark for his career. Despite his low OBP, Escobar's 30+ home run pace as a switch-hitter earned him the right to represent the Diamondbacks in Denver for the All-Star Game.
A free-agent after this season, it seems like a no-brainer for Diamondbacks, who own MLB's worst record, to deal the 32-year-old in the next few weeks. Escobar is owed $7.6 million this season, making his contract a bit expensive, but not a deterrent for most teams who would be interested. That being said, if the D-backs were willing to eat some of his remaining salary, it could facilitate a slightly better prospect return. Regardless, I wouldn't expect much more than a couple middle top 30 prospects for him.
Trade Prosposal:
Red Sox: Eduardo Escobar
Diamondbacks: Jay Groome, Jeisson Rosario

Trevor Story – SS – Colorado Rockies
Trade Probability: 90%
Suitors: White Sox, Yankees, Phillies, Reds
Price: High-Moderate
The Rockies are another team that is no-doubt going to sell. With Story set to be a free agent after this season, trading Story only makes sense for the Rockies. While story may be the biggest name on the market, he likely will not be the most expensive, due to his rental status.
The relatively reasonable price of Story should allow for plenty of teams to be "in" on the star shortstop. The White Sox have already been tied to Story and make a lot of sense with Madrigal out for the season. With Eloy Jimenez nearing his return and Luis Robert not too far behind, adding Story's bat to the White Sox middle infield would give them a lineup that would stack up with any team in baseball.
All indications point towards the Yankees buying. The team desperately needs outfield help, but could probably benefit from finding a true shortstop as well. Despite a roller coaster of a season, the Yankees are still only 3.5 games back of the AL Wild Card. I expect the Yankees to kick the tires on several players, but Story would be the biggest splash at perhaps not the steepest price.
With Dave Dombrowski calling shots, it's safe to say the Phillies will buy. The Braves season is all but over with the injury to Ronald Acuña to cap off a year from hell, and the Mets are only two games up on the Phillies, but just lost Jacob deGrom and Francisco Lindor to the IL. The stars are aligning for the Phillies to make a splash, but their system is not the deepest.
The only reason Story's trade probability isn't 100% is because the Rockies sometimes make decisions that make no sense. For example, trading Terrin Vavra and Tyler Nevin for Mychal Givens, a 31-year-old reliever, last year as a team that is in full rebuild mode.
Trade Proposal:
White Sox: Trevor Story, Daniel Bard
Rockies: Matthew Thompson, Blake Rutherford, Yolbert Sanchez
Starling Marte – OF – Miami Marlins
Trade Probability: 99%
Suitors: Yankees, Astros, Giants, Phillies
Price: Moderate
After Craig Mish reported that extension talks between the Marlins and Starling Marte are over, It's officially time to fire up the Marte trade proposals. There should be no shortage of interest in the Marlins centerfielder who is putting up great offensive numbers in one of baseball's most pitcher friendly parks, complemented by premium defense in center, and great base running.
Marte is set to become a free agent after this season, so his rental status will temper his value. However the fact that he is likely the best centerfielder on the market, with a great track record, should encourage more desperate teams to "overpay" in a bidding war.
The Yankees need a left handed hitter, but an outfielder with speed and power would be a game changer in the Bronx. The Astros already have baseball's best offense, but there's no disputing the upgrade Marte would provide over Myles Straw. The Giants could easily look for a veteran bat to keep their momentum rolling, and are a team that lacks athleticism. As for the Phillies, they've seen first hand what Marte can do this year. The Marlins shouldn't be to worried about trading a rental to a division rival.
Trade Proposal:
Yankees: Starling Marte, Ross Detwiler
Marlins: Estevan Florial, Josh Breaux, Beck Way

Kris Bryant – 3B/OF – Chicago Cubs
Trade Probability: 80%
Suitors: Mets, Nationals, Brewers, Giants
Price: High-Moderate
What do you know? Another rental! Kris Bryant will finally hit free agency after this year and should be in line for a nice payday. It is worth noting though that KB hit a wall after a torrid start to the season. Bryant hit just .114 in 23 June games, but has shown signs of life again in July, with an .840 OPS.
Bryant is a lefty killer (1.102 OPS) and has been about .140 OPS points better away from Wrigley Field this year. The former MVP also provides versatility, with the ability to play third base, corner outfield, and even first base. Despite his rental status, Bryant could command a larger return than all of the aforementioned players.
The Mets, who are in first place by just two games, have been decimated by injuries and could look at Bryant as the boost they need to keep pace fr the Phillies. The Nationals are said to be buyers, having been linked to several players on the market. Now that Starlin Castro could be gone for the foreseeable future, the Nationals could look to fill their third base vacancy. That being said, the Nats are six games back, with Kyle Schwarber and Stephen Strasburg on the shelf, so their buyer's confidence could change day to day.
Again, the Giants need a little jolt to outpace the Dodgers and Padres. Evan Longoria was just transferred to the 60-day IL, so San Fran could definitely benefit from acquiring a third baseman. Longoria should be back for the end of the regular season, in which case you can slide Bryant to a corner outfield spot.
The Brewers may be interested as well. Milwaukee doesn't have a ton of assets, but they can probably swing a deal for Bryant. The Brewers have enviable pitching, with Woodruff, Burnes, Peralta, and Hader in the back end, but need some help offensively. Christian Yelich should get things going, Lorenzo Cain comes off of the IL soon, and corner infield help could put this team over the top.
Trade Proposal:
Giants: Kris Bryant
Cubs: Jairo Pomares, Ricardo Genovès, Averson Arteaga
Joey Gallo – OF – Texas Rangers
Trade Probability: 85%
Suitors: Yankees, Padres, Phillies, Rays
Price: High
There are probably more teams who could hop into the Joey Gallo sweepstakes, but from a prospect perspective, not every team will be able or willing to meet the Rangers asking price. Gallo has seemingly been on the block for years, but the Rangers ridiculous asking price has kept him in Arlington.
The clock is ticking for the Rangers to cash in on their most valuable asset. Gallo enters his final year of arbitration next season, so comes with a year of control for any team that is looking to solve their corner outfield issues beyond the last few months of this season. Given the Yankees nonexistent production from left handed hitters, Gallo to the Bronx may make the most sense. For the Yanks to get Gallo, any deal will likely have to start with one of Deivi Garcia, Oswald Peraza, or Anthony Volpe. No Yankees fans, Andujar and Frazier won't get it done.
The Rays could be a sneaky team here, they'll no doubt be enticed by the affordable year of control Gallo comes with along with his premium defense, which the Rays value as much as any team. The Rays would have no problem meeting the Rangers asking price if they wanted to, and recently made a swap with Texas ahead of this season when they sent Nate Lowe to the Lone Star State.
The Phillies will have a tough time meeting the asking price, but Gallo would be absurd with the short porch in Citizens Bank Park. I'd argue that the Phillies would would be better off making a move for a bullpen arm and an outfielder, since getting just Gallo would deplete them of most of their tradable assets.
The Padres are always a possibility as well. Their system has been drained a bit after the myriad of moves the team has made to win now, but San Diego has more than enough assets to get something done.
Trade Proposal:
Rays: Joey Gallo
Rangers: Xavier Edwards, Joe Ryan, Ian Seymour