Feature
Sandy Alcantara is the Best Pitcher in Major League Baseball
Alcantara's lights-out stuff and ability to go deep in games separates him from the pack.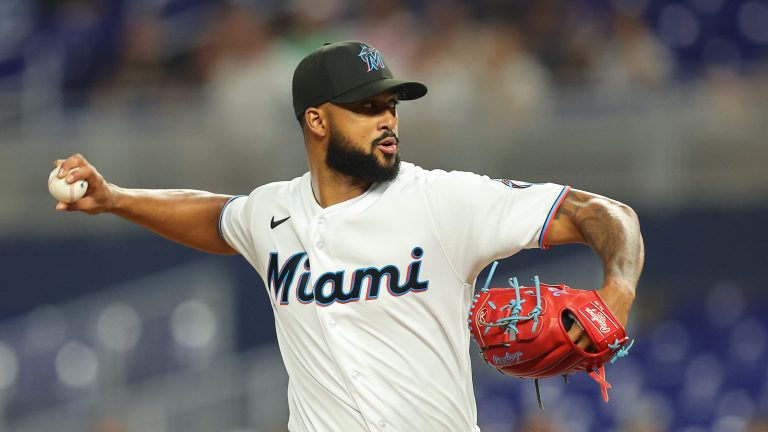 Sandy Alcantara is the best pitcher in Major League Baseball.
It's time we all admit it. The Marlins' ace is on one of the most impressive runs by any pitcher in recent memory, and it deserves our undivided attention when he's on the mound.
Alcantara just finished up a streak of eight straight starts where he had gone seven-or-more innings and allowed two-or-fewer earned runs, the longest such stretch since Félix Hernández in 2014. He has allowed more than two earned runs just twice all season after a five-run outing on Friday night. He still managed to go seven innings, and the disastrous—by his standards—start ballooned his ERA to 1.95, still second among qualified starters.
Before his last three starts, where he allowed two-or-more earned runs in each of them, he was on a run of six straight with seven-plus innings pitched and less than one run allowed. That streak was matched only by Jake Arrieta in 2015 and Clayton Kershaw in both 2014 and 2016. Arrieta won a Cy Young in 2015, while Kershaw hauled in a Cy Young and MVP in 2014.
One could make the case for Sandy to win NL MVP, but I will not be the one to do it. However, I will say this: Alcantara leads all Major League pitchers in Win Probability Added (WPA), and is second among starting pitchers in fWAR, only to Toronto's Kevin Gausman.
And that WPA? Alcantara's 2.97 WPA is the fifth best mark among all players; position players or pitchers. The next best qualified pitcher? Alek Manoah at 2.32. No arm in baseball is giving their team a better chance to win than Sandy Alcantara right now. He is that good.
Turning Back The Clock
The main reason that Alcantara is adding so much value is because he is doing something that is a lost art in today's game: pitching deep into games. His 106 1/3 innings are the most in baseball by nearly 10 innings (Aaron Nola is second at 96 2/3 IP). Alcantara has gone seven-or-more innings in 10 of his 15 starts this season, becoming arguably the lone true "horse" left in Major League Baseball.
Every time he gets the ball, he wants to finish the game. And, he is almost always in position to do so. Before throwing 96 pitches on Friday, Alcantara had gone over 100 pitches in seven straight starts and eight of his last 10. In three of those, he eclipsed the 110-pitcher mark, topping out at 115 pitches in a complete-game win against the Braves on May 22. He has gone nine innings in two starts, one of which ended in the Marlins having to walk it off in the 10th.
Alcantara is constantly pitching in high-leverage spots and coming through for his team. He notoriously gets poor run support from the Fish, meaning he has to consistently make big pitches in big spots. The durability it takes to pitch that much, and under that much pressure, every fifth night is unmatched in the sport right now.
Pitching is not like it used to be. I don't often yearn for yesteryear, but indulge me for a minute. I miss the "horse"; the guy who wants to finish it off every night. Call me old-fashioned, but I hate openers, bullpen games, and five-inning starts where a guy throws 70 pitches.
Complete games are an art form. They mean that not only a guy was dominant, but he was efficient enough to last the whole game. Sandy is bringing back the art of the complete game, and makes it look as beautiful as anybody.
Arguably the most impressive thing about Alcantara is that he dominates in multiple ways. One night he is the new-wave guy, dominating with high heat, a big slider, and a disgusting changeup. He racks up strikeouts and looks absolutely un-hittable.
Other nights, he becomes the second coming of Greg Maddux, while casually touching 101 miles-per-hour. Early in his career, it became a concern that Sandy did not rack up high strikeout numbers. Now, it has become clear that despite his electric stuff, he is at his best when he is forcing soft contact and rolling ground balls. Alcantara has struck out more than 10 hitters just once this season—a career-high 14 on May 28 in Atlanta—but forced 10-plus ground balls eight times.
He is as dominant as any guy who puts up big strikeout numbers, and likely has better stuff. He just pitches in a way that allows him to go deeper into games than anybody else.
A fair comparison for Alcantara's dominance is a guy like Justin Verlander; they only get better as the game goes on. You will often find Sandy saving gas early, which allows him to unleash it late. It is quite common to see him hitting 100 or higher in the late innings.
Watching Sandy Alcantara is a wonderful blast from the past mixed with new-wave electricity. Every five days, you know you are in for something special. He is must-watch television every time out.
Get Sandy Alcantara Some Help
Sandy Alcantara is a mystical case in lacking run support for your best starter. Remember when Jacob deGrom won the Cy Young with a 10-9 record? This might be worse. The Marlins are 9-5 on #SandyDays, but it's the blips of offensive incompetence that infuriates fans.
Earlier this year, Alcantara pitched eight shutout innings against the Cardinals. The Marlins lost 2-0. Against the same opponent last season, Alcantara let up a walk-off with two outs in the ninth. The Marlins lost 1-0. I already mentioned the nine-inning shutout, and that game finished 2-1 in the 10th.
The most recent example came in Philadelphia on June 13. Alcantara battled valiantly to get through 7 2/3 innings despite not having his best stuff. The Marlins were leading 2-1, and Sandy was at 113 pitches with two outs in the eighth. Didi Gregorius, a lefty, was coming up and Alcantara issued two walks to start the inning. Don Mattingly went to the pen for southpaw Steven Okert to face Gregorius. A respectable matchup move to force the lefty-on-lefty scenario.
Except this is Sandy's luck, so everybody knew what came next. Okert hung a slider on the first pitch to Didi, and he lined it into the corner to tie the game. The Marlins went on to lose 3-2. After getting pulled, we saw a side of Sandy we do not often see.
Sandy is a fierce competitor. I was recently in the Marlins clubhouse before one of his starts. I did not want to disturb him too much as he went through his phone in a calm and stoic manner, but I wanted to see where his head was at.
"You ready?", I asked him as I extended a fist. With a relaxed glare—confident, focused, yet friendly—he responded with a fist bump and a very simple response: "Always." He proceeded to throw nine shutout innings.
A stunning sign of his confidence came postgame when asked about how he limited superstar Juan Soto. He basically told the media he knew Juan Soto (yes, that Juan Soto) struggles with changeups, so he went after him with that.
This dude told the media he knows how to get Juan Soto out. JUAN SOTO!
In that same media session, manager Don Mattingly expressed his wish that Marlins would fill the stadium every time his ace starts. He said it should be the way it used to be when José Fernández would pitch at home, an event that draws an extra 10 thousand fans just because of who is on the mound.
The best way to do that is to start winning games. Help the man out and get him some offense! Win Sandy starts 6-1, instead of grinding out ugly 2-1 wins. I have only called for this in like six different articles on this very site.
Even if the Marlins do not improve and continue to make it hard on their ace, it is only more reason that Sandy Alcantara should be the runaway Cy Young winner at this moment in time. I mean, it is supposed to go to the best pitcher in the league, right?