Rankings
Best MLB Relief Pitchers in 2023
From shutdown closers to elite set-up men, here are the top 15 relievers heading into the 2023 Major League Baseball season.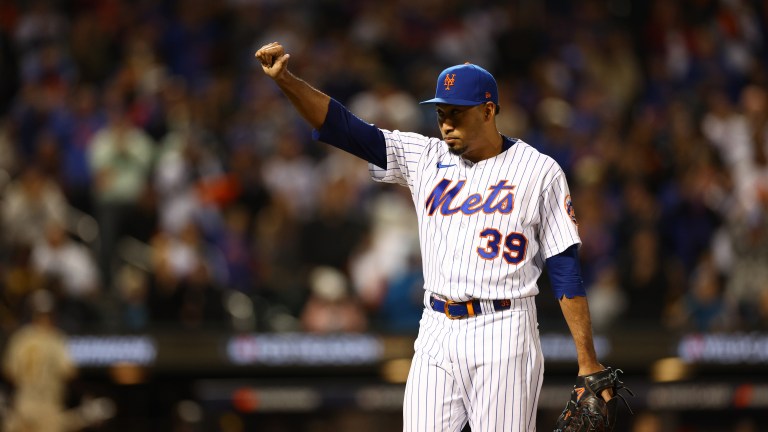 15. Evan Phillips – RHP – Los Angeles Dodgers
2022 Traditional Stats: 64 app., 7-3, 2 SV, 63.0 IP, 77 K, 15 BB, 1.14 ERA, 1.94 FIP
2022 Advanced Stats: 96.1 vFA, 2.2 fWAR, 33.0% K%, 6.4% BB%, 26.6% K-BB%, .153 BAA
After a nomadic start to his career, Phillips found a home and thrived in Chavez Ravine in 2022. Originally selected in the 17th round by Atlanta in 2015, Phillips was involved in the Kevin Gausman trade with Baltimore at the 2018 Trade Deadline after throwing 6.1 innings of six-run ball in a Braves uniform. After parts of three seasons in Baltimore where he accumulated a 7.36 ERA in 47.2 IP, Phillips was ultimately released and signed a Minor League free agent deal with Tampa. After being DFA'ed 10 days later, the Dodgers claimed him off waivers in mid August of 2021, and the rest was history.
Phillips led all pitchers who threw more than 40 innings with a 1.14 ERA, riding four pitches that all resulted in an opponent batting average under .200. While his slider was his most often-used pitch (which resulted in a 37% chase rate), his fastball performed best, as opposing hitters hit .105 with a .158 SLG in 46 plate appearances. Much like Alex Vesia in 2021, the Dodgers have spawned an unknown bullpen ace.
14. Camilo Doval – RHP – San Francisco Giants
2022 Traditional Stats: 68 app., 6-6, 27 SV, 67.2 IP, 80 K, 30 BB, 2.53 ERA, 2.98 FIP
2022 Advanced Stats: 99.4 vCU, 1.2 fWAR, 28.0% K%, 10.5% BB%, 17.5% K-BB%, .213 BAA
Boasting one of the most electric arms in Major League Baseball, Doval finished his first full season with a solid 2.53 ERA in just under 70 innings. While the 25-year-old did a much better job limiting the long ball in 2022, he did see a slight drop-off in K-rate and overall command, walking four hitters per nine innings.
While the eye-popping velocity of his cutter and sinker jump out to the typical viewer, Doval's best offering is his mid-to-high 80s slider, which opponents his .158 against in 2022. Doval did trim his usage of the pitch by nearly 15% from his 29 appearances in 2021 to nearly 70 last year, but the pitch did perform better across the board. If Doval can find command of his hardest stuff, he can quickly ascend near the top of this list.
13. Bryan Abreu – RHP – Houston Astros
2022 Traditional Stats: 55 app., 4-0, 2 SV, 60.1 IP, 88 K, 26 BB, 1.94 ERA, 2.12 FIP
2022 Advanced Stats: 97.3 vFA, 1.4 fWAR, 35.5% K%, 10.5% BB%, 25.0% K-BB%, .206 BAA
A true fastball/slider combination, Abreu unlocked all of his potential in his first full season in the Astros bullpen. Abreu mixes in a taste-breaker of a curveball to his repertoire, but his arsenal consists of 91% slider and fastball, with the usage being merely identical. During the 2022 season, Abreu threw 467 sliders and 462 fastballs.
The heater at 97 is enough to make a hitter respect it, but his out-pitch is undoubtedly the breaking ball. Opponents hit just .130 against it while whiffing nearly 51% of the time as he went to it nearly 40% of the time in two-strike counts. With a newly re-signed Rafael Montero and Ryan Pressly in the mix, Abreu creates arguably the best bullpen trio in baseball for a near-flawless team.
12. Jhoan Duran – RHP – Minnesota Twins
2022 Traditional Stats: 57 app., 2-4, 8 SV, 67.2 IP, 89 K, 16 BB, 1.86 ERA, 2.52 FIP
2022 Advanced Stats: 100.9 vFA, 1.5 fWAR, 33.5% K%, 6.0% BB%, 27.4% K-BB%, .203 BAA
Of all the arms to throw a single pitch in Major League Baseball in 2022, just two sat above 100 MPH with their fastball; Seattle's Andres Muñoz, and Minnesota's Jhoan Duran. Duran bested Muñoz by 0.6 MPH on average, resulting in some Major League hitters looking silly against his heater alone.
A full-time starting pitcher coming through the Minor Leagues, Duran had the chance to build out two secondary offerings that thrived. While his 96 MPH "splinker" caught Pitching Twitter's eye when it would cross the triple-digit threshold, high 80s power curveball was one of the best pitches in the game, limiting opponents to a .127 BAA and a 50% whiff rate. Duran may have been "demoted" from being a starting pitching prospect to a big league reliever, but he's got the makings of one of the most dominant closers in recent memory.
11. A.J. Minter – LHP – Atlanta Braves
2022 Traditional Stats: 75 app., 5-4, 5 SV, 70.0 IP, 94 K, 15 BB, 2.06 ERA, 2.13 FIP
2022 Advanced Stats: 96.6 vFA, 2.1 fWAR, 34.7% K%, 5.5% BB%, 29.2% K-BB%, .194 BAA
While several members of "The Night Shift," which rose to fame during Atlanta's 2021 World Series run, have come and gone (creator Luke Jackson is now in San Francisco, Will Smith is a free agent, and Kenley Jansen is in Boston after a one season cameo), Minter remains with Tyler Matzek and newly-minted member Raisel Iglesias in the Braves bullpen.
Minter has had up-and-down past couple seasons, owning an ERA over 7.00 in 2019, under 1.00 in 21 innings in 2020, near 4.00 in 2021, and just over 2.00 in 2022. In a "what have you done for me lately" position, Minter's excellent 2022 campaign reigns supreme, and he's one of the best left-handed relievers in baseball until proven otherwise.
10. Félix Bautista – RHP – Baltimore Orioles
2022 Traditional Stats: 65 app., 4-4, 15 SV, 65.2 IP, 88 K, 23 BB, 2.19 ERA, 2.91 FIP
2022 Advanced Stats: 99.3 vFA, 1.4 fWAR, 34.8% K%, 9.1% BB%, 25.7% K-BB%, .166 BAA
Every once in a while, one of the best relievers in a given season is someone that no one expects. 2022's example was Bautista, who went from making his High-A debut at 22 years old at the beginning of the 2021 season to dominating big league hitters for the entirety of 2022 as a 27-year-old rookie.
Bautista's breakout in the Minor Leagues was highlighted by 77 strikeouts and a 1.54 ERA in 46.2 innings, but command was a major issue, as he walked just under six hitters per nine innings. In his first big league season, Bautista trimmed his K/9 from 5.8 all the way down to 3.2.
Bautista's fastball sits at 99.1 MPH and had an opponent batting average of .202, but his main calling card is his high-80s splitter, which opponents were 8-92 against with 59 strikeouts. With such a young core of bats, the Baltimore Orioles have one of the best closers in the game anchoring a pitching staff that needs to be much improved in 2023.
9. Raisel Iglesias – RHP – Atlanta Braves
2022 Traditional Stats: 67 app., 2-6, 17 SV, 62.0 IP, 78 K, 14 BB, 2.47 ERA, 2.47 FIP
2022 Advanced Stats: 95.2 vFA, 1.6 fWAR, 31.7% K%, 5.7% BB%, 26.0% K-BB%, .201 BAA
Extended by the Angels in 2021 and traded at the 2022 deadline, Iglesias bounced back from a rough go on a sputtering Angels team to dominate in an unorthodox situation in Atlanta down the stretch. After logging a 4.04 ERA in 35.2 IP pre-deadline as a true closer in Anaheim, Iglesias allowed just one earned run in 26.1 IP as a set-up man for Kenley Jansen for the Braves, punching out 30 and walking just five.
The 33-year-old Cuban's mechanics and his ability to work down the mound towards the hitter allows his mid-90s fastball to play up and generate tons of swing and miss, but his four-pitch mix is the true separator between Iglesias and the common bullpen arm. While most relievers have a two-pitch mix that they may rely on, Iglesias goes to his four-seamer, slider, changeup, and sinker in any given count, as their each of their usage sits between 19% and 31%.
8. Liam Hendriks – RHP – Chicago White Sox
2022 Traditional Stats: 58 app., 4-4, 37 SV, 57.2 IP, 85 K, 16 BB, 2.81 ERA, 2.68 FIP
2022 Advanced Stats: 97.8 vFA, 1.6 fWAR, 36.2% K%, 6.8% BB%, 29.4% K-BB%, .203 BAA
An All-Star in each of his last three full seasons and a top-10 finish in Cy Young voting in the COVID-shortened 2020 season, Hendriks has been one of the best relievers in baseball longer than almost anyone on this list. After recently being diagnosed with non-Hodgkin's lymphoma, Hendriks may be forced to missed the entire 2023 season as he battles the disease and looks to get back on the mound.
Hendriks is an eccentric thinker that channels an absurd amount of visible energy into each and every pitch, reminiscent to tennis great Rafael Nadal and his signature grunts with each forehand. A mid-to-high 90s fastball with a 30% whiff rate jumps off the page, but it's his slider that is his best offering, limiting opponents to a 5-50 clip with 33 strikeouts and a 67% whiff rate in 2022.
7. Ryan Pressly – RHP – Houston Astros
2022 Traditional Stats: 50 app., 3-3, 33 SV, 48.1 IP, 65 K, 13 BB, 2.98 ERA, 2.31 FIP
2022 Advanced Stats: 94.5 vFA, 1.4 fWAR, 35.7% K%, 7.1% BB%, 28.6% K-BB%, .178 BAA
A solid middle reliever and set-up man in Minnesota for five and a half seasons before heading to the Lone Star State, Pressly's career trajectory spiked at the ripe age of 30 in his first full season in Houston. Four seasons, two All-Star appearances, and a World Series win later, and Pressly is one of the most well-respected closers in the game.
Pressly's an outlier from the rest of this group when it comes to fastball velocity, as he sits in the mid-90s. However, he goes to a slider that opponents slugged .182 against more often than his 2,500 RPM fastball, and spins a 3,300 RPM curveball to hitters 27% of the time as well. It may not look overpowering, but rest assured, his pitches are spinning and moving every which way.
6. Andres Muñoz – RHP – Seattle Mariners
2022 Traditional Stats: 64 app., 2-5, 4 SV, 65.0 IP, 96 K, 15 BB, 2.49 ERA, 2.04 FIP
2022 Advanced Stats: 100.3 vFA, 1.9 fWAR, 38.7% K%, 6.0% BB%, 32.7% K-BB%, .188 BAA
A men amongst boys when it comes to fireballers, Muñoz joins Jhoan Duran as the only two qualified relievers in Major League Baseball to sit over 100 miles-per-hour with their four-seam fastball in 2022. Part of a complicated Austin Nola/Ty France deal between the Padres and Mariners at the 2020 Trade Deadline, Muñoz recovered from Tommy John surgery and dominated in his first full season in the show.
While his fastball is hard, it lacked much success this past year with opponents hitting .338 with a .500 slugging percentage against it. Thankfully, he only deployed it 35% of the time, instead going to his devastating slider at a 65% clip. The breaking pitch was exceptional, resulting in a .126 batting average against, 82 mph exit velocity, and a 51% whiff rate.
5. Josh Hader – LHP – San Diego Padres
2022 Traditional Stats: 56 app., 2-5, 36 SV, 50.0 IP, 81 K, 21 BB, 5.22 ERA, 3.45 FIP
2022 Advanced Stats: 97.4 vSNK, 0.8 fWAR, 37.0% K%, 9.6% BB%, 27.4% K-BB%, .222 BAA
It may feel drastic to dock Hader all the way to fifth on this list after a bad regular season, especially after allowing just one hit and one walk while striking out 10 in 5.1 postseason innings, but that stark of a drop speaks to the volatility of the position. Not often do you see an arm regarded as the best reliever in the game for the past several years stumble to a 5.22 ERA the year after logging a 1.23 ERA. It was well-documented during the postseason that Hader, a true closer, performs much better when on more rest, which is a luxury during the regular season. Still, 14.6 K/9 in the worst year of his career is something to hang his hat on.
Hader is, simply put, the best sinker/slider arm in the game. His 2,000 RPM sinker got hit in 2022 more than it ever has before, with opponent AVG against the pitch ballooning from .103 to .241. However, the slider still stifled hitters, with opponents hitting just .163 against it with a 54% whiff rate. Staying in the top-5 heading into 2023 is a testament to Hader's career; no one with a career 2.71 ERA and 15.2 K/9 at 28 years old should ever be counted out of a rebound.
4. Ryan Helsley – RHP – St. Louis Cardinals
2022 Traditional Stats: 54 app., 9-1, 19 SV, 64.2 IP, 94 K, 20 BB, 1.25 ERA, 2.34 FIP
2022 Advanced Stats: 99.7 vFA, 2.0 fWAR, 39.3% K%, 8.4% BB%, 31.0% K-BB%, .128 BAA
It's incredibly hard for relievers to separate themselves from the pack in any bullpen, let alone a bullpen as loaded as the St. Louis Cardinals', but that's exactly what Helsley did in 2022. A full-time starter in the Minor Leagues after being drafted out of Northeastern State University in Oklahoma, Helsley found a new gear in one inning spurts and combatted a pair of rough seasons with a 1.25 ERA and 13.1 K/9 en route to his first All-Star appearance.
The fastball is the name of the game for Helsley, sitting at 99.6 mph this year and frequently touching 102 or 103. The pitch is also one of the highest-spin fastballs in the game at over 2,600 RPM, with its ride missing bats at a nearly 30% clip. His slider is lethal as well, with opponents hitting just .111 against the offering and whiffing 54% of the time.
3. Devin Williams – RHP – Milwaukee Brewers
2022 Traditional Stats: 65 app., 6-4, 15 SV, 60.2 IP, 96 K, 30 BB, 1.93 ERA, 2.01 FIP
2022 Advanced Stats: 94.1 vFA, 2.2 fWAR, 40.0% K%, 12.5% BB%, 27.5% K-BB%, .150 BAA
Let's make one thing abundantly clear: the Milwaukee Brewers and former president of baseball operations David Stearns would've never traded Josh Hader at last year's deadline if they didn't feel that they had a better closer waiting in the wings. The 2020 NL Rookie of the Year Williams made his way to his first All-Star Game in 2022, carving up hitters to the tune of a sub-2.00 ERA and over 14 K/9.
His "airbender" of a changeup is what catches everyone's eye when taking in the Devin Williams experience, and for good reason. Williams throws the change at a 58% clip and generates whiffs nearly half the time with a .242 SLG against it. But, his true ace in the hole is his four-seam fastball, which opponents are almost always behind when thinking change. This past season, opponents were 7-78 against his fastball with 44 strikeouts and a .128 SLG against the heater.
2. Emmanuel Clase – RHP – Cleveland Guardians
2022 Traditional Stats: 77 app., 3-4, 42 SV, 72.2 IP, 77 K, 10 BB, 1.36 ERA, 1.98 FIP
2022 Advanced Stats: 99.5 vCU, 2.4 fWAR, 28.4% K%, 3.7% BB%, 24.7% K-BB%, .165 BAA
The one arm that may contend with Corbin Burnes for the title of "King of the Cutter," Clase has more firepower in his right arm than many Major League pitchers could even dream of possessing. Traded twice before his first full season in 2021, Clase has exploded onto the scene. In his two full seasons of big league service, Clase owns a 1.33 ERA, 0.84 WHIP, 2.04 FIP, and 5.81 K/BB ratio.
His cutter at 100 MPH is the headline-grabber, and it's an elite offering. This past season, opponents hit just .189 against the pitch with a .245 SLG and -3º average launch angle. However, it's his low-90s slider that's one of the best pitchers in baseball, limiting opponents to a .119 clip and .174 SLG. At just 24 years old, Clase could very well be the next closer on a Hall of Fame trajectory.
1. Edwin Diaz – RHP – New York Mets
2022 Traditional Stats: 61 app., 3-1, 32 SV, 62.0 IP, 118 K, 18 BB, 1.31 ERA, 0.90 FIP
2022 Advanced Stats: 99.1 vFA, 3.0 fWAR, 50.2% K%, 7.7% BB%, 42.6% K-BB%, .158 BAA
Alexa, play "Narco" by Blasterjaxx & Timmy Trumpet.
Nobody has endured the ebbs and flows quite like Edwin Diaz, whose sub-2.00 ERA and 57 saves for the Mariners in 2018 was enough to be a major selling point for the Mets to take on Robinson Cano's massive contract going into the '19 season. Diaz then, to put it plainly, stunk. In 2019, Diaz finished with a 5.59 ERA and 15 HR allowed in 58 innings. Another sub-2.00 ERA followed in the shortened 2020 season, but the pendulum again swung negative for a 3.45 ERA in '21.
2022 was unbelievable, and undeniable. Diaz's 1.31 ERA was remarkable, but how about a 0.90 FIP, 0.84 WHIP, and a staggering 17.1 K/9? His 50.2% K% was a career high and over 10% better than Devin Williams, who was second-best in that mark at 40%.
No one touches Edwin Diaz's slider. In 2022, opponents hit .114 against it with a 55% whiff rate. But, his fastball averaging 99 MPH isn't a slouch, either. While opponents did hit .266 against it, he gathered swings and misses at a 41% clip and limited hard contact to just an 84.9 MPH average exit velocity. Patterns indicate that the pendulum may swing for Diaz again, but it's impossible to deny his meteoric 2022 campaign.