Rankings
Top 10 MLB Third Basemen for 2023
Arguably the most loaded position in baseball this season, perennial All-Stars and future Hall of Famers flood these rankings.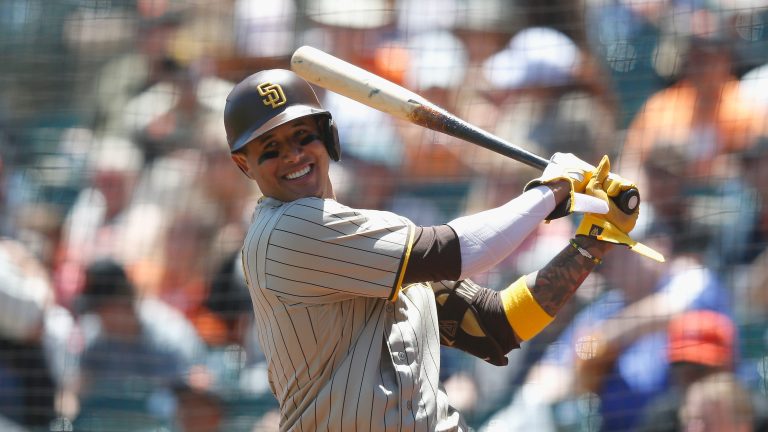 The most talented position in baseball (for my money) going into 2023, third base accounts for some of the best bats, gloves, and two-way talents in the game. From players on a Hall of Fame trajectory, to breakout talents looking to build on an excellent 2022, to a consensus top-3 prospect in the game, the hot corner is is excellent hands.
Honorable Mention: Ke'Bryan Hayes – Pittsburgh Pirates
2022 Traditional Stats: 136 G, .244/.314/.345, 7 HR, 41 RBI, 20 SB
2022 Advanced Stats: 3.0 fWAR, 88 wRC+, 21.8% K%, 8.6% BB%, 24 DRS, 18 OAA
Easily grading out as the best third baseman in baseball by both Defensive Runs Saved (DRS) and Outs Above Average (OAA), only St. Louis' Nolan Arenado can hold a candle to Hayes' defensive prowess. While he may have been snubbed from Gold Glove consideration in 2022, Hayes improving his offensive output could help bolster the narrative surrounding him moving forward.
After lighting the world on fire with a 1.124 OPS through his first 24 big league games in 2020, Hayes and halted and slugged just .356 with a .671 OPS across his first two full MLB seasons. While his 90.7 MPH average exit velocity since the start of 2021 is acceptable, his 52.9% ground ball rate is anything but. If Hayes can enter 2023 by lifting the ball with authority more while still holding his K% in the low-20% range, we may be looking at a massive breakout campaign.
Honorable Mention: Max Muncy – Los Angeles Dodgers
2022 Traditional Stats: 136 G, .196/.329/.384, 21 HR, 69 RBI, 2 SB
2022 Advanced Stats: 2.4 fWAR, 106 wRC+, 25.0% K%, 15.9% BB%, 7 DRS, -2 OAA
Coming off of far-and-away the worst full season of his Dodger career, Muncy's 2022 production (or lack thereof) is truly staggering:
2022 Season: .196 AVG, .384 SLG, .713 OPS, 42% Pull%
2018-2021 Seasons: .246 AVG, .520 SLG, .890 OPS, 35% Pull%
That being said, Muncy will always walk enough to hedge a slumping year. His 133 point jump from batting average to on-base percentage is indicative of that, and his 15.9% BB% this past season led all qualified third basemen. With Justin Turner now off the roster, Muncy may have a permanent home at the hot corner for the Dodgers.
Honorable Mention: Anthony Rendon – Los Angeles Angels
2022 Traditional Stats: 47 G, .229/.326/.380, 5 HR, 24 RBI, 2 SB
2022 Advanced Stats: 0.8 fWAR, 103 wRC+, 18.1% K%, 11.9% BB%, 2 DRS, 0 OAA
Easily one of the most difficult players to rank on any list we've put out. From 2017-2020, Anthony Rendon put up a 140 wRC+ or higher, with 2019 and 2020 being over 150. He was injured in both 2021 and 2022 when his production took a nose dive. He's been a league-average hitter in back-to-back seasons with the Angels, and nobody is quite sure what we'll see in 2023.
When Rendon is right, he's one of the best players on this list. When he's off, he won't sniff this list. We are looking at his 2023 season with a glass-half-full approach while remaining cautious. A positive outlook for Rendon would place him squarely in the top ten. We aren't quite there yet, so he makes the honorable mentions list.
10. Yandy Diaz – Tampa Bay Rays
2022 Traditional Stats: 137 G, .296/.401/.423, 9 HR, 57 RBI, 3 SB
2022 Advanced Stats: 3.8 fWAR, 146 wRC+, 14.0% K%, 10.8% BB%, -14 DRS, -8 OAA
The last two seasons for Diaz have presented him his first opportunity to play full seasons at the Major League level, and he has not disappointed. The career .278 hitter put up his highest batting average (.296) and on-base percentage (.401) of any year with more than 40 games played in his six-year career. Diaz was one of six qualified hitters in Major League baseball to finish with an OBP over .400 last season, joining Aaron Judge, Freddie Freeman, Yordan Alvarez, Paul Goldschmidt, and Juan Soto.
Additionally, Diaz's 14.0% BB% and 10.8% K% made him one of six qualified hitters to walk more than they struck out in 2022, joining Soto, Luis Arraez, Alex Bregman, Alejandro Kirk, and Steven Kwan. By also upping his average exit velocity by over two miles-per-hour from 2021 to 2022, Diaz has proven to be a hitter that every organization dreams of finding.
9. Eugenio Suarez – Seattle Mariners
2022 Traditional Stats: 150 G, .236/.332/.459, 31 HR, 87 RBI, 0 SB
2022 Advanced Stats: 4.1 fWAR, 131 wRC+, 31.2% K%, 11.6% BB%, -2 DRS, -1 OAA
Throw defense away. It's all about the bat with Eugenio Suarez, and he came close to fully regaining the form that made him an MVP candidate during his 49-homer season in Cincinnati in 2019. After being attached as a ball-and-chain to Jesse Winker in a trade ahead of the 2022 season, Suarez quickly became the headliner of the deal for Seattle, who has already shipped Winker back to the NL Central.
Suarez will never hit for a remarkably high average, and his 31% K% was only marginally higher than his career average, albeit a career-worst. His calling card is his ability to lift the baseball, which he did at a career-best 39% clip this past season. Pair that with his ability to walk at an 11% clip, and Suarez has the makings of one of the most reliable middle-of-the-order mashers in a loaded American League West.
8. Gunnar Henderson – Baltimore Orioles
2022 Traditional Stats: 34 G, .259/.348/.440, 4 HR, 18 RBI, 1 SB
2022 Advanced Stats: 0.8 fWAR, 125 wRC+, 25.8% K%, 12.1% BB%, 1 DRS, 0 OAA
2022 MiLB Stats: 112 G, .297/.416/.531, 24 2B, 7 3B, 19 HR, 76 RBI, 22 SB
Just Baseball's No. 2 overall prospect at time of the 2022 end-of-season update, Henderson's brief cameo at the Major League level gave both Orioles and overall baseball fans a taste of what could be the start of a long and fruitful career of one of the game's future stars. In just 34 games, Henderson produced a 111.1 MPH home run that traveled 428 feet at Fenway Park, and had 12 more batted balls over 105 MPH.
Lacking a true defensive home last year, Henderson bounced all around the infield. While some think he may be the everyday shortstop in Baltimore this season, it seems possible that manager Brandon Hyde could use Henderson more at third with Jorge Mateo being one of the best defensive shortstops in the game in 2022.
7. Matt Chapman – Toronto Blue Jays
2022 Traditional Stats: 155 G, .229/.324/.433, 27 HR, 76 RBI, 2 SB
2022 Advanced Stats: 4.1 fWAR, 117 wRC+, 27.4% K%, 11.0% BB%, 2 DRS, 1 OAA
Known for his elite defense, the two-time Platinum Glove winner and three-time Gold Glover will always carry his weight with the leather. The reason he fluctuates so much year-after-year has to do with his volatile offensive profile. Through the first 422 games of his Major League career, Chapman was hitting .255 with an .839 OPS while averaging 42 doubles and 32 home runs on a per-162 basis. In the past two seasons, he's hitting just .219 with a .737 OPS and averaging just 22 doubles and 29 home runs.
It's never fair to assume that a player will make the most of his opportunity in a contract year, but no one should be shocked if Chapman regains his powerful offensive form while playing world-class defense in 2023.
6. Alex Bregman – Houston Astros
2022 Traditional Stats: 155 G, .259/.366/.454, 23 HR, 93 RBI, 1 SB
2022 Advanced Stats: 5.5 fWAR, 136 wRC+, 11.7% K%, 13.3% BB%, -4 DRS, 5 OAA
Bregman starts the next class of third base prowess in this list. While Chapman is consistently good and occasionally great, Bregman is consistently great and occasionally world-class. In 2022, Bregman was one of six qualified hitters in MLB, regardless of position, to walk more than he struck out. On top of the discipline (he ranked third among third basemen in walk rate and was in the top one percent in all of baseball in chase rate), Bregman ranked second among third basemen in OBP, sixth in OAA, and fifth in fWAR.
Bregman's largest shortcoming in 2020 and 2021 was his inability to hit breaking pitches after hammering them from 2017-2019 (insert conspiracy theories here). In 2022, Bregman got right back on track, hitting .277 with a .533 SLG against breaking balls. While he may be on the outside of the top five looking in, he's not far behind the cream of the crop.
5. Rafael Devers – Boston Red Sox
2022 Traditional Stats: 141 G, .295/.358/.521, 27 HR, 88 RBI, 3 SB
2022 Advanced Stats: 4.9 fWAR, 140 wRC+, 18.6% K%, 8.1% BB%, -6 DRS, -2 OAA
Only at third base will you find a $300 million man checking in behind four other players at his position. While Devers has improved from disastrous to somewhat serviceable defensively, he has ascended to the very top of the sport with the bat. His 140 wRC+ was top-20 in all of baseball in 2022, and his .521 SLG ranked inside the top 10 ahead of Shohei Ohtani, Pete Alonso, and Freddie Freeman.
Devers is a true fastball punisher; this past season, he hit well over .300 against fastballs with a slugging percentage over .500. His off-speed recognition is supreme as well, hitting nearly .320 against non-breaking ball secondary offerings. While chasing bad pitches (particularly above the zone) has always been a part of his game, his God-given ability and year-over-year improvement makes him appointment television nearly every night.
4. Austin Riley – Atlanta Braves
2022 Traditional Stats: 159 G, .273/.349/.528, 38 HR, 93 RBI, 2 SB
2022 Advanced Stats: 5.5 fWAR, 142 wRC+, 24.2% K%, 8.2% BB%, 6 DRS, -6 OAA
As simple an approach to baseball as we can find in the game today, Austin Riley looks the part of "see ball, hit ball." Riley has gone from a struggling big leaguer with prospect pedigree to one of the best pure hitters in the game since the start of 2021, hitting .288 with an .887 OPS, 272 doubles, 71 home runs, 200 RBIs, and two top-7 MVP finishes over the two-season span.
Riley is a pure masher, posting a top-10 average exit velocity in 2022, coming in just behind Braves teammate Matt Olson and Blue Jays counterparts Vladimir Guerrero Jr. and Teoscar Hernandez. Opposing pitchers may be better off giving Riley a steady dosage of fastballs; Riley slugged .564 against breaking pitches and .545 against off-speed compared to a (sarcastically) measly .500 against fastballs. While he struggles defensively by advanced metrics, his ability to circumvent the "liability" narrative, much like Devers, has catapulted him into the perennial MVP candidate conversation.
3. José Ramírez – Cleveland Guardians
2022 Traditional Stats: 157 G, .280/.355/.514, 29 HR, 126 RBI, 20 SB
2022 Advanced Stats: 6.2 fWAR, 139 wRC+, 12.0% K%, 10.1% BB%, 2 DRS, 1 OAA
We officially enter the "Tier 1" conversation with José Ramírez. The four-time All-Star and four-time Silver Slugger recipient has long been one of the most underrated players in baseball, but has become one of the best players in baseball over the last several years. Aside from a 2019 season where he was limited to just 129 games, Ramírez has finished below fourth in AL MVP voting just once since 2017. In 2022, the American League doubles leader had the highest RBI total of his career and the lowest strikeout rate since his age-24 season in '17.
Simply put, Ramírez is elite at everything. One of the best defensive third basemen in the game was 20-27 in the stolen base department in 2022, all while hitting at a high average with elite zone recognition and tremendous bat-to-ball skills while never sacrificing impact. The Cleveland Guardians are as young and exciting a roster as you'll find in Major League Baseball, and Ramírez is a perfect superstar to guide the young group.
2. Nolan Arenado – St. Louis Cardinals
2022 Traditional Stats: 148 G, .293/.358/.533, 30 HR, 103 RBI, 5 SB
2022 Advanced Stats: 7.3 fWAR, 151 wRC+, 11.6% K%, 8.4% BB%, 19 DRS, 15 OAA
If baseball halted all operations before this 2023 season began, Arenado may be the lone member of this list headed to Cooperstown. Others certainly have an argument, but no one has been this good for this long at this position quite like him. The 10-time Gold Glover has SIX Platinum Gloves to his name, given to the best overall defender, at any position, in each league. Additionally, Arenado is a seven-time All-Star, five-time Silver Slugger winner, and owns a career slash line of .289/.346/.535 while averaging 40 doubles, 35 home runs, and 113 RBIs over a 162-game sample with a strikeout rate under 15%.
In 2022, Arenado established himself as a Coors Field bump-denier, slugging .533 while logging back-to-back 30-homer, 100-RBI seasons in his first two years in St. Louis. After opting in to the remaining five years and $144 million on his contract, Arenado will have spent eight years in a Rockies uniform and seven in a Cardinals uniform. The question now becomes, which hat does he wear in Cooperstown?
1. Manny Machado – San Diego Padres
2022 Traditional Stats: 150 G, .298/.366/.531, 32 HR, 102 RBI, 9 SB
2022 Advanced Stats: 7.4 fWAR, 152 wRC+, 20.7% K%, 9.8% BB%, -3 DRS, 8 OAA
While Arenado is likely closer to a sure-thing to be Hall of Fame-bound, Machado isn't too far behind. The former teenage wunderkind (or wonder kid, you Ted Lasso people) has unlocked a new gear, putting up arguably the best season of his career in 2022 with the only counterpoint being his 2018 season in which he was traded to the Dodgers at the deadline.
His top-of-the-line defensive acumen and talent complements his adjusted approach offensively, sacrificing some bat-to-ball ability (he posted his highest K-rate of his career in '22) for increased slug, notching one of the highest isolated power totals of his career. The once mercurial-but-slightly-immature superstar has become a leader for a team that reached the NLCS last October, and has the chance to be one of the all-time greats at the position.