Analysis
Colorado Rockies Trade Deadline Guide
The question is not if the Colorado Rockies will be sellers at this year's deadline, but more so what exactly do they have to sell?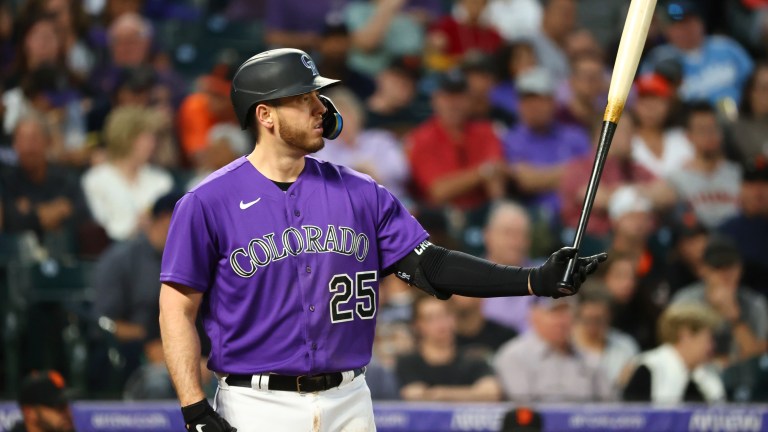 The perennial NL West basement-dwelling Colorado Rockies, with their 33-53 record, are absolutely going to be sellers this year.
Before all the "lol Rockies" folks start with their "The Rockies don't make trades" platitudes, I would argue that this year will be different, and here's why.
Bill Schmidt has shown a willingness to deal — While the Rockies are known for overvaluing prospects and Jeff Bridich was rumored to be difficult to deal with, Schmidt has made trades and signed free agents. Cases in point: Sam Hilliard, Garrett Hampson, and Connor Joe are no longer with the Rockies while Nolan Jones, Brent Suter, and Brad Hand (to name a few) are. That the Rockies have already traded free-agent Mike Moustakas is a preview of Schdmit's approach to this trade deadline.
The Rockies understand that their need for starting pitching is dire — At the start of the season, the Rockies knew their rotation was tenuous, but they hoped things would hold together. That has not happened. Germán Márquez has undergone Tommy John surgery; Ryan Feltner will probably miss the rest of the season due to a skull fracture; and Antonio Senzatela cannot stay healthy. Only Kyle Freeland and Austin Gomber remain of the original rotation. Connor Seabold now has a regular starting spot, and Peter Lambert has been sent to Triple-A Albuquerque to get stretched out in hopes of finishing the season with the Rockies. By the way, guess what the Rockies got in return for Moustakas? Pitcher Connor Van Scoyoc. They understand their need for pitching is acute, a principle that will guide them through this trade season.
Their contention window is opening — Right now, three of the most exciting players on the Rockies roster are Brenton Doyle, Nolan Jones, and Ezequiel Tovar. More are waiting on the farm. In other words, the position players are getting close, but there's not enough pitching to take advantage of what's coming. Plus, the Rockies have difficulty signing free agent pitchers, so trading is the best way to acquire talent — and his background in scouting has given Schmidt a good idea of the players he's interested in because he's been tracking them for awhile. He will be taking all calls in the coming weeks.
Who won't the Rockies trade?
To be fair, the Rockies are the Rockies, so they won't have a fire sale, and there are some players who will not be traded. (All stats are current as of July 3.)
Ryan McMahon — Their two-time Gold-Glove finalist is off the table. The Rockies like his defense, his offense (albeit inconsistent), and his personality. Plus, this year, he is their most valuable player as measured by fWAR, and his 13 DRS are the most of any third baseman.
Kris Bryant — Bryant's six-year, $182 million contract remains one of the great baseball mysteries, but even if the Rockies wanted to move Bryant, no one would take him. (An 81 wRC+ in 228 PA, half of them at Coors Field?) Besides, he can neither stay healthy nor hit for power this season.
Kyle Freeland and Austin Gomber — The Rockies will not move starting pitchers, especially not two lefties.
Brenton Doyle, Nolan Jones, and Ezequiel Tovar — These young players represent the future, and they are beginning to make names for themselves at the MLB-level.
Daniel Bard, Jake Bird, and Justin Lawrence — The Rockies see Bard as providing leadership to a young bullpen, and they view Lawrence as their future closer, a role he's flirting with now. As for Bird, he is one of the most underappreciated relievers in MLB (19th highest fWAR among all relievers with 51.1 IP). But no one's heard of him (save for a dust up with Bryce Harper).
Who would the Rockies trade: Position players
The Rockies have a number of players who are either one-year free agents or finishing out contracts. The problem is that none of these players are having especially good 2023 seasons.
Harold Castro — Currently, Castro is on a one-year, $1.3 million contract. The Rockies signed the utility player primarily for his versatility (he's played every position but catcher) and his left-handed bat. His time with the Rockies has not been especially noteworthy — 59 wRC+ in 159 PA — and interest in him would be surprising.
CJ Cron — He's finishing a two-year, $14.7 million deal with the Rockies. While Cron was excellent in the first half of 2022, even making the NL All-Star Team, he struggled after that, with a hand injury. This season has seen the first baseman sporadically out of the lineup with back issues. In 167 PAs, he's hit six home runs, but his 75 wRC+ is not encouraging. However, if Cron is now healthy and can hit in the coming weeks, he may be attractive to a team looking for a first baseman who has a track record of hitting for power.
Randal Grichuk — Schmidt acquired outfielder Grichuk from the Blue Jays in 2022 in return for Raimel Tapia. At the time, the Rockies hoped Grichuk's right-handed bat would play at Coors. After the deal, Grichuk promptly became one of MLB's leaders in GB%; however, he did get on track toward the end of the season. He missed the beginning of 2023 with a sports hernia injury but is beginning to show some power at the plate (100 wRC+ in 208 PA). This year, Grichuk is earning $9.33 million. A team seeking a fourth outfielder with offensive potential might be interested in Grichuk.
Jurickson Profar — In April, Profar signed a one-year, $7.75 million contract with the Rockies. Most see 2023 as a year for the switch-hitting outfielder to re-establish his value before getting a multi-year deal in the coming offseason. However, Profar has been an offensive disappointment, despite getting on base consistently (81 wRC+ in 338 PAs). He's also one of the worst defenders in MLB. A team might value his ability to get on base (.327 OBP) and his flexibility as a switch hitter.
This may not seem like an especially promising pool, but remember that the Rockies last week traded Moustakas, who was a lottery ticket on a one-year, league-minimum contract with the Reds paying the remaining $18 million. Few fans saw this as an especially smart signing.
That's a long way of saying that it's difficult to be certain as to what other teams are looking for.
One other note is in order. The Rockies have some substantial logjams on their roster, so adding a prospect to one of these players might be another strategy to facilitate trades.
Who would the Rockies trade: Relief pitchers
Here's where things get interesting.
Bill Schmidt spent the offseason acquiring as much pitching as he could, and three of those signings have paid off. A much-overlooked fact is that the Rockies have had a solid bullpen as measured by fWAR. Three relievers on one-year contracts seem obvious trade candidates.
Brad Hand — The lefty reliever signed a one-year, $1.5 million contract with a $7 million team option for 2024 and a $500,000 buyout. Hand has been fine in 28.1 IP, though not always as effective as the Rockies would like. (Then again, pitching at Coors can do that to a pitcher. His home ERA is 6.14, while his road ERA is 3.29. ) He has a 26.4% K% and a 0.64 HR/9. His ERA- with the Rockies is 95. Given Hand's contract, postseason experience, and the fact that he's a lefty, it seems likely that there will be a market for his services.
Pierce Johnson — Like Hand, Johnson is with the Rockies on a one-year deal, but for $5 million. Johnson struggled as a closer but has evened out a bit since spending more time in the set-up role. In 34.0 IP, Johnson has a 30.6%K% (highest on the Rockies roster) but a discouraging 1.85 HR/9. (Then again, that is probably exacerbated by the Coors Effect given that his home ERA is 8.27, while his road ERA is 3.38.) He currently has a 127 ERA-. The Rockies liked the fact that Johnson is from Colorado, but he seems like another player destined to finish the season with another team.
Brent Suter — If the Rockies made an excellent decision in the offseason, it was claiming Suter after he'd been waived by the Brewers. His contract is for one-year, $3 million. Suter has proven himself a durable and effective lefty reliever. In 41.2 IP, he has a 0.43 HR/9 and a 56 ERA-. When considering home-road splits, he's earned an ERA of 3.44 at Coors and 2.31 on the road. Suter is coming off an oblique injury, and his date of return is unknown. He would probably bring the Rockies their greatest return.
Are there any weird possibilities?
Well, it's the Rockies, so yes.
Here are five.
Chase Anderson — In mid-May, the Rockies claimed Anderson off waivers from the Rays, and while it initially seemed like a savvy pickup, his last two outings have not gone well — plus, he's not made it through the fourth innings since June 8. Early on in Anderson's tenure as a Rockie, the possibility of using him as trade material seemed an option. Now, however, with 40.1 IP and a 130 ERA-, a trade seems unlikely. Plus, the Rockies really need starting pitching to get through the season. Still, if a team needs pitching, they might think a former Ray away from Coors Field could be a good bet.
Charlie Blackmon — Blackmon is finishing the last year of a six-year, $108 million contract. This year, the Rockies will owe him just over $15 million. The lefty has shown himself to be a canny designated hitter, and he's having a solid 2023 with five home runs in 242 PAs, a .347 OBP, and a 96 wRC+. However, on June 11, he suffered a hand injury and is expected to have the cast on for two more weeks. While not impossible, it seems unlikely the Rockies will have an opportunity to trade him, and they would probably have to pay down some of his contract.
Elías Díaz — The newly announced All-Star is in the second year of a three-year, $14.5 million contract. He's had good years and less good years with the Rockies, but 2023 is certainly his best. Among all catchers, he's ranked 7th in terms of fWAR (0.9) with a wRC+ of 98. Moreover, his defensive metrics are excellent. He could, surely, be an attractive trade piece for a contending team. However, last week, the Rockies DFA'd Jose Alfaro, a third catcher they'd been carrying, which suggests that they probably intend to keep Díaz on their roster. (Manager and former pitcher Bud Black is particular about the catchers who work with his pitching staff, which makes Díaz even less likely to be traded.)
Elehuris Montero — If there's a mystery surrounding the 2023 Colorado Rockies, it surely involves Montero, who was part of the Nolan Arenado deal. Montero came to the Rockies as a third baseman, but he's been unable to stick there because of his marginal defense. The Rockies have been playing him at first with an occasional stint as a DH, but Montero can't get enough regular playing time, which makes him less effective at the plate (28 wRC+), which leads to less playing time, and you get the idea. That he can hit for power is a fact. It would not be unexpected for the Rockies to include Montero in a trade package for another player. They simply have no place for him on their roster and have shown little ability to help him develop.
Alan Trejo — Trejo has spent much of the last three years shuffling between Albuquerque and Denver, but he began to receive national attention when playing shortstop for Team Mexico in the World Baseball Classic. This season has seen Trejo shuffling again, but on Monday, he was recalled by the Rockies. Trejo is still trying to prove that he's more than a four-A player, but a team looking for a utility infielder with occasional offensive power may find him an attractive trade prospect.
Closing thoughts
In a late-June interview, Bill Schmidt said they expected the trade deadline calls to begin heating up in two weeks, which is soon. Given the number of contending teams, it's safe to assume that the Rockies will have opportunities to be active in terms of reshaping their roster.
That said, betting on the Rockies is folly, but much of the baseball world is underestimating how motivated they are by a lack of starting pitching.
Look for them to be sellers this season.