Analysis
Nolan Jones Is Making a Great First Impression with the Rockies
The former top 100 prospect was traded from the Cleveland Guardians to the Colorado Rockies this winter and the fit has been great thus far.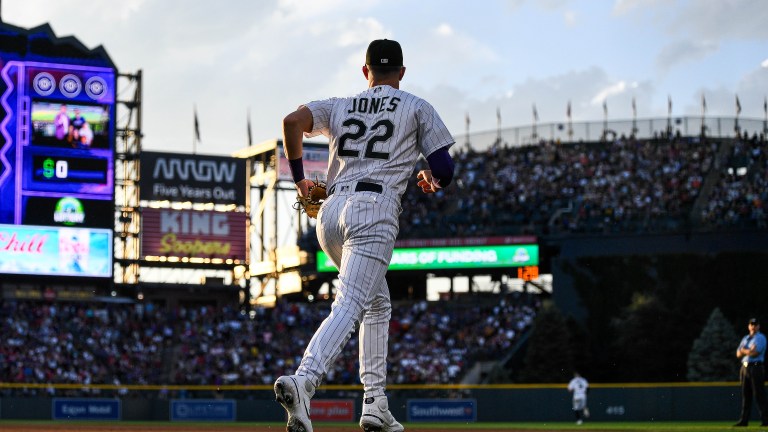 If you were to check the Colorado Rockies page on FanGraphs to see which player on the roster currently has the highest wRC+, the answer might surprise you.
It's not Kris Bryant or CJ Cron or Charlie Blackmon or Ryan McMahon.
It's Nolan Jones.
You may be wondering how exactly a former Cleveland Guardians Top-100 prospect finds himself wearing purple pinstripes, but he's quickly making a name for himself in Colorado.
Give us some background first. Who is this guy?
I can do that.
A native of Bensalem, Pennsylvania, Jones, now 25, was a shortstop at Holy Ghost Preparatory
School. He'd planned to play for the University of Virginia, but when the Guardians drafted him
in the second round of the 2016 draft, he took the $2.25 million signing bonus and began his
professional career. He was one of the best hitters in the 2016 class.
As part of the Guardians' system, he began making a name for himself. He had the most walks
in MiLB in 2019 with 95, and he played in both the Futures Game and the Arizona Fall League's
Fall Stars Game. As MLB Pipeline put it, "Jones exudes patience at the plate, waiting for pitches
he can hammer and taking walks if pitchers decline to challenge him."
Like most MiLB players, COVID interrupted his 2020 development, and in 2021, he suffered a
high-ankle sprain that ended his season. During this time, he was being moved around
(because a 6'5″ shortstop probably isn't workable), first to third base (where he was blocked by
José Ramírez) and then to the outfield corners.
While in Triple-A, Jones showed power and plate discipline, but an unsettling K% of 28.4%. He
made his MLB debut on July 9, 2022, against the Royals and spent 28 games with the Guardians.
He finished the season with a 93 wRC+ and a slash line of .244/.309/.372. But he struck out a lot — as in 33% of his plate appearances. He finished 2022 in Triple-A.
In November, the Rockies traded infielder Juan Brito to the Guardians for Jones. The Rockies were looking for a lefty outfielder who would hit the ball with authority, and Nolan Jones was that guy.
Plus, he'd been on the radar for a while. Back in November, general manager Bill Schmidt told Patrick Saunders, "We liked him when he came out of high school and he's a good athlete with some power." Jones was less excited about his new team.
"I was upset at first," he said. "I spent a long time with the Guardians organization — I spent seven years with them — so there's a lot of friendships there, a lot of people that I became really close with and consider family." He then decided to view the change as an opportunity and found a warm welcome when entering the Rockies' Arizona Complex.
"I came out to Arizona in January and worked out at the complex and got to know a few guys out there like Mac [Ryan McMahon], Brian [Serven], Randal Grichuk, and felt very welcomed right away," he said. "So pretty quickly I felt that it was going to be a be a good transition for me."
How did the trade work for him initially?
Not good.
In Spring Training, Jones had one of the highest strikeout rates in all of MLB — he had 24
strikeouts in 52 at-bats, which tied him for third-most in baseball. He finished Spring Training with a slash line of .192/.259/.231 and an OPS of .490.
He had 10 hits, two of them doubles, but his struggles at the plate were clear. Jones knew he needed to relax. "I saw myself having an opportunity to make a big league club out of camp early and put a lot of pressure on myself," he said, "and towards the end of camp, once I ran into a lot of failures, reminded myself that I just have to have fun."
His family remained supportive.
"My mom and dad told me that 'Nolan Jones is good enough,'" he said, "and that was kind of something that I took to heart and and ran with a little bit and just tried to be me."
The Rockies let him begin the 2023 season at Triple-A Albuquerque. And then the raking began.
In 149 at-bats, he's slashed .356/.481/.711 for an OPS of 1.193, including 12 home runs. (That
would be a 182 wRC+.)
Yes, The Lab is a hitter-friendly park, but these are stellar numbers by any standard.
Turns out, the arm was for real, too, and having a former shortstop-third baseman in the outfield
is a nice arrangement.
The numbers were good, and when Kris Bryant went on the IL on May 26, the Rockies promoted Jones to the big league club.
How's he fitting in with the Rockies now?
His first game was a little rough, but after that, he began settling in. And then this happened:
This season, only Giancarlo Stanton has hit a home run that has gone further (485 ft).
What does it feel like to hit a home run like that?
"It feels really good," Jones grinned.
"I think everything has to go right to hit a home run," he said. "Obviously the pitch has to be there, I have to put a good swing on it, timing has to be right. So to connect with the ball and not need to have another hit to get you in or not have to run the bases and just put a nice run up on the board, it's definitely a good feeling."
To give a sense of just how good Jones has been, here are his numbers since being called up. In 28 games, he's had 110 plate appearances. During that time, he's hit five home runs, stolen five bases, and slashed .316/.391/.551. All of that has given him a wRC+ of 140 and an fWAR of 0.7.
He's also been effective defensively. The Rockies have used Jones at first base (a position he's still learning) and in right field where he has two DRS. He's been less effective at first with -1 DRS.
Still, the Rockies will accept that given his offensive output.
As Nolan Jones sees it, he needs to continue staying relaxed. "I think enjoy all these great things we have," he said, "getting these friendships, relationships, taking pride in the work you do every day and not just basing it off of results in the game. I think it takes a lot of pressure off you."
So far, his approach is working.