Analysis
What's Next for Charlie Blackmon and the Colorado Rockies?
Having spent his entire career with the Colorado Rockies, Charlie Blackmon is set to hit free agency for the first time after this season.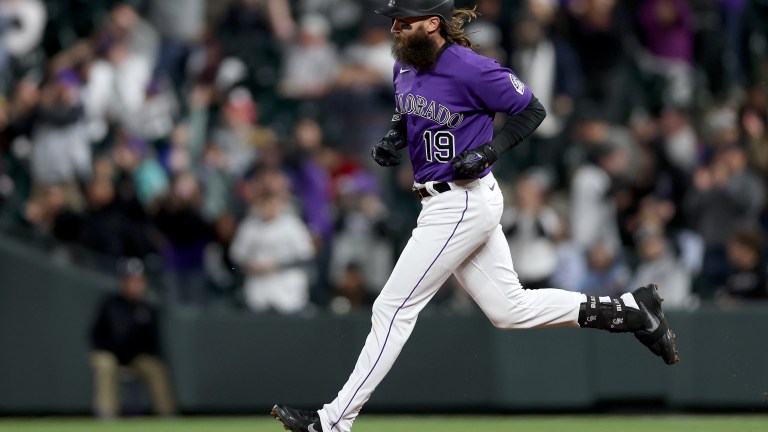 Back in April 2018, when Charlie Blackmon signed a five-year, $94 million extension, it seemed like an arrangement that would suit both parties. The Rockies would keep one of their best players as well as a franchise icon; for Blackmon, it meant gainful employment until he was 37.
After that, everyone could reassess.
This year, Blackmon is earning a base salary of $15 million, in the final year of his deal. Originally drafted in the second round of the 2008 MLB Draft, the Rockies are the only organization Blackmon has ever known. After the season, he would hit free agency for the first time in his career, but rumors are already swirling about a possible extension.
As "Denver Post" reporter Patrick Saunders wrote on August 25, "He's hoping to return to the Rockies on a new deal next season." Saunders goes on to quote Blackmon: "There's definitely a possibility I'll come back. . . . I'm not saying officially, either way, but I still feel like I'm going to be an effective player."
Saunders asked general manager Bill Schmidt about the possibility, who said the Rockies are "very interested." Schmidt went on to add, "Charlie would provide a good leadership structure for our young guys. And he can still play."
There's nothing official yet, but it's safe to assume that Blackmon will be a Rockie for at least another year. (Last week on a Rockies pre-game show, analyst Cory Sullivan indicated that Blackmon was interested in a two- or three-year contract.)
But it's worth considering what this would mean for both Blackmon and the Rockies.
What's in it for Chuck Nazty?
Blackmon loves to play baseball, and staying with the Rockies would allow him to do that. Plus, he has been a productive player this season — not as productive as he was during his great 2016-2017 seasons but consistently above-replacement level.
Consider his 2023 season. He was out with a wrist injury from June 11-August 14. Since returning, Blackmon has been on fire. This season, he has slashed .285/.373/.445 for a wRC+ of 109. The power that was once his calling card is less evident (he's hit seven home runs this season), but he is good at consistently getting on base.
Plus, he could continue cementing his legacy on the Mount Rushmore of Rockies players. He is the Rockies' all-time leader in triples (63), 7th in WAR, second in runs scored (933), second in doubles (306), 6th in home runs (214), 2nd in stolen bases (139) — the list goes on. (In case you're interested, Todd Helton leads in most categories, and it is unlikely Blackmon will overtake him before retiring.)
Now that the NL has adopted the designated hitter, Blackmon's declining defense becomes less problematic. Moreover, it's a position he's adapted to nicely.
And there's the matter of salary. If the Rockies were to offer Blackmon a one-year, $8 million contract, it would be consistent with similar offers they've made in the past. (It would be unsurprising for Blackmon to get a better deal, however.)
What's in it for the Rockies?
They would get a few things in return.
Clearly, they would get a consistent player with an unparalleled work ethic.
Second, Blackmon would provide leadership for a young Rockies team.
Here's Nolan Jones: "I got here, and he kind of took me under his wing a little bit. I get to watch and learn from him, adding, "I think every single pitcher that gets on the mound, Chuck has something for me, so I'm able to pick his brain."
The Rockies are a young team with an average position player age of 27 years and 219 days. (That's fifth in MLB.) Young players benefit from veteran leadership.
For example, in late August when the Rockies were trying to break a six-game losing skid, Blackmon and Kris Bryant called a team meeting.
"If nothing else, we wanted them to know this is nothing new. You won't always feel this bad or banged up. It's good for us to shed a little perspective — you can't live or die with every moment," Blackmon said as reported by Luke Zahlmann.
The Rockies would need to be careful that Blackmon did not block playing time for their developing players given that preparing for the future will be a central goal of 2024.
Third, the Rockies would retain a fan favorite.
Visit Coors Field, and the BLACKMON jerseys are everywhere. When the opening notes of The Outfield's "Your Love" pound out of the ballpark speakers, Blackmon's walk-up music, Coors comes alive as fans sing along and add the missing "TO-NIIIIGHT!" Ask fans who their favorite players are, and Blackmon is frequently cited.
Closing thoughts
A Charlie Blackmon extension could be beneficial to both parties. Blackmon has said that he would like to finish his career in Colorado.
There's a good chance he will, which is a win for everyone.