Feature
Once More, Daniel Bard Faces One of His Toughest Challenges: Anxiety
Colorado Rockies reliever Daniel Bard is back in fine form after spending the first three weeks of the season on the IL with anxiety.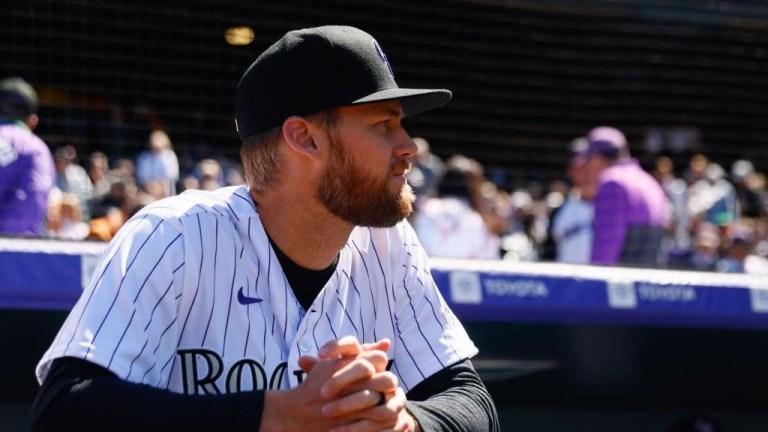 Daniel Bard was the first professional baseball player I interviewed, and I'll never forget it.
I was nervous — this was my first time in an MLB clubhouse, and it was a lot to take in. Where even to start? The writer I was with gestured over to Bard and said, "Start with Daniel. He's great."
And he was. I introduced myself and confessed this was my first time doing something like this.
Bard looked at me, grinned, and said, "You're going to do great."
I don't know that it was "great," but Bard gave me a good interview. We talked about pitching and his walk-up song and guitars (Bard had left his acoustic at home in an attempt to force himself to improve with his electric).
When I finished the interview, I understood that in addition to a killer slider, Daniel Bard has empathy, the kind that comes through tremendous suffering and growth. Not just any professional athlete would provide a novice interviewer with words of encouragement.
All of this, I realize, is beyond the scope of what you probably want to know about Daniel Bard's struggles with anxiety. (Please, can we retire the term "yips" forever?) But I wanted to give you a sense of the person I've experienced, because Bard's willingness to go public with a very personal struggle seems to me to merit a different approach.
Before Bard Was With the Rockies, He Pitched for the Red Sox, Right?
Yes, and he was a dude — at least initially.
Bard was called up by the Sox in May 2009 and had a successful season. In 2010, he became Boston's primary set-up guy, pitching in 73 games, earning a 1.93 ERA and 1.00 WHIP, and striking out 76.
He was back in top form in 2011 and set a Red Sox record by throwing 25 consecutive scoreless innings (May 27-July 31). In short, he was one of MLB's most unhittable pitchers.
That all came to a stop in September when Bard lost the ability to control his pitches and finished the season with a 10.64 ERA, issuing nine walks. (In the previous three months, he had only issued eight.) The entire Red Sox team collapsed, and Bard was considered a major reason why.
The Red Sox spent 2012-13 attempting to address Bard's issues and tried, among other things, to convert him back to a starter. Between the beginning of the season and June 5, he walked 37, struck out 34, and hit eight, earning an ERA of 5.24. He was then optioned to Triple-A and Double-A with occasional stints in Boston. In fact, here's one of them:
Nothing seemed to work, though, and he was DFA'd in September 2013.
A number of factors were at play in his collapse; let's backtrack and sort them out.
First, Bard would discover he had thoracic outlet syndrome coupled with anxiety. In 2011, he was coming off multiple seasons that required a heavy workload. He struggled a bit to find the strike zone but assumed it was due to arm fatigue. In 2012, when Bard reported to camp, he found his velocity was down about five mph, and he had reduced command.
Then his anxiety began to emerge. The assumption at the time was that any issues a pitcher experienced were surely mechanical, so a younger Daniel Bard tried any recommendations to address his delivery. And he received many of them.
Stephanie Apstein wrote of Bard in 2013:
He tried everything. He switched to a sidearm delivery. He worked with a specialist in tapping, a therapy in which the patient touches his fingers to certain pressure points while talking through trauma. He lifted weights until his arms gave out, hoping he would be too tired to overthink his motion. He gulped two beers before bullpen sessions, just to take the edge off. He visited three different hypnotists.
None of it helped.
By that time, Bard had come to find every throw "mentally exhausting" — even playing catch with the bullpen catcher was taxing. He struggled to have perfect mechanics, which, in turn, heightened his anxiety and made addressing his mechanics even more challenging. The cycle fed on itself.
Bard tried to find his way back with the Cubs, Rangers, Pirates, Cardinals, and Mets, but he could not regain his control.
Assuming his pitching career was over, he retired on October 3, 2017 ("I don't want to throw anymore," he told Apstein).
Bard knew Arizona Diamondbacks general manager Mike Hazen from their time in Boston, so he began working as a player mentor and pitching skills coach with the organization, a position he held for two years. He discovered that although he couldn't pitch anymore, he could help others pitch and share his story.
Of that time, Bard says, "I did not 'fix myself' or get back to where I wanted to be, but I did learn a lot."
How Did He End Up With the Rockies?
One day while working out with the Diamondbacks, Bard was playing catch with some players. He realized the act of throwing felt easy and natural. Soon after, he found that he wanted to try throwing from a mound again, though he had no intention of returning to professional baseball. But when he finally got back on a mound, he realized he was throwing strikes at 95 mph, and he hadn't even begun training yet. Plus, the control was back.
After committing himself to a return, Bard resigned from his position with the Diamondbacks, held a showcase, and signed an MiLB contract with the Colorado Rockies in 2020.
In an iconic Spring Training moment, Bard did not have a uniform with his number on it, so he made his own with tape.
Short version: He would be very good in 2020, converting 100% of his save opportunities, finishing the season with an ERA of 3.65, and winning the National League's "Comeback Player of the Year" Award.
In 2021, things did not go as well. Bard converted only 20 saves in 28 chances and lost the closer job to Carlos Estévez. He ended the season with a 5.21 ERA and -0.2 bWAR. Questions lingered as to whether Bard's 2020 was an outlier.
They were soon answered.
Bard finished 2022 with a 1.79 ERA in 60.1 innings and a WHIP of 0.994. His ERA+ was 262. Those facing him slashed .162/.257/.245.
Oh, and he got a new walk-up show that included "Stranglehold" from his Boston days. Daniel Bard was truly back.
Two days before the 2022 trade deadline, the Rockies announced their closer had signed a two-year extension for $19 million. The past seemed well and truly behind him.
Then His Anxiety Returned?
It did.
Bard's first few appearances this spring were uneven, though his shaky performance was chalked up to getting in shape for the season. He headed off to pitch for Team USA in the World Baseball Classic.
He was inconsistent in the first two games, but things fell apart in the fourth inning of Team USA's game against Venezuela on May 19. Bard walked a batter, allowed a single, threw a wild pitch, hit Jose Altuve, and then issued a walk. He did not record an out.
Hitting Altuve proved to have substantial consequences. Altuve's right thumb was fractured, and he will miss 8-10 weeks of the 2023 season. Of the event, Bard told Bob Nightengale, "I feel terrible. I was going sinker in for a swing. I missed up and in. You hate to see it. You saw my reaction."
Bard did not pitch again in the World Baseball Classic.
After returning to the Rockies and giving marginal appearances in two Spring Training games, Bard was placed in the IL due to anxiety.
He knew it was necessary. "It's a hard thing to admit. But I've been through this before," Bard told Danielle Allentuck on the Thursday before Opening Day. "I have enough going on outside the game to realize what's important… I'm extremely grateful to be in an organization that understands these things and is accepting."
It was a big step for Bard, being frank with himself and the public about the return of an old demon in a sport that does not always accept vulnerability. He could have claimed something physiological, but he chose the more difficult — and more honest — path.
Bard worked through his issues at the Rockies' training facilities in Scottsdale, Arizona, and was in Denver with the Rockies for their home opener. Meanwhile, Bud Black provided occasional updates on Bard's progress.
Last Sunday, Bard began a brief rehab assignment with the Rockies' Triple-A Albuquerque Isotopes, striking out three of the four batters he faced. On Wednesday, he was reactivated.
That same day, Bard retired three Pirates batters on nine pitches, six for strikes.
Daniel Bard appears to be back.
Closing Thoughts
Back in an October 2022 video interview, Bard said of his anxiety, "I can't see my mind going to that place with baseball."
As it turns it, his mind did go back to that place, but this time, he was better prepared to deal with it.
Moreover, baseball is better because Daniel Bard was open about his struggles. Since then, for example, Tigers outfielder Austin Meadows and Athletics RHP Trevor May have gone on the IL with anxiety. Professional sports need this level of honesty about mental health.
Rockies fans and the larger baseball community have been supportive of Bard as he worked to return to baseball.
"You can come out of it a better person and a better pitcher," he said.
It's good advice for anyone, not just baseball players, and it comes from someone who's lived it.
Today, if I could tell Daniel Bard anything, I'd say this: "You're going to do great."
Actually, he already has.