Analysis
Brenton Doyle Rules: Who is the Rockies Exciting New Center Fielder?
Brenton Doyle has gone from D-II masher, to fourth round draft pick and now is the athletic starting center fielder for the Colorado Rockies.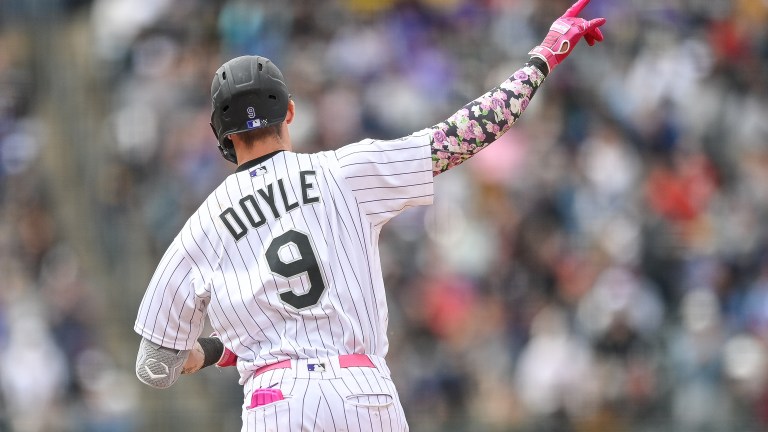 If you check the Colorado Rockies' team stats on FanGraphs, you might be surprised at their third most-valuable position player as measured by fWAR. It's not Kris Bryant or Charlie Blackmon or Randal Grichuk. Instead, it's rookie Brenton Doyle, a center fielder who was called up on April 24, 2023, and has been with the team for 29 games.
Since then, the five-tool player has been making significant contributions. Doyle has taken an unconventional path to the Majors, but it's beginning to pay off.
Never heard of him. Who is Brenton Doyle?
It's not surprising that Doyle is unknown to most fans.
The 25-year-old is from Warrenton, Virginia, and attended Kettle Run High School, where as a junior, he batted .443. Doyle had committed to attending Virginia Military Institute, but after having such a productive season, decided to go with a school that would allow him more opportunities to grow as a baseball player. He had friends at Shepherd University, a Division II school in West Virginia, so he went there.
For Doyle, it was a great place to play baseball.
"It was awesome," he said. "Playing Division II baseball, you don't have the best facilities, the best equipment, and all that, so, you really had to work hard to get out of there."
The lack of traditional baseball publicity wasn't a hindrance for Doyle when it came to getting noticed.
"I really give a lot of credit to the coaching staff there [for] getting me the right exposure and allowing scouts to see me whenever they wanted because that kind of exposure was the extra step of me being able to get drafted where I got drafted out of there," he said.
Rams coach Matt McCarty told Patrick Saunders, "[Doyle] was the most talented player to ever come through this program," adding, "He plays the game fast and he has fun with it."
Doyle proved an exceptional player. He was at Shepherd for three seasons, appearing in 159 games. He hit 32 home runs, 47 doubles, 11 triples, stole 52 bases, and slashed .380/.438/.647. In addition, he did not have an error in center field.
For Doyle, his college career provides a different route to the Majors for other high school players.
"I love coming from a Division II school," he said, "because it kind of gives that aspiration to guys in high school." It let them know "they don't have to go to those big DI schools. They don't have to go to those big-time programs to pursue their dreams of playing the next level."
How did he get to the Majors?
He was drafted by the Rockies in the fourth round of the 2019 draft. (Baseball America ranked him their #199 prospect in that draft, noting "Doyle will likely have some catching up to do in pro ball, and there are some concerns about whether his hit tool will translate to pro ball, but Doyle has shown plus raw power and has a track record of hitting." They also note his "intriguing power-speed combination.")
Doyle was sent to the Grand Junction Rockies and continued his torrid career, batting .383 with eight home runs and 16 stolen bases. He led all Pioneer League hitters in average, OBP, and OPS after making some mid-season adjustments. There were concerns, however, about his swing-and-miss tendencies.
Like most MiLB players, he missed 2020 due to COVID-19.
When the 2021 season began, Doyle, who was named best overall player in the Rockies' MiLB system, was assigned to the Spokane Indians. In 97 games there, he hit 16 home runs, stole 21 bases, and won a Gold Glove. (That season, he had 13 outfield assists and 157 putouts in 83 games. In addition to speed, Doyle's arm strength, graded 60 by MLB Pipeline, added to his defensive ability.)
His next year, 2022, found him splitting time between the Double-A Hartford Yard Goats (99 wRC+), and the Triple-A Albuquerque Isotopes (199 wRC+).
While there were no doubts about his tools, there were questions about his ability to control the strike zone. In Hartford, Doyle made adjustments to his stance and swing path. He continued to refine them through the offseason, and when he reported to Spring Training last February, he was close, but still not quite there.
And then the changes began to pay off.
He began 2023 with the Isotopes, slashing .306/.404/.633 with five home runs in 12 games (141 wRC+). After Yonathan Daza, the Rockies' primary center fielder, suffered a hand injury, Doyle was called up.
In his first game, he did not have a hit in three at-bats though he did steal a base (something the Rockies desperately needed) and scored one run. But he was only getting started.
How are things going with the Rockies?
Not bad.
Although he's still in small-sample-size territory, Doyle has slashed .233/.275/.430 for a wRC+ of 74. But that doesn't tell the whole story. He's already hit four home runs, 12 singles, three doubles, and a triple.
Here's his home run power:
He's always had issues with chasing, and currently, his K% is 36.3% while his BB% is only 5.5%. (The MLB average is 22.7% and 8.8%, respectively.) This is an area of his game that will require continued improvement, but these adjustments are also to be expected of a young player learning to hit MLB pitching.
Moreover, Doyle is easily the fastest player on the Rockies' roster. According to Baseball Savant, his sprint speed of 29.9 makes him the eighth-fastest player in MLB. His ability to run from home to first in 4.22 seconds has already benefitted the Rockies.
He also leads a slow Rockies team with seven stolen bases, but he doesn't lord that over his teammates.
"Me and [Ryan] McMahon kind of go back and forth because he always says he's going to try to catch me in the stolen base leaderboard, but I'll make sure that doesn't happen," Doyle said with a grin. (Given that McMahon's sprint speed is 26.0, betting on Doyle is probably the better move.)
Then there's his stellar defense.
As former Rockies center fielder and current analyst Ryan Spilborghs put it, "Brenton Doyle has been a massive difference-maker in center field."
Currently, in 28 games, Doyle has a Def of 4.2 and two DRS. (As a comparison, in 24 games, Yonathan Daza had a Def of -1.8 with -4 DRS.) He's also earned 3 Outs Above Average and is the only Rockies outfielder with a positive OAA. (Robert Luis Jr. leads all center fielders with 6 OAA.)
Here's a sample of his defensive work.
Playing center field in Coors Field is notoriously challenging. In Brenton Doyle, the Rockies may have found their dream center fielder. He certainly makes the Rockies' outfield defense better.
"I think he's shown, in his short time up here, the tools that he has and the skills that he has, that he can impact a game," general manager Bill Schmidt said. "It's his power, his speed and his arm. And one of the reasons why we have played better lately is because our defense in the middle of the field has improved and Brenton's been a big part of that."
Right now, Doyle is generally pleased with his game.
"Honestly, I'm starting to make some good strides with my offensive side, starting to hit for a little bit more power," he said. "And defense, tracking balls down, giving my 110% effort out there all the time.
A few days earlier, Doye had been carted off the field after running into the center field wall, something he'd also done in Albuquerque, but he was recovering quickly and even sees a repeat in the future.
"I'm sure it won't be my last wall encounter up here — that's for sure — but that's just how I play and I take a lot of pride in it," he said.
He's also got areas he's working on.
"[I'm] just trying to get more and more comfortable facing these Max Scherzers and Justin Verlanders," he said, adding, "just getting more experienced up here and getting more and more comfortable each and every day."