Analysis
Ezequiel Tovar Is a Key Cog in the Rockies' Rebuild
The 2023 season hasn't been kind to the Colorado Rockies, but shortstop Ezequiel Tovar is giving fans hope for the future.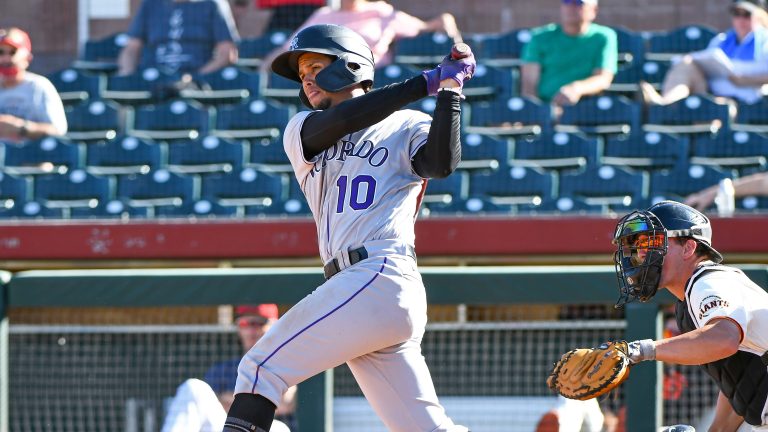 If there's a beacon of hope for Colorado Rockies fans, it's Ezequiel Tovar.
Remember that even though the Colorado Rockies have not been a very good baseball team for some time, fans have come to expect elite shortstops. Tovar is attempting to fill the spikes of players like Troy Tulowitzki and Trevor Story. In 2021, when Story left the Rockies in free agency and Tovar was still not ready, the organization hired José Iglesias on a one-year contract. Iglesias proved a competent shortstop, but everyone knew he served as a placeholder for Ezequiel Tovar, the Prince That Was Promised.
This year, everyone is seeing what Tovar can do.
Remind Me: Who Is Ezequiel Tovar?
In 2017, the 21-year-old native of Maracay, Venezuela, signed with the Rockies for $800,000. (Just to be clear, he was 17 at the time.) He began playing short-season A ball at the time, working his way through the Rockies system. Tovar's defense was already elite, but there were concerns about his ability to hit given his age. When the pandemic hit, Tovar found himself quarantined at the Rockies training facilities in Arizona, so he spent the time getting stronger. It paid off.
He began 2021 in Low-A Fresno, where he was an above-average player. Tovar was then promoted to Double-A Hartford, where he struggled offensively. That fall, the Rockies showed their confidence by adding him to the 40-man roster, and he began 2022 back with the Double-A Yard Goats. (He was 3.8 years younger than the average player in the league.)
This time, Tovar was ready for the challenge.
He slashed .318/.386/.546 in 295 plate appearances. (That's a 153 wRC+.) He was especially effective against right-handed pitching (.976 OPS, as opposed to .868 against lefties). In 54 games, Tovar committed only six errors.
His progress was halted when he suffered a groin injury in late June that would keep him sidelined for two months (and force him to miss the Futures Game). In mid-September, Tovar was sent to Triple-A Albuquerque (where he was 6.6 younger than league average). He was only with the Isotopes for five games, earning a 120 wRC+ in 23 plate appearances.
On September 22, 2022, he made his debut with the Rockies, where he singled on his first plate appearance. Before the season ended, he hit his first home run — off Clayton Kershaw at Dodger Stadium.
"It is an awesome feeling, knowing that this is a future Hall of Famer that I got my first homer off of," Tovar said, with assistant hitting coach Andy González interpreting. "I'm just enjoying the ride."
The Rockies were clear that Ezequiel Tovar would be their starting shortstop in 2023. So far, they have been true to their word.
Is He Good?
Yes, but let's start with the defense and then consider the offense.
The defense is elite. Period.
Here's one example:
And another:
Plus, he plays well with others:
Elite defensive, one, wins baseball games, and, two, gives fans something to be excited about, especially when a team is slogging through a losing season, a situation in which the Rockies often find themselves. Elite defenders make a difference, and Ezequiel Tovar is an elite defender. Currently, he has 3 DRS in 294 innings. On the Rockies' roster, only catcher Elias Díaz has more.
In MLB, only five shortstops have more DRS than Tovar, with Wander Franco's five leading the league. Tovar is the youngest of all of them, with Franco being the closest to him in age at 22.
Offensively, Tovar got off to a slow start, slashing only .214/.263/.303 with an OPS of .567 in his first 95 plate appearances.
Tovar did not get discouraged, telling Thomas Harding, "From my mindset, I don't really think about that sort of pressure. I try to do what I can, trust what I'm doing and have confidence doing so."
His persistence began to pay off in May when he slashed .276/.300/.586 with an OPS of .886 in his first 30 plate appearances.
Tovar was especially effective in the second game of the Brewers series on May 3. "That game, everything clicked," Tovar said. "Moving forward, you want to take the best away from that game. Baseball is a game of failure. You've got to learn from the mistakes and continue to move forward, trusting the process. I think it's going to turn out to be all right."
Pretty mature approach for a 21-year-old.
Currently, Tovar is tied with Ryan McMahon for the team lead in doubles with nine — a part of his game that will absolutely play in the grassy expanse of Coors Field. He and McMahon are also the only players on the Rockies' roster to hit a triple. So far, Tovar has hit two home runs. Here's one of them:
That will surely change, however, as Tovar becomes more comfortable with MLB pitching.
Are Rockies Fans Excited?
They are — and for a couple of reasons.
First, and most obviously, they are getting to watch the progress of a young, talented player — and Rockies fans love watching home-grown favorites develop. Recent cases in point? Nolan Arenado, Charlie Blackmon, Germán Márquez, Trevor Story, Justin Lawrence, Ryan McMahon, and Kyle Freeland.
Plus, Tovar makes the Rockies better. Nothing is more exciting than a double play (sorry, all you home run enthusiasts), and Tovar will participate in many of them.
Second, the ascension of Ezequiel Tovar signals the opening of the Rockies' next contention window. It has been a long time since the last Rocktober in 2018. Most of those players have moved on. In the meantime, the Rockies have been working to build up their farm system.
Ezequiel Tovar means that things are getting real.
Let's get specific. The Rockies are looking at an infield of Michael Toglia, Brendan Rodgers, Ezequiel Tovar, and Ryan McMahon, supported by an outfield with Zac Veen, Benny Montgomery, and Jordan Beck. Don't forget catcher Drew Romo.
But that's a couple of years off.
Tovar signals that those days are close; that he is the real deal means anything is possible.
The end of winter is in sight.