Analysis
The Best Landing Spots for Pirates Star Bryan Reynolds
With all the top free agents off the board, the rumor mill has shifted focus to the trade market. Bryan Reynolds, All-Star outfielder for the Pittsburgh Pirates, is the crown jewel.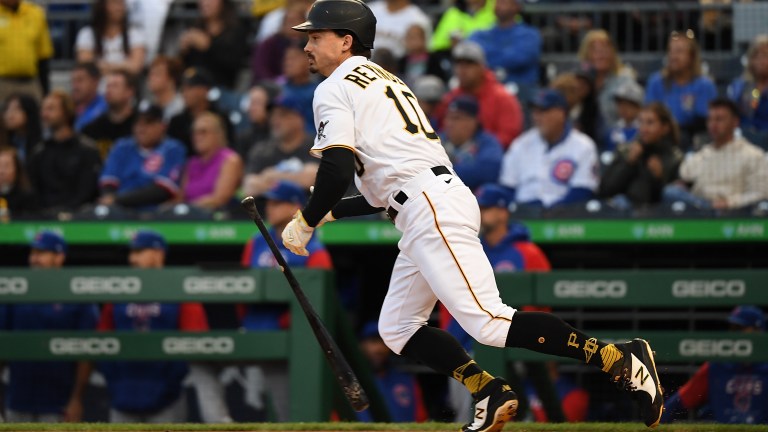 For nearly as long as he's played in the big leagues, Bryan Reynolds has been the subject of trade talks. That's what you're in for as one of the few star players on a perenially rebuilding team. Ken Rosenthal of The Athletic mentioned Reynolds was "presumably available" ahead of the 2020 trade deadline, and the rumors have persisted ever since.
Those rumors picked up steam this offseason with the news that Reynolds had officially requested a trade. According to Jon Heyman, extension talks between Reynolds and the Pirates had stalled out, leading the star outfielder to seek greener pastures elsewhere.
Pittsburgh has remained adamant they would like to retain their 2022 team MVP for the next great Pirates team, but nevertheless, the baseball world has become awash with Reynolds trade proposals. Fans from Minnesota to Miami, Seattle to San Francisco, and the Bronx to Queens have all wondered what it would take for their favorite team to land the 27-year-old All-Star.
Barring another turn in the Carlos Correa saga, Reynolds is the biggest star still looking to switch teams. For clubs trying to make another splash, Reynolds is the way to go. So where is he most likely to end up?
New York Yankees
Projected 2023 Outfield: Aaron Judge, Harrison Bader, Oswaldo Cabrera/Aaron Hicks
As we've learned time and again, you can't ever count out the Yankees. Although they already project to be one of the best teams in baseball, New York is always looking to get better, and Bryan Reynolds would fit well in the middle of their lineup.
The Yankees' outfield currently consists of Aaron Judge in right, Harrison Bader in center, and Oswaldo Cabrera/Aaron Hicks in left. If you look closely, perhaps you can see some room for improvement at one of those positions.
Cabrera and Hicks are both fine players, but neither has a stranglehold on a starting job. Hicks batted a meager .216 with a 90 wRC+ last season, while Cabrera is better-suited for a utility role. Reynolds, on the other hand, is an excellent option in left field. His 125 wRC+ would have ranked second among qualified AL left fielders last season, and his glove should play better in a corner spot. Furthermore, he'd be an excellent insurance policy for center field, where the Yankees are relying on Harrison Bader to play a full season for the first time in his career.
On the offensive side of things, Reynolds is a good fit for New York's right-handed-heavy lineup. As things stand, Cabrera, Hicks, and Anthony Rizzo are the only Yankees who can bat from the left side.
What Can They Offer?
The Yankees have several middle infield prospects who are big league ready or close to it. Top prospect Anthony Volpe is likely untouchable, but OF Jasson Dominguez along with slick-fielding SS Oswald Peraza would be a duo of top 100 prospects who could surely entice the Pirates at the top of a package. OF Everson Pereira, C Austin Wells, SS Trey Sweeney and others are not quite top 100 guys, but definitely move the needle in negotiations as complementary pieces.
Los Angeles Dodgers
Projected 2023 Outfield: Mookie Betts, Trayce Thompson, James Outman
Like the Yankees, the Dodgers are a team you can't ever count out. L.A. has had a slow offseason thus far as they attempt to get under the luxury tax threshold. Meanwhile, their division rivals in San Diego have only gotten stronger, and the Padres now look like the favorites in the NL West. Trading for Bryan Reynolds would be a great way for the Dodgers to get back on top without breaking the bank – the young outfielder is set to earn just $6.75 million in 2023.
What's more, the Dodgers have the room for Reynolds after losing Cody Bellinger and Joey Gallo this winter. Outside of Mookie Betts, their outfield picture is a little blurry. Trayce Thompson and James Outman are both intriguing options, but neither is a proven hitter at the big league level nor a great defender in center field. Dave Roberts already has outfield options, but he could certainly find playing time for Reynolds next season.
What Can They Offer?
The Dodgers almost always have one of baseball's best farm systems and they are in a position to meet the steep asking price of the Pirates. Right-handers Bobby Miller and Gavin Stone are both top 50 prospects and are near MLB-ready, while infielders Miguel Vargas and Michael Busch have offensive success at the Triple-A level under their belt already. With other names like OF Andy Pages, OF James Outman, RHP Ryan Pepiot and OF Jose Ramos in the fold as well, the Dodgers are capable of beating just about any offer the Pirates get if they really wanted to.
Boston Red Sox
Projected 2023 Outfield: Masataka Yoshida, Alex Verdugo, Enrique Hernández
It's hard to know what to make of the Red Sox's offseason so far. They're clearly trying to compete, as they've added free agents like Masataka Yoshida, Kenley Jansen, Corey Kluber, and Justin Turner. On the other hand, they haven't done enough to truly contend with the Yankees, Rays, or Blue Jays. With homegrown superstar Xander Bogearts gone for San Diego, Rafael Devers is the only star left in town. Boston is running a legitimate risk of finishing under .500 for the second-straight season.
Chaim Bloom has already spent $180 million on free agents this winter, and another $331 million to extend Devers. If he doesn't want that money going to waste, he needs to keep working to improve the team. That's where Bryan Reynolds comes in.
The Red Sox have Alex Verdugo and Enrique Hernández penciled in for right and center field, respectively, and Reynolds would be a sizeable upgrade over either one. In fact, he'd be the second-best player on the whole roster. When a contending team has the opportunity to add a piece of that caliber, they need to grab it. In other words, if the Red Sox want to prove they're serious about winning, they'd better get old friend Ben Cherington on the line.
What Can They Offer?
While not as deep of a system as some of the aforementioned, the Red Sox still have plenty of talent that could pique the interest of the Pirates. The departure of Xander Bogaerts makes Marcelo Mayer as "off limits" as any prospect in baseball, however 1B Triston Casas, CF Cedanne Raffaela, OF Miguel Bleis, 2B Nick Yorke, 3B Blaze Jordan and RHP Bryan Mata should all be of interest to the Pirates. Given the Red Sox reluctance to part with Casas as well, it seems as though the Pirates could look elsewhere for a more competitive package.
Texas Rangers
Projected 2023 Outfield: Adolis García, Leody Taveras, Josh H. Smith/Bubba Thompson
The Rangers have surprised fans with their aggressive approach during each of the past two offseasons. Trading for Bryan Reynolds is the next logical move to continue their quick ascension from irrelevancy to contention.
Texas has a playoff-caliber pitching staff, but their offense is lacking. After Marcus Semien, Corey Seager, and Nathanial Lowe, the lineup is dangerously thin. Reynolds would represent a huge upgrade over outfielders like Leody Taveras, Josh H. Smith, and Bubba Thompson, who combined to hit .242 with an 81 wRC+ last season. He could be the final piece of the puzzle that makes this Rangers squad a true playoff team.
That being said, the Rangers might prefer to hold onto their top prospects. After spending so much money in free agency, they'd surely like to retain some cost-controlled players. They do have a deep system – and can afford to add Reynolds without selling the farm – but don't be surprised if they hold onto their young guns for another season.
What Can They Offer?
There could be more of a willingness for Chris Young to trade from his newfound prospect depth. INF Ezequiel Duran graduated from prospect standing but would almost surely be dangled in a deal and was a top 100 talent prior to advancing past his prospect status. OF Evan Carter looks like he is blossoming into one of the better young prospects in the game, while RHP Owen White, RHP Jack Leiter, SS Luisangel Acuña, 2B Justin Foscue OF/1B Dustin Harris and OF Aaron Zavala are all extremely enticing options.
Cleveland Guardians
Projected 2023 Outfield: Steven Kwan, Myles Straw, Oscar Gonzales
The Guardians have three promising young players patrolling their outfield in Steven Kwan, Myles Straw, and Oscar Gonzales. It's fair to wonder, then, why they'd pursue Bryan Reynolds – they already have a solid outfield in place.
That fact of the matter, however, is that Cleveland needs to get better. They're the favorites to win a weak AL Central, but they're outmatched by the big dogs in the AL East and West. If they want to go on a deep postseason run, they can't be content with a "solid outfield" when better options are available.
Like the Rangers, the Guardians have a deep farm system, along with a slew of talented young players at the big-league level. They can go toe-to-toe with anyone in a bidding war for Reynolds.
What Can They Offer?
Though it would be an out of character move for the Guardians, their ridiculous depth makes them capable of putting together a prospect package as strong as any. Even without RHP's Daniel Espino and Gavin Williams on the table, the Guardians could headline a package with multiple top 100 prospects like: OF George Valera, SS Brayan Rocchio and RHP Tanner Bibee.
Other complementary pieces like: OF Will Brennan, SS Angel Martinez, LHP Logan Allen, UTIL Gabriel Arias, RHP Xzavion Curry, 1B Jhonkensy Noel and 2B/SS Jose Tena would be of interest to any team. The Guardians could put together a hard-to-refuse offer without touching the two crown-jewel pitchers of their system.